24" Bosch Compact Washer, with Home Connect - WAW285H2UC
Bosch PROMO
INSTANT REBATES!
See Details
INSTANT REBATES!
You're dream kitchen is closer than you think
INSTANT REBATES $2300 on select Bosch Appliances including laundry products and get up to $500 in Added Rebates on Kitchen Packages.
offer valid on April 15 to June 3, 2021
Price
$2599
Savings
$650
Our Price
$

1949

CAD

24" Bosch Compact Washer, with Home Connect - WAW285H2UC
WAW285H2UC
Literature
The 800 Series Washer and Dryer with Home Connect Can Be Operated from Anywhere Remotely Via a Smart Device
Home Connect Features an Easy Start Option for your Wash Cycle
Wash 5 Men's Dress Shirts in just 15 Minutes.
Stains Program Treats Oil, Food Based, Red Wine and Grass Based Stains
SpeedPerfect Provides Up to 40% Faster Washing Time
Wash up to 18 Towels in One Load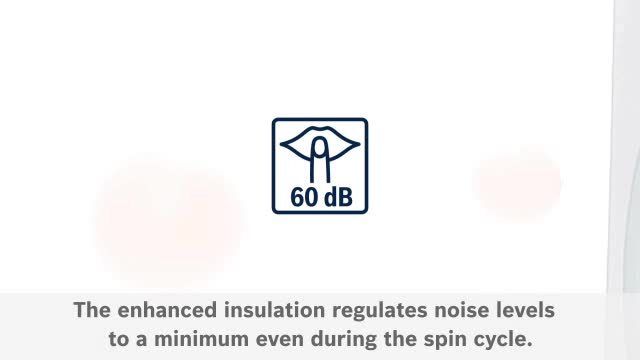 Quiet Operation
The AntiVibration system encompasses sensors in Bosch washers that monitor the load weight and movement of the drum to eliminate imbalances. Additionally, the circular profile design reinforces the structure of the sidewall and increases the stability of the washer. This structure, combined with enhanced insulation, regulates noise levels and reducesvibration up to 30% , making Bosch washers very quiet throughout the entire wash cycle.
Key Features
EcoPerfect Cycle Reduces Energy Consumption by Adjusting the Temperature
AquaStop Plus Provides Extra Protection Against Water Damage.
EcoSilence Motor Delivers Quiet, Efficient & Long Lasting Performance
14 Wash Cycles: Permanent Press, Permanent Press Heavy Soil, Delicates, Quick 30 Min, Rinse, Hand Wash/Wool, Drain/Spin, Cotton Normal, Whitest Whites, Towels, Sanitize, Super Quick 15 Min, Bulky Large Items, Drum Clean
10 Options: EcoPerfect, Prewash, Rinse Plus, Remote Start, Start/Pause, Finish in, Spin Speed, Temperature, SpeedPerfect, Stains
Design
Premium User Interface with Illuminated Control Dial
Interior LED light
Neat White - European Design
Large Door with Chrome Door Ring
Large LED Display with Remaining Time
Electronic Control
Snag Free Structured Stainless Steel Drum
Stackable - Space Saving
AntiVibration Circular Side Walls Reduce Vibration
Performance
The Wave-Shaped Structured Drum Delivers a Powerful yet Gentle Wash.
Sensor-Controlled Automatic Washing Programs
ActiveWater Technology for More Efficient Water Use
Up to 1400 rpm Maximum Spin Speed
Sanitize Cycle Heats Water Up to 170° F to Kill Bacteria
Load Adjustment Function Adjust Automatically to Reduce Energy and Water Consumption
Efficiency
ENERGY STAR Qualified
Exceeds the March 2015 ENERGY STAR Water Consumption Standards
Internal Water Heater Heats Water Quickly and Efficiently
Convenience
Stackable - Space Saving
Child Lock Option
Washer Plugs into Bosch Dryer for Easy Installation or properly installed 240V NEMA 6-15 wall receptacle.
AquaStop- Leak Protection System
24 Hour Delay Start Timer
Super Quick 15 min Cycle
End of Cycle Signal
Self-cleaning Detergent Dispenser
Capacity
Wash Up to 17.6 lbs – Fits Up to 8 Towels in One Load
2.2 Cubic Foot Drum - Large Capacity for Compact Washers
Consumption values
Total annual energy consumption
84.0 kWh
Safety
Leak protection system
AquaStop Plus
Suds Sensor
Yes
Unbalance Sensor
Yes
Spinning
Skip spin
Yes
Spin speed options
Two
Maximum spin speed (rpm)
1,400 rpm
Programmes
Water plus
No
Wash optimization
AllergyPlus / Hygiene, Drain / Spin, Duvet, EcoPerfect, Extra rinse, mixture, ON, Prewash, rapid 15 min, rapid 30 min, Ready, Single Rinse, SpeedPerfect, Spin speed reduction, stain selection, Start / Reload, Temperature selection, Towels
Separate temperature control options
Steps
Easy-care programme
Cold, Hot, Warm
Cottons programme
Cold, Economy, Extra Hot, Hot, Warm
Pre-Wash Option
Pre-Wash Option
List of programmes
Delicates program, Easy-care program, Whites and colors program, Woolens hand wash program
Electronic After-sales Service
Yes
Cold wash option
No
Comfort
Self adjusting water level to load
No
Delay Start
Continuous
Turbidity sensor
No
Noise level washing (dB(A) re 1 pW)
50
Noise level spinning (dB(A) re 1 pW)
71
Status indicator
LED-display
Display
Yes
Degree of dirtiness recognition
No
Loading sensor
No
Programme end indication
Acoustic, LED-display
Size and Weight
Net weight (kg)
74.1 kg
Height-adjustable by
1.20 cm
Drum volume (l)
65 l
Product packaging dimensions (HxWxD) (mm)
848 x 598 x 590 mm
Depth with open door 90 degree (mm)
1,063 mm
Capacity cotton (kg)
8.0 kg
Construction type
Wheels
No
Tub Material
Stainless steel
Removable top
No
Loading type
Front
Installation Type
Freestanding
Door Options
Left
Construction type
Freestanding
Color / Control Panel
White
Color / Material housing
White
Connection
Plug type
240V-3 prong
Hot & cold water intake
Yes
Frequency (Hz)
60 Hz
Power cord length (cm)
180 cm
Connectivity
Connectivity type
Wi-Fi
Home Connect Features
Remote Monitoring and Control
Home Connect
Yes
General
Approval certificates
VDE
Available languages display
English
Power cord length (cm)
180 cm
Removable top
No
Interior Light
Yes
Hot & cold water intake
Yes
Leak protection system
AquaStop Plus
Door Options
Left
Noise level spinning (dB(A) re 1 pW)
71
Noise level washing (dB(A) re 1 pW)
50
Delay Start
Continuous
Display
Yes
Wash optimization
AllergyPlus / Hygiene, Drain / Spin, Duvet, EcoPerfect, Extra rinse, mixture, ON, Prewash, rapid 15 min, rapid 30 min, Ready, Single Rinse, SpeedPerfect, Spin speed reduction, stain selection, Start / Reload, Temperature selection, Towels
Easy-care programme
Cold, Hot, Warm
Cottons programme
Cold, Economy, Extra Hot, Hot, Warm
List of programmes
Delicates program, Easy-care program, Whites and colors program, Woolens hand wash program
Max. spin speed
1,400 rpm
Product packaging dimensions (HxWxD) (mm)
848 x 598 x 590 mm