24" Samsung Built-in Undercounter Dishwasher Black Stainless Steel - DW80R9950UG
24" Samsung Built-in Undercounter Dishwasher In Stainless Steel - DW80R9950US
24" Samsung Built-in Undercounter Dishwasher Black Stainless Steel - DW80R9950UG
24" Samsung Built-in Undercounter Dishwasher Black Stainless Steel - DW80R9950UG
DW80R9950UG/AC
| | |
| --- | --- |
| Price | $1599.99 |
| Savings | $500 |
| Our Price | $1099.99 CAD |
| | |
| --- | --- |
| Price | $1699.99 |
| Savings | $500 |
| Our Price | $1199.99 CAD |
Literature
Spotless cleaning
Remove stubborn food
Auto opens to dry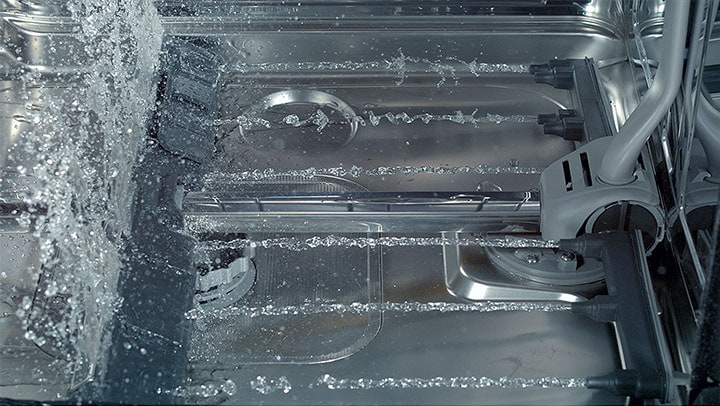 Spotless cleaning
AquaBlast™ Technology
Wash off stubborn leftover food and sticky residue without pre-rinsing. AquaBlast™ jets provide corner to corner coverage for superb cleaning.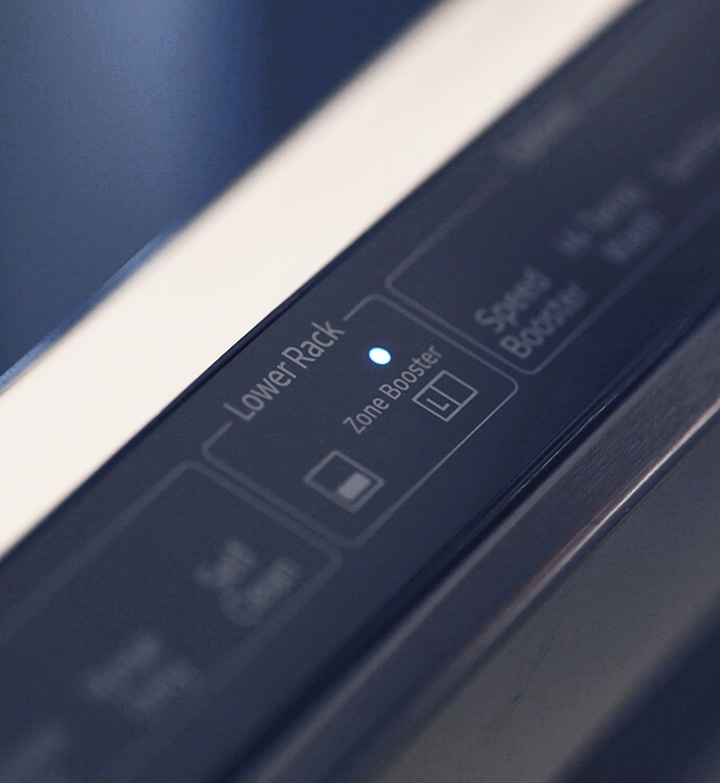 Remove stubborn food
ZoneBooster™ Technology
Remove stubborn leftover food effectively and get heavily soiled dishes clean in the ZoneBooster™ area. Zone Booster™ provides additional water stream to bottom left area for hard to clean pots and pans.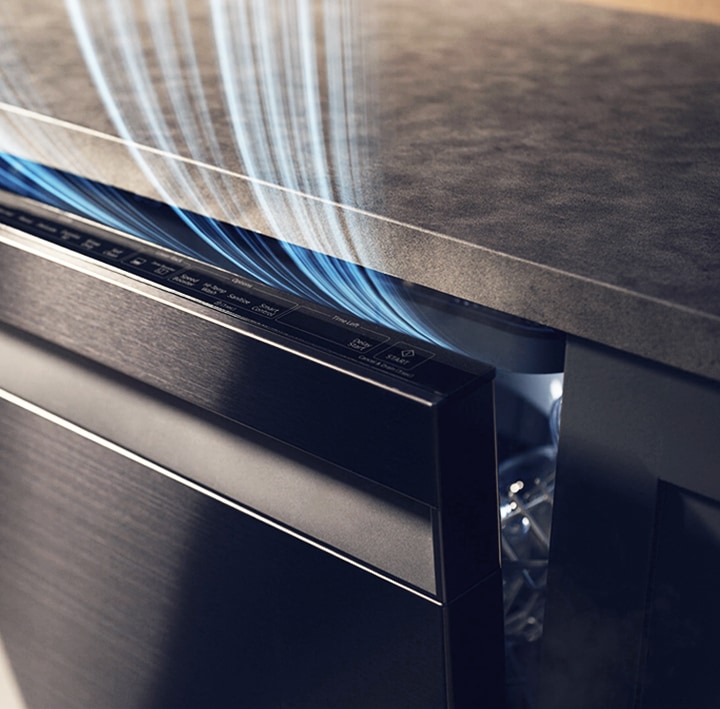 Auto opens to dry
AutoRelease™ Drying
At the end of a cycle, the door automatically opens to circulate air and improve drying performance. And a fan on top creates a protective curtain of air to ensure your worktop isn't damaged.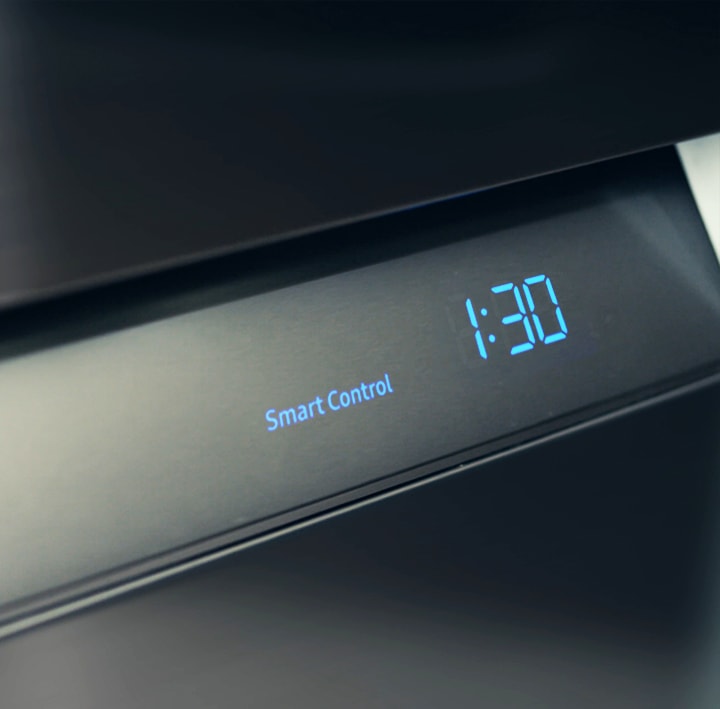 Use time effectively
Time Display
Use your time effectively and avoid waiting. The Time Display shows how long a program normally takes to complete. However, as the cycle progresses the remaining time can vary. So the estimated hours and minutes left will be continuously updated on the display. And you can get on with your day!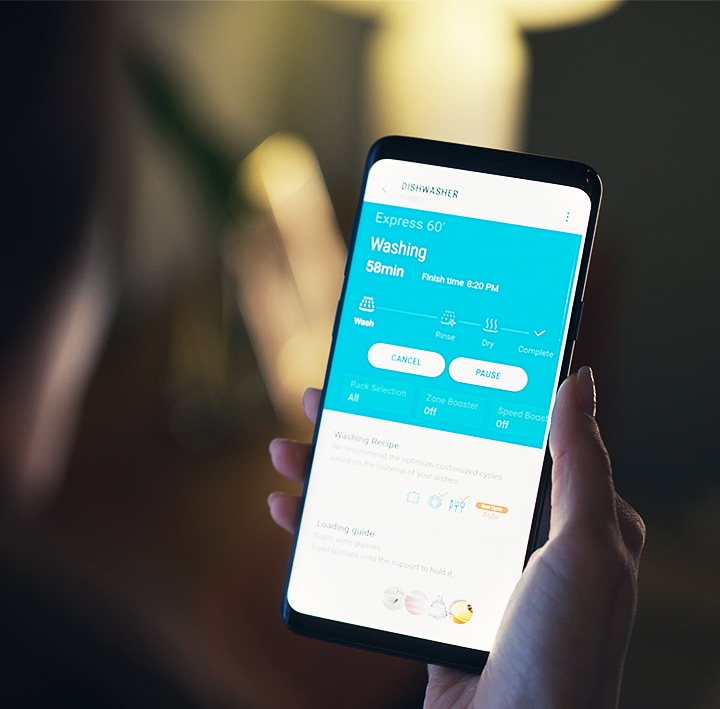 SmartThings (Bixby)
SmartThings (Bixby) lets you remotely monitor and control your dishwasher using a smartphone App*. You can easily check its status, turn it on/off, get cycle recommendations, select programs and options and receive diagnostics information.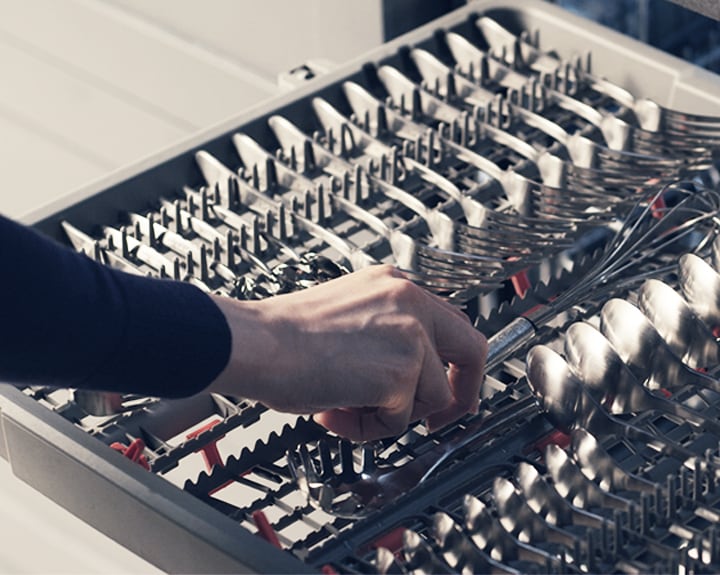 Load larger items
Flexible 3rd Rack
Make better use of the upper and middle racks. A Flexible 3rd Rack provides a convenient area for cutlery and kitchenware. It can also accommodate large utensils, simply by lowering its center section by 25mm. Or, when it's raised, it creates more space underneath for large cookware and plates.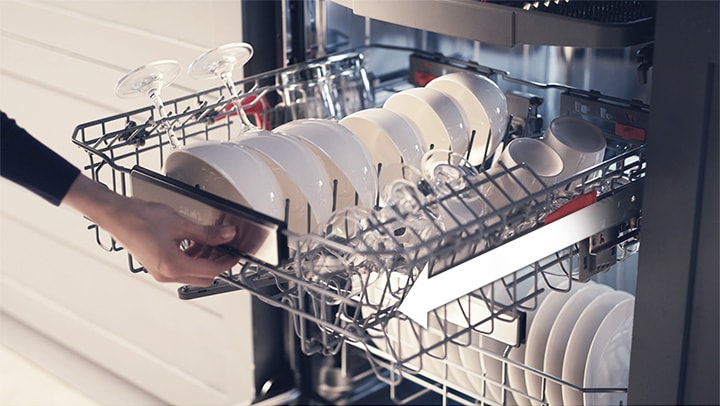 Unload effortlessly
Glide Railing System
Pull out a basket full of dishes much more easily and safely. The Glide Railing system creates less friction, so each rack slides in and out smoothly with hardly any effort, even if there are heavy pans. And its greater stability minimizes the risk of items falling out as there's less shaking.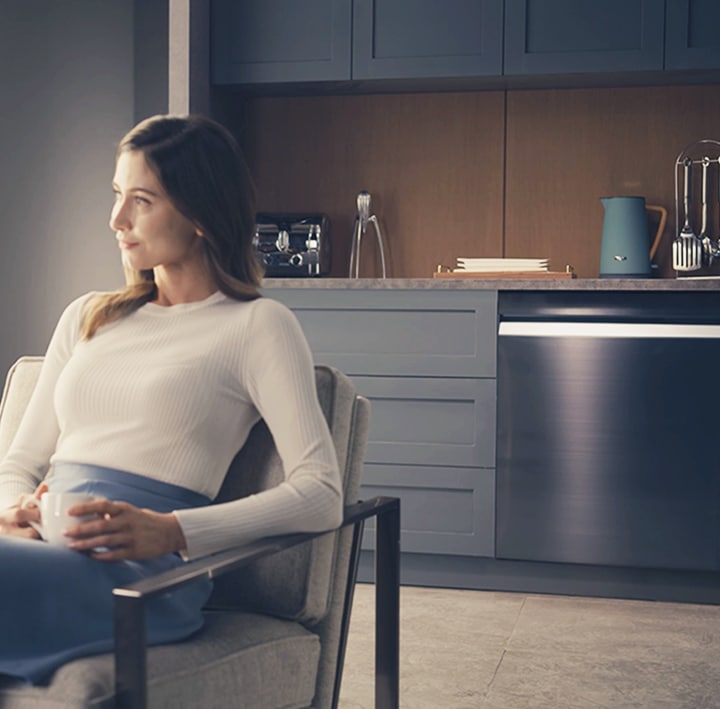 Less noise at home
39dB Ultra Quiet system
Less noise and less disturbance with ultra quiet wash cycles at 39 dBA.
Design
Install Type
Built under
Size
24"T
Control Type
Hidden touch
Color/Material
Black STS
Display Light Color
Ice blue
Washing Type
WaterWall™
Configuration and Overview
Capacity (Place Setting)
15 P/S
Energy Star Certification
Yes
Energy Annual consumption
239 kWh/year
Dry System
Auto Door Open Dry
Water Consumption Per Cycle (gallons)
3.2 gallons
Noise level (dBA)
39 dBA
Cycle time (min)
114-150 min
Programs
Number of programs
7
Normal
Yes
Daily
No
Intensive
No
Auto
Yes
Delicate
Yes
Express
No
Quick
No
Rinse Only
Yes
Heavy
Yes
Express 60'
Yes
Self Clean
Yes
Chef
No
WaterWall™
Yes
Options
Number of Option
7
Delay Start
Yes
Half load
Yes
Sanitize
Yes
Hi-Temp Wash
Yes
Child Lock
Yes
Speed Booster
Yes
Zone Booster
Yes
Auto Door Open
Yes
UPPER RACK
Basket handle
No
Foldable cup shelves
Yes
Adjustable Height
Yes
Adjustable Tines
Yes
LOWER RACK
Basket handle
Yes
Fold down tines
Yes
Max Dish loading
12.5"
Cutlery Basket
Cutlery Tray
Yes
Cutlery Basket
Yes
General Feature
Tub Material
STSS
Heater Position
Hidden
NSF Certified for Sanitization
Yes
Leakage Sensor
Yes
Number of Wash Arm
Upper/Mid/WaterWall™
Food Disposer
No
Cancel&Drain Button
Yes
Dimension
Net Width (inch)
23.88"
Net Height(inch)
33.88"
Net Depth(inch)
25"
Net Weight
43 kg
Gross Weight
46 kg
Power/Ratings
Electrical(Volts/Hertz/Amps)
120/60/15
Heater Watts
1100
Circulation Motor
60-100
Reviews
Average Customer Ratings
| | | |
| --- | --- | --- |
| Overall | | 3.83 |
| Design | | 4.37 |
| Features | | 4.50 |
| Performance | | 4.06 |
| Value of Product | | 3.80 |
Pros
Realistic color, Bright display, Durable
Cons
Poor quality, Did not meet expectations
Poor quality, Did not meet expectations
Poor quality, Did not meet expectations
Poor quality
Poor quality, Did not meet expectations
Poor quality, Did not meet expectations
Poor quality, Did not meet expectations
Submitted a year ago
By maxim
Reviewed at


a lot of repetitive problems with the waterwall/ aquablast system
Bottom Line No, I would not recommend to a friend
Submitted a year ago
By Myron
Reviewed at


Dishwasher failed after 30 days. Repair tech said it needed new control board. Took 6 weeks to find out this part was not stocked anywhere in the world so they reluctantly agreed to tag the unit not repairable. 2 months since the break down and still waiting for a resolution while I continue washing by hand.
Bottom Line No, I would not recommend to a friend
Submitted a year ago
By Nicolka
Reviewed at


I'm not sure why I'm seeing so many negative comments on here because this is simply the best dishwasher I've ever had! My mom has the same one, my sister has the same one, I, obviously have it as well and I'm moving next year and I'll be re-purchasing the dishwasher again. It's SO quiet you don't even know it's on, it cleans my dishes perfectly, I love the adjustable top rack and zone booster and the automatic air dry feature. To me, it's got all the bells and whistles you'd ever need. One thing to note if you have children is that there is no handle, so they can't grab it to open it which is great. I also find because of this, it blends in seamlessly with the cabinets. The black stainless steel is georgeous and easy to clean. My only complaint, and I'm not even sure it can be classified as a complaint because the dishwasher is just doing its job, is that I find myself refilling the jet dry compartment alot-maybe like once a month? But I run the dishwasher everyday and sometimes twice a day so like I said, it's just the dishwasher doing its job. I'd recommend this dishwasher to anyone and everyone!
Bottom Line Yes, I would recommend to a friend
Submitted 2 years ago
By Rlee
Reviewed at


1
Worst dishwasher I've ever owned
Always leaves crusty bits on glasses and dishes, rarely cleans properly. Very frustrating!!
Bottom Line No, I would not recommend to a friend
Submitted 2 years ago
By Joey101
Reviewed at


Bought this last July. Started missing spots on dishes on the bottom rack. Had 2 service calls. Nothing wrong was found. Tech said to rinse dishes beforehand. Manual says not to rinse. Bought a Bosch today, no one offered a proper solution to this piece of crap dishwasher.
Bottom Line No, I would not recommend to a friend
Submitted 2 years ago
By brankin
Reviewed at


1
Worst product and service ever - DO NOT BUY
I have had 2 of these dishwashers now. The 2nd one is not even 6 months old and already needs to be replaced. I have gone through Samsung executive service for a replacement. I put in the original service request on November 27th and it is still not resolved. I am so disappointed in Samsung appliances and service. I have had to pay 2X to get this installed and now Samsung has said they will not provide an allowance to have a replacement installed. I have been a huge supporter of Samsung products, my phone, all of my TV's, and all of my appliances are Samsung, however after this experience I may never purchase another Samsung product again.
Bottom Line No, I would not recommend to a friend
Submitted 2 years ago
By RickA
Reviewed at


2
Very quiet, terrible reliability
I bought this 1.5 years ago. The biggest surprise is how quiet it is compared to the old dishwasher. I cleans as well as older models, but nowhere near as well as my other brand. It is a linear wash, which seemed like a good feature until I looked into it (due to problem). The water squirts from the back of the machine onto a bar that moves back an forth. The water hits the bar and gets deflected up to the dishes. That's supposed to be better than the arm that rotates, but it's just one more thing to break and the water loses pressure when it hits the deflector. It also has some extra squirters on the left side that are enabled in a special mode. We've never tried that. This arm has a magnet that detects the position. Unfortunately magnets lose their magnetism in heat, so over time the magnet gets weaker until it stops working. You can buy one for a few dollars at a big box store and glue it in, or replace the whole arm. The magnet itself is not a replaceable part. Who would put a magnet in hot water every day and expect it to keep working? The manual is missing important info like how to enable opening the door when it is finished washing. I found that online, but haven't been able to try it because it has stopped working. The nearest Samsung repair is three hours away (six hour round trip). It recently started throwing error 5C, meaning a problem with emptying the water. It is emptying correctly, so something else is wrong. I can't determine what the problem is, but it may be a sensor or a bad circuit board. It may be the water wall sensor isn't working and it is throwing the wrong code. Maybe it's a bad circuit board. When I go to the Samsung parts web site, every single part is back-ordered. Their online tech assures me that's correct. It will cost as much for the repair trip as a new dishwasher, so that's not an option. A dishwasher really should last more than a year and a half, especially considering it was only used for about 6 months of that.
Bottom Line No, I would not recommend to a friend
Submitted 3 years ago
By CathyB
Reviewed at


2
Like it but manuals are not great
I was pretty excited to get this dishwasher and was happy until somehow my water reflector in the AquaBlast unit came off after about a month of use. I searched everyone in both manuals for a simple comment on how that bar attaches - does it just sit on moving piece or does it click to something - there was nothing in any sections - even troubleshooting. When I contacted Samsung, the response was to get call one of their licensed technicians. That seems unreasonable to me. This is my first experience with Samsung appliances and I was hoping for a better experience.
Bottom Line No, I would not recommend to a friend
Submitted 3 years ago
By Doreen
Reviewed at


1
Poor Customer Service, No support
I purchased this dishwasher in 2017 But didn't start using until2018 when our house was finished. It has been broke down more than I've used it. Just months after starting to use it I got a code for a leak .None could be found. Finally after several service calls in warranty, Finally the service repairman got a complete wash wall from the company , when it was remove a component was corroded. Now with the new part it works worse than ever , no water pressure, dishes are still dirty , no heat dishes are wet . I didn't pay $800.00 to have an ornament in my kitchen. Very disappointed and frustrated.
Bottom Line No, I would not recommend to a friend
Submitted 4 years ago
By Karla
Reviewed at


Worst dishwasher I have ever owned!! Cool features so I'll admit Samsung in "innovative" but all the cool features in the world won't matter if it doesn't even do the main job of cleaning the dishes. There are sure a lot of dishes that come out dirty after being in there for over 2 hours. So unhappy with this purchase - to the point that after owning it for one week I'm tempted to sell & buy something else. Wish that was in the budget because this dishwasher was such a waste of money. Better go - have to hand wash half of the dishes I just unloaded.
Bottom Line No, I would not recommend to a friend