24" Samsung Built-in Undercounter Dishwasher In Stainless Steel - DW80R9950US
24" Samsung Built-in Undercounter Dishwasher In Stainless Steel - DW80R9950US
24" Samsung Built-in Undercounter Dishwasher Black Stainless Steel - DW80R9950UG
24" Samsung Built-in Undercounter Dishwasher In Stainless Steel - DW80R9950US
DW80R9950US/AC
| | |
| --- | --- |
| Price | $1599.99 |
| Savings | $600 |
| Our Price | $999.99 CAD |
| | |
| --- | --- |
| Price | $1699.99 |
| Savings | $600 |
| Our Price | $1099.99 CAD |
Literature
Spotless cleaning
Remove stubborn food
Auto opens to dry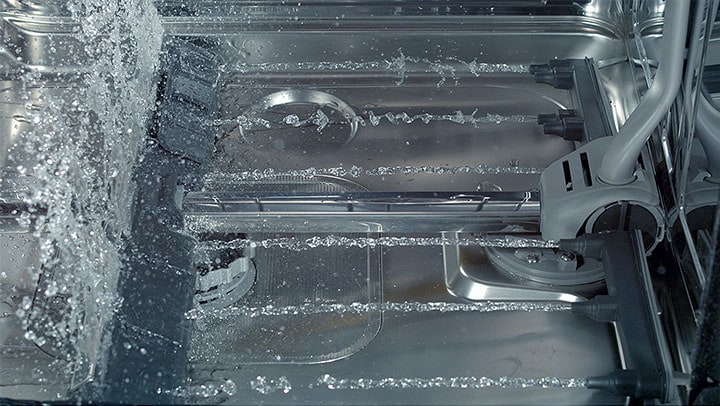 Spotless cleaning
AquaBlast™ Technology
Wash off stubborn leftover food and sticky residue without pre-rinsing. AquaBlast™ jets provide corner to corner coverage for superb cleaning.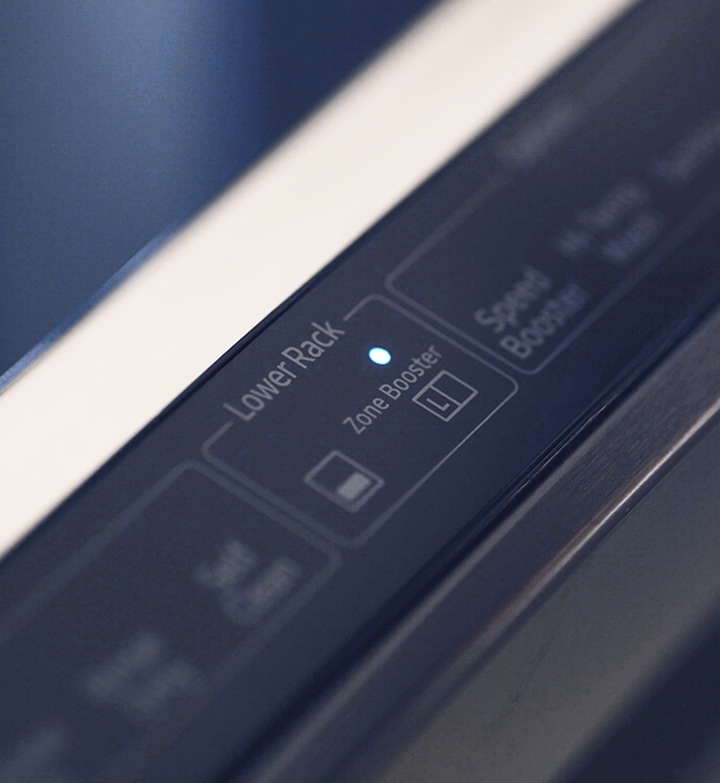 Remove stubborn food
ZoneBooster™ Technology
Remove stubborn leftover food effectively and get heavily soiled dishes clean in the ZoneBooster™ area. Zone Booster™ provides additional water stream to bottom left area for hard to clean pots and pans.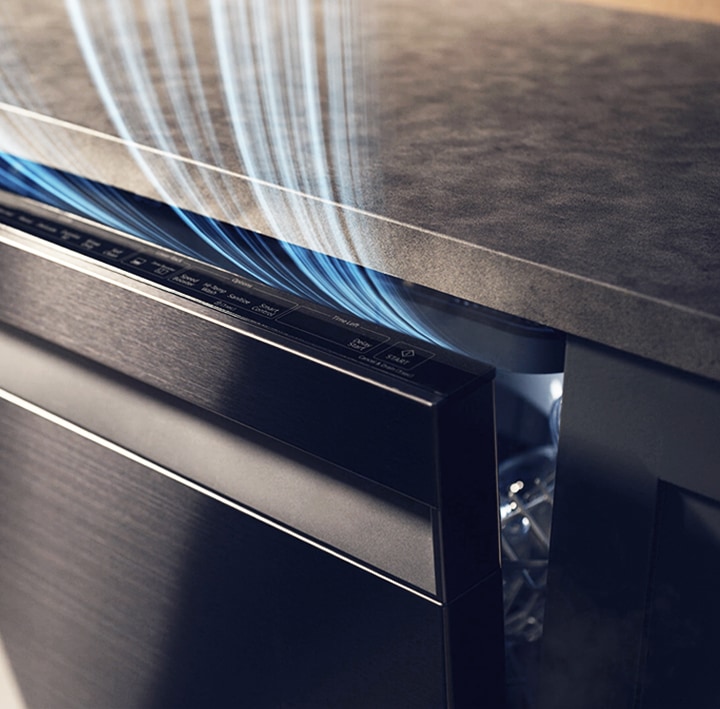 Auto opens to dry
AutoRelease™ Drying
At the end of a cycle, the door automatically opens to circulate air and improve drying performance. And a fan on top creates a protective curtain of air to ensure your worktop isn't damaged.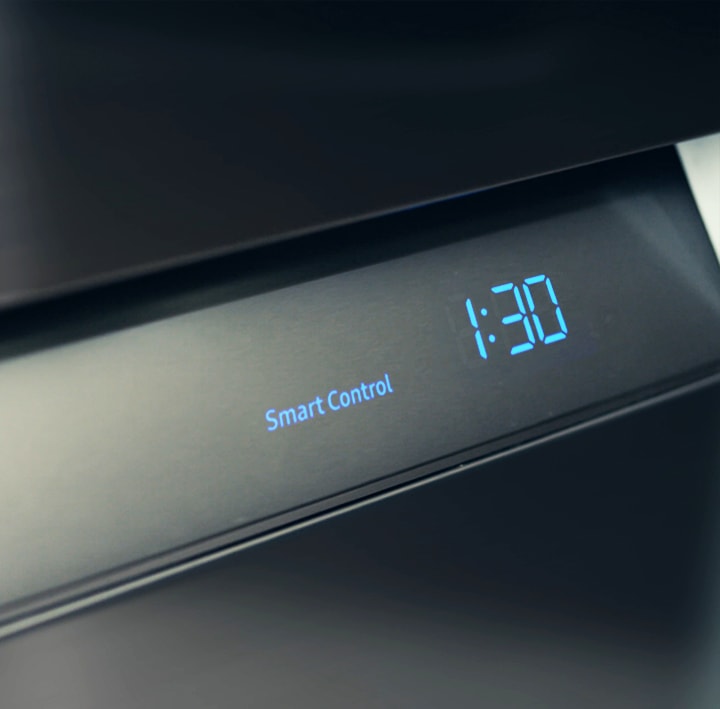 Use time effectively
Time Display
Use your time effectively and avoid waiting. The Time Display shows how long a program normally takes to complete. However, as the cycle progresses the remaining time can vary. So the estimated hours and minutes left will be continuously updated on the display. And you can get on with your day!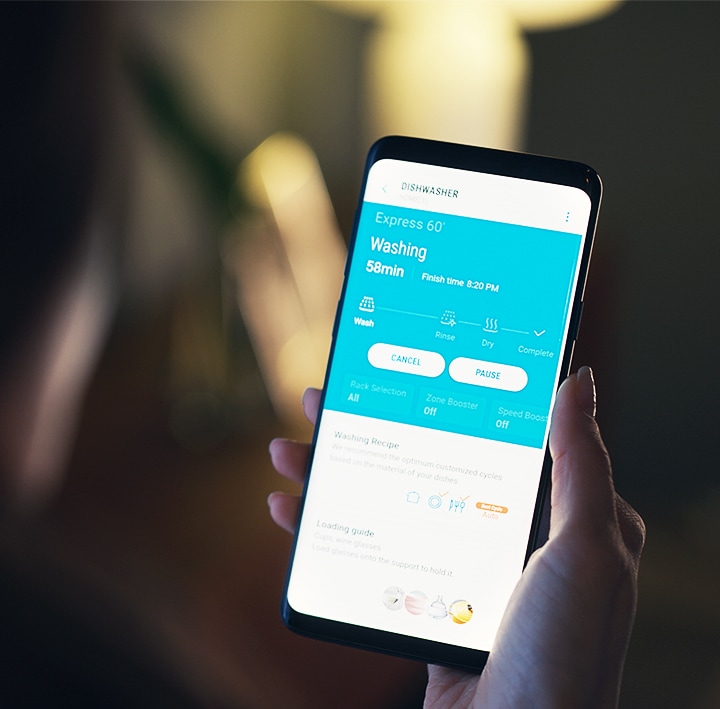 SmartThings (Bixby)
SmartThings (Bixby) lets you remotely monitor and control your dishwasher using a smartphone App*. You can easily check its status, turn it on/off, get cycle recommendations, select programs and options and receive diagnostics information.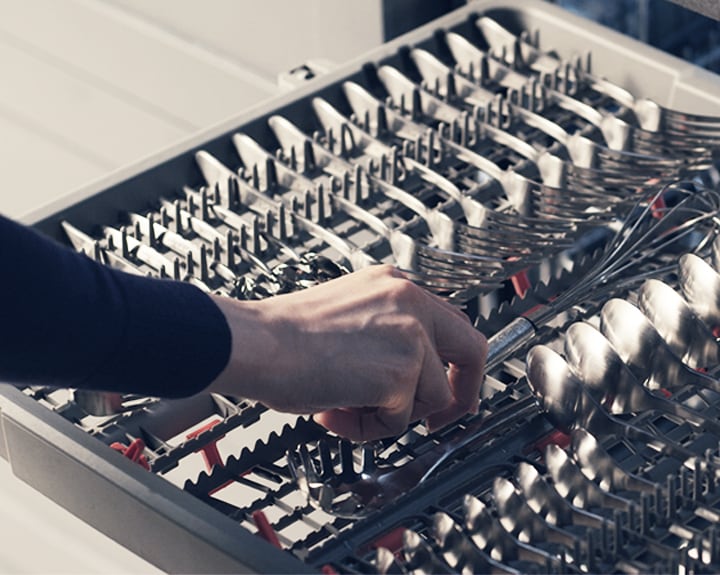 Load larger items
Flexible 3rd Rack
Make better use of the upper and middle racks. A Flexible 3rd Rack provides a convenient area for cutlery and kitchenware. It can also accommodate large utensils, simply by lowering its center section by 25mm. Or, when it's raised, it creates more space underneath for large cookware and plates.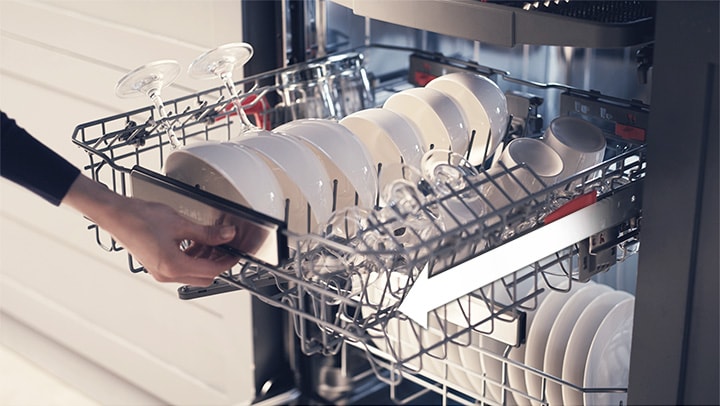 Unload effortlessly
Glide Railing System
Pull out a basket full of dishes much more easily and safely. The Glide Railing system creates less friction, so each rack slides in and out smoothly with hardly any effort, even if there are heavy pans. And its greater stability minimizes the risk of items falling out as there's less shaking.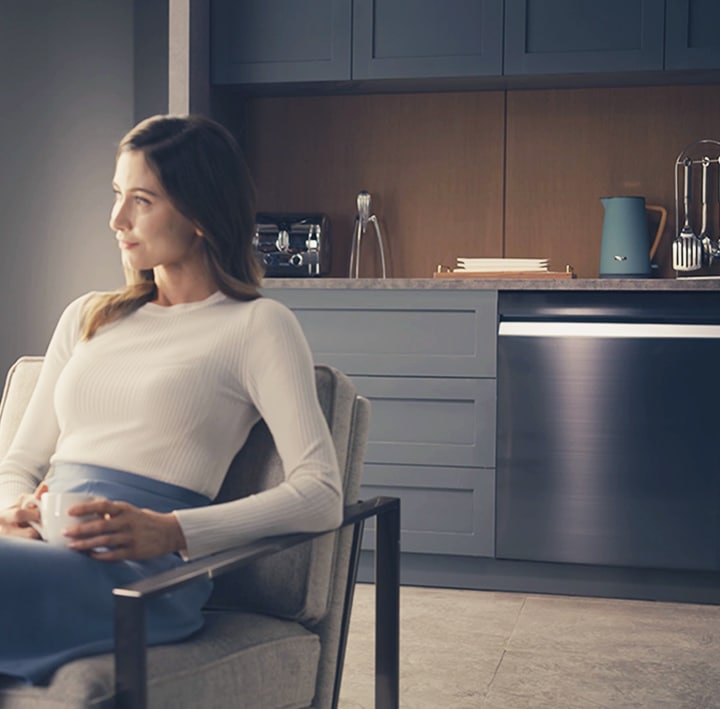 Less noise at home
39dB Ultra Quiet system
Less noise and less disturbance with ultra quiet wash cycles at 39 dBA.
Design
Install Type
Built under
Size
24"T
Control Type
Hidden touch
Color/Material
STS
Display Light Color
Ice blue
Washing Type
WaterWall™
Configuration and Overview
Capacity (Place Setting)
15 P/S
Energy Star Certification
Yes
Energy Annual consumption
239 kWh/year
Dry System
Auto Door Open Dry
Water Consumption Per Cycle (gallons)
3.2 gallons
Noise level (dBA)
39 dBA
Cycle time (min)
114-150 min
Programs
Number of programs
7
Normal
Yes
Daily
No
Intensive
No
Auto
Yes
Delicate
Yes
Express
No
Quick
No
Rinse Only
Yes
Heavy
Yes
Express 60'
Yes
Self Clean
Yes
Chef
No
WaterWall™
Yes
Options
Number of Option
7
Delay Start
Yes
Half load
Yes
Sanitize
Yes
Hi-Temp Wash
Yes
Child Lock
Yes
Speed Booster
Yes
Zone Booster
Yes
Auto Door Open
Yes
UPPER RACK
Basket handle
No
Foldable cup shelves
Yes
Adjustable Height
Yes
Adjustable Tines
Yes
LOWER RACK
Basket handle
Yes
Fold down tines
Yes
Max Dish loading
12.5"
Cutlery Basket
Cutlery Tray
Yes
Cutlery Basket
Yes
General Feature
Tub Material
STSS
Heater Position
Hidden
NSF Certified for Sanitization
Yes
Leakage Sensor
Yes
Number of Wash Arm
Upper/Mid/WaterWall™
Food Disposer
No
Cancel&Drain Button
Yes
Dimension
Net Width (inch)
23.88"
Net Height(inch)
33.88"
Net Depth(inch)
25"
Net Weight
43 kg
Gross Weight
46 kg
Power/Ratings
Electrical(Volts/Hertz/Amps)
120/60/15
Heater Watts
1100
Circulation Motor
60-100
Reviews
Average Customer Ratings
| | | |
| --- | --- | --- |
| Overall | | 3.68 |
| Design | | 3.98 |
| Features | | 4.18 |
| Performance | | 3.83 |
| Value of Product | | 3.59 |
Pros
Inexpensive, Realistic color, Bright display, Lightweight, Durable
Realistic color
Bright display, Durable
Cons
Poor quality, Did not meet expectations
Poor quality
Did not meet expectations
Poor quality
Poor quality
Poor quality, Did not meet expectations
Poor quality
Poor quality
Poor quality, Did not meet expectations
Did not meet expectations
Submitted a year ago
By Button
Reviewed at


1
Top sprayer has broken three times in 18 months
We bought this to replace a 20 year old Bosch, and it has been absolute garbage. 90% of the time it works perfectly, 10% there is still residue on the top rack. On top of that, the top sprayer has broken three times. The first under warranty (which they conveniently can find in their system), the second was two months after my warranty expired, and the third time 18 months after purchase. The sprayer spinner will separate from the sprayer arm every time the machine is ran. The worst part is they want to charge $264 to install a $2 part. This shouldn't be an issue on a $1200 dishwasher, especially one that is only 18 months old. Absolute garbage design with cheap parts.
Bottom Line No, I would not recommend to a friend
Submitted a year ago
By Sad owner
Reviewed at


Bought new 2 years ago, with extended warranty. This piece of garbage has had pretty much every major component fail and be replaced. It has spent more time not working than working. Parts availability is a joke. Been dealing with a 7C error code for 6 months. Don't buy if you want a dishwasher that works.
Bottom Line No, I would not recommend to a friend
Submitted a year ago
By Julieann
Reviewed at


I have had this Dishwasher for a month now. -Washes Really Well - Extremly quiet - 60Min Cycle has come in really handy for a quick wash. - Drying perm once is amazing even for plastic items. - Flexible third rack really helps layout the cutlery and utensils. i took out to actual cutlery basket, gives more room at the bottom rack to wash more dishes. -With Kids in the house the fingerprint resistant finish definitely comes in handy!
Bottom Line Yes, I would recommend to a friend
Submitted a year ago
By PeterW99
Reviewed at


2
Worst Dishwasher I've Owned
So this is the 5th dishwasher I've owned in my life. All the previous ones were the classic, noisy cheap dishwashers costing half as much, but being in a new home with new kitchen we thought this would be a good upgrade. I very rarely write poor reviews, but this one is completely warranted. 2 weeks into ownership we contacted the retailer to try to return the product. The dishes were coming out covered with food debris. I pulled everything apart and cleaned it, as well as removed the upper most rack in hopes it would improve cleaning. It worked better for a couple of weeks, but before we knew it the food debris was back. I've now owned this dishwasher for a year and a half and have pretty much stopped using it completely and will soon replace it with a normal traditional dishwasher. If you are not willing to do maintenance and cleaning every other week (for heavy use) avoid this dishwater at all costs. Everything keeps getting bunged up and doesn't clean the dishes. I am so confused how this made it to production and being so poorly functioning and high maintenance. If I am forced to use it, I need to completely pre wash anything that goes in there. Don't be fooled by the high cost and super quiet sales pitch. This is not designed for heavy daily use.
Submitted a year ago
By Canuckguy
Reviewed at


We bought the dishwasher just before moving to the US (military move) in 2019, so did not use it much as we were only back to the house on occasion. Recently the bottom rack does not clean. Trying to get information from Samsung has been painful, with the only response we can send a tech but not under warrenty. It is only 2 years old, so one would think it would still work. While we really like the machine, this latest issue and Samsung not being of help is very disappointing. Espically since we also bough the fridge and stove.
Bottom Line No, I would not recommend to a friend
Submitted 2 years ago
By Disappointed2021
Reviewed at


I have never written a review before but felt I had to. We have had our dishwasher for 2.5 years and were never really happy with it. Within the first 4 months a large puddle of water formed in front of our machine. Had it looked at and was told there was nothing wrong. The dishes never got real clean always had to re-wash a few dishes after most loads. Two years later a large puddle was found in the basement soaking our carpet (luckily the ceiling had not been installed). We did get an error and had a technician come and fix it. Samsung was generous to cover $20 worth of parts but not labour. After the repair the machine just did clean dishes and did not always drain. We called the technician back and he said the Waterfall assemble was broken and needed to be replaced. Since this was considered a new issue Samsung would not help in any way. It was over $500 for parts alone. I cannot believe that a company as large as Samsung would refuse to not support a product of theirs. A dishwasher should last longer than 2.5 years before a major repair was required. Stay away for Samsung appliances.
Bottom Line No, I would not recommend to a friend
Submitted 2 years ago
By Sima
Reviewed at


1
Worst experience ever! Bought "new", Doesn't work!
I bought it "new", I'm running since the first month to get it repaired. Tired ! Poor customer service from Samsung!!!
Bottom Line No, I would not recommend to a friend
Submitted 2 years ago
By Fluffy
Reviewed at


1
Horrible doesn't clearn
The dishwasher can run for hours and does not remove all the food. The dishes don't dry and I don't believe it gets hot enough. What a waste of money. For the price of this dishwasher it should not be this bad.
Bottom Line No, I would not recommend to a friend
Submitted 2 years ago
By stayathomemama
Reviewed at


We bought this in November of 2014 and we were very happy with it at first. It worked really well for 5 years and then it started to go downhill. It would leave food/sauce stuck on plates and would smell sometimes after a cycle, but these were things we could deal with. Just recently we got the error code 7E. Looks like the WaterWall function stopped functioning. We have tried using the dishwasher without the WaterWall, but that only leaks out water from the dishwasher, gets really loud and it doesn't clean the dishes at all. We had purchased a 5-year warranty, but of course, everything starts to break down as soon as the warranty is over. Funny how that seems to always work right!
Bottom Line No, I would not recommend to a friend
Submitted 2 years ago
By Drea
Reviewed at


1
Faceplate cracked in 2 places in 1 week
Samsung will not replace faceplate after requesting the replacement. Dishwasher faceplate cracked in 2 spots while running.
Bottom Line No, I would not recommend to a friend