28" Samsung 6.0 Cu. Ft. Top Load Washer with SuperSpeed - WA52B7650AV/AC
Price
$1499.99
Savings
$500
Our Price
$

999.99

CAD
28" Samsung 6.0 Cu. Ft. Top Load Washer with SuperSpeed - WA52B7650AV/AC
WA52B7650AV/AC
Literature
Wash a full load in 28 minutes with SuperSpeed
Steam helps remove stains without pre-treatment
Control & monitor remotely through SmartThings app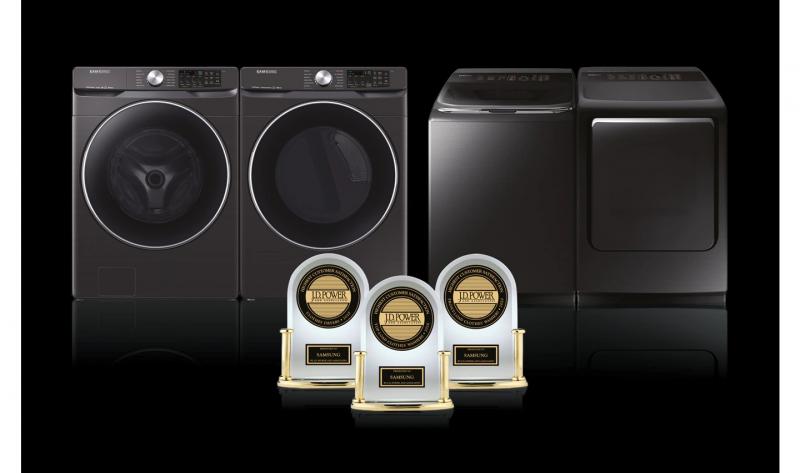 Number one in Customer Satisfaction
JD Power Award 2020*
#1 Highest in Customer Satisfaction with Clothes Dryers in the U.S., 2 Years in a Row. Samsung has received more J.D. Power Awards for Kitchen and Laundry Appliances than any other manufacturer in 2020.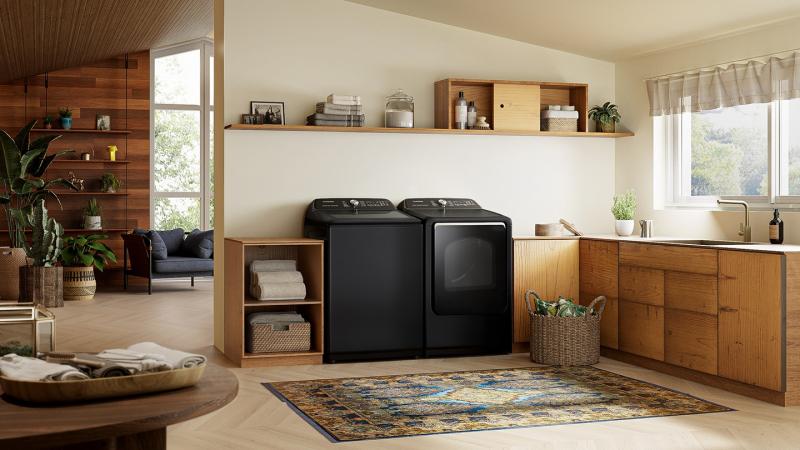 Beyond convenience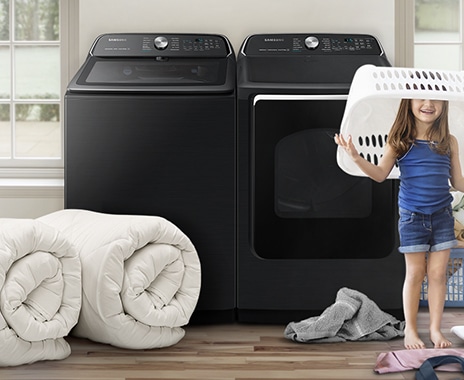 Wash more at once
Large Capacity (6.0 cu. ft.)
Wash more laundry items at once – saving time and effort. The washing machine has a large capacity of 6.0 cu. ft., so you can fit lots of clothes into a single load, including big items like a king-sized comforter. It means you need to do fewer washes and can enjoy more time for yourself.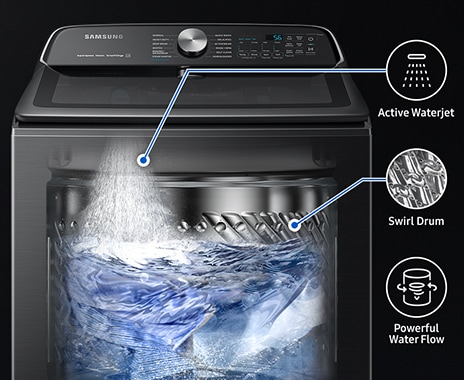 Wash in 28 minutes
Super Speed
Cut your laundry time by up to 50% and clean clothes thoroughly. Simply select the Super Speed* option to wash a full load in just 28 minutes**. A powerful active water jet speeds up the rinsing process. And powerful water flow washes clothes thoroughly.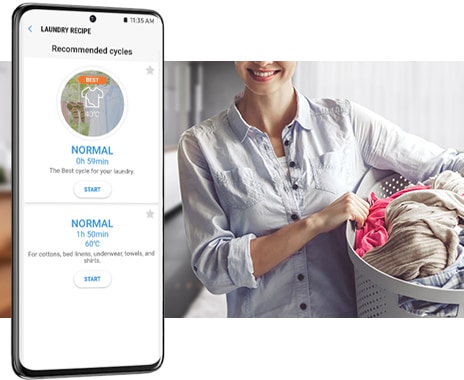 Smart laundry care
SmartThings
Use your washer more easily and effectively with the SmartThings App*. The Laundry Recipe recommends the best wash cycle***. The Laundry Planner optimizes your daily schedule****. A HomeCare Wizard enables troubleshooting. And Auto Cycle Link***** selects an optimal drying course after a wash.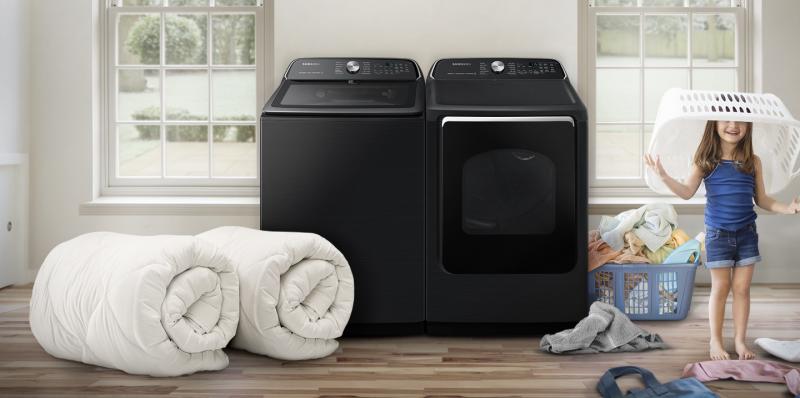 Easy pre-treatment
Active WaterJet
Pre-treat your laundry easily and efficiently. The built-in Active WaterJet lets you pre-wash heavily soiled or stained clothes. The faucet can be simply started and stopped with the press of a button. And it eliminates any unnecessary movement, so you won't drip water everywhere.
Simply add water
Deep Fill
Add more water to enhance the washing and rinsing performance. Simply select the Deep Fill option* before starting your laundry and it automatically adds extra water at the right time. So you can ensure that everything, including bulky items, like bath towels, gets thoroughly washed and rinsed.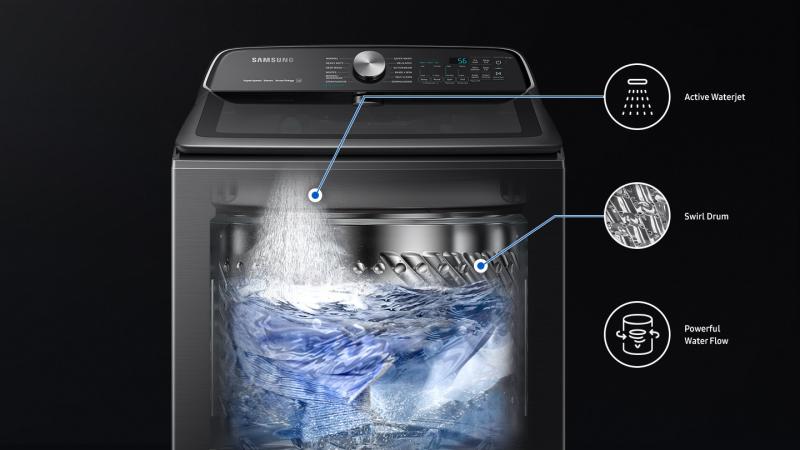 How to measure
Specifications
12 Preset Washing Cycles
Normal, Bedding/WaterProof, Heavy Duty, Downloaded Cycle, Steam Sanitize, Colours/Dark, Brilliant Whites, Active Wear, Delicates (Hand Wash), Quick Wash, Self Clean, Rinse + Spin
10 Additional Wash Options
Delay End, Pre Soak, Sound On/Off (Long Key), Child Lock (Dual Key), Fabric Softener, Deep Fill, SuperSpeed, Smart Care (Long Key), Smart Control, Spin Only
6 Temperature Levels
Extra Hot, Hot, Warm, Cool, Cold
5 Spin Levels
Extra High, High, Medium, Low, No Spin
5 Soil Levels
Extra Heavy, Heavy, Normal, Light, Extra Light
3 Detergent Dispenser Trays
Main, Softener, Bleach (Manual)
Warranty
One (1) Year Parts and Labour , Ten (10) Year Parts on Direct Drive Motor
Product Dimensions & Weight (WxHxD)
Dimensions: 27 1/2" x 44 3/5" x 29 2/5" , Weight: 132.3 lbs (60 Kg)
Shipping Dimensions & Weight (WxHxD)
Dimensions: 30 1/10" x 46 9/10" x 31 1/5" , Weight: 141.1 lbs (64 Kg)
UPC
887276618678