33" Samsung French Door Refrigerator with Door Ice Dispenser - RF26J7510SR

33" Samsung French Door Refrigerator with Door Ice Dispenser - RF26J7510SR
RF26J7510SR/AA
Literature
Large Capacity
Twin Cooling Plus
Ice Max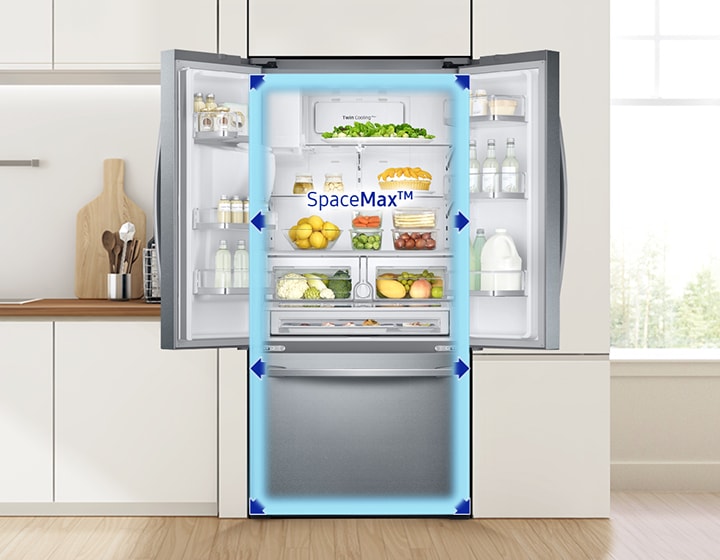 Simply bigger inside
Large Capacity
Stock-up all your food with a huge 26 cu. ft. of storage space. SpaceMax Technology creates more room inside without increasing external dimensions or compromising energy efficiency.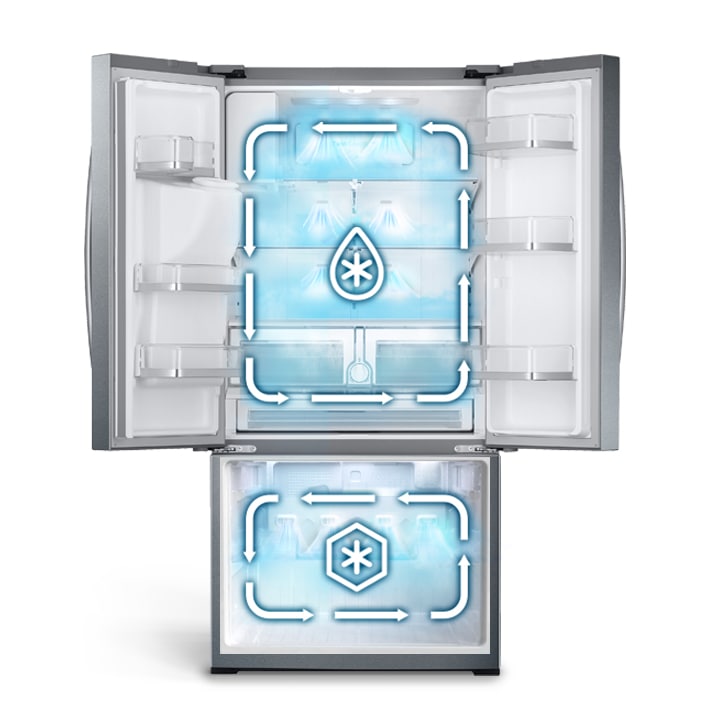 Moist, fresh natural tasting food items
Twin Cooling Plus
Ensure your food stays more moist and fresh for longer*. Twin Cooling Plus optimizes the temperature and humidity in the fridge and freezer with independent cooling systems. It preserves food in the optimal conditions and protects its original flavor and aroma by preventing odors from mixing.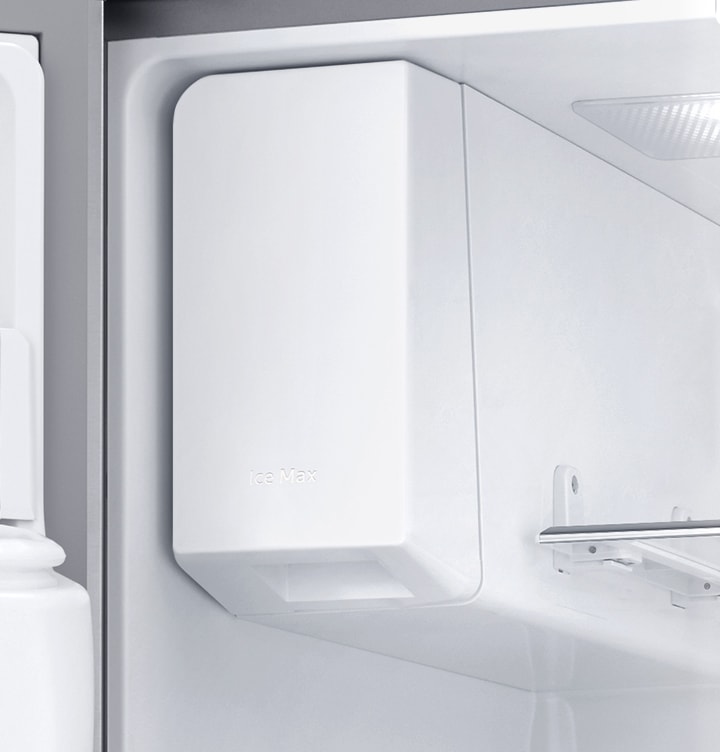 More ice & space with a slim ice maker
Ice Max
The Ice Maxs slim and compact design takes up less space, so there is more room to store food. But it can still produce up to 10lbs of ice a day and store up to 4.2lbs of ice, so you should always be good to go!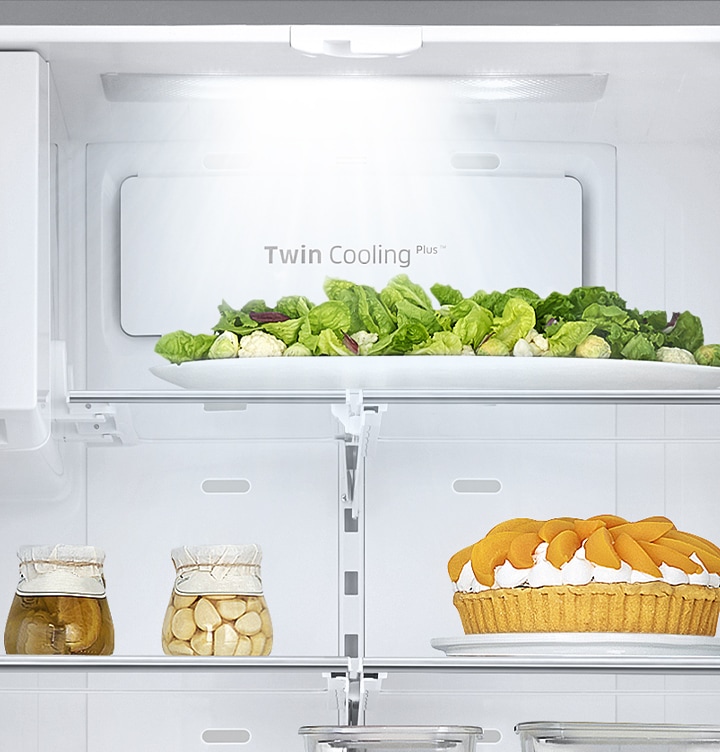 See in every corner with brighter light
LED lighting
Find ingredients more easily, while saving space and money with LED lighting. It is slimmer, brighter and more energy efficient than conventional lighting. So it creates more space for food, but brilliantly illuminates every corner. And its softer lighting is more comfortable on your eyes.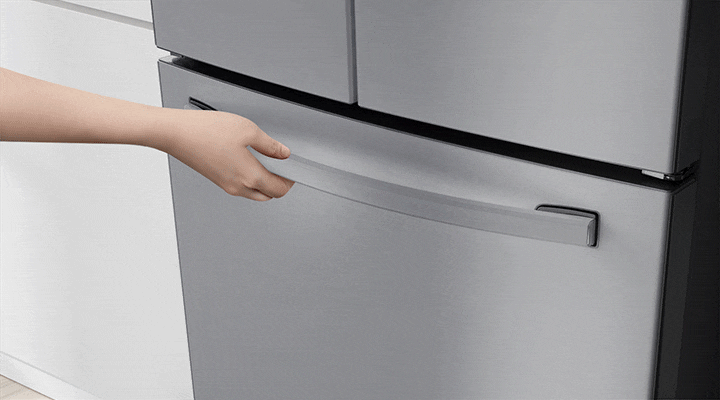 Open more easily
EZ-Open Handle
Open the drawer with a gentle pull using the EZ-Open Handle. Simply lift up the handle and it breaks the doors vacuum seal, enabling the drawer to glide open without having to pull hard, so its ideal for children or the elderly. But the latch keeps the door securely shut.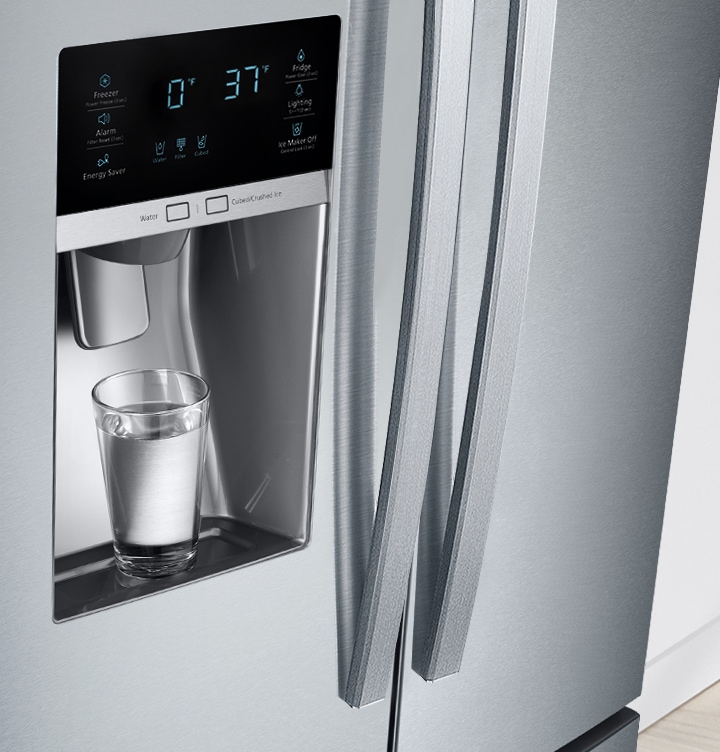 Fresh filtered water and ice
LED Display with Water & Ice Dispenser
An external, Ice Blue LED Display allows you to control settings at the touch of a button. And the Water & Ice Dispenser provides a uniquely-tall opening so pitchers and tall glasses can be filled easily while enabling you to enjoy fresh filtered water with cubed or crushed ice.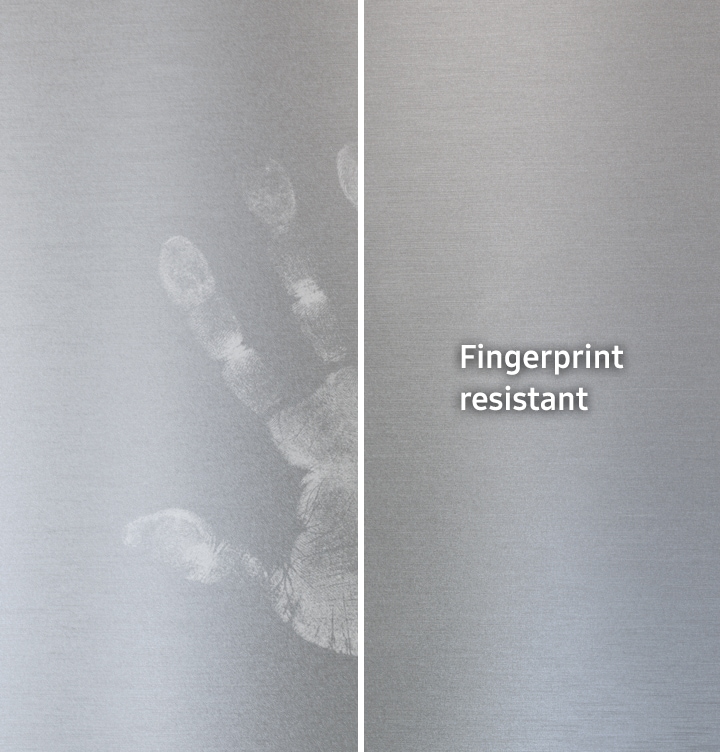 Always brilliantly clean and smudge free
Fingerprint Resistant Finish
Make sure your kitchen always looks spotlessly clean. A special Fingerprint Resistant Finish prevents surfaces from becoming covered in unsightly fingerprints and other marks and smudges. And they can be quickly wiped away if any do appear. So your home will stay looking flawlessly beautiful.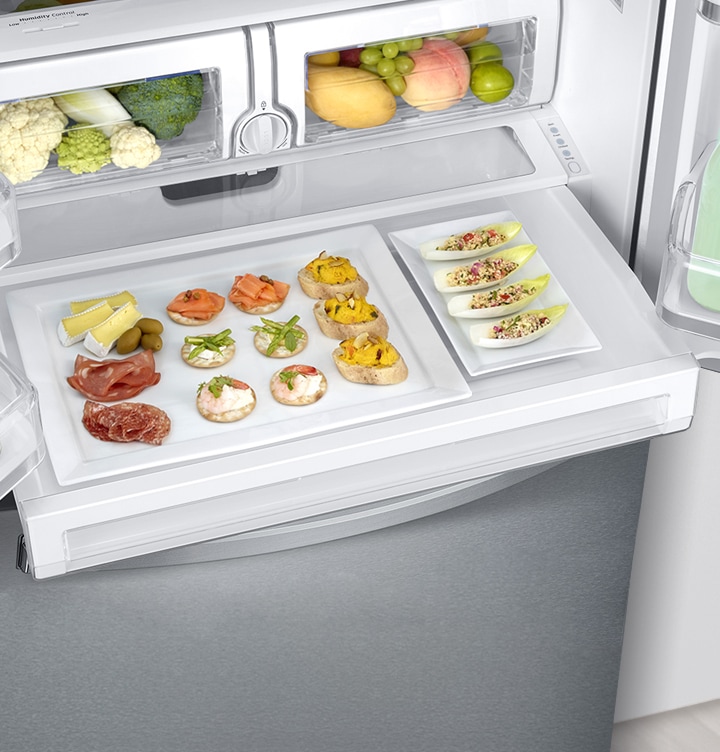 Keep food fresher
CoolSelect Pantry
The CoolSelect Pantry provides the optimal humidity level to keep different foods at their best. This full-width drawer has a flip-open top and a choice of adjustable temperature control, so you can keep whatever you're storing outstandlingly fresh and tasty.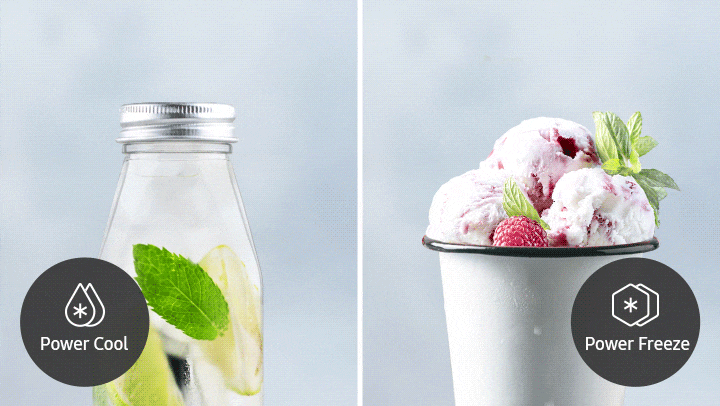 Fast cooling and freezing on demand
Power Cool & Power Freeze
Enjoy a rapid cooling performance. At the touch of a button, Power Cool blows intensely cold air into the fridge to quickly cool your groceries or favorite drinks. Power Freeze delivers a fast blast of cold air into the freezer. Its great for freezing or firming up frozen food and making ice.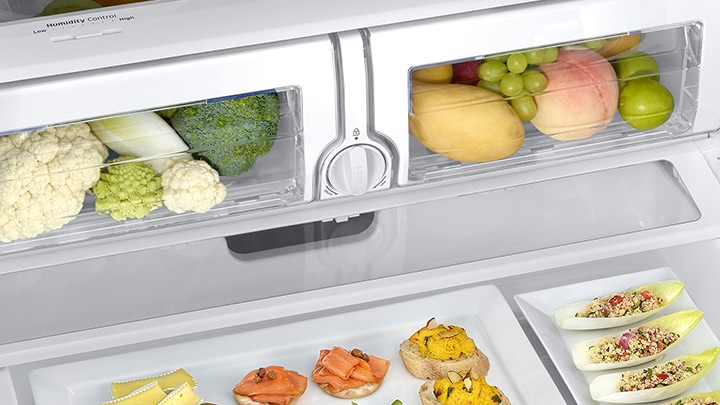 Two humidity-controlled drawers
Crisper Drawers
Preserve the original texture, flavor and taste of perishable food for longer. You can adjust the humidity in crisper drawers simply by spinning the control knob. It creates the ideal environment for storing different fruits and vegetables, so they stay crisp, fresh and juicy.
Capacity
Net Total (cu.ft)
25.5 cu.ft
Net for Freezer (cu.ft)
7.7 cu.ft
Net for Fridge (cu.ft)
17.8 cu.ft
Physical specification
Net Dimension (WxHxD)(inch)
32 3/4 x 70 x 36 1/4 inch
Net Width (inch)
32 3/4 inch
Net Case Height with Hinge (inch)
70 inch
Net Case Height without Hinge (inch)
68 7/8 inch
Net Depth with Door Handle (inch)
36 1/4 inch
Net Depth without Door Handle (inch)
34 inch
Net Depth without Door (inch)
30 inch
Packing Dimension (WxHxD)(inch)
34 5/8 x 77 3/8 x 36 3/16 inch
Net Weight (kg)
136.5 kg
Packing Weight (kg)
142 kg
20/40/40H (Container)
26
Cooling Feature
Cooling Type
Twin Cooling Plus
Refrigerator Feature
CoolSelect Zone™
Yes
CoolSelect Pantry
Yes
Humidity Control (Vegetable&Fruit Drawer)
Yes
Number of Shelf (Total)
5 EA
Number of Shelf (Slide Out)
0 EA
Number of Shelf (Flip Up)
0 EA
Number of Shelf (Foldable)
1 EA
Dairy Compartment
No
Gallon Door Storage
3 EA
Shelf Material
Tempered Glass
Number of Vegetable&Fruit Drawer
2 EA
Number of Door Pocket
6 EA
Power Cool Function
Yes
Interior LED Light
High Efficiency LED Lighting
Freezer Feature
Interior LED Light
High Efficiency LED lighting
Power Freeze Function
Yes
Freezer Divider
Yes
General Feature
Door Alarm
Yes
Refrigerant
R134a
Tactile, Electronic Control
Electronic Control
Lock & Key
Yes
Exterior Feature
Door Type
Contour
Dispenser with Water Filter
Yes
Display Type
Ice Blue LED
Door Handle
New Flat Handle
Colour
Stainless Steel
Dispenser Type
Water & Ice
Performance
Energy Consumption
698 kWh/year
Energy
Energy Star Certification
Yes
Energy Grade
Energy Star
Installation
Free Standing
Yes
Reviews
Average Customer Ratings
| | | |
| --- | --- | --- |
| Overall | | 1.71 |
| Design | | 2.43 |
| Features | | 2.29 |
| Performance | | 2.43 |
| Value of Product | | 1.43 |
Pros
Bright display
Bright display
Bright display
Bright display
Bright display
Cons
Poor quality, Did not meet expectations
Poor quality, Did not meet expectations
Poor quality
Did not meet expectations
Too big, Poor quality, Did not meet expectations, Not high def
Poor quality, Did not meet expectations
Submitted 11 months ago
By Charlieb
Reviewed at


I've had this fridge for a few months and I love it. Love the space and the drawers. I never wanted the French doors but I have no problem getting used to them.
Bottom Line Yes, I would recommend to a friend
Submitted a year ago
By Unhappy_Customer
Reviewed at


I purchased this fridge just over 5 years ago. BUYER BEWARE!!! In the first year, the ice machine quit and a water line leaked behind the fridge. The ice machine was fixed under warranty but the water continued to leak. We had to have a technician to our home twice in the first year. The water lines continued to leaked again and again, the ice machine stopped working because of ice buildup. We are now out of warranty and our fridge is not cooling ...again. We don't even turn the ice machine on anymore. We've defrosted it ourselves, this fix only lasts until the ice builds back up again, in our case was only about a week or two. For the price we paid, i expected more.
Bottom Line No, I would not recommend to a friend
Submitted a year ago
By Unhappy25
Reviewed at


1
Freezer super cold, fridge not so much
Just as the title says. Fridge is only a couple years old and now we have to pay someone to come fix it.
Bottom Line No, I would not recommend to a friend
Submitted 2 years ago
By KCEI
Reviewed at


Not the best of fridge. I wouldn't buy a Samsung again. Moved into a house with this one and I do not like. Ice box takes up too much room. I can't remove ice box to dump into a cooler. Ice comes out of the fridge all over the place and very little lands in the cups.
Bottom Line No, I would not recommend to a friend
Submitted 2 years ago
By Sheryl
Reviewed at


Bought this fridge 7 months ago and icemaker has stopped working already. For the money we paid for this appliance just not worth it for it to have issues not even a year in!
Bottom Line No, I would not recommend to a friend
Submitted 2 years ago
By angelique
Reviewed at


You can't take the bottom shelf out and it's hard to clean took me hours to figure out the stupidest way to make so complicated just to clean the bottom shelf. DO NOT BUY THIS FRIDGE SND THE ICE MAKER DOESN'T work either.
Bottom Line No, I would not recommend to a friend
Submitted 2 years ago
By Subha
Reviewed at


Worst refrigerator ever. Door doesn't close properly. The shelves are made of cheap material and everything is breaking. Because of thd door problem food get spoilt frequently and I end up throwing them. Can't wait to replace this.
Bottom Line No, I would not recommend to a friend