36" Bosch Gas Rangetop With 6 Burners - RGM8658UC
Bosch PROMO
INSTANT REBATES! German Engineering. Family Approved.
See Details
INSTANT REBATES! German Engineering. Family Approved.
Now more than ever, your world revolves around your kitchen.
INSTANT REBATES $2300 on select Bosch Appliance Packages, including laundry products and get up to $500 in Added Rebates on Kitchen Packages.
Valid from June 24th to August 5th, 2021.
Price
$5149
Savings
$1150
Our Price
$

3999

CAD

36" Bosch Gas Rangetop With 6 Burners - RGM8658UC
RGM8658UC
Literature
The six burner 36" stainless steel slide-in gas rangetop provides the look and features of a professional-style appliance.
Six powerful gas burners allows you to cook multiple dishes with full range BTU performance.
Dual flame power burner delivers two heat options, from full power heat-up to delicately low simmer.
OptiSim Burner - Simmer Delicate Sauces and Melt Chocolate Without Scorching
Dishwasher safe grates and porcleain enameled cooking surface makes the clean-up process faster and easier.
Stainless steel exterior front and large metal control knobs offers a bold distinct look.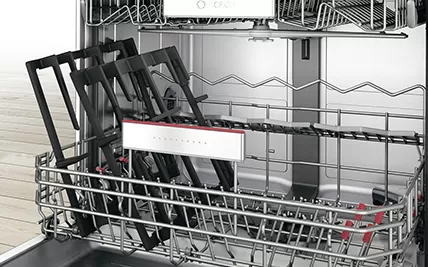 Dishwasher-Proof Pan Support
Spending ages cleaning the gas hob From now on, you can take that chore off your list Bosch gas hobs have lots of benefits, and one of them is easy cleaning. Thanks to smooth, high quality surfaces our pan supports are now dishwasher-proof. We have optimized the surface of the pan supports so that you don't have to worry about corrosion, cracks or discolouring when cleaning them in the dishwasher.
Performance
6 gas burners
OptiSim burner
Convenience
Heavy-duty grates can be cleaned in dishwasher
Full coverage, continuous surface grates allow pots and pans to move safely across the rangetop
Push-to-turn knobs with electronic ignition
LP conversion kit included for conversion from natural gas to liquid propane
Design
Superior quality stainless steel exterior finish
Black porcelain-enameled cooking surface
Pro-style bullnose provides a convenient place to rest cooking utensils and ingredients while cooking.
Upfront, heavy-duty metal knobs provide precise control
Rangetop design coordinates with Bosch ovens and ventilation
Safety
Superior quality stainless steel exterior finish
Black porcelain-enameled cooking surface
Pro-style bullnose provides a convenient place to rest cooking utensils and ingredients while cooking.
Upfront, heavy-duty metal knobs provide precise control
Rangetop design coordinates with Bosch ovens and ventilation
General
Energy source
Gas
Type of control
sword knobs
Safety device
Safety valve
Highlights
Wok burner
Connectivity
Home Connect
No
Connectivity type
Not applicable
Size and Weight
Overall appliance dimensions (HxWxD) (mm)
191 x 912 x 654 mm
Overall appliance dimensions (HxWxD) (in)
25 3/4 " x 35 15/16" x 25 3/4 "
Net weight (kg)
41.178 kg
Net weight (lbs)
91 lbs
Cooking zone 1
Location of 1st heating element
front left
Type of heating element
Gas
Cooking zone 2
Location of 2nd heating element
center left
Cooking zone 3
Location of 3rd heating element
back left
Type of 3rd heating element
Gas
Cooking zone 4
Location of 4th heating element
middle back
Cooking zone 5
Location of 5th heating element
back right
Cooking zone 6
Location of 6th heating element
center right
Cooking zone 7
Location of 7th heating element
front right
Cooking zone 8
Location of 8th heating element
front middle / central
Cooking zone 9
Location of 9th heating element
front centre/cent
Construction type
Color of frame
Stainless steel
Color of surface
Stainless steel
Construction type
Built-in
Number of electric elements
0
Number of electric cooking zones
0
Type of frame
Professional, Standard frame
Number of gas burners
6
Number of halogen elements
0
Installation Type
Built-in
Number of radiant elements
0
Number of electric warming zones
0
Safety
Type of safety device for gas
Electromagnetic for each burner
Power on indicator
No
Residual heat indicator
without
Safety device
Safety valve
Main on/off switch
No
Connection
Location of gas connection
rear
Gas connection rating (W)
22,570 W
Frequency (Hz)
60 Hz
Energy source
Gas
Power cord length (cm)
150 cm
Power cord length (in)
60.0 IN