36" Samsung 28.8 Cu. Ft. Bespoke 4-Door French Door Refrigerator - RF29BB8600QLAA

36" Samsung 28.8 Cu. Ft. Bespoke 4-Door French Door Refrigerator - RF29BB8600QLAA
RF29BB8600QLAA
Literature
Designed for you, by you
A stylishly unique design
Ice your way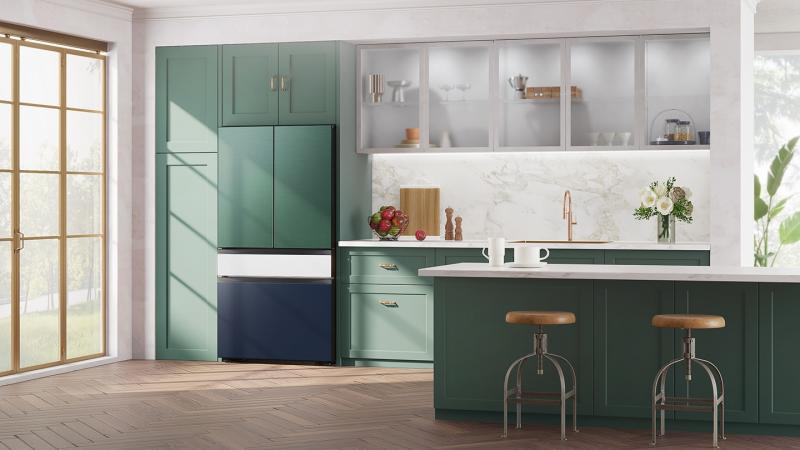 Designed for you, by you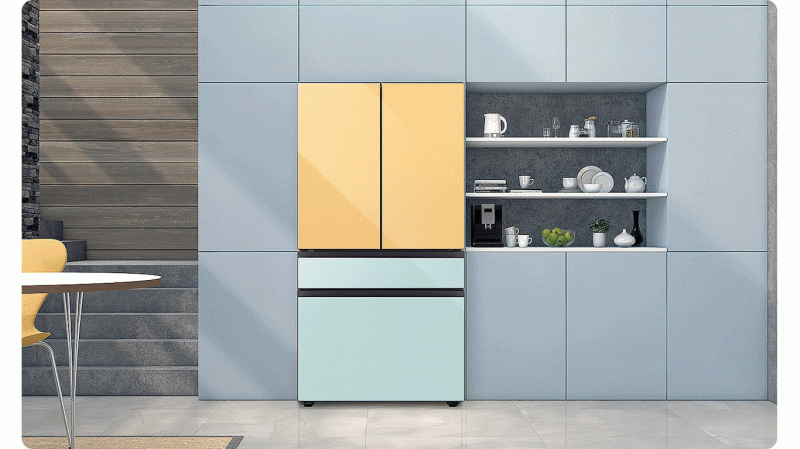 A stylishly unique design
Bespoke - Customizable Design
Create a beautifully stylish and unique kitchen space with a customizable design. It is available in a choice of 2 finishes: a premium steel, a stylish glass. And you can combine these with various door colors to suit your personal taste.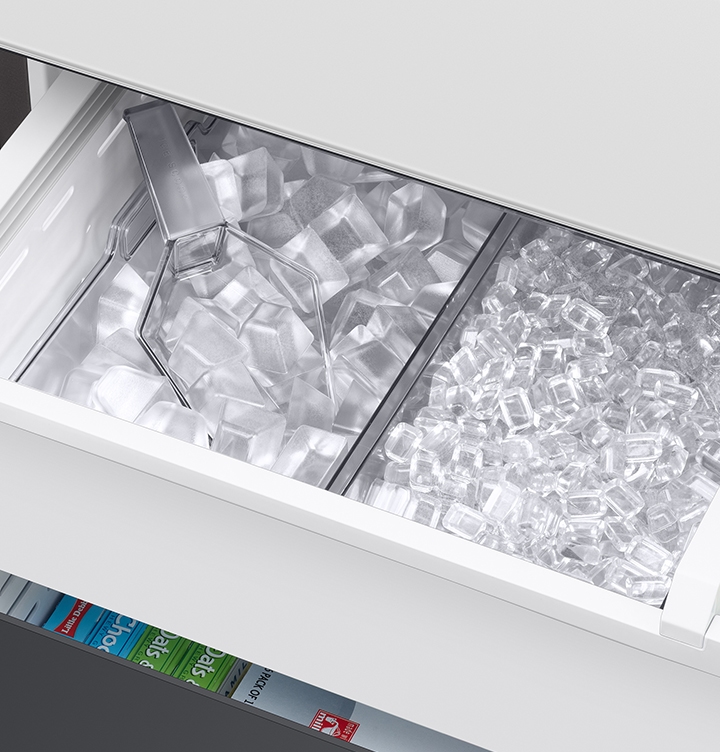 Ice your way
Dual Auto Ice Maker
Make sure you are always prepared for any occasion with two different types of ice. The Dual Auto Ice Maker makes both Cubed Ice and Ice Bites, which chill drinks much faster. It can make 5.3lbs of ice a day and store up to 9.9lbs*. And, as it's in the freezer, it frees-up space in the fridge.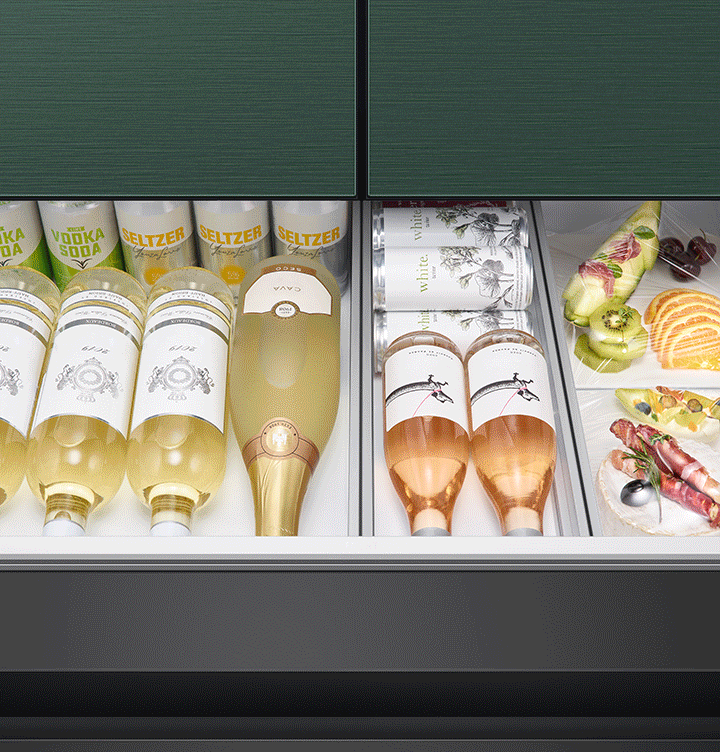 Flexibly preserve the freshness of food
FlexZone™
Keep different foods fresh and tasty in the optimal conditions. The FlexZone™ is an independently controlled compartment with five pre-set modes: Soft Freeze, Meat/Fish, Beverage, Deli, Wine*. There's also a Crisper+ with an airtight seal, so fruit and vegetables retain more moisture.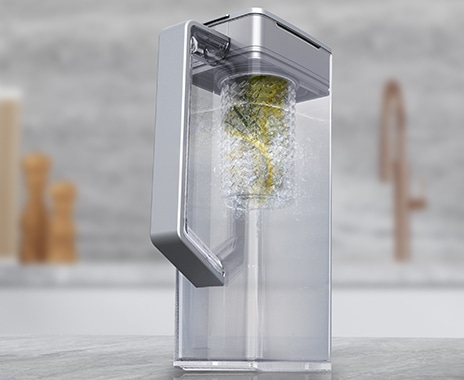 Autofill Pitcher
Enjoy refreshingly cold and flavored water immediately. The dishwasher safe* and BPA free** 1.4L (48oz) Autofill Water Pitcher automatically fills with purified water when put in the fridge. Using a built-in Infuser***, you can also add fruits or herbs to create deliciously flavored beverages.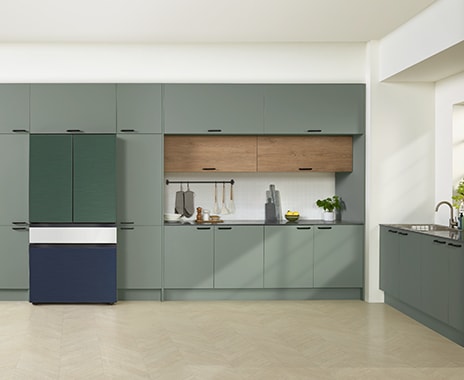 Built-in Look
Give your home a stylishly simple and sleek appearance. Its minimalist design is both neat and modern, but won't look out of place with existing appliances and cabinets. It has beautiful flat doors with no external water dispenser and recessed handles, which don't protrude and get in the way.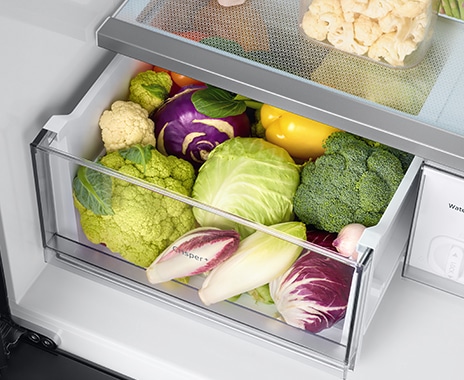 Big Veggie Box
Stop struggling to find space for the fresh food you use every day. The large capacity Big Veggie Box provides a convenient space to store lots of vegetables and fruit. So it is much easier to find everything you cook and eat regularly, without taking up space on the shelves or in your kitchen.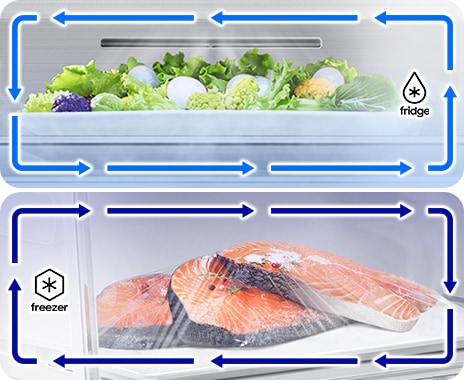 Twin Cooling Plus™
Twin Cooling Plus™ optimizes the temperature and humidity in the fridge and freezer using independent cooling in each compartment. It preserves fruits and vegetables in the best conditions and protects its natural flavor by preventing odors from mixing.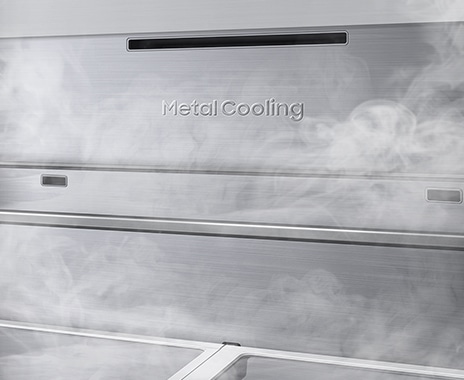 Metal Cooling
Maintain the optimal temperature inside the fridge. A Metal Cooling plate on the door and Flat Metal Duct retain the cold from the air and help to restore any heat loss quickly. And they add a premium look and are easy to wipe clean.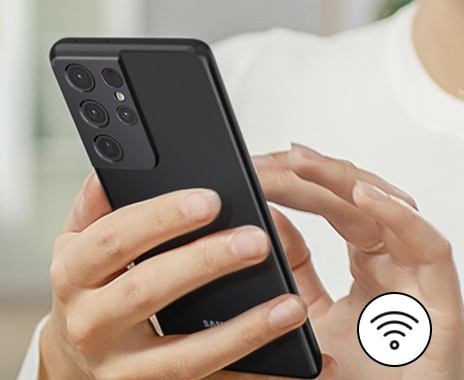 Wi-fi Embeded
Monitor and manage the refrigerator's performance anytime, anywhere using its embedded Wi-Fi and the SmartThings App*. You can control the Rapid Cooling modes, change the temperature and get alerts if the door is left open. You can also monitor its energy consumption and diagnose any issues.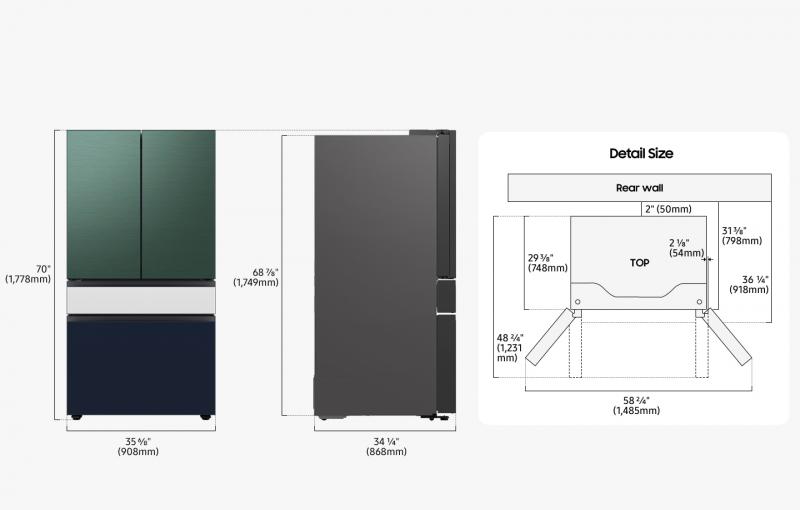 How to measure
Capacity
Net for Freezer (cu.ft)
9
Net for Mid-Drawer (cu.ft)
3.1
Net Total (cu.ft)
28.8
Physical specifications & size
Net Width (inch)
35.75
Capacity
Net for Fridge (cu.ft)
16.7
Physical specifications & size
Net Dimension (WxHxD)(inch)
35 6/8 x 70 x 34 1/4
Net Case Height with Hinge (inch)
70
Net Case Height without Hinge (inch)
68.875
Net Depth with Door Handle (inch)
34.25
Net Depth without Door (inch)
29.375
Net Depth without Door Handle (inch)
34.25
Packing Dimension (WxHxD)(inch)
38 1/4 x 76 3/4 x 36 1/4
Packing Weight (kg)
175
Cooling Feature
No Frost
Yes
Physical specifications & size
20/40/40H (Container)
12(20ft) / 26(40ft)
Cooling Feature
Cooling Type
Twin Cooling
Physical specifications & size
Net Weight (kg)
164
Cooling Feature
Multi Flow
Yes
Refrigerator Feature
Metal Cooling Duct
Yes
Metal Cooling Door
Yes
Gallon Door Storage
1 EA
Number of Shelf (Total)
4 EA
Shelf Material
Tempered Glass
Number of Vegetable&Fruit Drawer
2 EA
Number of Door Pocket
6 EA
Power Cool Function
Yes
Interior LED Light
Yes
Beverage Center
Yes
Mid Drawer Feature
FlexZone
Yes
Divider
2 EA
Freezer Feature
Drawer Type
2 Tier
Mid Drawer Feature
Temperature Setting Mode
5 EA
Freezer Feature
Power Freeze Function
Yes
Interior LED Light
Yes
Ice Making Capacity per Day (Cubed Ice)
2.7 lb
Dual Ice Maker
1 EA
Ice Storage (Cubed Ice)
4.6 lb
Ice Making Capacity per Day (Ice Bites)
2.7 lb
Ice Storage (Ice Bites)
5.3 lb
Ice Scoop
1 EA
Easy Open Handle
Yes
General Feature
Door Alarm
Yes
Refrigerant
R600a
Smart
WiFi Embedded
Yes
Installation
Free Standing
Yes
Energy
Energy Star Certification
Yes
Performance
Energy Consumption
685 kWh/year
Exterior Feature
Colour
SS Panels Pre-built
Door Type
Bespoke
Door Handle
Recessed
Reviews
Average Customer Ratings
| | | |
| --- | --- | --- |
| Overall | | 4.79 |
| Design | | 4.74 |
| Features | | 4.86 |
| Performance | | 4.77 |
| Value of Product | | 4.54 |
Submitted a year ago
By Mendezjannet336
From Lexington
Reviewed at


So i was not sure what to expect when receiving my new fridge but i will say so far I love it. It's very useful and has so many great options and love the features that are provided with this fridge. My favorite thing is the ice maker I had planned on buying a ice maker that made smaller cubes since i prefer those over the larger ice cubes. I love that the ice maker has both options and automatically refills the ice when needed. The water filter and built in pitcher are a great addition to the fridge it makes it so convenient for my kids to just pour water from the pitcher or the water dispenser. I haven't had to buy any more water since owning this fridge which has saved me money and has made it less waste at my home. The compartment to use either as for beverages, deli or a freezer makes it versatile for different uses depending on what I need it for. So far this fridge has been a major upgrade compared to previous fridge i owned. The capability that you can control the fridge and its settings on the app is a major thing as well since i dont have to be home to change any settings i need. I will say the only downside from the fridge is the space and being able to adjust the shelving in the fridge. I wish more shelving was added and that it had more room in the fridge since its limited on how you can place the shelves it limits how you can customize it to your needs. But other than that i have been pleased and glad i made this purchse.
Submitted a year ago
By Crazyrussian
From Wentzville MO
Reviewed at


Left side door doesn't close all the way you have to push it
Bottom Line Yes, I would recommend to a friend
Submitted a year ago
By Kervin
From Seattle WA
Reviewed at


5
Excellent features for the price
Smartly designed fridge with really nice appearance that can be customized. Love the concealed beverage center that doesn't rob too much space from the interior of the fridge. The self filling pitcher is awesome for dinner and guests. Having the ice maker in the freezer, and not in the door just makes sense. Our last fridge had the ice maker in the door, but it took up too much space and made a mess every time it was used. Most of the time we would open it up from the back to scoop ice anyway. Having two kinds of ice in a shallow tray is much better. And having the water dispenser behind a panel makes for a nice smooth appearance and also minimizes messes. A nice feature is that the water spout easily removes for cleaning. The value and features of this fridge are tough to beat. Being able to customize the exterior panels will be a fun way to add some personality to our kitchen. We took advantage of the free set of second panels and are looking forward to being able to change the appearance of the fridge as we please.
Bottom Line Yes, I would recommend to a friend
Submitted a year ago
By ThatBaldGuy
From Maryland
Reviewed at


5
Best refrigerator on the market
I purchased this in May, arrived mid-June, and we love it. It has a great amount of space, love the connect ability to our phone, the 2 sizes of ice cubes, beverage station, just everything. The only problem is that we had to get the panels separately, they don't arrive until Sept. But its ok, I still love it.
Bottom Line Yes, I would recommend to a friend
Submitted a year ago
By Robbie M
From Walnut Creek (CA)
Reviewed at


5
So cool , and not because its a fridge
We replaced an older Samsung french door fridge with this model, the key decisions were based on 1/ how the Ice Maker worked and where the ice cubes ( two different sizes!) were stored, 2/ the innovative beverage center and 3/ the great looking panel additions you can get.
Bottom Line Yes, I would recommend to a friend
Submitted a year ago
By selegnayd
From Las Vegas
Reviewed at


5
SamsungBespoke Rocks!!!
Our family of 5 is really enjoying this refrigerator. It's an awesome unit with the modern look which goes very well with our newly renovated kitchen. We love the sleek design and like the idea that we could change the panels. It has plenty of room for our leftovers! Our favorite part is the hidden beverage center and the pitcher is always full with cold water and no need for ice! The ice machine's separate trays for different sized ice is unexpectedly useful and an underrated feature! It's actually pretty cool. Scooping the ice is better than an ice dispenser that makes so much noise. The ice machine is nearly silent, you don't hear the ice dropping. The only downside is the freezer; we're not a fan of stacking frozen foods. However, it's still an excellent unit overall. SamsungBespokeRocks!!!
Submitted a year ago
By ryankile
From Colorado Springs
Reviewed at


The Samsung Bespoke refrigerator is a centerpiece within our home. For now, we opted to match the rest of our appliances, but we love the idea of changing the color with the interchangeable door panels. We also love the fact that it's clean looking - no bulky handles or pulls. One of our favorite features is the beverage center. It is so helpful to have a full pitcher of water whenever we need it. It's also a plus to have the extra storage for drinks. At first I wasn't sure how I'd feel about not having the ice dispenser in the door, but we've really come to appreciate it. It's nice having the extra space in the door and within the top of the refrigerator. Also, it's very convenient to use the scoop to select the type of ice, cubes or ice bites, we want for our beverages. The top of the refrigerator has plenty of space and storage. We like the flexibility to adjust our shelving with the fridge and also on the doors. The crisper drawers are very deep and have plenty of space for our produce. The fridge does a really good job of cooling and we haven't noticed any warm spots. We choose to use the pull out drawer for beverages. It's nice to separate the drawer for seltzer, juices and beer. It is nice to have the flexibility to control the temperature of this drawer and use it for other options if we needed. Lastly, the freezer has deep drawers for lots of storage and functionality. The ice does take up a portion, but we don't feel we've lost any storage from our last refrigerator. Overall, we're very satisfied with our Bespoke refrigerator and will definitely be swapping out our other appliances for Bespoke products in the near future.
Submitted a year ago
By BeachLoverXennials
From Greeley, CO
Reviewed at


5
Sleek and Functional - Ice in the freezer
Love our new fridge! We have a very specific sized space for our refrigerator and only a few counter-depth options fit, so we were so happy when we learned that Samsung released a Bespoke model that was the perfect size both height and width! We LOVE that the ice maker is in the freezer and it is awesome how it makes ice in two sizes. We also LOVE the beverage center with the bottle filler that is tall enough for our largest water bottles AND it is awesome to have a pitcher of chilled and filtered water ready to go any time we need it! The ONLY downside is that the stainless steel is pretty easy to scratch. The installers scratched the top of the door when they brought it in the house and Samsung is supposed to be sending us replacements (though we haven't received them yet). Also, it is magnetic(!) but be sure you don't use magnets that have sharp edges or you'll scratch it with them. Overall, we are very happy with this refrigerator!
Bottom Line Yes, I would recommend to a friend
Submitted a year ago
By Jimbo
From Myrtle Beach, SC
Reviewed at


5
Great Deign in a Refrigeraror?
I received my "bespoke" fridge a couple of weeks ago & we just love it. From the sleek handless flat door front exterior to the interior water & ice systems Samsung has covered all the bases. Auto fill Water pitcher and normal glass of water dispensers are inside…no more water running down the front, the freezer located ice despenser ( two size cubes in separate buckets) will never cause problems that we have experienced in ALL of our prior fridges. The use of stainless interior front& back walls seems to hold cold better. I expect I will NOT be replacing drawers and door mounted plastic storage cubbies as these are about twice as heavy as in any prior fridge.The fourth drawer and it's temp controls gives great flexibility. Samsung read consumers minds on this one and hit the all the marks spot on!
Bottom Line Yes, I would recommend to a friend
Submitted a year ago
By equipe9
From Laguna Niguel
Reviewed at


5
Great Fridge with lots of space
Very pleased overall with my new Samsung Fridge. The fridge has tons of storage space with lots of drawer and bins to easily store all of my refrigerated and frozen foods. The ice machine is great to have in a separate bin and we also really like the water dispenser. Having a separate drawer just for beverages is also very handy with summer coming along. Aesthetically, the fridge is also quite pleasing compared to other refrigerators on the market.