36" Thermador Liberty Induction Cooktop Titanium Gray - CIT367TGS
Thermador PROMO
ONE-TWO-FREE Offers
See Details
ONE-TWO-FREE Offers
There's over a thousand Thermador combinations to create your dream kitchen. We've made finding the perfect combination as easy as ONE-TWO-FREE
With our ONE-TWO-FREE® program, purchase an eligible Thermador cooking package or qualifying refrigeration unit(s) and select your complimentary Emerald® dishwasher. Purchase a complete qualifying kitchen and choose from a selection of free bonus gifts. Plus, you can complete your dream kitchen with a built-in coffee machine for only $3000†. Offers valid on purchases made between January 2, 2023 and June 30, 2023.

36" Thermador Liberty Induction Cooktop Titanium Gray - CIT367TGS
CIT367TGS
Literature
The innovative Liberty Induction Cooktop empowers cooks to take advantage of more space and flexibility in placing larger cookware on the surface. Featuring 11 oval inductors divided into 3 cooking zones, each zone can accommodate pots and pans from 4" to 10", as well as teppanyaki grills that can measure up to 16" long. Introducing a variety of Thermador exclusive features, Liberty combines incomparable performance with beautifully integrated design.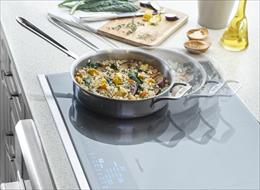 HeatShift
HeatShift Thermador HeatShift allows you to change the power level by simply moving the pot across the cooking zone. Perfect for recipes that require multiple heat levels, such as moving from a sauté to a simmer.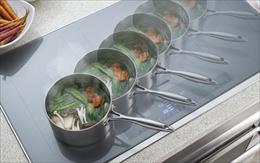 MoveMode
MoveMode Finished cooking the main course and ready to prepare the sauce? MoveMode allows easy transfer of settings without having to reset power levels when moving a pot across the cooktop.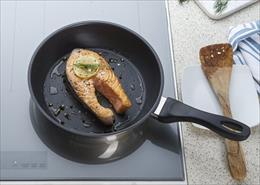 QuickBoost
QuickBoost Ideal for cooking with oil in a pan, QuickBoost technology provides 30 seconds of maximum power, then automatically lowers heat to continue cooking.
CookSmart
CookSmart Get consistent results for even the most complex recipes. CookSmart includes 5 preset frying levels so each dish as exceptional as the last.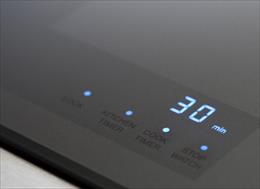 Stopwatch Timer
Stopwatch Timer Rather than counting down, this timer counts up to indicate how much time has passed since a meal has been cooking.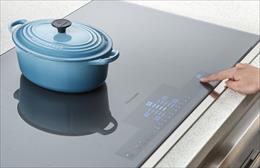 Touch Control
Touch Control Illuminated touch controls with 17 power settings is highly precise and allows for easy cleaning.
INNOVATION
Extra-large cooking surfaces allow for tailored cooking zones, place your cookware wherever you want on the Liberty™ cooking zone
HeatShift™ feature has three preset heat zones that allows you to change the power level by simply moving the pot across the cooking zone
MoveMode™ feature allows easy transfer of settings
CookSmart® with 5 pre-set temperature levels
PERFORMANCE
5 induction cooking elements
Left and right Liberty™ zones can be used as 2 separate cooking zones or combined into one large zone
17 power levels
Automatic pan recognition
Automatic switch off - the cooktop turns off automatically when all the elements have been switched off for more than 20 seconds
Control panel lock
PowerBoost® setting
Timer for all zones
2 stage residual heat indicators
Control panel pause
DESIGN
Titanium grey glass color is a perfect match to Masterpiece® series ovens
Illuminated touch controls
Front controls
Frameless design
Thermador's innovative Liberty™ induction cooktop is designed for greater flexibility when cooking
Three extra-large Liberty™ cooking zones allows more space and flexibility in placing larger cookware
HeatShift™ feature has three preset heat zones that allows you to change the power level by simply moving the pot across the cooking zone
MoveMode™ feature allows easy transfer of settings without having to reset power levels when moving a pot across the cooktop
CookSmart® with 5 pre-set temperature levels to effortlessly pan fry a wide range of foods
Illuminated touch control panel offers intuitively simple selection of 17 power levels and allows for easy cleaning
General
Energy source
Electric
Type of control
Direct Select 2.0, front
Safety device
childproof lock, Key Lock, pan recognition, Power management function, Safety time-switch-off
Highlights
17 power levels, Direct Select 2.0, flexInduction, fryingSensor Plus, powerBoost
Energy consumption of hob
185.0 Wh/kg
Construction type
Color of frame
Stainless steel
Color of surface
Stainless steel, titanium
Installation type
Built-in
Design - line
Convenience frame
Number of electric elements
0
Number of electric cooking zones
5
Type of frame
Convenience frame
Number of gas burners
0
Number of halogen elements
0
Installation Type
Built-in
Total number of cooktop burners
5
Number of radiant elements
0
Number of electric warming zones
0
Size and Weight
Overall appliance dimensions (HxWxD) (mm)
98 x 940 x 540 mm
Net weight (kg)
25.288 kg
Cooking zone 1
Location of 1st heating element
front left
Cooking zone 2
Dimension of 2nd heating element (mm)
380 x 215 mm
Location of 2nd heating element
center left
Power of 2nd heating element (W)
3.3 kW
Type of 2nd heating element
Induction heating
Energy consumption of 2nd heating element
185.0 Wh/kg
Cooking zone 3
Location of 3rd heating element
back left
Cooking zone 4
Location of 4th heating element
middle back
Cooking zone 5
Location of 5th heating element
back right
Cooking zone 6
Dimension of 6th heating element (mm)
380 x 215 mm
Location of 6th heating element
center right
Power of 6th heating element (W)
3.3 kW
Type of 6th heating element
Induction heating
Energy consumption of 6th heating element
185.0 Wh/kg
Cooking zone 7
Location of 7th heating element
front right
Cooking zone 8
Location of 8th heating element
front middle / central
Cooking zone 9
Dimension of 9th heating element (mm)
285 ; 240 mm
Location of 9th heating element
front centre/cent
Power of 9th heating element (kW)
3.3 kW
Energy consumption of 9th heating element
185.0 Wh/kg
Safety
Power on indicator
-
Residual heat indicator
Separate
Safety device
childproof lock, Key Lock, pan recognition, Power management function, Safety time-switch-off
Main on/off switch
Yes
Connection
Power cord length (cm)
96 cm
Energy source
Electric
Frequency (Hz)
60 Hz