36" Thermador Masterpiece Series Induction Cooktop- CIT365TB
Thermador PROMO
ONE-TWO-FREE® Offers
See Details
ONE-TWO-FREE® Offers
Enjoy the luxury of Thermador's exceptional design, but with the value of our ONE-TWO-FREE® program. Purchase an eligible Thermador® cooking package and you'll receive an Emerald dishwasher absolutely free. Or purchase a complete qualifying kitchen suite and choose from a selection of free bonus gifts. You can also add a built-in coffee machine for just $3000.
Offers valid on purchases made between July 1, 2021 and December 31, 2021.

36" Thermador Masterpiece Series Induction Cooktop- CIT365TB
CIT365TB
Literature
More cooking options. More flexibility. More exceptional. Thermador offers the most innovative induction cooktop collection in the luxury market, leading the way with three distinct product lines. Available in sleek designs to complement any kitchen, each cooktop provides unmatched precision for even the most challenging recipes, offering more means of control, movement and personalization with frame and glass color options. With Thermador Induction Cooktops, you have the power to prepare for everything from intimate dinners to grand parties - all you need to add is ambition.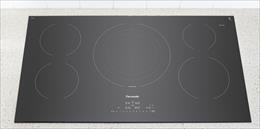 Triple Element
Triple Element Triple Element activates levels of induction based on the size of your cookware.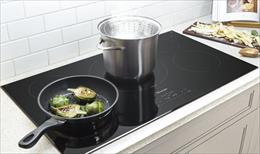 PowerBoost®
PowerBoost® PowerBoost gets your cookware to a higher temperature faster, so you can quickly boil water for pasta or heat oil before sautéing.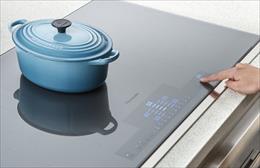 Touch Control
Touch Control Illuminated touch controls with 17 power settings is highly precise and allows for easy cleaning.
PERFORMANCE
5 induction cooking elements
17 power levels
Powerful 5,500 W, 13" triple element for larger pots and pans
PowerBoost® setting
Timer for all zones
Automatic pan recognition
Child safety lock
2 stage residual heat indicators
DESIGN
Illuminated touch controls
Frameless design
Thermador's innovative induction technology saves time in cooking and easier to care for and clean than traditional cooking methods
Large 13" round heating element and the most powerful (5,500 W) in its class
Industry exclusive triple zone element – allows you to match element size to various sized cookware
PowerBoost® feature increases element power by up to 50%, saving time to heat up pots or cook large quantities
Each element has its own shut-off timer, making it easier to coordinate the cooking of multiple dishes
Illuminated touch controls with 17 power settings is highly precise and allows for easy cleaning
General
Energy source
Electric
Type of control
front
Safety device
childproof lock, Key Lock, pan recognition, Power management function, Safety time-switch-off
Highlights
17 power levels, powerBoost
Energy consumption of hob
175.0 Wh/kg
Construction type
Color of surface
Black
Installation type
Built-in
Number of electric elements
0
Number of electric cooking zones
5
Type of frame
4 Facettes
Number of gas burners
0
Number of halogen elements
0
Installation Type
Built-in
Total number of cooktop burners
5
Number of radiant elements
0
Number of electric warming zones
0
Size and Weight
Overall appliance dimensions (HxWxD) (mm)
98 x 940 x 540 mm
Net weight (kg)
23.749 kg
Cooking zone 1
Dimension of heating element (mm)
180 mm
Location of 1st heating element
front left
Power of heating element (W)
1.8 kW
Type of heating element
Induction heating
Energy consumption of heating element
175.0 Wh/kg
Cooking zone 2
Location of 2nd heating element
center left
Cooking zone 3
Dimension of 3rd heating element (mm)
180 mm
Location of 3rd heating element
back left
Power of 3rd heating element (W)
1.8 kW
Type of 3rd heating element
Induction heating
Energy consumption of 3rd heating element
175.0 Wh/kg
Cooking zone 4
Location of 4th heating element
middle back
Cooking zone 5
Dimension of 5th heating element (mm)
145 mm
Location of 5th heating element
back right
Power of 5th heating element (W)
1.4 kW
Energy consumption of 5th heating element
175.0 Wh/kg
Cooking zone 6
Location of 6th heating element
center right
Cooking zone 7
Dimension of 7th heating element (mm)
210 mm
Location of 7th heating element
front right
Power of 7th heating element (kW)
2.2 kW
Type of 7th heating element
Induction heating
Energy consumption of 7th heating element
175.0 Wh/kg
Cooking zone 8
Location of 8th heating element
front middle / central
Cooking zone 9
Dimension of 9th heating element (mm)
320 ; 260 ; 210 mm
Location of 9th heating element
front centre/cent
Power of 9th heating element (kW)
2.2 ; 2.6 ; 3.3 kW
Type of 9th heating element
Induction heating
Energy consumption of 9th heating element
175.0 Wh/kg
Safety
Power on indicator
-
Residual heat indicator
Separate
Safety device
childproof lock, Key Lock, pan recognition, Power management function, Safety time-switch-off
Main on/off switch
-
Connection
Power cord length (cm)
96 cm
Watts (W)
9,360 W
Energy source
Electric
Frequency (Hz)
60 Hz