36" Thermador Professional Series Porcelean Rangetop - PCG366G
Thermador PROMO
ONE-TWO-FREE Offers
See Details
ONE-TWO-FREE Offers
There's over a thousand Thermador combinations to create your dream kitchen. We've made finding the perfect combination as easy as ONE-TWO-FREE
With our ONE-TWO-FREE® program, purchase an eligible Thermador cooking package or qualifying refrigeration unit(s) and select your complimentary Emerald® dishwasher. Purchase a complete qualifying kitchen and choose from a selection of free bonus gifts. Plus, you can complete your dream kitchen with a built-in coffee machine for only $3000†. Offers valid on purchases made between January 2, 2023 and June 30, 2023.
New 36-inch Professional Series Rangetops give you the convenience of our fourth-generation pedestal Star Burners for the highest standard in performance and convenience. This model features 6 Star Burners (2 with ExtraLow® feature).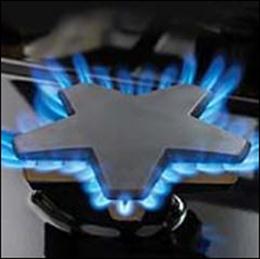 Star Burner
The Star® Burner's unique shape isn't just for show. It creates a perimeter that 56% longer than a round burner of the same diameter, which allows for the inclusion of more flame ports. The result is a burner that has superior flame spread and a reduced cold spot to deliver faster and more even heating across any size pan. A classic-reimagined.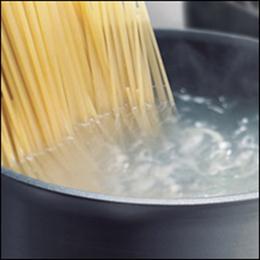 Fastest Time to Boil
Fastest Time to Boil The unique five-point design of our patented Star® Burners directs heat evenly from the center of the pan to its edges for faster time to boil. It boils water over 50% faster than leading competitors.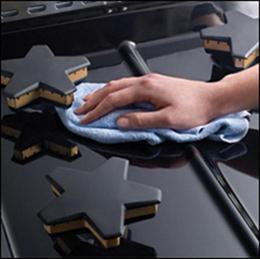 QuickClean Base
QuickClean Base The raised pedestal burner and porcelain maintop have been crafted for perfect integration and easy cleanup. A hand and sponge fit easily under each burner to wipe the surface clean and a teardrop emboss reduces food buildup near the base. THERMADOR EXCLUSIVE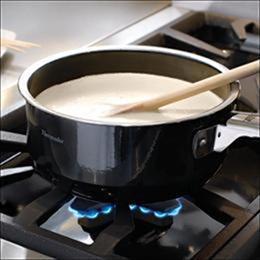 ExtraLow® Simmer
The only simmer system that allows you to control the temperature. Cycles the Star® Burner on and off to maintain temperatures as low as 100°F. Simmers delicate sauces or keeps food warm without scorching or need for stirring.
INNOVATION
Exclusive, patented Star® Burner – most even heating, unsurpassed flame coverage
Every burner 18,000 BTU (NG)
Precision simmering capabilities as low as 100°F (375 BTU) with 2 ExtraLow® Simmer burners
QuickClean Base® designed for easy surface cleaning
PERFORMANCE
Professional style, continuous cast iron grates
Continuous porcelain, easy to clean cooking surface
Widest range of simmer options from 375 BTU to 3,000 BTU
Star® design delivers superior heat spread for any size pan
Simmer without stirring/scorching with exclusive ExtraLow®
DESIGN
Bold Professional design
Patented Pedestal Star® Burner with QuickClean Base®
Restaurant style metal knobs
Signature blue indicator lighting
Island trim shipped standard with rangetop
Features and Specifications
Amps (A)
10
Frequency (Hz)
60
Gas type
Natural gas 15 mbar (USA)
Alternative gas type
Liquid gas 27,5 mbar (USA)
Approval certificates
CSA
Plug type
120V-3 prong
Minimum distance from rear wall (in)
12''
Net weight (lbs)
152
Gross weight (lbs)
158
Specifications
Type of grate
Cast iron
Number of double grates
3
Optional accessories
PA12CHPBLK, PA36GLBC, PAGRIDDLE, PAKNOBLUNH, PALPKITHN, PWOKRINGHC
Knob material
Full metal
Natural gas connection rating (BTU)
108000
LP Gas Connection Rating (BTU)
90000
Sealed burners
Yes
Included accessories
1 x island trim
Location of 1st heating element
front left
Power of 1st burner (BTU)
18000
Location of 2nd heating element
center left
Location of 3rd heating element
back left
Power of 3rd burner (BTU)
18000
Location of 4th heating element
middle back
Power of 4th burner (BTU)
18000
Location of 5th heating element
back right
Power of 5th burner (BTU)
18000
Location of 6th heating element
center right