45" Napoleon Charcoal Grill Series Charcoal Kettle Grill In Black - PRO22K-CART-2
Napoleon PROMO
POWER OF FIRE
See Details
POWER OF FIRE
Save Up To $750
Uncover the Power of Fire! Enhance your wellbeing with a fireplace and enjoy an instant rebate of up to $750 during this promotion.
Effective September 14 - November 15, 2023

45" Napoleon Charcoal Grill Series Charcoal Kettle Grill In Black - PRO22K-CART-2
PRO22K-CART-2
$599
Literature
PRO CART Charcoal
Charcoal enthusiasts can experience a full-sized grilling experience with the compact and mobile Napoleon PRO Charcoal Kettle Grill with Cart. The stainless steel, folding side shelf provides a generous prep space. The folding shelf isn't the only thing that is spacious, there is also the large, hinged, cast iron cooking grid. You'll know it's a Napoleon with the iconic WAVE™ cooking grids for those distinctive sear marks. Grilling, roasting, and smoking are a breeze, the hinged grids season like a cast iron frying pan, and make it easy to reload charcoal or add wood for smoking. Charcoal is all about controlling heat and airflow, the cooking grids adjust to three heights, while the stainless steel heat diffuser evenly distributes heat, and directing spent charcoal to the ash catcher. The lid features an offset hinge that opens, allowing access to the whole grill while keeping your hands away from the heat.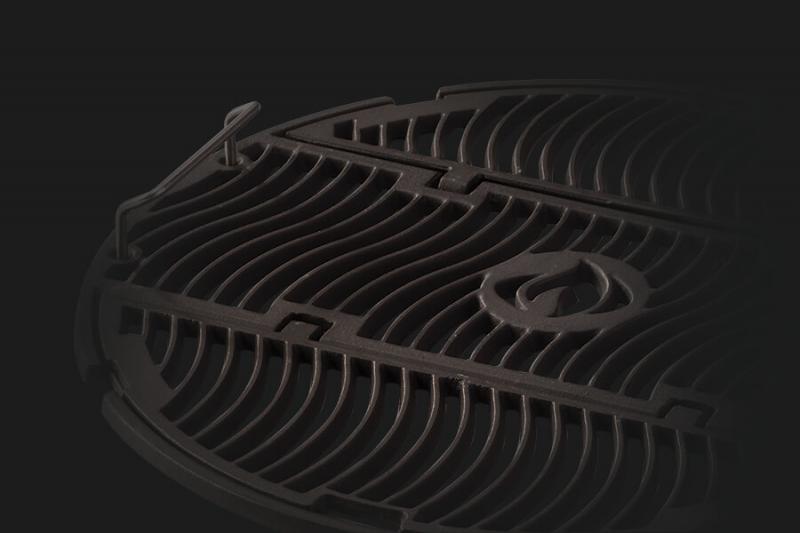 Porcelain Coated Cast Iron Iconic WAVE™ Cooking Grids
Iconic sear marks
Porcelain coated to resist rust, these iconic wave shaped grids provide even heat transfer and a great sear.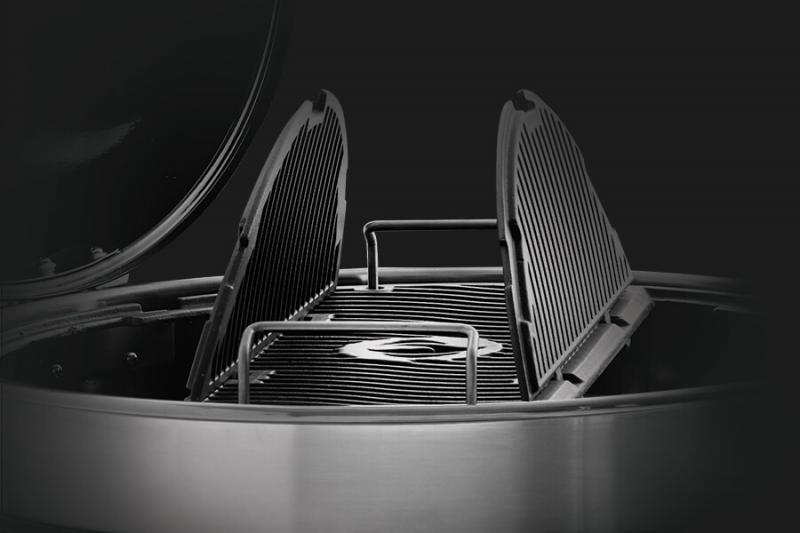 Hinged Cooking Grids with Three Height Adjustments
Easy access, charcoal control
Raise and lower the porcelain coated, hinged cooking grids making it easy to cook low and slow or sear beautifully over charcoal.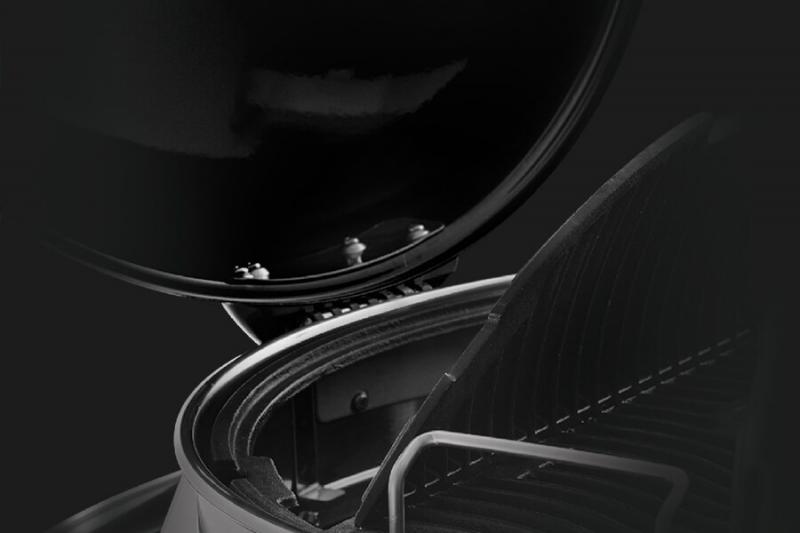 Hinged Lid
Hands free grilling
Provides full access to the grill while leaving both hands free for cooking.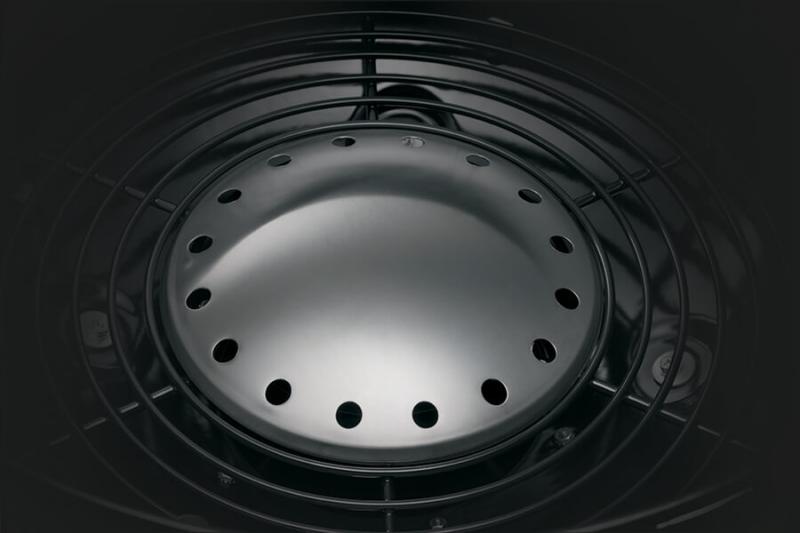 Stainless Steel Heat Diffuser
Creates airflow around the charcoal for even heating and a better burn.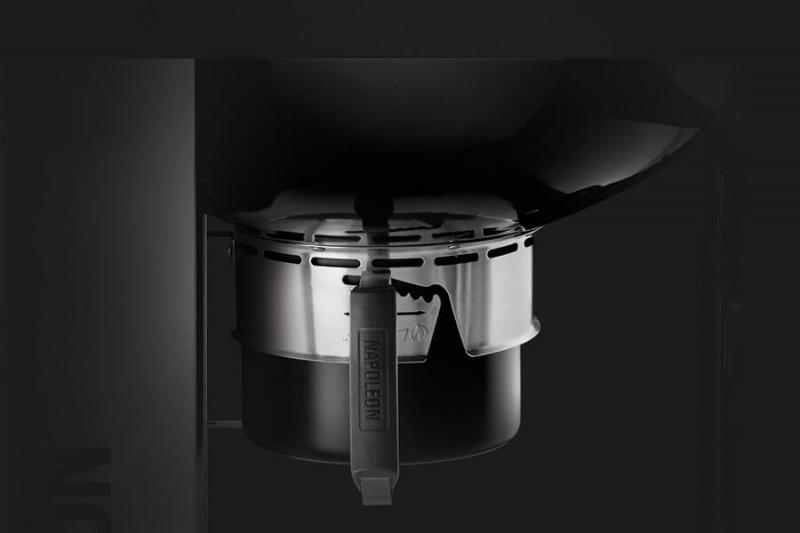 Removable Heavy Steel Ash Catcher
The heavy steel resists corrosion from the elements and is removable for easy cleaning.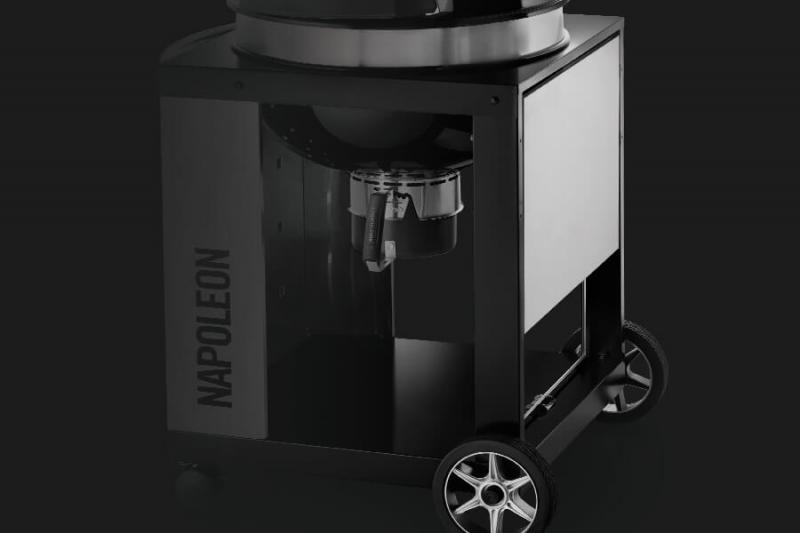 Sturdy Cart Design with Folding Shelf
This stable cart holds a secret; a fold out side shelf for added prep space.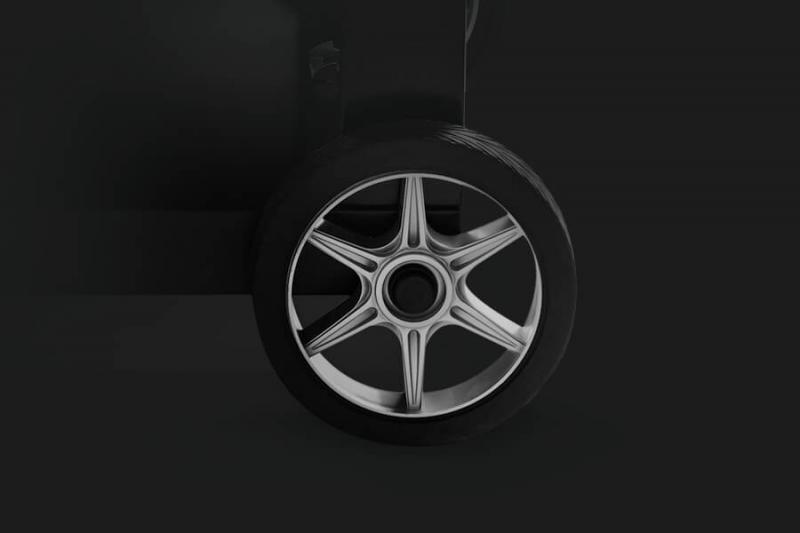 Rugged Weather-Proof Wheels
These wheels are tough and sturdy allowing you to easily move your charcoal grill to where the action is over any terrain.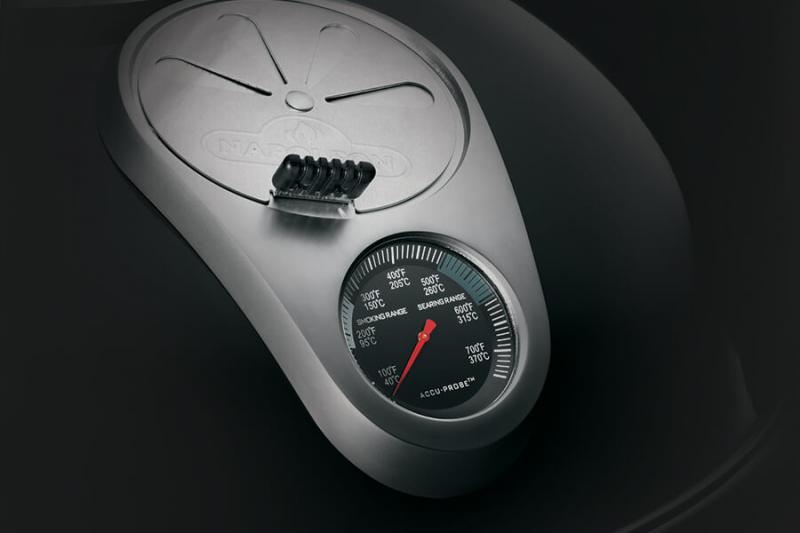 ACCU-PROBE™ Temperature Gauge
Accurately gauges the temperature for optimal temperature control when grilling.
Specifications
Warranty
10 Year Limited *
Cooking Area
21.5 in (diameter)
22 burgers
Dimensions
Height
41.75 in ( 106 cm)
60 in ( 152 cm)
Lid Open
Width
44.75 in ( 114 cm)
31.25 in ( 79 cm)
Shelves Down
Depth
29 in ( 73 cm)