23" Bosch 2.5 Cu. Ft. 500 Series Single Wall Oven With Home Connect - HBE5452UC
Price
$3549
Our Price
$

2999

CAD

23" Bosch 2.5 Cu. Ft. 500 Series Single Wall Oven With Home Connect - HBE5452UC
HBE5452UC
Literature
The 24" Bosch Wall Oven with Wi-Fi Connectivity features Genuine European Convection and is Designed for Kitchens with a Smaller Footprint
Genuine European Convection for Even Baking Results on Mutliple Levels.
The Wall Oven is Designed to be Installed Flush with your Cabinetry.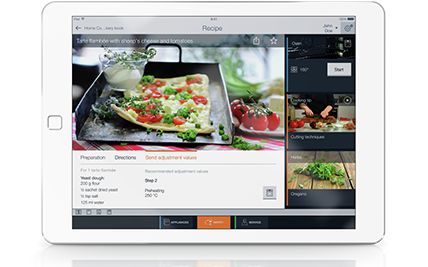 Recipes
The Home Connect function will turn your oven into a cookery book, as your mobile device will give you full access to an entire world of clever recipes which you can transfer directly to your oven. You can also save them in the Home Connect app for easier access.
Performance
11 Specialized Cooking Modes - Gourmet Cooking Made Easy
Genuine European Convection
Design
Unique ring control design with TFT display
Convenience
Kitchen Timer
Extra Large Door Window for Easy Monitoring of Cooking Process
Capacity
Large Capacity at 2.5 Cu Ft.
General
Time auto-standby/network
20.0 min
Time auto-standby/displ. off
20.0 min
Time auto-standby/display on
20.0 min
Power consumption standby/network: Please check the user manual for how to switch off the WiFi module.
3.0 W
Power consumption standby/display off
0.5 W
Power consumption standby/display on
0.9 W
Energy efficiency class (2010/30/EC)
A
Included accessories
3 x combination grid
Highlights
Child-proof Lock, ecoClean, Fast Pre-heating function
TFT-Display
No
TFT-Touchdisplay
No
TFT-Touchdisplay Plus
No
Cooking mode
Bottom heat, Conventional heat, Defrost, Full width grill, Hot air grilling, Intensive heat, low temperature cooking, Pizza setting, pre-heating, warming
Usable volume (of cavity) - NEW (2010/30/EC)
71 l
Height of the product (mm)
595 mm
Width of the product (mm)
594 mm
Connection
Volts (V)
240/208 V
Plug type
no plug
Watts (W)
4,000 W
Current (A)
20 A
Power cord length (cm)
152 cm
Comfort
Are some hobs controls integrated
No
Included accessories
3 x combination grid
Consumption values
Energy consumption per cycle forced air convection (2010/30/EC)
0.74
Energy consumption per cycle conventional (2010/30/EC)
0.90
Energy efficiency class (2010/30/EC)
A
OVEN
Door temperature
40 °C
Product size
Large
T/b heating temperature max. (°C)
300 °C
Hot air temperature max. (°C)
275 °C
Area of largest baking sheet
1,290
Size and Weight
Net weight (kg)
37.5 kg
Depth with door open (mm)
1,040 mm
Cut-out depth
582 mm
Cut-out height (mm)
585 mm
Cut-out width
560 mm
Overall appliance dimensions (HxWxD) (mm)
595 x 594 x 580 mm
Cavity depth (cm)
41.5 cm
Cavity height (cm)
35.7 cm
Cavity width (cm)
48.0 cm
Construction type
Door hinge
Bottom, damped
Installation Type
Built-in
Energy source
Electric
Door Material - cavity 1
Glass
Control Panel Material
Stainless steel
Construction type
Built-in
Product color
Stainless steel
Connectivity
Connectivity type
Wi-Fi
Home Connect Features
iService Remote, Remote Monitoring and Control
Home Connect
Yes
General
Time auto-standby/network
20.0 min
Time auto-standby/displ. off
20.0 min
Time auto-standby/display on
20.0 min
Power consumption standby/network: Please check the user manual for how to switch off the WiFi module.
3.0 W
Power consumption standby/display off
0.5 W
Power consumption standby/display on
0.9 W
Energy efficiency class (2010/30/EC)
A
Included accessories
3 x combination grid
Highlights
Child-proof Lock, ecoClean, Fast Pre-heating function
TFT-Display
No
TFT-Touchdisplay
No
TFT-Touchdisplay Plus
No
Cooking mode
Bottom heat, Conventional heat, Defrost, Full width grill, Hot air grilling, Intensive heat, low temperature cooking, Pizza setting, pre-heating, warming
Usable volume (of cavity) - NEW (2010/30/EC)
71 l
Height of the product (mm)
595 mm
Width of the product (mm)
594 mm