24" Bosch 800 Series Recessed Handle Special Application - SGE68X55UC

24" Bosch 800 Series Recessed Handle Special Application - SGE68X55UC
SGE68X55UC
$2299
Literature
The 3rd rack offers 30% more loading area. Perfect for ramekins, cooking utensils and extra-long silverware.
44 dBA: Quietest Dishwasher Brand in the U.S.
New 3rd rack adds versatility and offers 30% more loading capacity.
RackMatic offers 3 height levels, for 9 possible rack positions.
Water softener ensures optimally spot-free and shiny dishes.
AquaStop Plus 4-Part leak protection prevents water damage 24/7.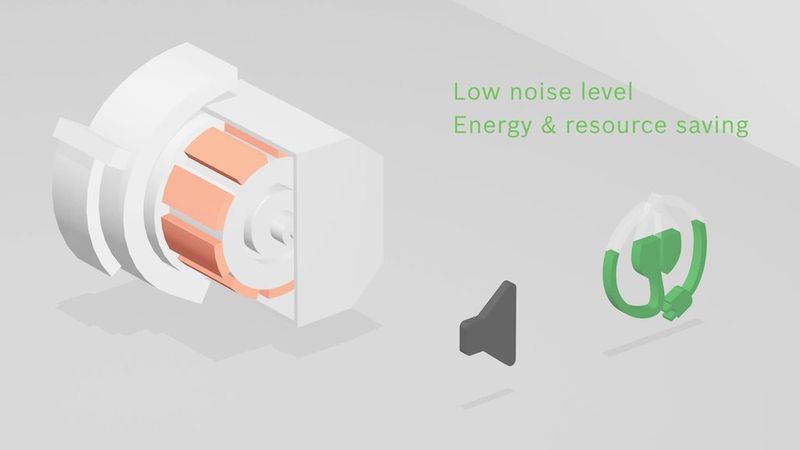 Dishwashing like you ve never heard before.
Dishwashing like you ve never heard before. Quiet operation is just as important as sparkling clean dishes. That means never having to wait until going to bed to rnu the dishwasher. Our dishwashers with EcoSilence motor system deliver high-performance cleaning with low noise emission. Two small brushless motors offer quieter operation than a single large motor, and are held in place by rubber suspenders to minimize vibrations. So your home is as quiet as it is clean.
Half Load Option
Half Load Option This option dramatically reduces cycle time and water consumption when washing small, lightly soiled loads that fill half or less of the dishwasher s capacity.
3rd Rack
3rd Rack Our 3rd rack offers easy-loading silverware tines for cleaning flatware. The unqiue v-shape of the rack provides the perfect space for large utensils and ramekins, in the center, while providing space for wine glasses on the sides on the middle rack. An ingenious use of space that offers a total of 30% more loading area.
Key Features
ActiveTab Tray Optimizes Detergent Dissolving
Water Softener Ensures Perfect Cleaning Results
AquaStop Plus 4-Part Leak Protection Works 24/7
Design
Stainless Steel EuroTub
Silver Colored Fascia in Stainless Steel
Red Remaining Time Display
Performance
6 Programs and 5 Options
Sanitize Option eliminates bacteria and enhances drying results
Variable Spray Pressure
ActiveTab Tray Optimizes Detergent Dissolving
Water Softener Ensures Perfect Cleaning Results
Convenience
AquaStop Plus 4-Part Leak Protection Works 24/7
Multi-Function LED with Remaining Time
24 h Delay Start Timer
Rinse Cycle- Instead of PreRinsing
Capacity
15 Place Setting Capacity
Premium Racks for Flexible Loading
RackMatic Automatically Adjustable Upper Rack
Flexible Silverware Basket
Connection
Plug type
120V-3 prong
Length outlet hose (cm)
190 cm
Length inlet hose (cm)
165 cm
Current (A)
12 A
Power cord length (cm)
120 cm
Watts (W)
1,300 W
Consumption values
Maximum temperature for water intake (°C)
60 °C
Glass protection
Yes
Safety
Leak protection system
Aqua Stop
Surge-back protect. installed
Yes
Glass protection
Yes
Programmes
Temperature, programme 5 (°C)
45
Temperature, programme 4 (°C)
45-55
Temperature, programme 3 (°C)
45-50
Temperature, programme 2 (°C)
53-66
Temperature, programme 1 (°C)
66-71
Reference programme
Regular US
Program 6
Rinse & Hold US
Program 5
Quick Wash US
Program 4
Regular US
Program 3
Delicate/Economy Wash US
Program 2
Auto US
Program 1
Power Scrub Plus US
List of programmes
Auto US, Delicate/Economy Wash US, Power Scrub Plus US, Quick Wash US, Regular US, Rinse & Hold US
Size and Weight
Net weight (kg)
40.300 kg
Adjustable plinth
No
Number of wash cycles
5
Height of removable worktop (mm)
815 mm
Construction type
Width of the product (mm)
598 mm
Water Softener
Yes
Tub material
Stainless steel
Removable top
No
Installation Type
Built-under
Concealed heating element
Yes
Height of the product (mm)
815 mm
Drying system
Inherent heat
Panel ready
Not possible
Construction type
Built-in
Color / Control Panel
Stainless steel colour, lacqu.
Color / Material housing
Lacquered
Connectivity
Home Connect
No
General
Length outlet hose (cm)
190 cm
Power cord length (cm)
120 cm
Removable top
No
Interior Light
No
Third Rack
Standard Third Rack
Silence level (dBA)
44
Display
Yes
Cycle Options
Chrystal Protect, Extra dry, half load, Sanitation
List of programmes
Auto US, Delicate/Economy Wash US, Power Scrub Plus US, Quick Wash US, Regular US, Rinse & Hold US
Number of place settings
15
Installation Type
Built-under
Height of the product (mm)
815 mm
Width of the product (mm)
598 mm