36" Samsung 28 Cu. Ft. French Door Refrigerator With Touch Screen Family Hub - RF28R7551SG
36" Samsung 28 cu. ft. French Door Refrigerator With 21.5" Touch Screen Family Hub - RF28R7551SR
36" Samsung 28 Cu. Ft. French Door Refrigerator With Touch Screen Family Hub - RF28R7551SG

36" Samsung 28 Cu. Ft. French Door Refrigerator With Touch Screen Family Hub - RF28R7551SG
RF28R7551SG/AC
$4999.99
Literature
Family Hub™ - Screen for all family members, for their communal and emotional experience
FlexZone™ - Flexible storage drawer with different temperature settings
Twin Cooling Plus™ - Enjoy fresh food
Family Hub™
Family Hub™ lets you manage your family's calendars, play music on Spotify, share pictures and stay connected right on your refrigerator.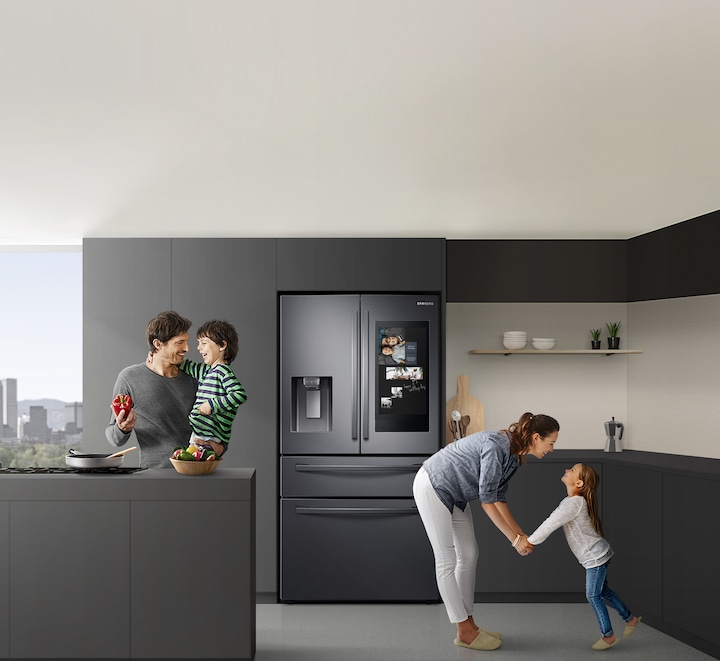 Family
Family Board
Enrich your family life by sharing news, messages and special moments on the Family Board. Simply use your smartphone and it will synchronize with the Family Hub. You can show photos, post stickers, draw pictures and type or hand-write notes. You can even add a music player.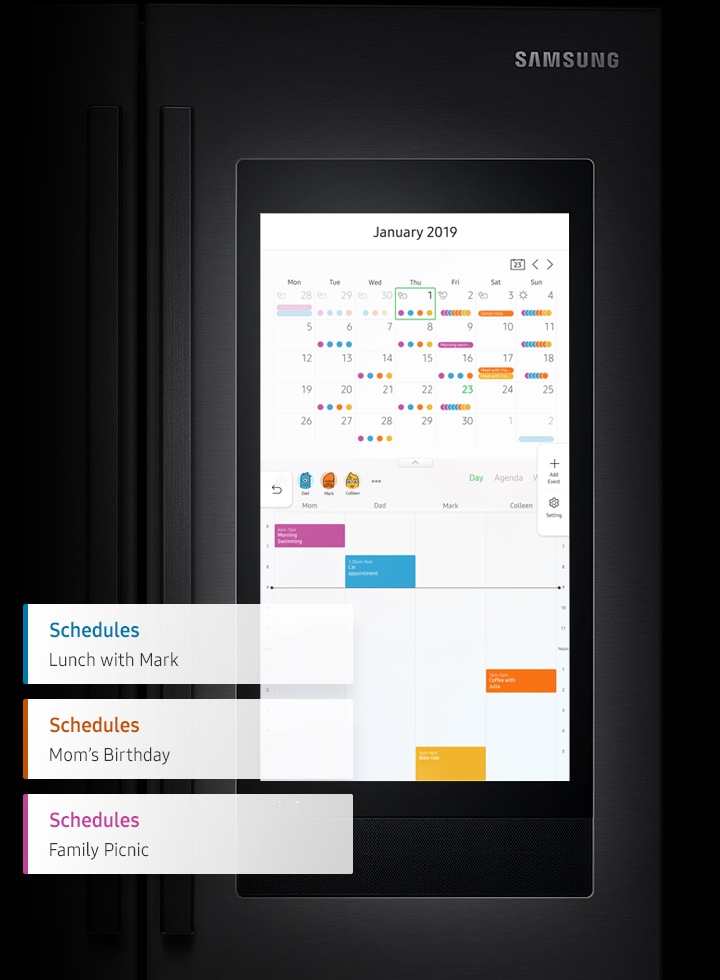 Calendar
Make sure that you never miss a family event. The Calendar lets you share and check the schedules of family members at a glance. You can update entries on the fridge or from a smartphone and synchronize the schedules with Google and Microsoft 365 calendars.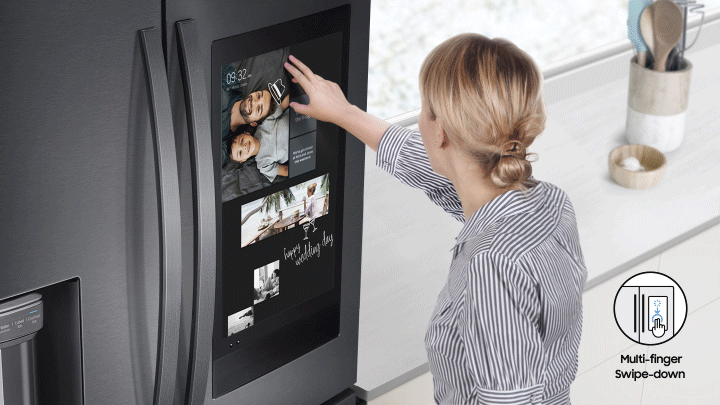 Food
View Inside
See what's in the fridge on your smartphone. The View Inside internal cameras show what food you have, so you can check when you're shopping. It also automatically tags food expiration dates and lets you create a shopping list, food memos or reminders.*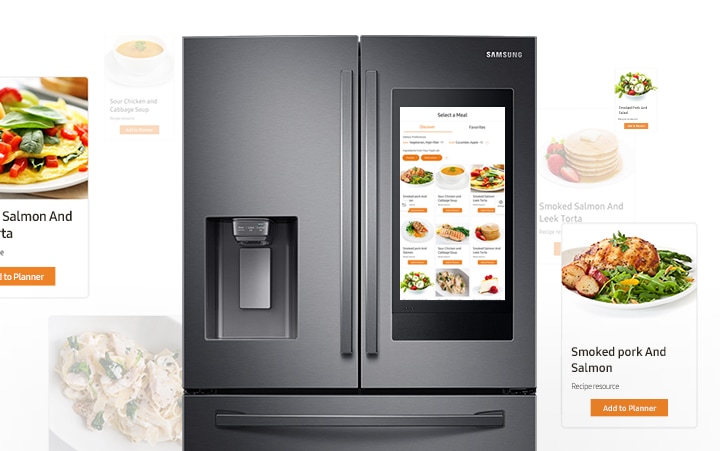 Smart Recipes & Meal Planner
The Smart Recipes App provides delicious recipes with simple on-screen instructions. The Meal Planner App suggests meals to cook, based on your preferences and the food in the fridge. And it lets you create a weekly shopping list.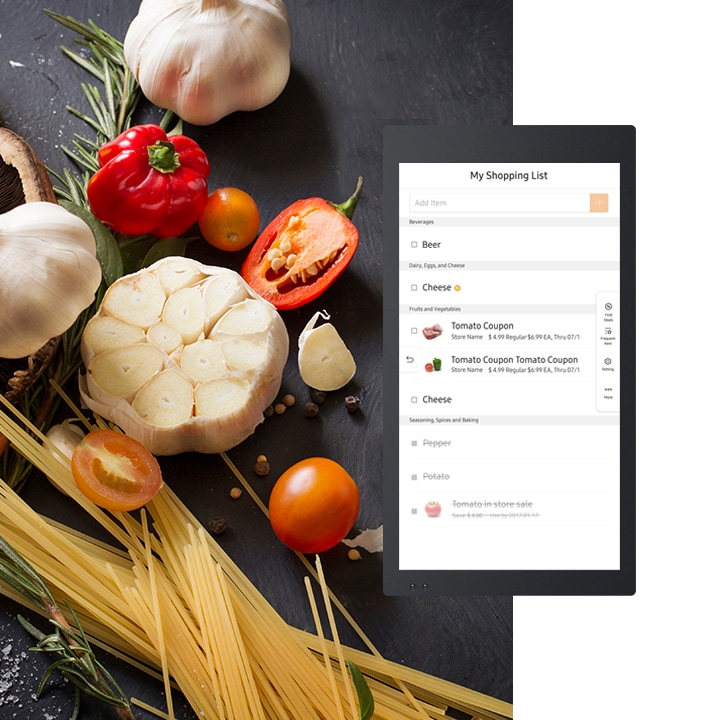 Shopping List App
Plan meals and create a shopping list with a Shopping List App. Simply use the screen to add items to your list. If a recipe is recommended, any essential or missing ingredients can be added with a touch or voice command. If you synchronize the list to your phone you can check it in the store.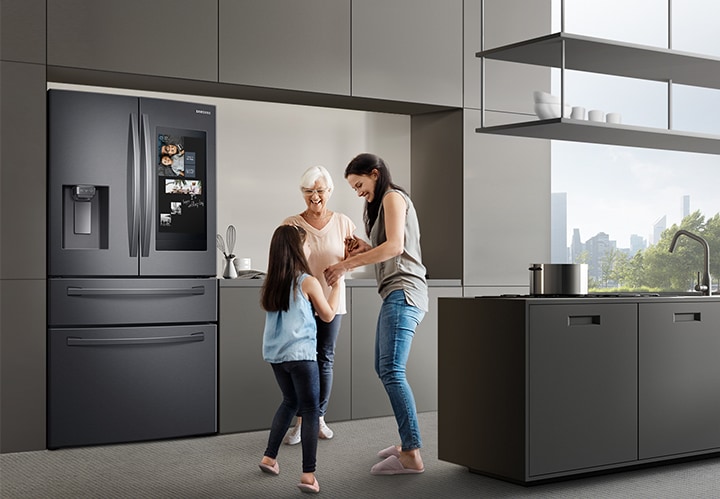 Fun
TuneIn / Spotify / Amazon Music (Music & Radio)
Enhance your cooking pleasure and entertain people at a party. Enjoy seamless music listening to your favourite playlists and songs using Spotify and Amazon Music. Or stream non-stop entertainment with global radio stations, news, podcasts and comedy shows on TuneIn.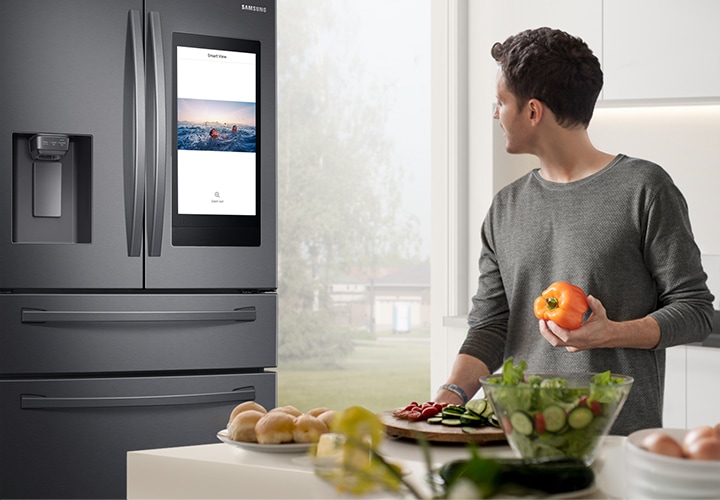 SmartView (Phone/TV Mirroring)
Watch mobile content or TV programs while cooking. The SmartView App can display what's on your smartphone or Samsung Smart TV*. Simply open the App, choose a smart device or TV and both screens will instantly show the same content.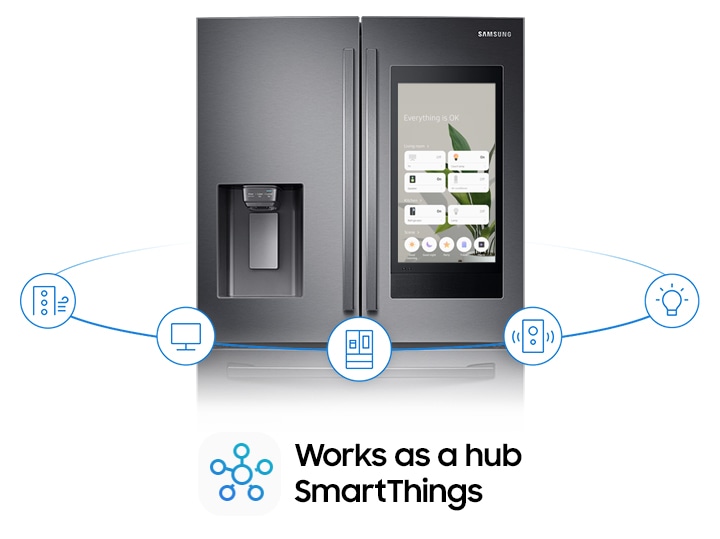 Connected Living
SmartThings
Turn your home into a smart home with SmartThings*. Using just your voice or a simple touch on your refrigerator's home screen, you can instantly control your compatible smart appliances and IoT devices. You can turn them on/off, adjust settings, co-ordinate activities and limit power usage.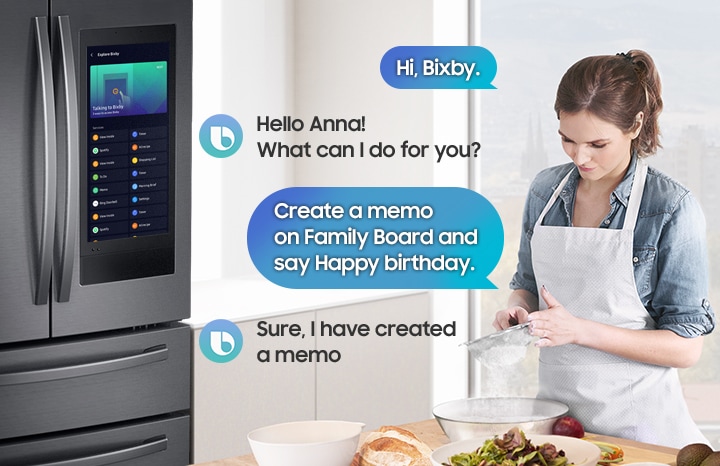 Bixby
The Upgraded Bixby artificial intelligence (AI) system* lets you conveniently access a range of optimized and uniquely tailored services and content, like suggested meals, just by using your voice.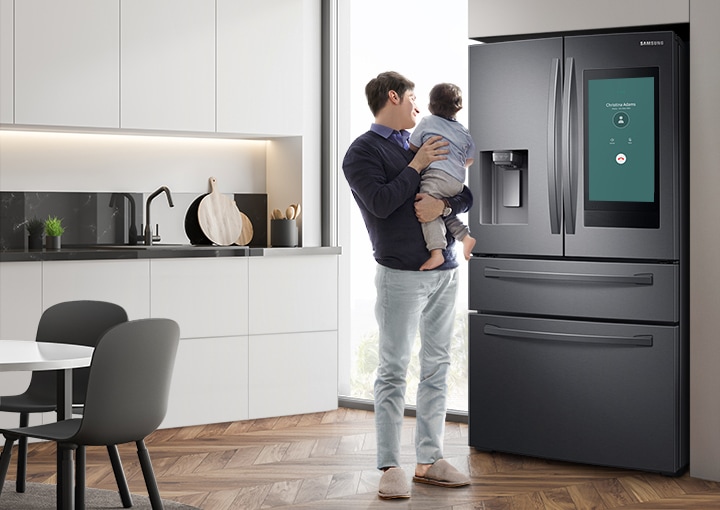 Bluetooth Call
Make or receive calls when you're cooking without holding a phone. Using Bluetooth connectivity, the refrigerator can seamlessly connect to your smartphone*. So you can easily answer it or call people just using your voice.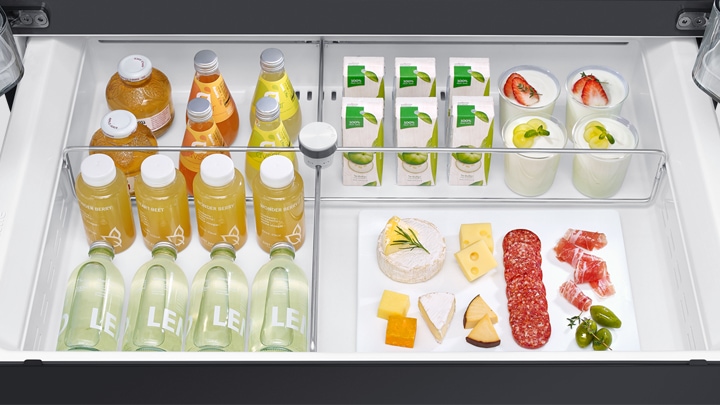 FlexZone™
With Smart Divider & lock
Store different foods and drinks at an optimal temperature, so items stay fresh and tasty. The FlexZone™ has four settings that are ideal for preserving meat and fish, storing deli foods, chilling wine or cooling beverages. A Smart Divider can be locked in place to organize items efficiently.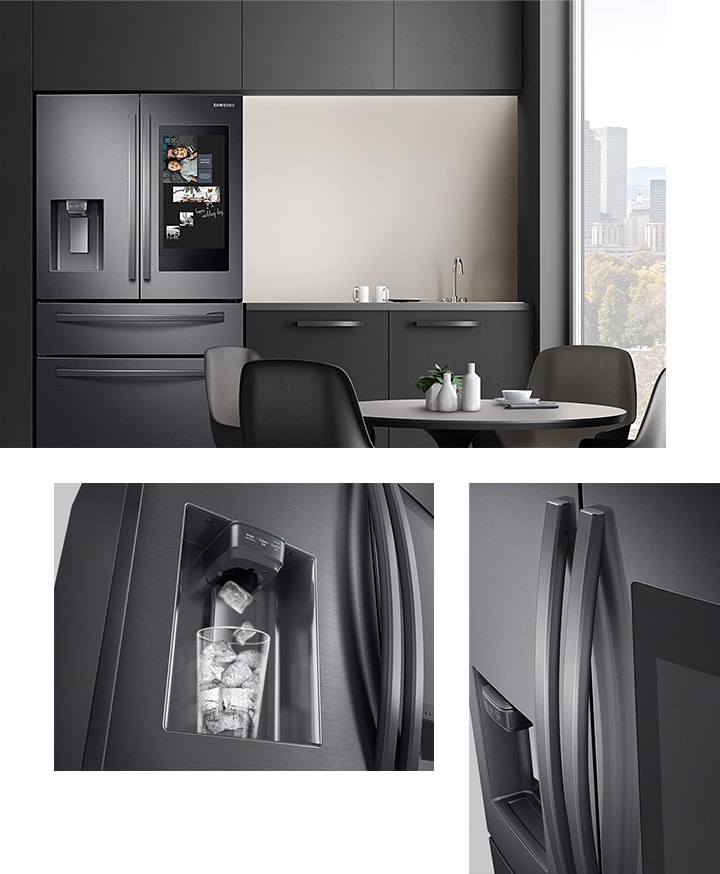 Sleek and modern design
Enjoy a sleek and simple design. The Sleek Edge Doors have a sophisticated and timeless style that is accentuated by a minimalist ice and water dispenser and New Edge Handles. These elements blend seamlessly and harmoniously with your kitchen interior.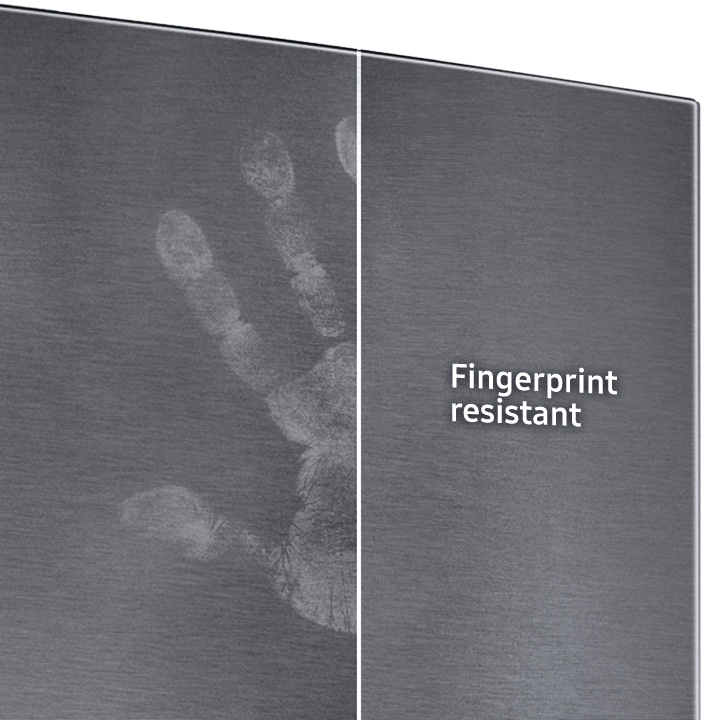 Fingerprint resistant finish
Smudge proof
Helps reduce smudges for an everyday great appearance.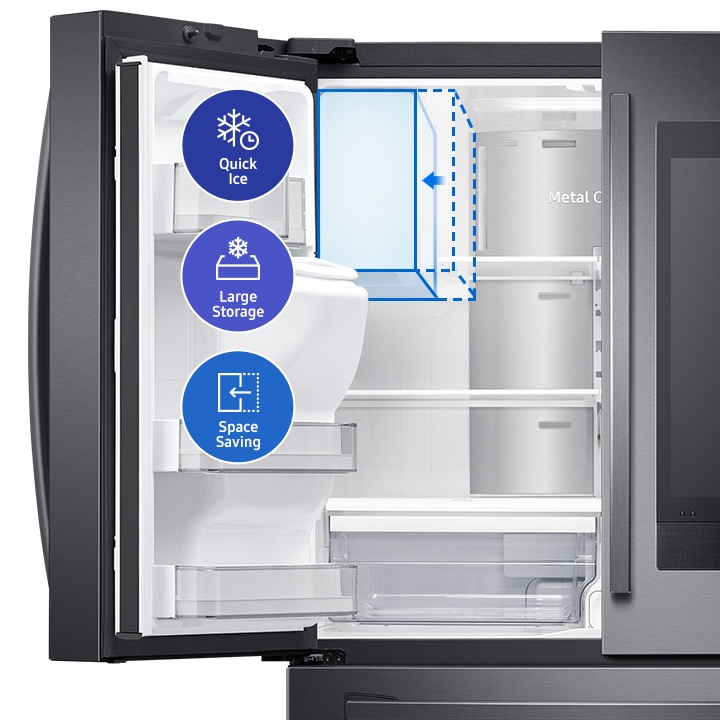 Ice Max
The Ice Max produces up to 10lbs (4.5kg) of ice a day and store up to 4.2lbs (1.9kg) of ice at a time. And its slim and compact design means it takes up less space, so there is more room to store food.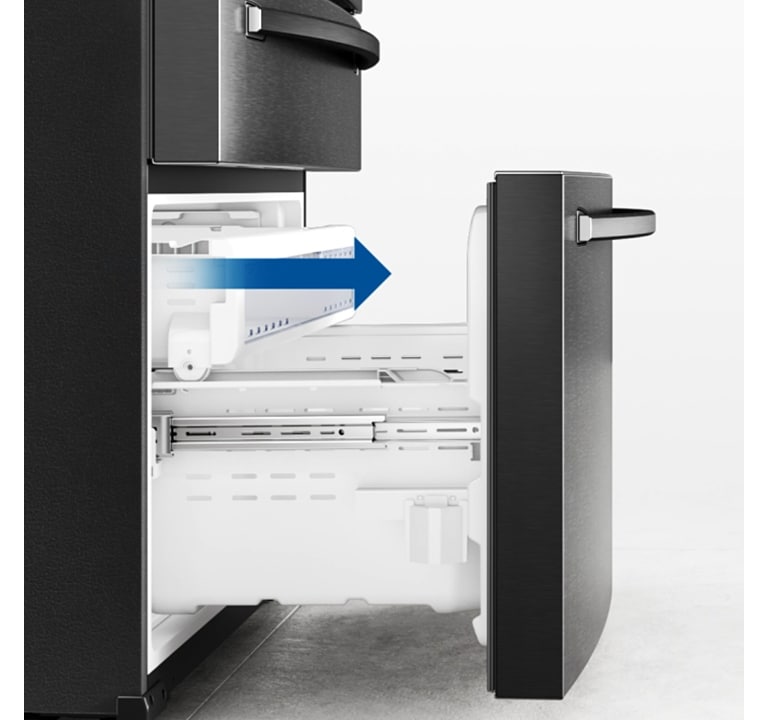 Open the mid and freezer drawers with a gentle pull using the EZ-Open™ Handles. Simply lift up the handle and it breaks the door's vacuum seal. The drawer will glide open without having to pull hard, ideal for children or the elderly. But the latch keeps the door securely shut.
Capacity
Net for Mid-Drawer (cu.ft)
3.8 cu.ft
Net Total (cu.ft)
27.7 cu.ft
Physical specification
Net Width (inch)
35 3/4 inch
Net Dimension (WxHxD)(inch)
35 3/4" x 70" x 36 1/2"
Net Depth with Door Handle (inch)
36 1/2 inch
Net Case Height without Hinge (inch)
68 7/8 inch
Capacity
Net for Freezer (cu.ft)
8.3 cu.ft
Net for Fridge (cu.ft)
15.6 cu.ft
Physical specification
Net Case Height with Hinge (inch)
70 inch
Net Depth without Door Handle (inch)
34 inch
Net Depth without Door (inch)
29 1/2 inch
Packing Dimension (WxHxD)(inch)
38 1/4" x 76" x 36 7/8"
Net Weight (kg)
157 kg
Packing Weight (kg)
167 kg
20/40/40H (Container)
26 (40ft)
Cooling Feature
Cooling Type
Twin Cooling Plus
Refrigerator Feature
Humidity Control (Vegetable&Fruit Drawer)
Yes
Number of Shelf (Total)
5 EA
Number of Shelf (Foldable)
1 EA
Shelf Material
Tempered Glass
Number of Vegetable&Fruit Drawer
2 EA
Number of Door Pocket
6 EA
Icemaker
Cubed and Crushed Ice
Interior LED Light
High Efficiency LED Lighting
Mid Drawer Feature
Convertible Room (℃)
-1,1,3,5
Smart Divider
Yes
Exterior Feature
Dispenser with Water Filter
Yes
Door Handle
New Handle
Colour
Black Stainless Steel
Dispenser Type
Minimal Dispenser
Performance
Energy Consumption
755 kWh/year
Energy
Energy Star Certification
Yes
Installation
Free Standing
Yes
Reviews
Average Customer Ratings
| | | |
| --- | --- | --- |
| Overall | | 4.50 |
| Design | | 4.50 |
| Features | | 4.50 |
| Performance | | 4.50 |
| Value of Product | | 4.50 |
Submitted a year ago
By Jake
Reviewed at


have just had the fridge for a few weeks. we are very pleased with it. the features on the fridge work well. the icemaker has worked flawlessly so far. the fridge cools efficiently, so far. perhaps the shelf arrangements could have been more flexible. the fingerprint resistant front door surfaces look nice, but the textured side surfaces might have been more effective on the front doors as well. the family hub seems to be a very unique and useful addition. helps keep from cluttering up the face of the refrigerator with hangings all over. overall, we are pleased with it so far and have no substantive complaints.
Bottom Line Yes, I would recommend to a friend
Submitted a year ago
By DShAZ
From Arizona
Reviewed at


5
Great addition to any kitchen!
we got this fridge a few weeks ago and already got used to it, found all nice features and enjoy it every day. a 3 section division is very handy, keeping in mind, that the temperature can be set independently. 3 inner cameras coukd be little better, they don't cover the whole width, but i realize how hard would be to implement this feature and it is very impressive! i can see the content of this fridge while being away from home. having the famiky hub recognize the products inside and find what to cook, using these products, exceeds expectations. of course, the image recognition fails in some rare cases, but nothing is perfect. ability to use voice to work with the hub makes it even more convenient. weather, receipts, videos, music, dishwasher and range status...
Bottom Line Yes, I would recommend to a friend