24" Samsung Dishwasher With Stainless Steel Tub - DW80J3020UW
24" Samsung Built-in Dishwasher - DW80J3020US
24" Samsung Dishwasher With Stainless Steel Tub - DW80J3020UW
24" Samsung Dishwasher With Stainless Steel Tub - DW80J3020UW
DW80J3020UW/AC
| | |
| --- | --- |
| Price | $899.99 |
| Savings | $150 |
| Our Price | $749.99 CAD |
| | |
| --- | --- |
| Price | $899.99 |
| Savings | $150 |
| Our Price | $749.99 CAD |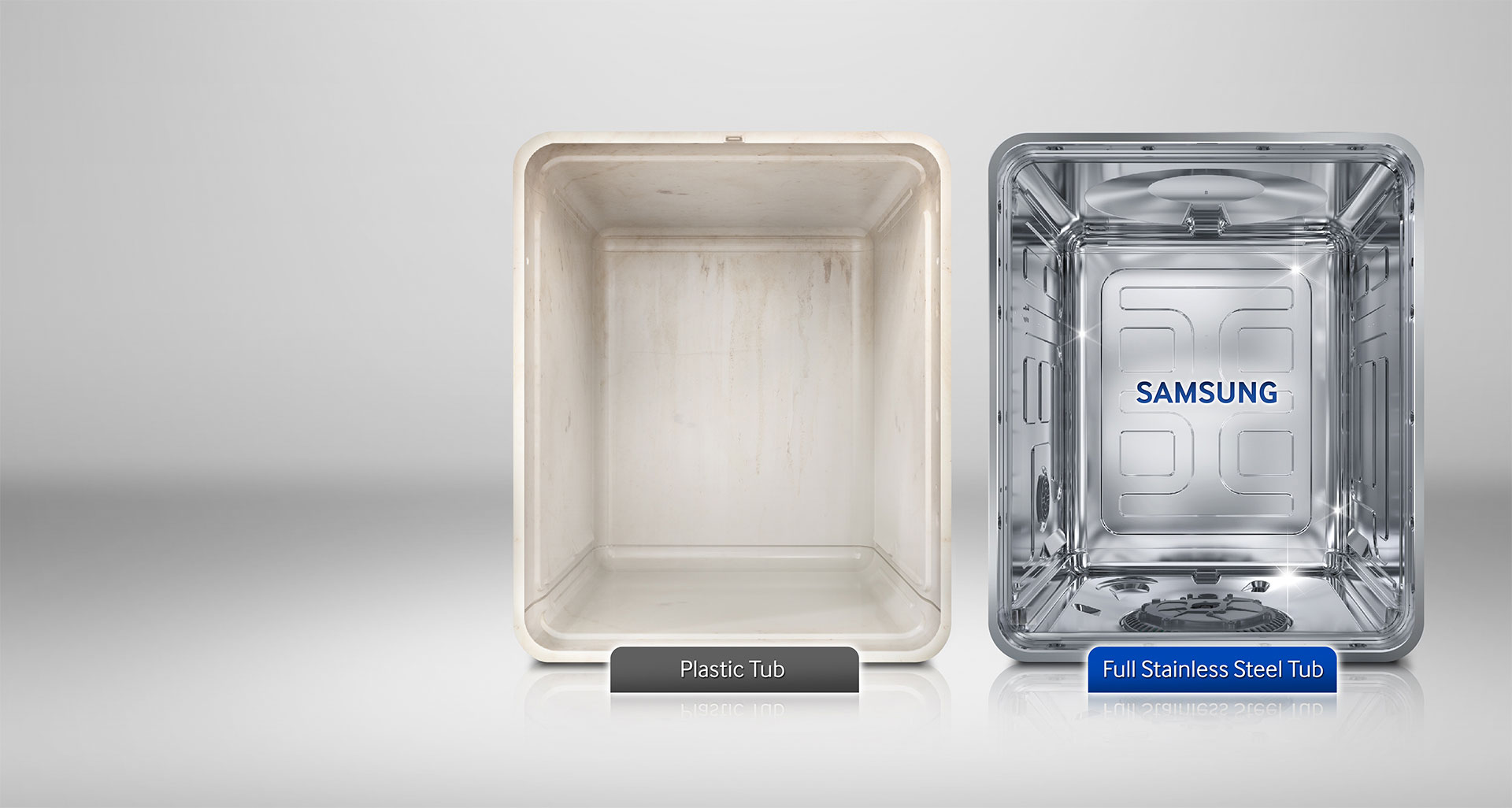 Use hygienically longer
A Stainless Steel Tub is more durable, quieter and cleaner than plastic. It makes less noise and can wash more hygienically at higher temperatures. It's also resistant to staining and dirt, which prevents bad odors.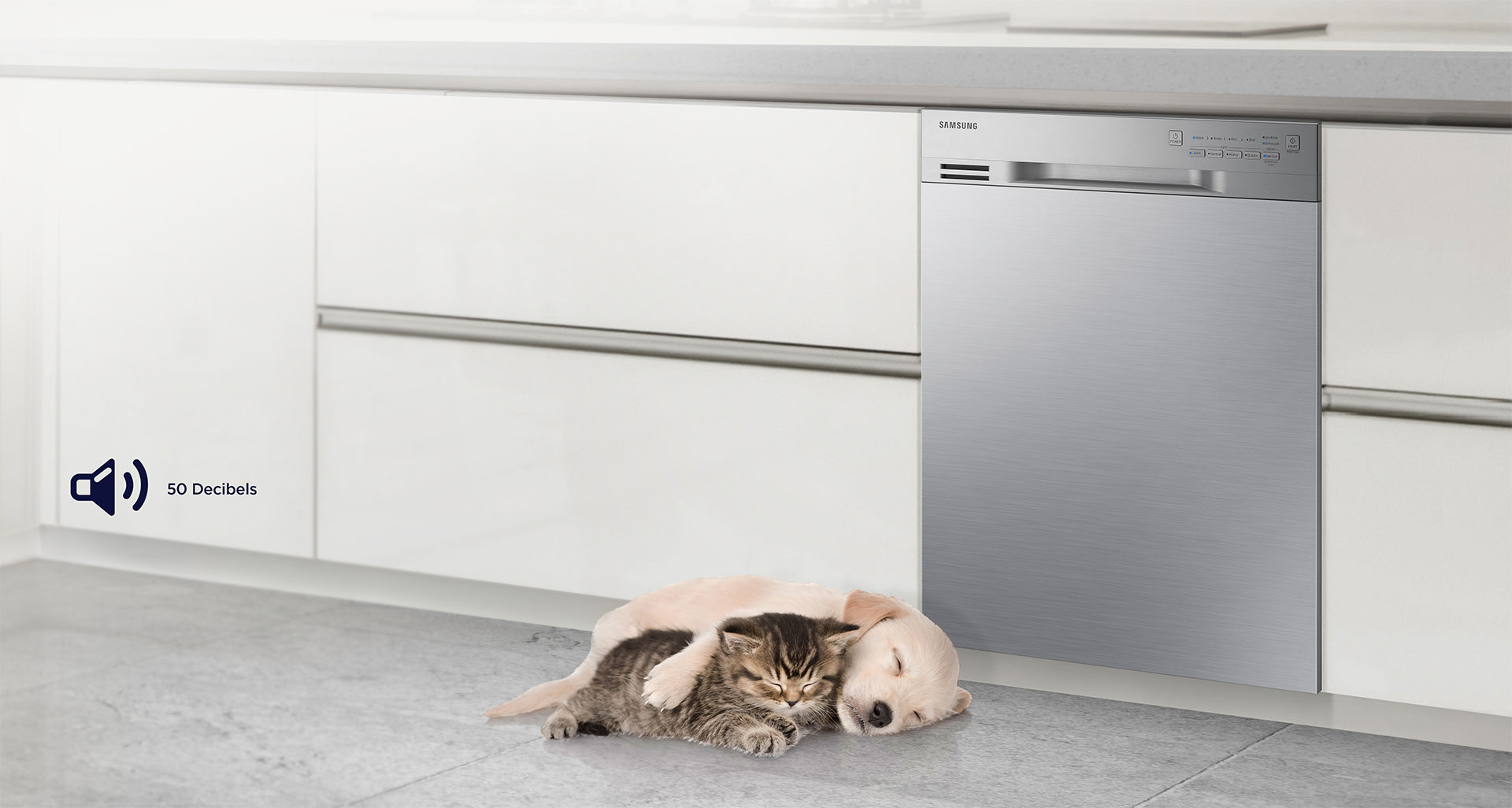 Quietest in class*
Designed to create much less noise, as its Stainless Steel Tub absorbs sound when it's working, so it has the lowest noise level in its class. At just 50 decibels the noise it creates is the same as a quiet stream.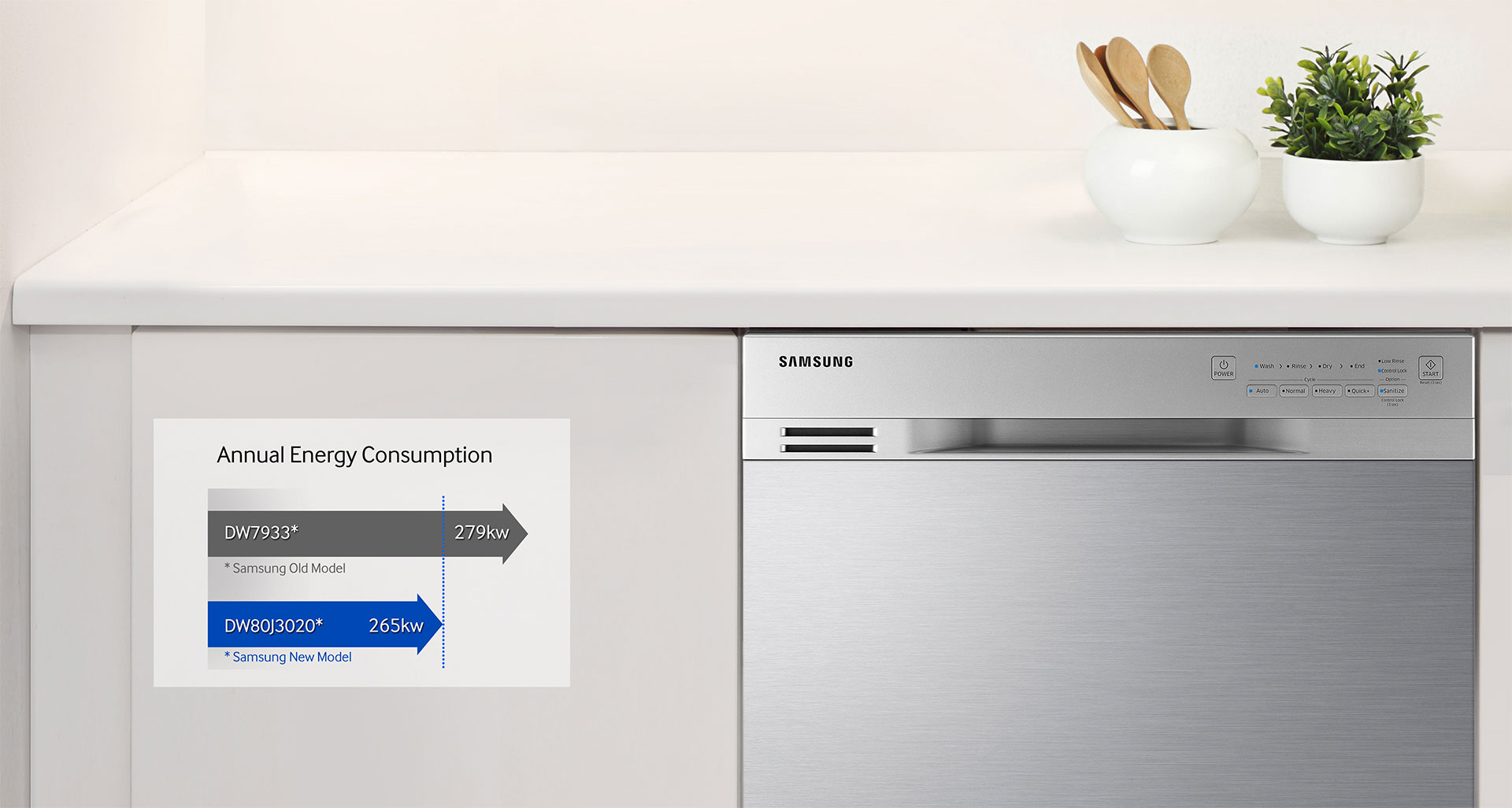 Low energy consumption
ENERGY STAR® certified, so you can save money by using less energy and water with each cycle. This exceptional energy efficiency also reduces CO2 emissions and the impact on the environment.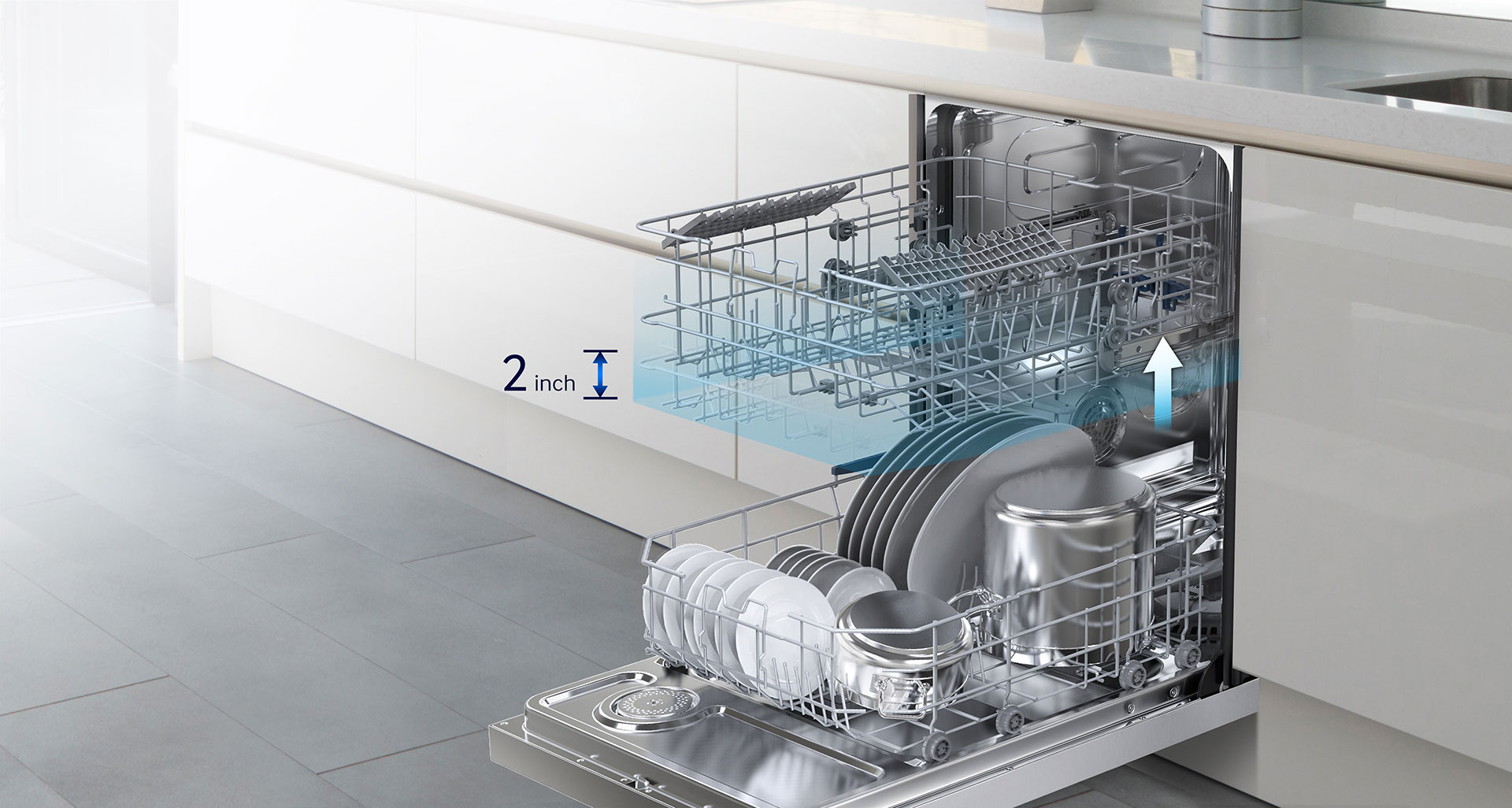 Fits bigger dishes
A Height Adjustment feature allows the upper rack to be quickly and simply raised up or down by an extra 2 inches. It can accommodate almost all dishes(up to 13.5 inches), so cleaning tall, wide and oversized pots and plates is easy.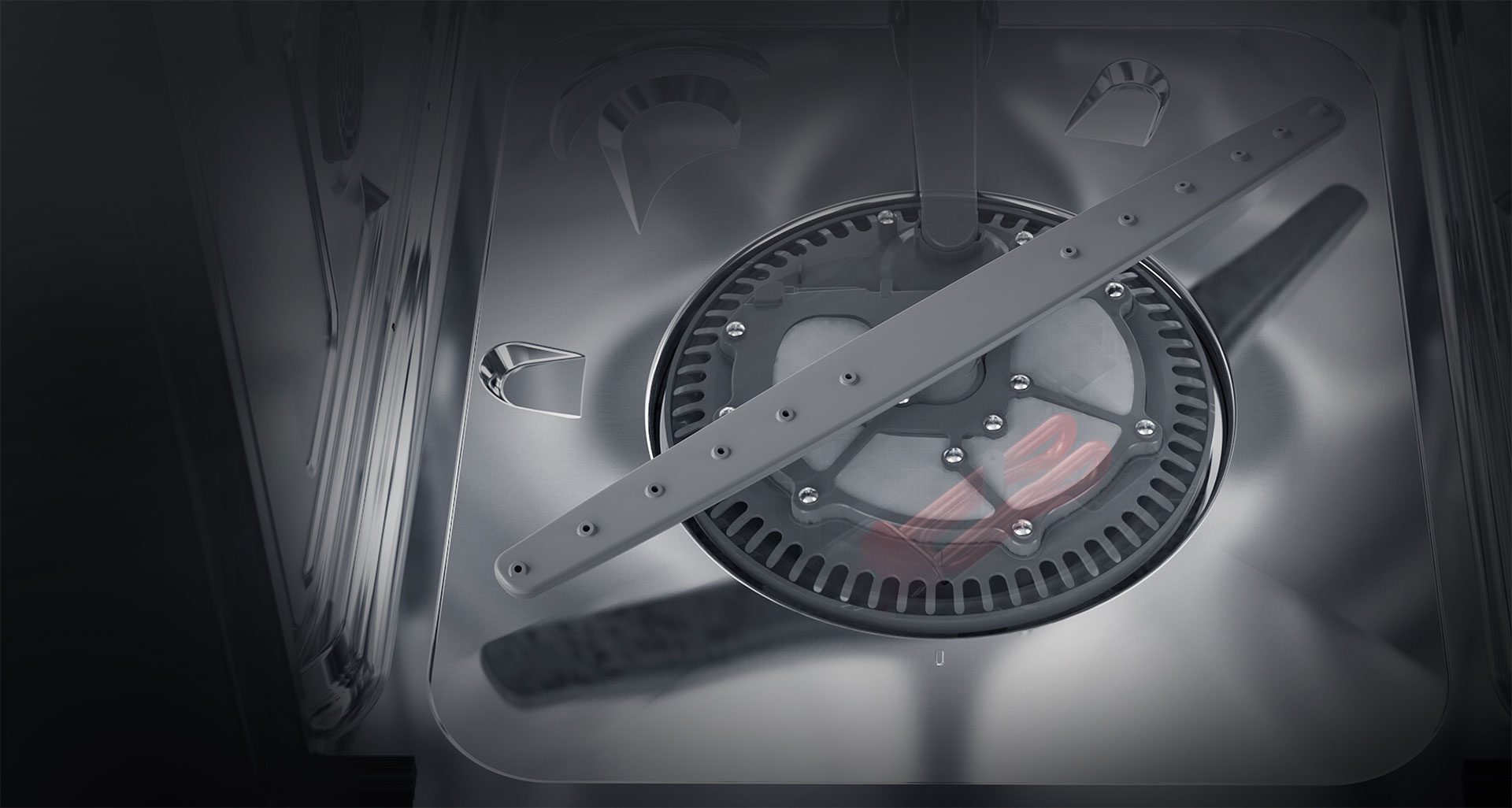 Added safety
A Concealed Heater enhances performance and safety by protecting plastic items from being damaged, melting and bursting into flames. It also prevents injuries caused by residual heat from the heating element.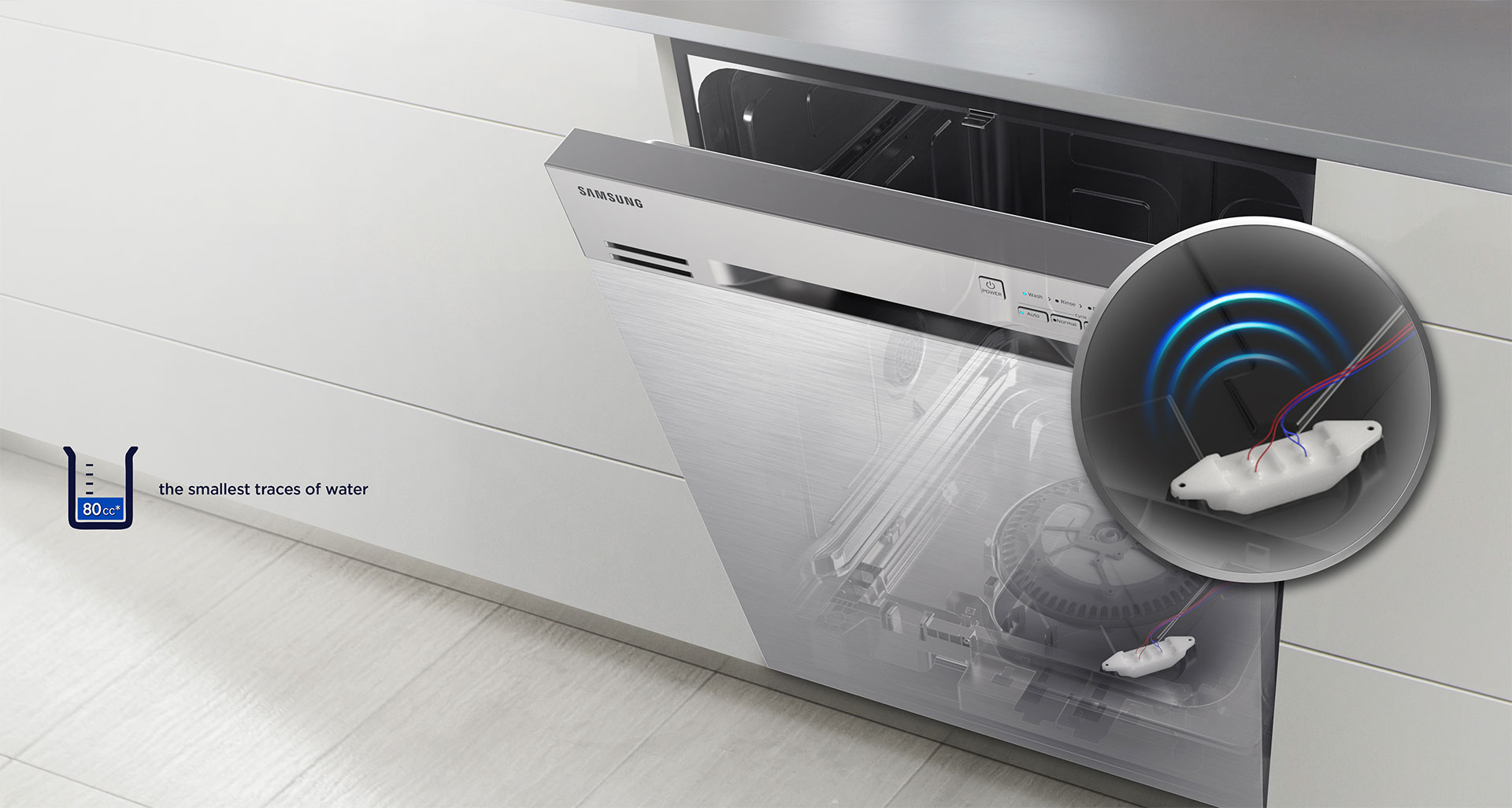 Protects from shocks
A Smart Digital Leakage Sensor detects even the smallest traces of water and immediately shuts off the electrical connection. So it protects you from getting an electrical shock and any potentially expensive damage.
Design
Install Type
Built under
Size
24" T
Control Type
Front button
Color/Material
White
Washing Type
Rotary
Configuration and Overview
Capacity (Place Setting)
15 P/S
Energy Star
Yes
Energy Annual consumption
265 kWh/year
Water Consumption Per Cycle (gallons)
3.5 gallons
Noise level (dBA)
50 dBA
Cycle time (min)
110 - 142 min
Programs
Number of programs
4
Normal
Yes
Auto
Yes
Delicate
No
Heavy
Yes
Quick+
Yes
Option
Number of Option
1
Sanitize
Yes
Child Lock
Yes
UPPER RACK
Basket handle
No
Adjustable Height
Yes
Adjustable Tines
Yes
Fold down tines
Yes
LOWER RACK
Fold down tines
No
Removable Tines
Yes
Adjustable Tines
No
Max Dish loading
13.5"
General Feature
Tub Material
STSS
Heater Position
Hidden
NSF Certified for Sanitization
Yes
Leakage Sensor
Yes
Number of Wash Arm
Upper / Mid / Low
Food Disposer
Yes
Dimension
Net Width(inch)
23.875"
Net Height(inch)
33.9"
Net Depth(inch)
24.5"
Net Weight
41.3 kg
Gross Weight
48.4 kg
Power/Ratings
Electrical(Volts/Hertz/Amps)
120 V / 60 Hz / 15 A
Heater Watts
1100 W
Circulation Motor
150 ~ 190 W
Drain Pump
35 W
Physical specification
Loading Quantity (2/4/4H)
48 / 102 / 149
Reviews
Average Customer Ratings
| | | |
| --- | --- | --- |
| Overall | | 2.71 |
| Design | | 3.14 |
| Features | | 2.71 |
| Performance | | 2.71 |
| Value of Product | | 2.71 |
Pros
Inexpensive, Lightweight
Inexpensive, Bright display, Lightweight
Inexpensive, Bright display, Durable
Inexpensive, Durable
Cons
Poor quality, Did not meet expectations
Poor quality, Did not meet expectations
Poor quality, Did not meet expectations
Poor quality
Submitted 11 months ago
By LE36
Reviewed at


I have had this model fo 9 months. After purchasing a competitors model with side heat vent discharge, which caused steam damage to the inside of our maple cabinets. This model with front vent is fantastic. PLEASE consider this front vent model to prevent inside cabinet water/mould damage. Thanks Samsung for making a front vent model!
Bottom Line Yes, I would recommend to a friend
Submitted a year ago
By VonS
Reviewed at


In February, our dishwasher kicked the bucket. It was already older when we moved into the house, but it served us well for the past three years so we couldn't complain. We started looking for a replacement and found a good deal on a Samsung dishwasher at Trail appliances. Or at least it seemed like a good deal. We had the dishwasher delivered on February 24 and installed it right away. It worked perfectly for a few months and then last month is began leaking both from the bottom corner and also from the dryer vents, as well as making an odd sound during the dry cycle. We called for warranty service and a few days later a technician came by. He fiddled with a bunch of things and seemed to fix the problem. He also told me that it might have started leaking because of the way we had the dished placed in the dishwasher, or because we didn't rinse them thoroughly enough. This made no sense whatsoever given that he reproduced the leaks while the machine was totally empty. Also, this is a completely unacceptable explanation as a brand-new dishwasher should not leak. Period. I have owned five dishwashers during my life, and none have ever leaked. But I digress. The problem appeared to be fixed, so that was fine. We started rinsing the dishes more thoroughly than ever before and followed his suggestions re: loading the dishwasher. It made no sense to me, but I wanted to be sure that if there was another issue it could not be attributed to us. About a week later sure enough the leaking was back, in both locations. It gradually got worse and then last night the machine simply stopped working altogether. It makes a sound as though it is running, but it isn't. It just sits there and flashes its lights at us. Even the power button won't work, the machine will only turn off by turning off the breaker. I called customer service again and was told I would need to call the technician as they already have a case open and there is nothing more they can do. But, by the way, he doesn't work Sundays. So, my new dishwasher is a giant paperweight, and I am washing dishes by hand. It's looking like this will be my last Samsung product at this rate. Very disappointing experience, and a huge waste of time to have to make multiple phone calls and technician appointments for a brand new machine.
Bottom Line No, I would not recommend to a friend
Submitted 2 years ago
By SpazWWE
Reviewed at


I had to have my dishwasher repaired after 4 months and it seems broken again. I bought this in may 2020, got it repaired in september and in december another problem occured. Not expensive i agree but did not recommend.
Bottom Line No, I would not recommend to a friend
Submitted 2 years ago
By Habidex
Reviewed at


5
Great value, easy to use
We bought our Samsung dishwasher for our kitchen reno, and it's our favorite appliance. Quiet, easy to load, has auto sense feature, and its controls are up front and super easy to use. Do not need a programming degree to get it to work! Very happy!
Bottom Line Yes, I would recommend to a friend
Submitted 3 years ago
By Ella
Reviewed at


Ran it once, opened the door and the lower water spinner snapped right off. This appliance was not an hour old.
Bottom Line No, I would not recommend to a friend
Submitted 3 years ago
By Marguerite
Reviewed at


5
Great features EXCEPT for...
This dishwasher is an excellent value. It provides the same, thorough cleaning, but without all the "bells and whistles" of the more expensive models in this line. PROS: Stainless steel tub, waterfall wash, multi-use racks that can be configured to easily accommodate large pots and pans. CON: The lack of a digital display to indicate how long a cycle has left before completion. I called Samsung to get an idea on the time required for each of the built in cycles and was provided with this useful table: auto - 110-135 min normal - 105-140 min heavy - 140 mins with high temp of 150 degrees quick - 50 minutes The lack of digital readout is what keeps the price of this otherwise full-featured dishwasher very reasonable! I would definitely buy again and after seeing the results of the wash, I would recommend, without hesitation! : )
Bottom Line Yes, I would recommend to a friend
Submitted 5 years ago
By Sarah
Reviewed at


Bought this dishwasher and had a professional install it. Once all hooked up the dishes washer did not work, could not power on. After calling samsong they would not accept responsibility for the broken dishwasher and did not want to resolved the issue. Telling us to take it back to the store we purchased from. The store did not want to return it either since it's been "installed" . I do not live close to the city we purchased this from and spent a lot of time driving to get a new one. If samsong service Center would have been more helpful it might have been a better experience. Overall disappointed.
Bottom Line No, I would not recommend to a friend