24" Samsung Dishwasher with StormWash Stainless Steel - DW80R5061US
24" Samsung Dishwasher with StormWash, Black Stainless Steel - DW80R5061UG
24" Samsung Dishwasher with StormWash Stainless Steel - DW80R5061US

24" Samsung Dishwasher with StormWash Stainless Steel - DW80R5061US
DW80R5061US/AA
| | |
| --- | --- |
| Price | $1299.99 |
| Savings | $350 |
| Our Price | $949.99 CAD |
| | |
| --- | --- |
| Price | $1199.99 |
| Savings | $300 |
| Our Price | $899.99 CAD |
Literature
StormWash™ gets messy pots and pans clean without pre-washing.
Enjoy sparkling clean dishes with the AutoRelease™ feature.
Fingerprint resistant finish for a great appearance.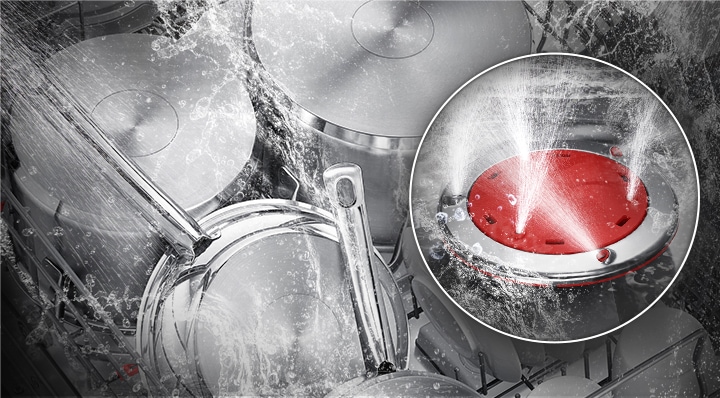 Clean dishes of various sizes
StormWash™
The StormWash™ heavy-duty wash system gets messy pots and pans clean without pre-washing. An extra spray jet blasts water from every angle to clean heavily soiled dishes of various shapes and sizes.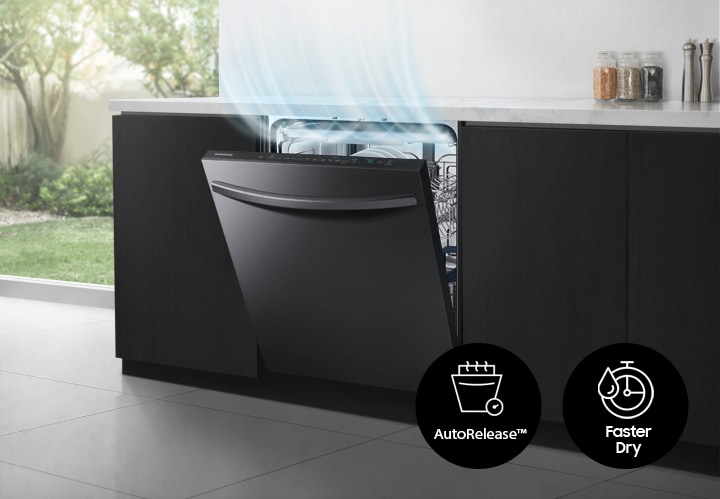 Automatic steam release to dry fast
AutoRelease™
Enjoy sparkling clean dishes every time with the AutoRelease™ feature. At the end of a cycle it automatically opens the door to allow steam to escape, while a fan creates a curtain of air to protect your worktop.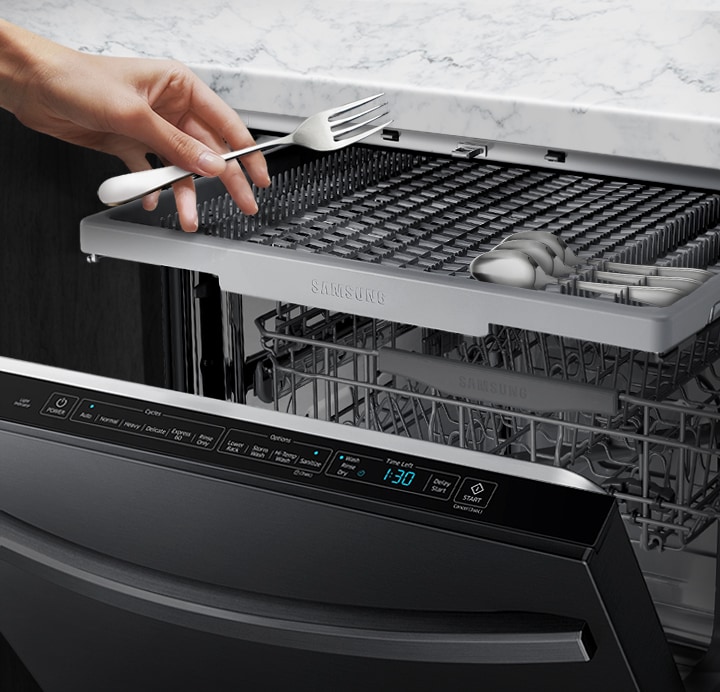 Easily load cutlery & optimize space
3rd Rack
A 3rd Rack provides a dedicated space to place your cutlery and utensils. So items can be loaded and unloaded much more easily and it frees up to 30% more space than Samsung conventional two rack models in the rest of the dishwasher for other items.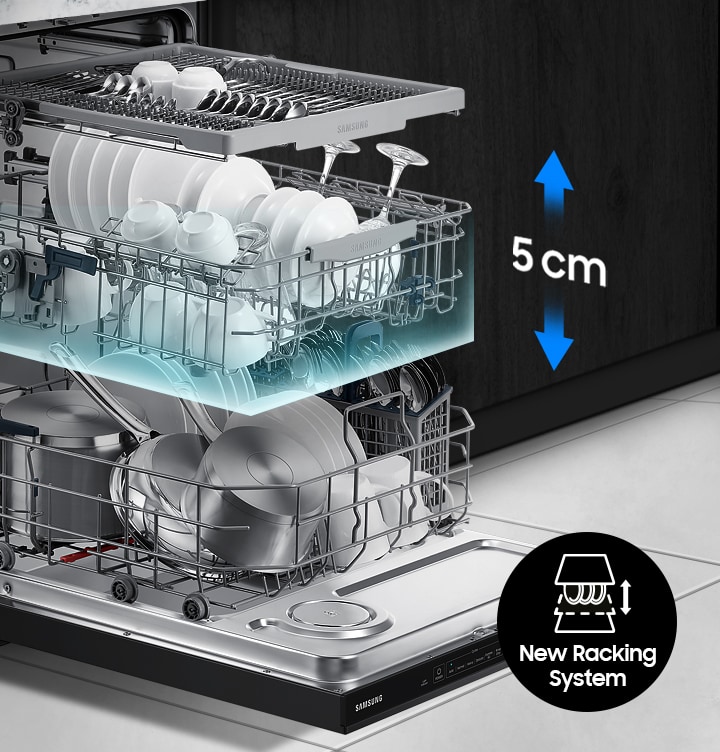 Even more flexibility, many more dishes
New Racking System
A flexible New Racking System makes it easy to fit in various shapes and sizes of dish. Its tines can be removed to make space for large cookware or adjusted to safely hold delicate items. The upper rack moves up or down and a new lower rack handle design means less bending.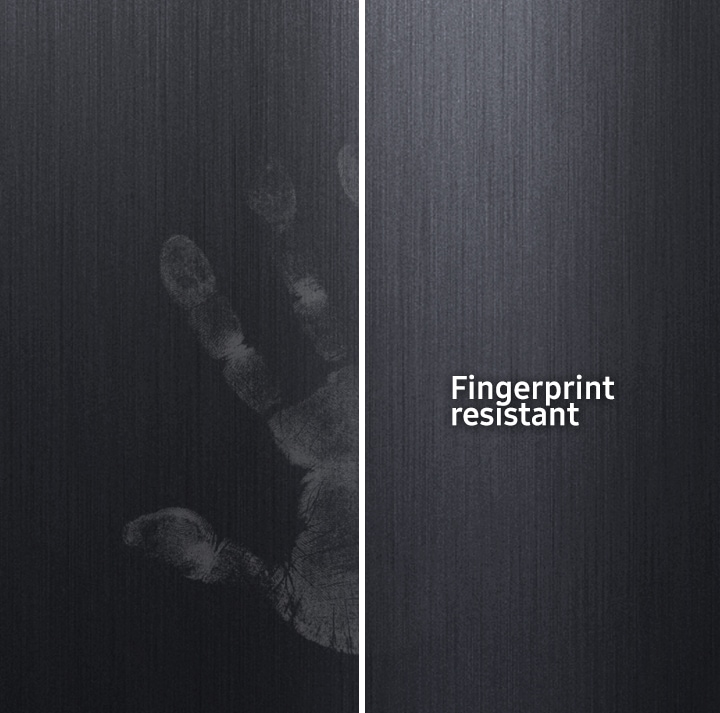 Fingerprint resistant finish
Smudge proof
Helps reduce smudges for an everyday great appearance.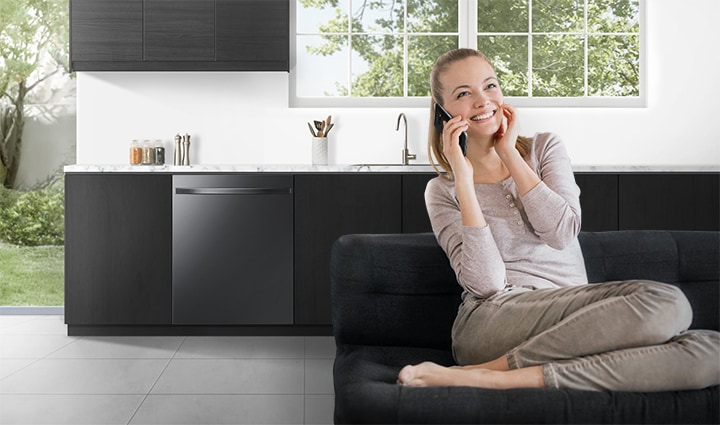 Less noise. Less disturbance.
Less Noise
The dishwasher's insulation technology is designed to create less noise and disturbance. Its Stainless Steel Tub absorbs sound and vibration when working at a very low noise level at just 48 decibels.
Design
Install Type
Built under
Size
24"T
Control Type
Hidden touch
Color/Material
Stainless Steel
Display Light Color
Ice blue
Washing Type
Rotary
Configuration and Overview
Capacity (Place Setting)
15 P/S
Energy Star Certification
Yes
Energy Annual consumption
265 kWh/year
Dry System
AutoRelease
Water Consumption Per Cycle (gallons)
3.5 gallons
Noise level (dBA)
48 dBA
Cycle time (min)
170-103 min
Programs
Number of programs
6
Normal
Yes
Auto
Yes
Delicate
Yes
Rinse Only
Yes
Heavy
Yes
Express 60'
Yes
Options
Number of Option
6
Storm Wash
Yes
Delay Start
Yes
Half load
Yes
Sanitize
Yes
Hi-Temp Wash
Yes
Control Lock
Yes
Auto Door Open
Yes
UPPER RACK
Basket handle
Yes
Foldable cup shelves
Yes
Adjustable Height
Yes
Adjustable Tines
Yes
LOWER RACK
Basket handle
No
Fold down tines
Yes
Adjustable Tines
Yes
Max Dish loading
14"
Cutlery Basket
Cutlery Tray
Yes
Cutlery Basket
Yes
General Feature
Aqua stop
N/A
Tub Material
STSS
Heater Position
Hidden
NSF Certified for Sanitization
Yes
Leakage Sensor
Yes
Number of Wash Arm
Upper/Mid/Low
Food Disposer
Yes
Cancel&Drain Button
Yes
Dimension
Net Width (inch)
23.9"
Net Height(inch)
33.9"
Net Depth(inch)
24.8"
Net Weight
46 kg
Gross Weight
51 kg
Power/Ratings
Electrical(Volts/Hertz/Amps)
120/60/15
Heater Watts
1100W
Circulation Motor
150-190W
Drain Pump
35 W
Smart
WiFi Embedded
N/A
Reviews
Average Customer Ratings
| | | |
| --- | --- | --- |
| Overall | | 3.02 |
| Design | | 3.76 |
| Features | | 3.93 |
| Performance | | 3.22 |
| Value of Product | | 3.16 |
Pros
Realistic color
Realistic color
Inexpensive
Bright display
Lightweight
Cons
Poor quality, Did not meet expectations
Poor quality, Did not meet expectations
Poor quality, Did not meet expectations
Poor quality, Did not meet expectations
Poor quality, Did not meet expectations
Poor quality, Did not meet expectations
Did not meet expectations
Poor quality, Did not meet expectations
Did not meet expectations
Poor quality
Submitted 9 months ago
By Benoit_Laurin
Reviewed at


I bought 2 Samsung Dishwasher in 2 years and a half and they both doesn't work after 1 year and few months in. 1st one : Motor stopped working and Samsung said it was not under warranty. 2nd one : The power button doesn't work anymore. shut off the breaker and turn in back on. No sound, nothing the Dishwasher doesn't work anymore... 13 months of use.
Bottom Line No, I would not recommend to a friend
Submitted 9 months ago
By Edarc
Reviewed at


Terrible machine, does not clean my dishes. The top rack is absolutely useless and even the second rack barely cleans. Samsung sent a tech out who said it works fine... it doesn't. Will never buy a Samsung dishwasher again
Bottom Line No, I would not recommend to a friend
Submitted 10 months ago
By Typeets
Reviewed at


Bought it about 3 months ago. Nothing gets clean, most things have to be washed twice. I could not be more disappointed. Also the buttons on the top mean you cannot turn the dishwasher on with the front closed.
Bottom Line No, I would not recommend to a friend
Submitted 11 months ago
By Disappointed175
Reviewed at


Worked pretty well... for a time. Worked quietly well except for the annoyingly squeaky wheels on bottom rack which appeared after first use and the sound never went away. Found it cleaned my dishes pretty well and the drying was mostly fine with only a little bit of residue. Then, after just 7 months, the drain pump stopped working and I was left with a pretty hunk of junk in my kitchen. Replacement parts and repairs were still under warranty but was then told during service repair that the Samsung-Certified technician who installed my dishwasher,did so incorrectly which apparently voided my warranty. The eggregious error? The drain hose was hung at 28" above the base instead of the recommended 30". No, not that the pump motor failed after just 7 months of use, the drain hose was hung 2 inches too low. The quoted cost to fix and replace parts was more than simply buying a new dishwasher, so that's what I did! And another brand of course! Never again, Samsung! Thanks for stealing my money :))))
Bottom Line No, I would not recommend to a friend
Submitted 11 months ago
By wegs20
Reviewed at


1
Really Good Clean But Only Lasted 1 Year
I really liked this dishwasher. Until it completely stopped working just over a year into having it installed. We felt that it did a good job of cleaning and it was pretty quiet. Until it stopped working after 1 year. The dishes were spotless and dried really well. Until it stopped working just over a year of having the unit. Luckily we had a 2 year warranty. Well it took over a week for someone to come look at it. Then after it was deemed unrepairable it took another week for Samsung to get back to us to tell us that we would need to wait another week for the claims department to get back to us. Only for them to say it may take another 20 days to get refunded. But now we can't replace our unit with what we had because they have raised the cost of the unit. I'm not sure it is worth the hassle to end up with downgraded unit than what we purchased a year ago.
Bottom Line No, I would not recommend to a friend
Submitted a year ago
By Jleker
Reviewed at


We purchased a Samsung dishwasher for our previous home which we liked and had no issues with. We bought a new home and needed to replace the dishwasher so we thought we would buy the same one since we had a good experience. We thought we were buying the same model as the first one we purchased but ended up with this one instead which has no cup to catch food particles or debris as the previous model did. With this dishwasher, I am CONSTANTLY rewashing dishes by hand after they are washed by this dishwasher. I already wash the dishes prior to loading them to ensure not a SINGLE crumb remains on anything I put in the dishwasher.. and it still somehow manages to spit crumbs into every glass, mug, plate, bowl, and piece of silverware in the washer. We spoke to Samsung who advised us to run the washer empty on sanitizer mode with a bowl of vinegar to clean it. I am now doing this at least once a week and I still have problems. I have never experinced such poor quality in a dishwasher. It literally does the exact opposite thing it is supposed to. Please please please spend a little bit more and opt for a better quality brand. I totally regret this purchase.
Bottom Line No, I would not recommend to a friend
Submitted a year ago
By Janet w
Reviewed at


1
Happy except rubber kick plate ????
Happy with dishwasher other than kick plate is it to be there
Submitted a year ago
By Maxximus
Reviewed at


1
Complete Garbage - DO NOT BUY
Flimsy construction, very poor wash ability and no eco mode. Cutlery has to be washed by hand every load regardless of wash time or use of extra detergent. Storm wash feature is a gimmick. Dishes are no cleaner with or without that feature. Dishes must be double spaced to get clean and we have to use at least 2 packs of detergent every time we clean. The heavy duty wash cycle does not clean any better than the regular cycle. Putting pots in that need a bit of extra cleaning will not come out clean - something our old 12 year old washer had no issues doing. The unit is not as quiet as advertised. This is easily the worst appliance purchase our family has ever made. It is so bad that we are going to eat the cost of this machine just one year after purchase and buy another brand. This unit is a MUST AVOID purchase at all cost. The price might be palatable, but you really do get what you pay for. Sadly for us there wasn't much stock of anything last spring so we had to purchase this lemon. Do yourself a favor and move on. Super disappointed
Bottom Line No, I would not recommend to a friend
Submitted a year ago
By Running mom
Reviewed at


We have had this dishwasher for 6 months, I would not buy it again or recommend it. You have to prewash really well or there are little tiny pieces left on the dishes. Cleaning the filter involves a screwdriver and 8 screws! Bad design! It is not very quiet, we have to run it at night so as not to interfere with TV viewing. I would prefer an option to cancel the automatic door open, it's fine in the wintertime but too hot for the summertime.
Bottom Line No, I would not recommend to a friend
Submitted a year ago
By Techvijay
Reviewed at


This is a beautiful piece of art. Unfortunately, thats where the value for your money stops. Please note, this is a three year usage review. It ticks me off in so many levels. First, the storm wash! It works. Only this works. When you use this feature, I think the internal pump starves the other sprayers, nothing else gets washed. So only one pot that's directly above the storm wash spinner is cleaned. Nothing else. What's the point? If there is only one pot to wash, we might as well do that by hand. I checked the manual twice, but there is no mention of this storm wash starving the other spray nozzles. May be they didn't realize it themselves. Second, the cutlery tray. I was impressed by the idea. Better than cutlery dumped in a cubby hole and hope it comes out clean, right? So I arranged the silverware nicely in the cutlery tray. Only later I realized, the grates in the tray are so densely arranged, the top spin arm cannot spray the dishes in the top tray. My dishes in the top tray comes out as they went it. Except for some tell tale signs of so.e water dripping on them a while ago. So, I removed the cutlery tray and hoped this will at least clean the top tray. Nope. I was stupid. It still refuses to clean the dishes on the top tray. My wife told me stupid for spending $700 plus on a piece of art, that deserves a place in a gallery, not a functional kitchen. She never fails to remind me of that every single day. Heyyyy... I didn't design this equipment. Every thing else works. It has beautiful finger print proof surface, very quiet and it pops the door open to let the steam escape to dry the dishes fast. My question is why dry a dish when it's not even washed.
Bottom Line No, I would not recommend to a friend