30" Samsung Induction Range with Virtual Flame Technology™, 5.8 cu.ft - NE58N9560WG

30" Samsung Induction Range with Virtual Flame Technology™, 5.8 cu.ft - NE58N9560WG
NE58N9560WG/AC
$3599.99
Literature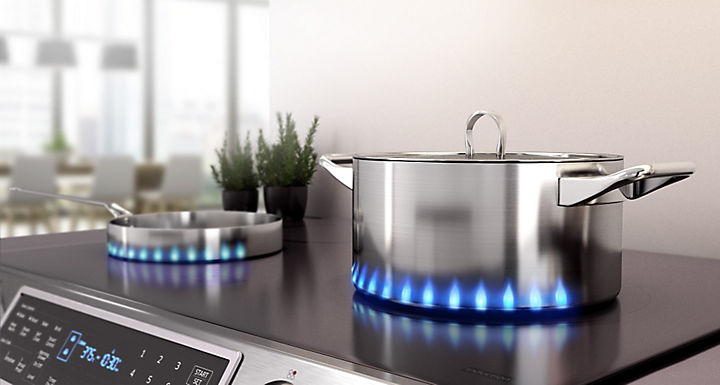 Easy and intuitive control
With Virtual Flame Technology ™ you can enjoy the intuitive visual control of flames. LED lighting in front of the burners glows like a real gas flame to clearly show if they're on or off, giving added peace of mind.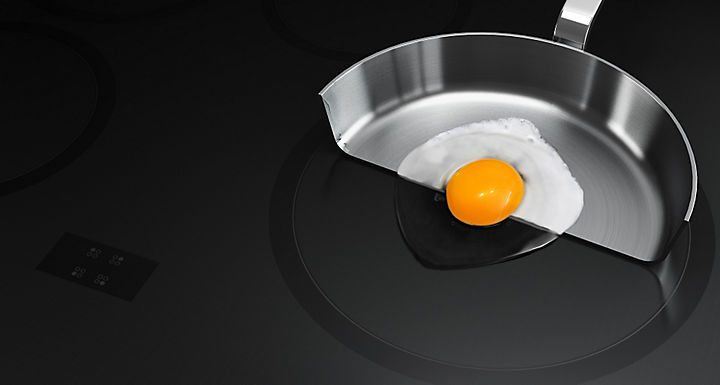 Precise cooking
Induction technology directly transfers energy to cookware, so you can instantly adjust the heat to a low simmer for delicate foods or rapidly bring water to a boil. The cooking surface stays cool to touch except the area where the cookware is on.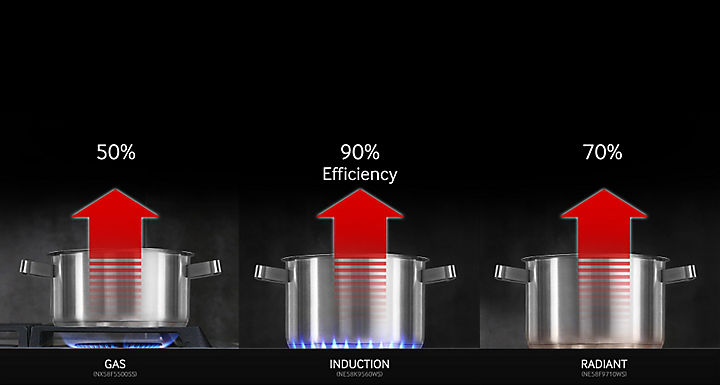 Energy efficient induction technology
Samsung's innovative induction technology uses electromagnetic fields that generate heat directly in the cookware, and not the cooktop or the air around it. So you can quickly and consistently heat up pots and pans without wasting energy.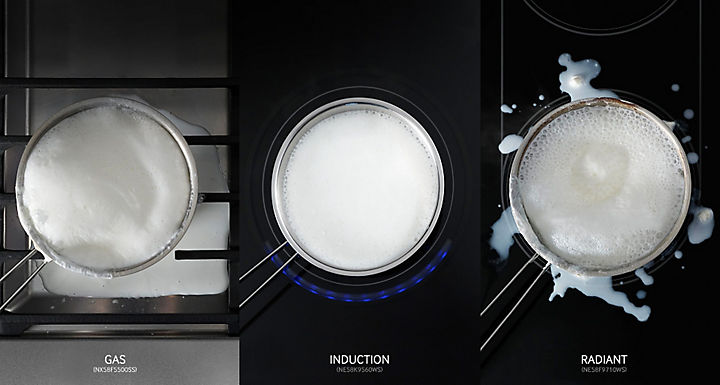 Precise Temp Control
How many of us have ever had to clean burnt milk your cooktop? Although we turned off the cooktop but the cooktop is still hot! With Samsung induction range, when you reduce the power, it immediately goes down into lower power.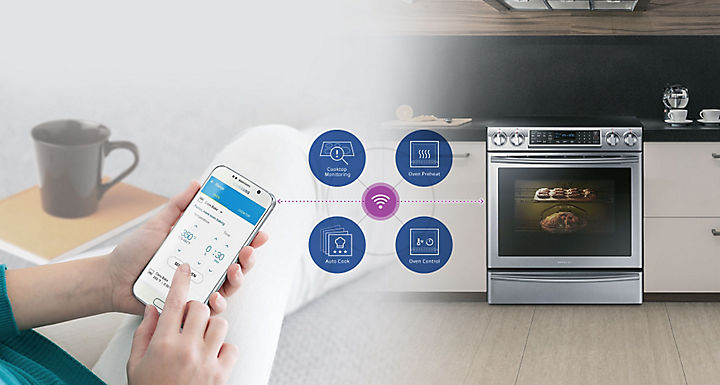 Wifi Connectivity
The Wi-Fi Connection gives you peace of mind by letting you remotely monitor the cooktop and control the oven using an App*, while receiving real time alerts about your cooking.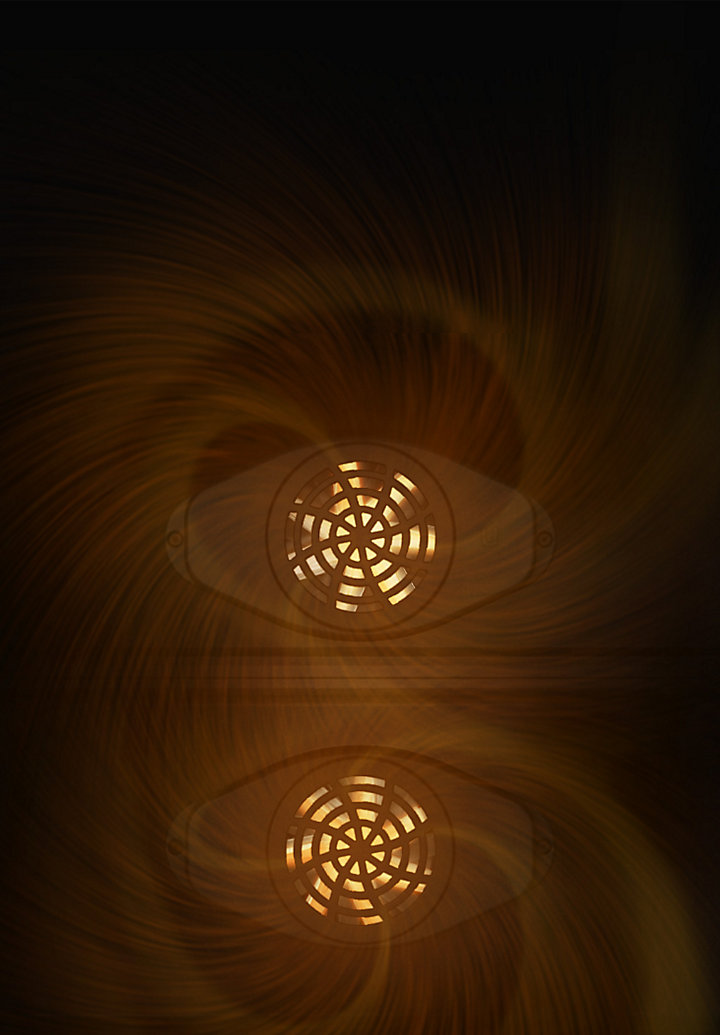 Fast and thorough oven cooking or baking
A Dual Convection system cooks food faster and more evenly, so it's great for baking and broiling. Two heated fans distribute heat all around both the upper and lower oven cavities, so dishes are cooked thoroughly.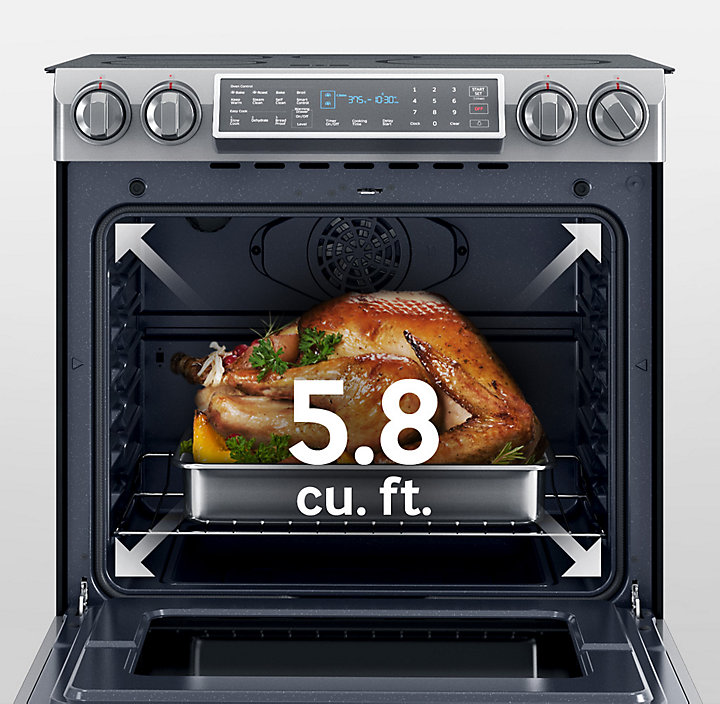 Cooks much more & much larger dishes
A massive 5.8 cu. ft. capacity oven lets you cook much larger dishes. It can easily accommodate large items, like a big roast or a 30lb holiday turkey, and it also has two wire oven racks to fit in various meals.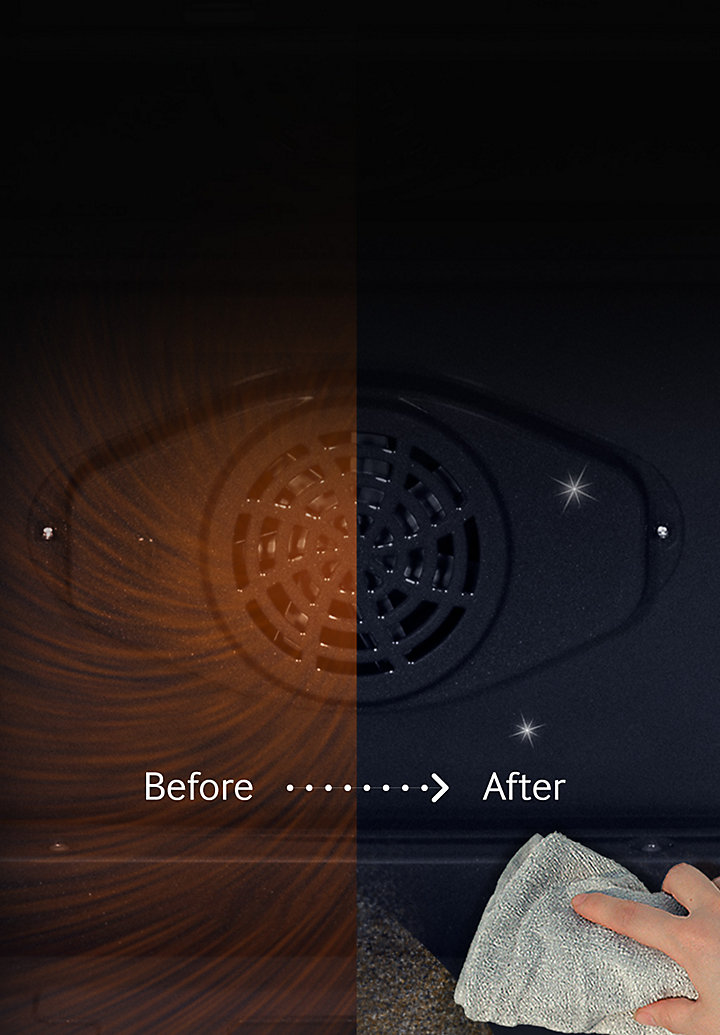 Keep it neat with heat to burn off residue
A Self Cleaning system keeps your oven neat and clean without any time-consuming scrubbing. It heats the oven cavity to burn off any grease and residue left from cooking, with just some fine ash to wipe away.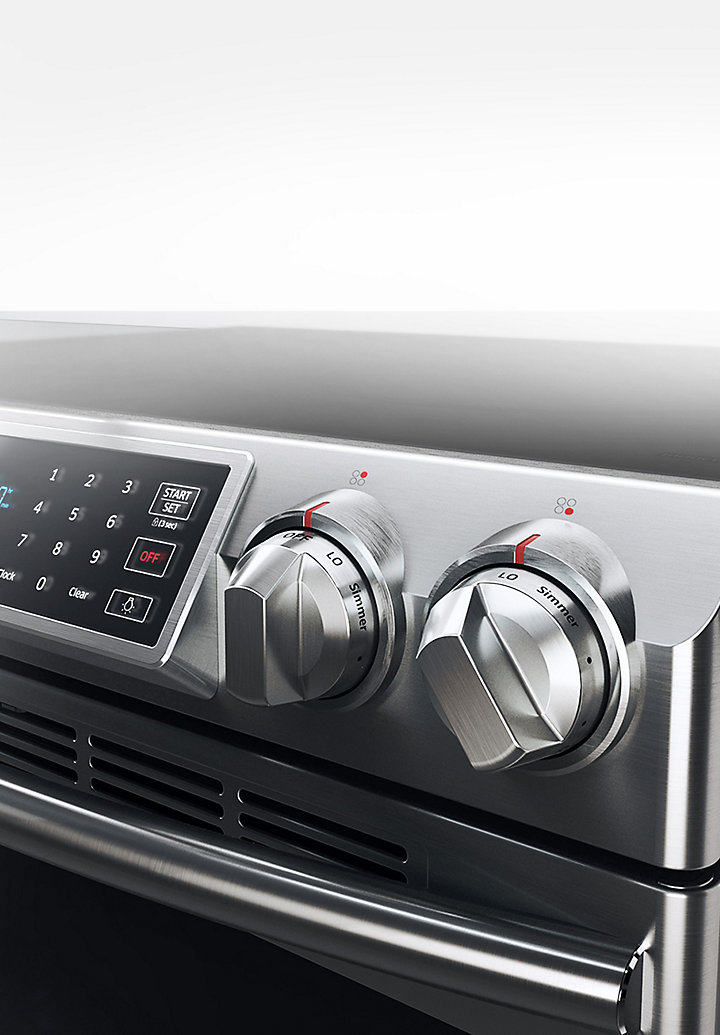 Convenient and precise heat control
Large premium metallic knobs are easy to grip and electronically adjust the level of heat to ensure precise control.
Type
Installation Type
Slide-in
Cavity Type
Dual Convection
Capacity
Oven Capacity
5.8
Drawer Capacity
0.7
Materials/Finishes
Oven Color
Black Stainless
Control Type (Oven)
LED Glass Touch
Control Type (Cooktop)
Knob (Weighted)
Display Type
LED display
Display Color
Ice Blue
Door Type
Clean View Door
Features
Self Clean
Yes
Steam Clean
Yes
Wi-Fi Connection
Yes
Easy Cook
3 items (Slow Cook, Dehydrate, Bread Proof)
Favorite Cook
Yes (Only App)
Keep Warm
Yes
Clock
Yes
Numeric Pad
Yes
Kitchen Timer
Yes
Child Safety Lock
Yes
Hidden Bake Element
Yes
Interior Light (Position)
1 Incandescent 40W (Back)
Auto Oven Light
Yes
Light (Lamp) On/Off
Yes
Sound on/off
Yes
Setting (Clock System Option (12H/24H))
Yes
Delay Start
Yes
Sabbath Mode
Yes
COOKTOP
Type
Induction
Number of Burner
4 EA
Heating Element 1
Induction 11", 2.3Kw (Boost 3.3Kw)
Heating Element 2
Induction 7", 1.8Kw (Boost 2.3Kw)
Heating Element 3
Induction 7", 1.8Kw (Boost 2.3Kw)
Heating Element 4
Induction 6", 1.2Kw (Boost 2.0Kw)
Booster
4 EA
Hot Surface Indicator
Yes
General Feature
Convection
Dual Convection
Bake (Single)
175
Variable Broil (Low-High) (Single)
Low - High
Convection Bake (Single)
175
Convection Roast (Single)
175
Power/Ratings
Bake Element
3,000W
Broil Element
4,200W
Convection Heater Element
1,250W
DRAWER
Type
Warming Drawer
Warm. Drawer Temp. Settings
3 level (low-medium-high)
Warm. Drawer Handle
Yes
Weights/Dimensions
Net (WxHxD)
787/914/668 mm
Gross (WxHxD)
839/1060 /769 mm
Weight (Net)
100.7 kg
Weight (Gross)
111.7 kg
Accessories
Number of Rack Positions
7
Number of Oven Racks
3
Wire Rack
2
Recessed Rack
1
Reviews
Average Customer Ratings
| | | |
| --- | --- | --- |
| Overall | | 3.44 |
| Design | | 3.89 |
| Features | | 4.11 |
| Performance | | 3.44 |
| Value of Product | | 3.11 |
Pros
Bright display, Durable
Durable
Realistic color, Bright display, Lightweight, Durable
Cons
Poor quality
Poor quality, Did not meet expectations
Poor quality, Did not meet expectations
Submitted 3 years ago
By Pjk123
Reviewed at


5
Very happy with this purchase.
I am very happy with my purchase. Everything works great. Stove heats up fast. Easy to clean.
Bottom Line Yes, I would recommend to a friend
Submitted 4 years ago
By Aditya
Reviewed at


The manual does not show any electrical power requirements or whether it's single or 3 phase
Bottom Line No, I would not recommend to a friend
Submitted 4 years ago
By RobertMtl
Reviewed at


1
Prints on dial knob already fading in three months
Bought this range about three months ago from one of the local stores. The text print on one of the dial knobs is already coming off. Called Samsung customer support and was told that cosmetic damage is not covered by warranty. Bad thing for a range at its price.
Bottom Line No, I would not recommend to a friend
Submitted 4 years ago
By Arctic parrot
Reviewed at


1
Very fragile glass top with no warranty
We installed this range two months ago to replace our older ceran top range which we had had nearly 20 yrs. While cleaning the filter on the samsung range hood, i dropped the filter about six inches onto the top. This cracked the glass top. This top is extremely fragile, even dropping a spoon or knife can crack the top. Ours cracked right where the "K" is engraved on the top. $800 to repair this. Would not recommend the samsung after the excellent life we had with our former whirlpool.
Bottom Line No, I would not recommend to a friend
Submitted 4 years ago
By njlok
Reviewed at


2
Love the cooktop, hate the oven!
I've had this range for a year and a half and have had technicians out 3 times. The oven doesn't heat properly, most of the time. Sometimes it's too cold and sometimes it's fine and then turns itself off. I have to keep adjusting it - like setting it to 425 when I want 350. And then turn it down again when it goes up to 400. They replaced the panel but it hasn't helped. So frustrating! It's turning me into a bad cook because the temperature isn't right. I would stay far away from this range if I were you.
Bottom Line No, I would not recommend to a friend
Submitted 4 years ago
By Arrrgo
Reviewed at


5
Very pleased during first 3 months of ownership
To date, we are very pleased with our initial foray into induction cooking. As we increase our compatible cookware, our usage is expected to follow. The speed of heat and its consistency confirms our decision to migrate to induction cooking.
Bottom Line Yes, I would recommend to a friend
Submitted 4 years ago
By JAT & TVT
Reviewed at


5
Induction range is awesome.
I purchased the Samsung induction range about two months ago and am very satisfied with the range. The induction cook top gives excellent temperature control and cooks quickly. The oven is large and fits three cookie trays. The roasting function makes the best roast chicken. Perfect.
Bottom Line Yes, I would recommend to a friend
Submitted 4 years ago
By Margaret
Reviewed at


I bought this range about six months ago and I am very happy with the product. It is safe, easy to clean and looks beautiful in my kitchen.
Bottom Line Yes, I would recommend to a friend
Submitted 5 years ago
By Tosh
Reviewed at


Bought this range a month ago after waiting 7 months to get the black stainless model. It's sleek, beautiful and looks great with the matching OTR microwave. The induction top works well and is very easy to clean, since the heat is in the pot and not the surface, so spills don't burn on at all. My only gripe is that the cooling fan is a bit intrusive, not the case with other brands. Overall very happy.
Bottom Line Yes, I would recommend to a friend