30" Samsung Hood With Baffle Filter And Bluetooth Connectivity - NK30K7000WG
30" Samsung Hood With Baffle Filter And Bluetooth Connectivity - NK30K7000WG
30" Samsung Hood With Baffle Filter And Bluetooth Connectivity - NK30K7000WS

30" Samsung Hood With Baffle Filter And Bluetooth Connectivity - NK30K7000WG
NK30K7000WG/AA
| | |
| --- | --- |
| Price | $1799.99 |
| Savings | $400 |
| Our Price | $1399.99 CAD |
| | |
| --- | --- |
| Price | $1599.99 |
| Savings | $400 |
| Our Price | $1199.99 CAD |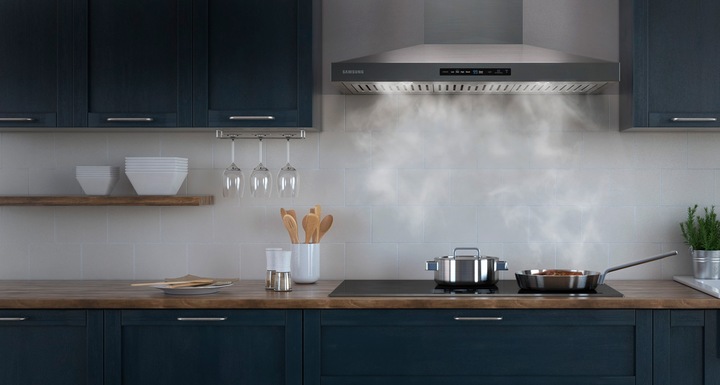 Quietly refresh kitchen air
A Power Ventilation system refreshes air in a flash to ensure a comfortable cooking environment. Its amazing 600 cu. ft. per minute suction capacity gets rid of steam, fumes and odors extremely quickly and quietly.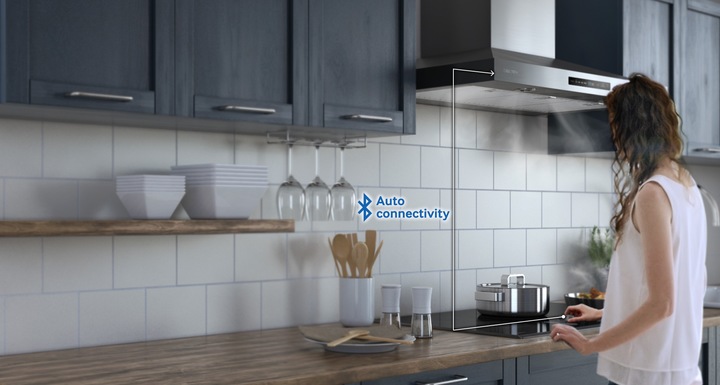 One-touch control of both cooktop & hood
Automatically syncs the fan and the lights with the burners through Bluetooth. Auto Connectivity* aligns the hood and cooktop's status so you can control the hood using the one-touch control of the cooktop, instantly turning them both 'On' or 'Off', for the ultimate in cooking convenience.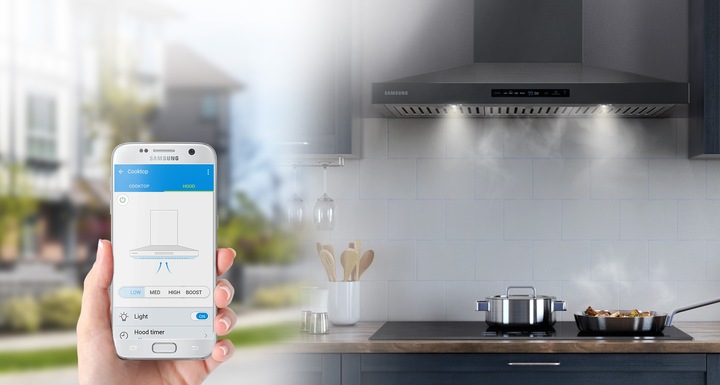 Monitor from a distance
Remote Control cabapility* lets you conveniently monitor and control the fan from your smartphone App**. You can adjust the speed and timer setting, turn the lamp on or off.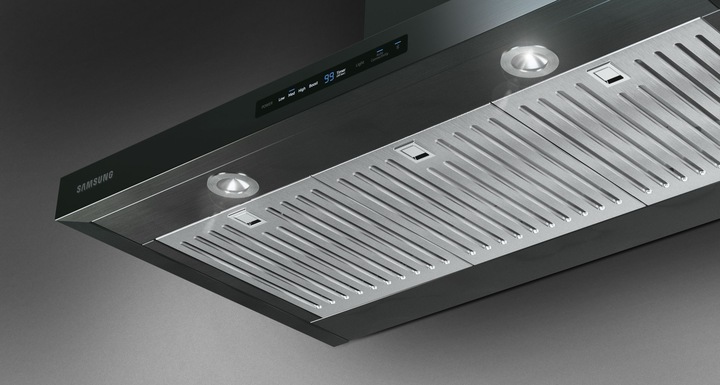 Extra clean, extra efficient performance
A durable and easy to maintain Baffle Filter protects the exhaust fan and prolongs the motor life. It captures oil and dust before it clogs the motor or hinders the airflow, and only needs cleaning every 3 ~ 4 weeks.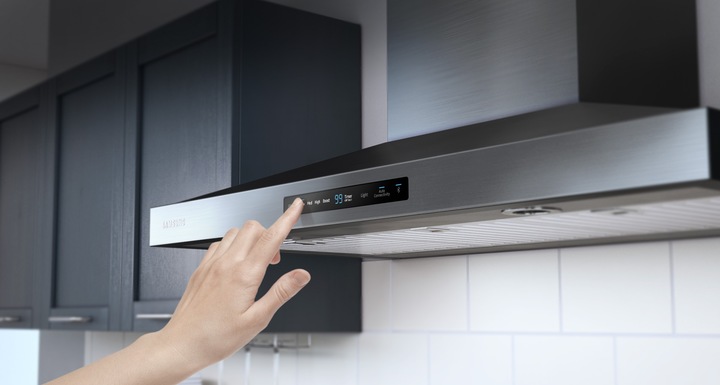 Stylish and convenient fingertip control
Enjoy easy control with an integrated Full Touch Display. It is clear and easy to read and with the same simple to use, intuitive touchscreen control as a smartphone, it has a sleek and contemporary design.
Materials/Finishes
Color(Door)
Matt Black
Model Type Install
Wall-mount
Features
Type of Controls
Touch
Display Color
ICE BLUE
Number of Motors/Fans
1 / 1
Number of Extraction Speeds
4 EA
Max Extraction(㎥/hr)
1020 m
Sound Power (Normal)
74.3 dBA
Hood Lighting
2 x LED
Hood Filter
Baffle filter
Weights/Dimensions
Net (WxHxD)
760 x 500 x 394 mm
Weight (Net)
20 kg
Weight (Gross)
25.7 kg
Reviews
Average Customer Ratings
| | | |
| --- | --- | --- |
| Overall | | 1.83 |
| Design | | 2.83 |
| Features | | 3.17 |
| Performance | | 1.83 |
| Value of Product | | 1.83 |
Cons
Poor quality, Did not meet expectations
Did not meet expectations
Poor quality, Did not meet expectations
Submitted 2 years ago
By Annie_M
Reviewed at


1
Worst appliance purchase and customer service ever
This is the worst purchase I ever made in an appliance. Inefficient, leaves the house with steam and smoke, even on Boost. Loud as hell, it's a nightmare. Our $249 temporary range was more efficient and quieter. Bought this at Home Depot. Contractor installed it later the 48 hours from the delivery (because they pushed our delivery the contractor had to come back) so we can't return it and have to contact Samsung. Did that. Samsung technician came in, verified that the installation was properly made, which it was, and that the motor was working, which it is. Told us it obviously does not meet the CFM expectation but that since nothing is technically wrong with the machine, they can't really do anything about it.
Bottom Line No, I would not recommend to a friend
Submitted 3 years ago
By Hawk7869
Reviewed at


5
EXCELLENT Fan great Technology
We did a full kitchen renovation and bought a chef's edition gas stove and range hood with Bluetooth connectivity. They both work amazing except every now and the the range lights dim for days at a time. Not sure if it an installation issue but it was contractor installed.
Bottom Line Yes, I would recommend to a friend
Submitted 4 years ago
By OldSamsungFan
Reviewed at


1
Probably would be good if I received all the parts
Box came without hardware bag (screws, anchors, etc.) and since I didn't contact Samsung within 48 hours I was told I had to buy the parts myself. Seriously. Of course I had no clue of this ridiculous policy and the sales person never informed me of it. So, beware, if you buy this check EVERYTHING as soon as you get it, don't wait a few days even if you're not going to install it right away.
Bottom Line No, I would not recommend to a friend
Submitted 5 years ago
By Psaini
Reviewed at


1
Don't waste your money.
Very frustrated. Don't buy Samsung product. I bought gas range NY58J9850WS. Try to connect with my Samsung hood fan (NK30K7000WG). Can't find the smart control setting on Stove. Call customer service was not helpful. I have an expensive Samsung appliance which doesn't work together. My money is waste. So please don't buy.
Bottom Line No, I would not recommend to a friend
Submitted a year ago
By Tw61
From TX
Reviewed at


we remolded our home and bought all new samsung appliances. worse mistake. we really liked the color of them and thought we were getting good quality appliances. low and behold the vent hood craped out a year after warranty. i'm so angry because now our dishwasher has problems. i feel like for the price we paid these would last longer than 1-3 years. we'll never purchase again.
Bottom Line No, I would not recommend to a friend
Submitted a year ago
By Jlam
Reviewed at


total junk. in use for less than 2 years and now will not stay on when vent fan or lights selected. the touch buttons work intermittently at best. when you finally get it on it will run for only a few seconds at best. would not buy again
Bottom Line No, I would not recommend to a friend