30" Samsung 5.1 Cu. Ft. Convection Single Oven With Steam Bake - NV51K6650SS
30" Samsung 5.1 Cu. Ft. Convection Single Oven With Steam Bake - NV51K6650SS

30" Samsung 5.1 Cu. Ft. Convection Single Oven With Steam Bake - NV51K6650SS
NV51K6650SS/AA
| | |
| --- | --- |
| Price | $3099.99 |
| Savings | $150 |
| Our Price | $2949.99 CAD |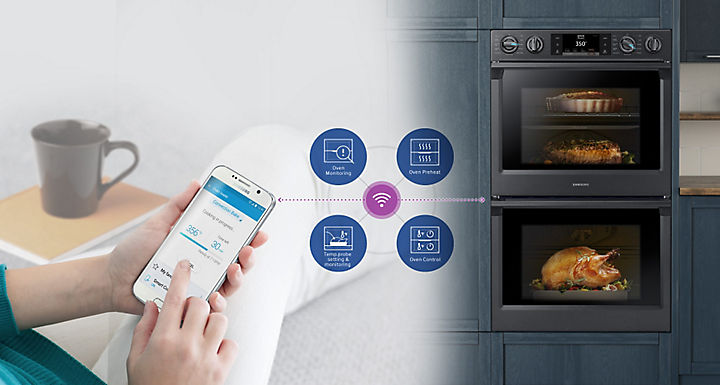 Simply smart control
The Wi-Fi Connectivity gives you peace of mind by letting you remotely monitor and control the oven using a Smartphone App*, while receiving real time alerts about your cooking.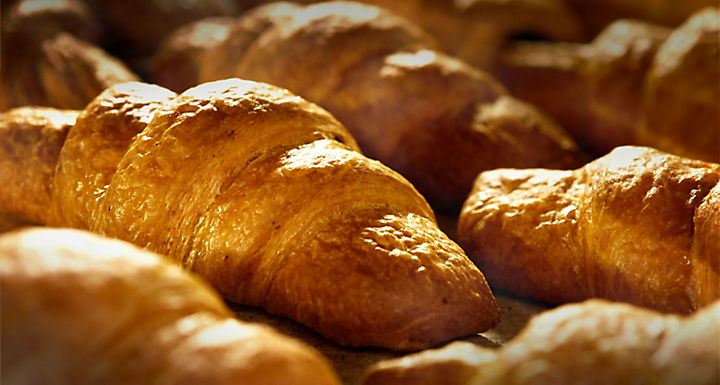 Restaurant-worthy results
The Steam Cook function locks in moisture and vital nutrients while providing a crisp, browned outside and tender inside.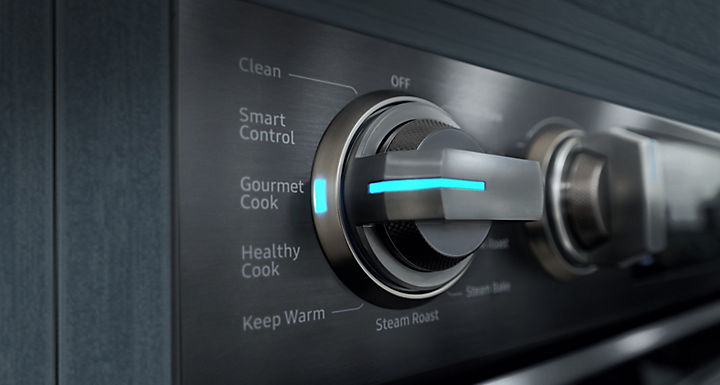 Know when its on
Big Metallic Knobs with illuminated Indicator Knob Control let you quickly know which burners are on and adjust the oven controls. Their large and robust design also makes them easy to grip and ensures enhanced usability.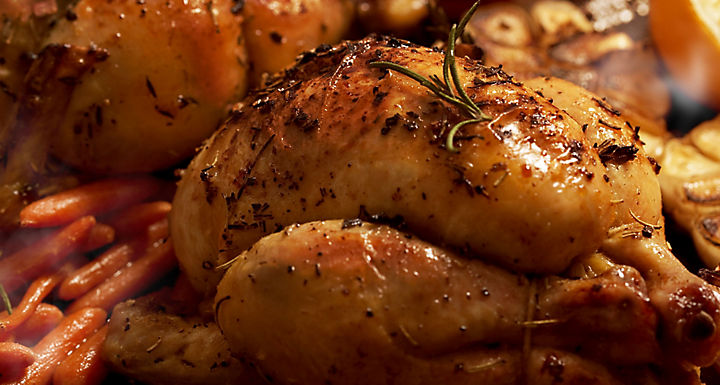 Brown, juicy roasting with steam
The Steam Roast function ensures the best results when roasting, without food drying out. Roast meats, like poultry, pork and beef are always deliciously brown outside, but meltingly tender and juicy on the inside.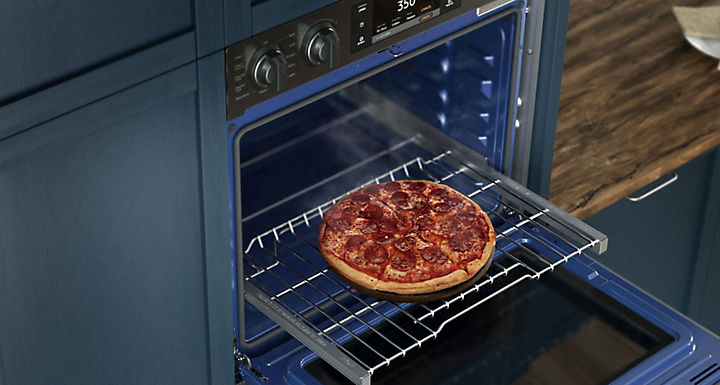 Save time & energy without preheating
There's no need to waste time and energy preheating the oven. You can begin cooking foods like frozen pizzas immediately, but still enjoy deliciously crisp and perfectly cooked meals. *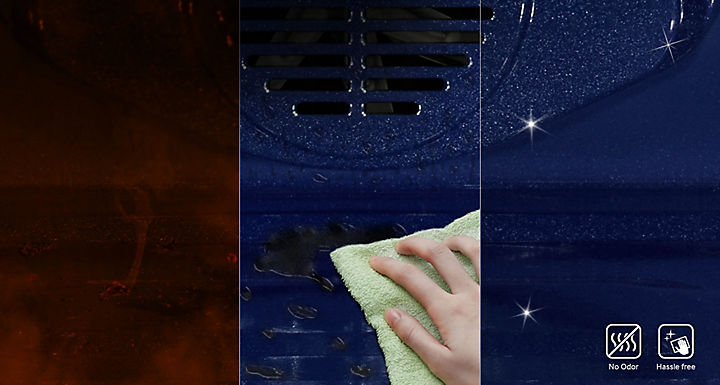 Easy Clean
A time saving and hassle free Hybrid Cleaning system cleans the oven without any unpleasant odor or scrubbing. It combines high heat and steam to pyrolyze food and dissolve grease, so it can be quickly wiped away.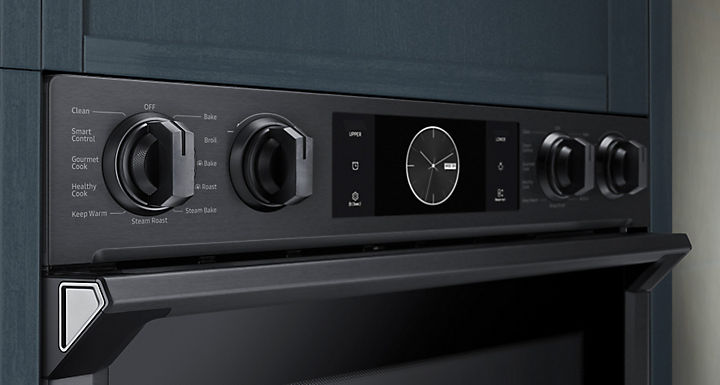 Stylishly harmonious handle design
Sleek and contemporary designs work with any kitchen style, plus sophisticated technology makes it easy to manage kitchen tasks, even for ambitious cooks.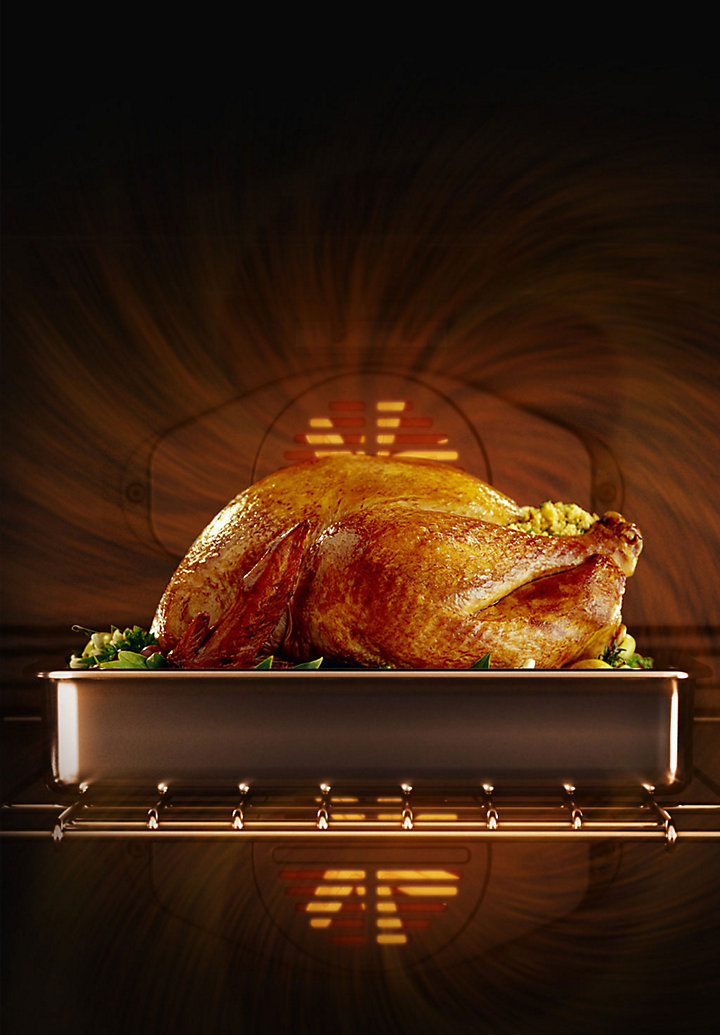 Even and thorough oven cooking or baking
A Dual Convection system cooks food evenly, so it's great for baking and broiling. Two fans distribute heat all around the oven, so dishes are cooked thoroughly and you can enjoy tasty results.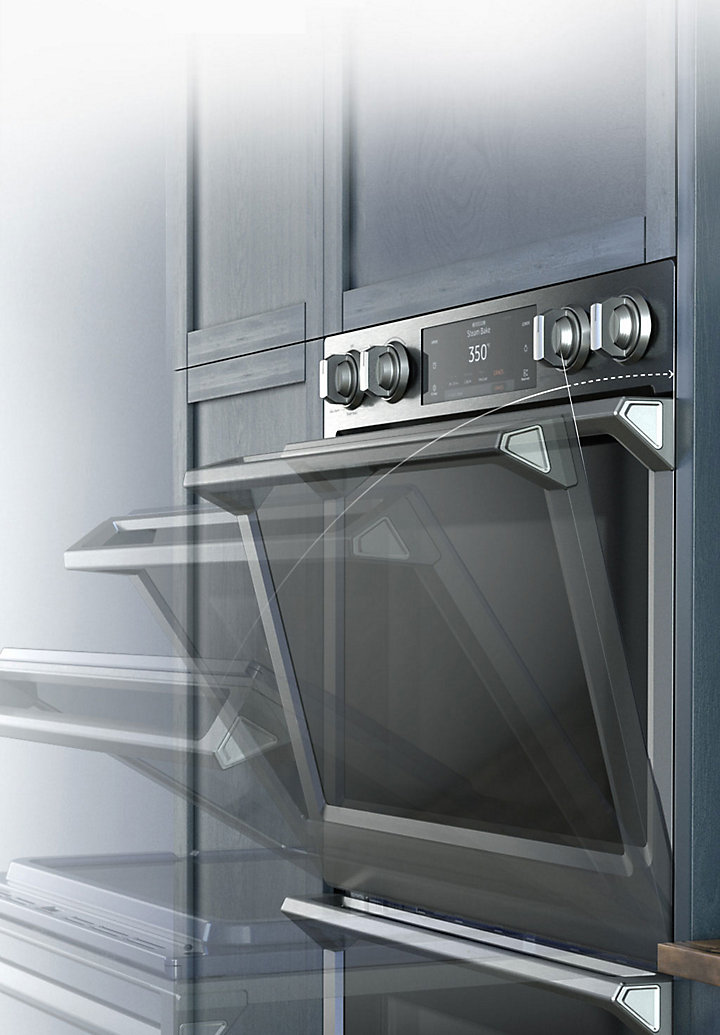 No sudden slams
A Soft Closing Door closes safely, gently and silently to provide a more peaceful cooking experience. The hinge makes the door move smoothly in the final few centimeters, so it slowly and quietly comes to a stop.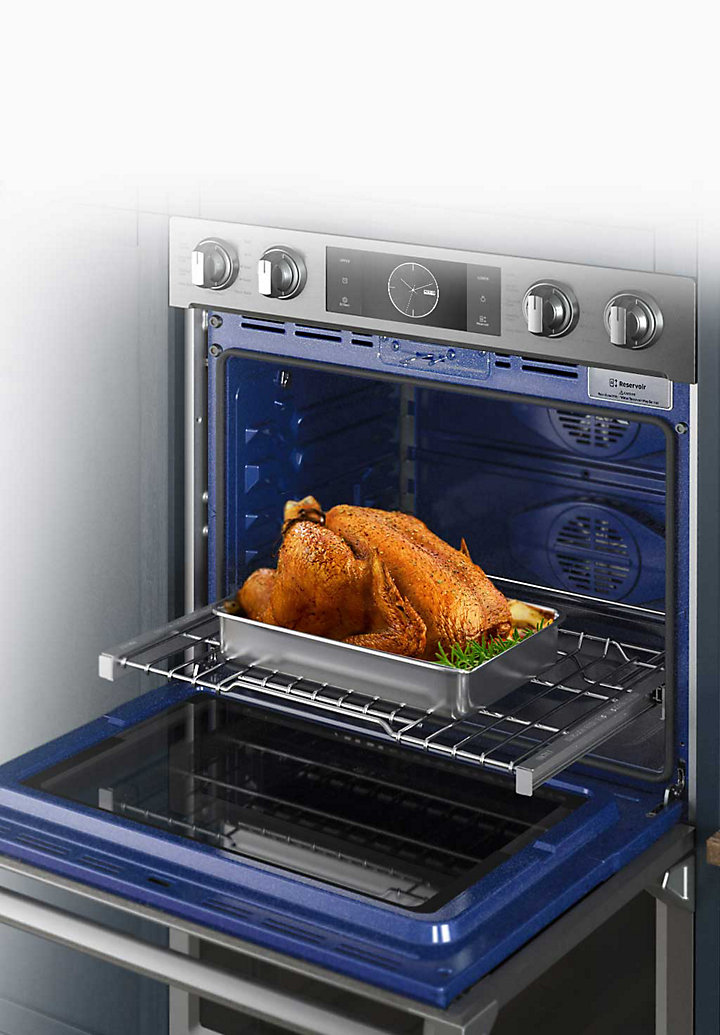 Easily glides without effort
Features a unique ball bearing design that allows the rack to glide in and out with ease.
Materials/Finishes
Oven Type
30" Single Wall Oven
Oven Color
Stainless
Door Type
Drop Down
Oven Door Glass
4
Soft Closing Door
Yes
Display Type
LED
Cavity Material
Enamel
Control Method
Guide Lighting
Features
Bake Heater
8 Pass (3000 W)
Broil Heater
10 Pass (4400 W)
Bake
Y
Broil
Y
Convection Bake
Y
Convection Roast
Y
Steam Bake
Y
Steam Roast
Y
Nopeheat Mode
Y
Bread Proof
Y
Cleaning Method
Self Clean + Hybrid Clean
Wi-Fi Connection
Yes
Child Safety Lock
Yes
Clock
Yes
Cook Timer
Yes
Language Option
Yes
Interior Lamp
Halogen + LED
Light (Lamp) On/Off
Yes
Weights/Dimensions
Cutout (WxHxD)
724 x 692 x 597 mm
Outside (WxHxD)
756 x 726 x 620 mm
Shipping (WxHxD)
850 x 856 x 757 mm
Loading Quantity
84 (40 ft) / 42 (20 ft)
Weight (Net)
62 kg
Weight (Gross)
74 kg
Accessories
Square Wire Rack
2
Meat Probe
Yes
Gliding Rack
Yes
Reviews
Average Customer Ratings
| | | |
| --- | --- | --- |
| Overall | | 2.13 |
| Design | | 3.00 |
| Features | | 3.13 |
| Performance | | 2.38 |
| Value of Product | | 2.00 |
Cons
Poor quality, Did not meet expectations
Poor quality, Did not meet expectations
Poor quality, Did not meet expectations
Did not meet expectations
Poor quality, Did not meet expectations
Submitted a year ago
By hoffmie
Reviewed at


1
Pretty...pretty broken.
Oven just over a year old. Broiler element turns on while baking. Overheats. Burns top of food. Overpriced shiney box, nothing more. Will never purchase Samsung appliances again. Never had an appliance of any kind break so quickly and with such little use.
Bottom Line No, I would not recommend to a friend
Submitted a year ago
By Baker in Bala Cynwyd
Reviewed at


1
This is terrible oven! Steam doesn't work
We bought this oven 2 years ago. We've only had problems with the steam bake. I bought this for the bread making functions. After a few visits and replacing the computer Samsung replaced the oven. Now the second one has the same problem. We've had probably a dozen service calls for this one function. Right now the oven doesn't work at all. Do not buy this oven.
Bottom Line No, I would not recommend to a friend
Submitted 3 years ago
By jeannie
Reviewed at


2
Missing temperature probe!
Hello! My husband and I bought this oven a week ago. The temperature probe that is supposed to come with it is missing from the box! I am still waiting for Samsung to respond to my request to have the missing part delivered as it is not our fault! I would love to be contacted by a representative who can help us with our issue.
Bottom Line No, I would not recommend to a friend
Submitted 3 years ago
By LucyBake
Reviewed at


I bought this oven a month ago and so far I am quite pleased with it. So far I have convection baked, convection roast and regular roast. Then I tried the steam bake for our buns for Christmas dinner ( I know usually not a good idea, just before an important large dinner). But my daughter and I were very pleased with the way they turned out! Even though there are no instructions or recipes on how to use this function and much guessing, they were fantastic! Love how large this oven is! I contacted Samsung as to why there was no recipe book, and was told to look online for something written outside of their company. Hopefully this is not an indicator as to their customer service.
Bottom Line Yes, I would recommend to a friend
Submitted 3 years ago
By Raj Pal
Reviewed at


Purchased a Samsung Wall Oven a year ago. Looks great but it doesn't maintain the set temperature. Technician has been out 4 times, replaced temperature sensor and circuit board. Didn't fix the problem. Now Samsung refuses to do anything further because it's" working within specifications". I don't know how an oven that loses 150 degrees from the set temperature is within specs. Samsung doesn't even want to view my video showing evidence of the problem. Don't purchase Samsung appliances as their support is disingenuous. Technician wants to help but Samsung won't authorize it. $3000 oven that can't be used for baking. Better off using my toaster oven....
Bottom Line No, I would not recommend to a friend
Submitted 3 years ago
By Caro77
Reviewed at


Worked fine for the 1st year, then we tried the stream function and the whole oven failed. I hired a tech to repair the steam function, and shortly after the broiler failed. The tech told me it was because I used the self clean function which I should never do on a Samsung appliance, he has had numerous service calls related to problems after using the self clean. Oven still not working.
Bottom Line No, I would not recommend to a friend
Submitted 4 years ago
By Caro
Reviewed at


2
Dissapointed - water reservoir poor design
Just bought this oven and it was working well until we tried to use the steam function. The reservoir got jammed when it was reinserted and the entire oven stopped working....on Christmas day with all our guests. I got a quote of $650 to replace the steam bracket assembly. We were very careful and something like this should not have happened unless it was poorly designed. The service line was also very unhelpful with this situation.
Bottom Line No, I would not recommend to a friend
Submitted a year ago
By idrivethe bru
From Lancaster county
Reviewed at


5
Love the way the oven works
I bought this to replace a 20 year old oven that died when water got into the electronic panel. I am glad that happened because the Samsung is such an upgrade. The view through the glass door is amazingly clear. The bottom shelf slides out so easy. The temperature probe is great and the steam feature has worked I provides a great addition. I like the wifi feature to monitor the cooking process. The only thing that needs improvement is the alarm which is way to silent unless you are very close to the oven
Bottom Line Yes, I would recommend to a friend