32" Samsung Counter Depth French Door Refrigerator - RF18HFENBSR
32" Samsung Counter Depth French Door Refrigerator - RF18HFENBSR

32" Samsung Counter Depth French Door Refrigerator - RF18HFENBSR
RF18HFENBSR/AC
$1899.99
Literature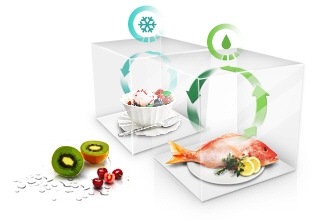 Keep food fresher, longer*
Twin Cooling Plus® technology uses two evaporators with only one compressor to separately control the temperatures of the refrigerator and freezer compartments. This allows you to maintain humidity at optimal levels so your fresh food will last longer. It also prevents unwanted frost buildup and stops food odour transfer so your food smells and tastes the way nature intended.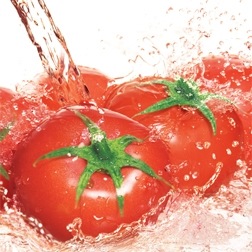 Freshness Preserving Humidity, No Odor Mixing
The enhanced Twin Cooling Plus® individually cools the refrigerator and freezer compartments with separate evaporators and fans. This enables a 75% humidity level in the refrigerator compartment to lock in moisture, keeping foods like fruits, vegetables, and meat fresh for a longer period of time. In addition Twin Cooling System reduces energy consumption with faster cooling and efficient control.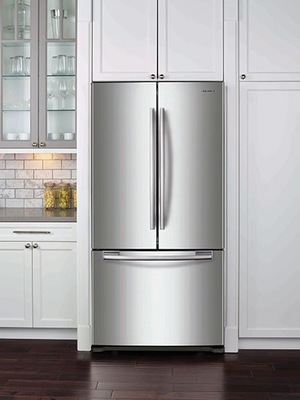 COUNTER DEPTH
Get more work space while enhancing your kitchen's look with our counter-depth refrigerator design. It's sleek, built-in style blends in with the cabinetry, adding function and style to your kitchen.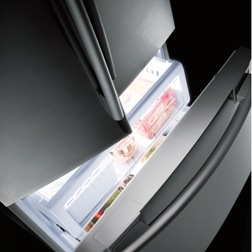 LED LIGHTING
LED lighting inside this sleek refrigerator beautifully lights up the interior so you're able to quickly spot what you want.
Capacity
Net Total(cu.ft)
17.5
Net for Freezer(cu.ft)
5.7
Net for Fridge(cu.ft)
11.8
Physical specification
Net Dimension (WxHxD)(inch)
32.2" x 70.8" x 30.5"
Net Width(inch)
32.2
Net Case Height with Hinge(inch)
70.8
Net Case Height without Hinge(inch)
70.8
Net Depth with Door Handle(inch)
30.5
Net Depth without Door(inch)
24.3
Packing Dimension (WxHxD)(inch)
34.6" x 75.0" x 30.6"
Net Weight(kg)
105
Packing Weight(kg)
115
20/40/40H (Container)
18 / 39 / 39
Cooling Feature
Twin Cooling Plus
Yes
Refrigerator Feature
CoolSelect Zone
No
Number of Shelf (Total)
3 EA
Number of Shelf (Silde Out)
0 EA
Number of Shelf (Flip Up)
0 EA
Number of Shelf (Foldable)
0 EA
Dairy Compartment
Yes
Can Carry
No
Gallon Door Storage
2 EA
Wine Rack
No
Shelf Material
Tempered Glass
Number of Vegetable&Fruit Drawer
2 EA
Number of Door Pocket
8 EA
Power Cool Function
Yes
Icemaker
No
Interior LED Light
Yes
Freezer Feature
Icemaker
Yes
Number of Door Pocket
0 EA
Interior LED Light
Yes
Power Freeze Function
Yes
Freezer Divider
No
Ice Tray
Yes
Number of Door Drawer
2 EA
General Feature
Door Alarm
Yes
Refrigerant
134a
Tactile, Electronic Control
Tactile
Exterior Feature
Door Type
Contour
Dispenser with Water Filter
No
Display & Control (Fridge and Freezer)
Yes (Internal)
Display Type
Digital
Color
Stainless Steel
Energy
Energy Grade
DOE
Installation
Counter Depth
No
Free Standing
Yes
Reviews
Average Customer Ratings
| | | |
| --- | --- | --- |
| Overall | | 1.17 |
| Design | | 2.50 |
| Features | | 2.50 |
| Performance | | 1.00 |
| Value of Product | | 1.33 |
Submitted 11 months ago
By Anthony
From New York
Reviewed at


i've had this refrigerator for about five years now. since the first week of ownership, i have experienced the refrigerator freezing my food. literal ice blocks were found on multiple occasions. the freezer has always produced freezer burn almost immediately when putting new foods in there. i've had several hundred dollars worth of food ruined over the time i've owned this product. today, i walk into my kitchen to find a pool of water at the bottom compartments (happened at least a handful of times before as well) and in the drawers. this was by far the most water i've ever seen. it had to be at least 2-3 gallons in the drawers and on the bottom of refrigerator. there is no water line connected to my unit.
Bottom Line No, I would not recommend to a friend
Submitted 11 months ago
By MollyA
Reviewed at


1
Don't waste a penny on this fridge
7 years in, countless hours wasted, hundreds of $$ of food in the trash. at 3 years old, we realized we weren't crazy amd fridge really was making a ton of noise. by year 4 the water was pooling. we did the defrost clip fix, defrosted the unit, let it rest, didn't touch it, hoped we fixed the problem. we didn't, it kept happening. year 5 is when we started noticing that the we were throwing out a lot more food from spoilage - milk, meat, things growing mold after being in the fridge for 2 or 3 days. at 6 years the panel on the back started frosting over every month. nearly 7 years in and we're having to take it apart every week. don't even get me started on the rubber gasket "seals" this fridge has been such a nightmare.
Bottom Line No, I would not recommend to a friend
Submitted a year ago
By Karla
From Santa Rosa, CA
Reviewed at


1
Fridge not cooling after 14 months
i bought this fridge in february 2021 from best buy. it is now may 2022 and the fridge has not been reaching the set temp for the last month. my food was going bad within a week and i didn't attribute it to the fridge until i grabbed a beer from my fridge and realized it was not as chilled as it normally is. i went through the troubleshooting process with samsung and of course that didn't fix the problem. samsung says since it is outside the one year warranty it cannot replace the fridge and that i would have to pay for repairs if the problem is not the compressor. i am really disappointed in samsung and most definitely will not be buying any samsung products in the future. i just don't understand how a fridge can break down in a year?
Bottom Line No, I would not recommend to a friend
Submitted a year ago
By Jerry
From Boiling Springs, PA
Reviewed at


had techs out twice for coils freezing up. temperature then refrigerator temp go up to spoil food. don't buy samsung.
Bottom Line No, I would not recommend to a friend
Submitted a year ago
By Shan12
Reviewed at


1
Freezer stopped working
i purchased this item 19 months ago. two months ago the handle on the freezer drawer broke off. now, the freezer has stopped working. hundreds of dollars of food had to be thrown away, even though the temperature reading is -4 degrees. despite there being a 10 year warranty sticker slapped on the front, i am told it is no longer under warranty and the estimated repairs are $400. i just spent $1500 buying it less than two years ago. i have purchased refrigerators for half this price that are still going strong a decade later.
Bottom Line No, I would not recommend to a friend
Submitted a year ago
By Katrina
From Washington
Reviewed at


2
Didn't know I could hate a refrigerator
i had no idea i could ever hate a refrigerator. all is has to do is cool food and not leak, right? samsung has changed my opinion. it is possible to hate an appliance. to hate the fact that water regularly pools under the vegetable drawers, including the time it leaked out, and ruined my wood floors. to hate that the ice from the ice maker routinely melts in its bucket and then refreezes, leaving a giant block of ice to hate that ice cubes fall down the back of the freezer and fly out across the kitchen every time i open the freezer. to hate the hundreds of dollars i've already spent trying to fix the water pooling under the drawers. if you can possibly find another refrigerator that is the same size, do it. this one will make you angry every time you open it.
Bottom Line No, I would not recommend to a friend