24" Samsung 4.0 Cu. Ft. Electric Heat Pump Dryer - DV22N6800HW

24" Samsung 4.0 Cu. Ft. Electric Heat Pump Dryer - DV22N6800HW
DV22N6800HW/AC
$1599.99
Energy & cost saving
Optimized drying
Easy maintenance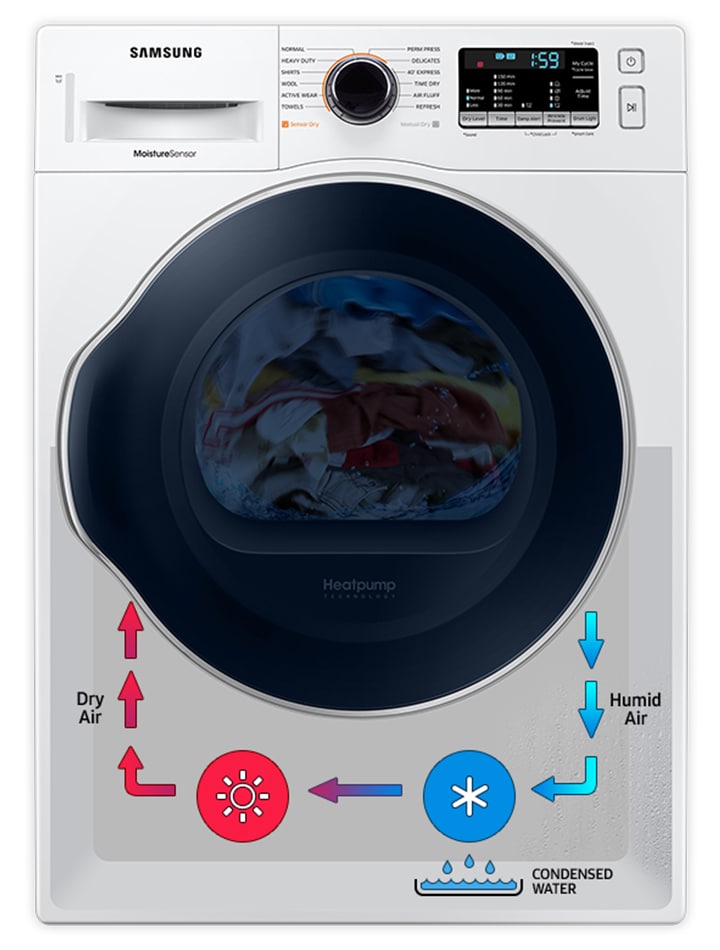 Energy & cost saving
Save money and protect the environment by using less electricity. Heat pump technology offers an energy-efficient, cost-effective and gentle way to dry your clothes. It uses 'refrigerant' instead of electricity to heat the air and recycles air to avoid wasting energy.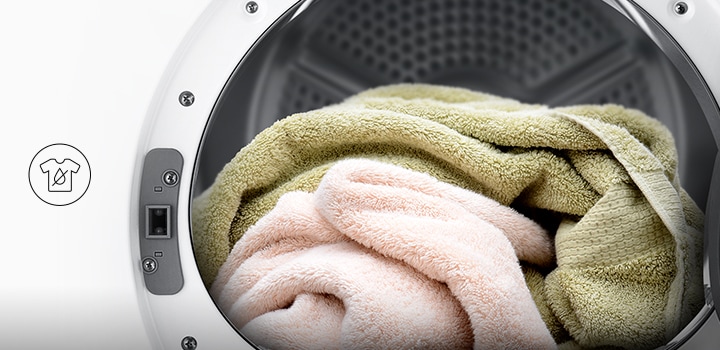 Optimized drying
Make sure your clothes are dry without constantly checking. Sensor Dry automatically optimizes the time and temperature of the drying cycle. So clothes are thoroughly dry. Moisture sensors help to protect your laundry from heat damage and avoid excessive energy use.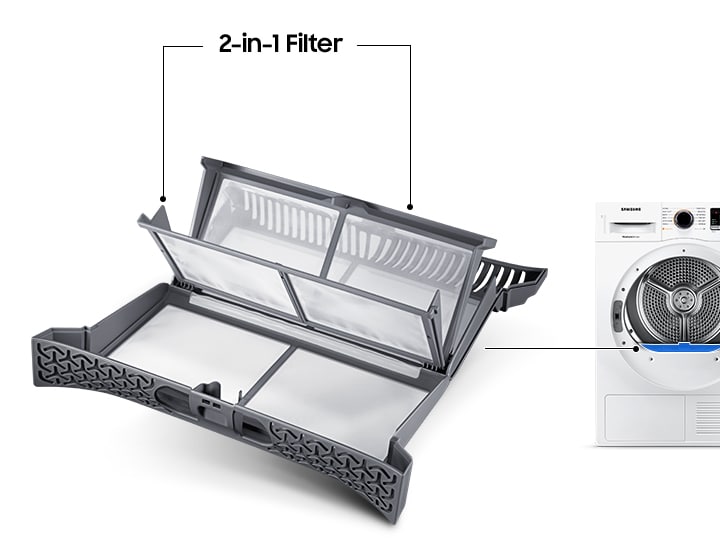 Easy maintenance
Easily Maintain your dryer and optimize drying performance and safety. An innovative 2-in-1 Filter has a double-layered mesh filter so there's no need for a Heat Exchanger filter, making it easy for maintenance. Two alarms also remind you when the Filter and Heat Exchanger need cleaning.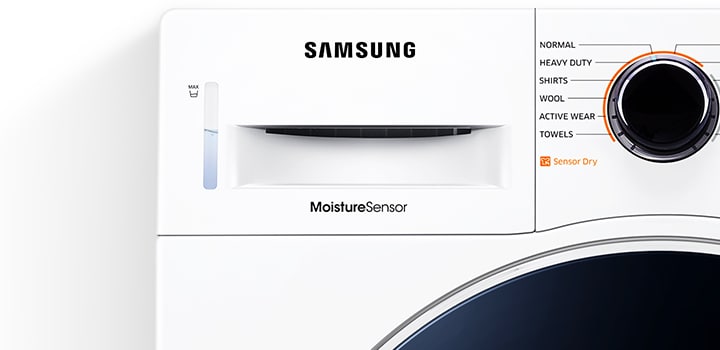 Check water level
A Water Tank Indicator is a simple gauge that shows the amount of water that has been extracted from your clothes. You can see if the water tank needs emptying before you start a load, so the dryer won't stop unexpectedly.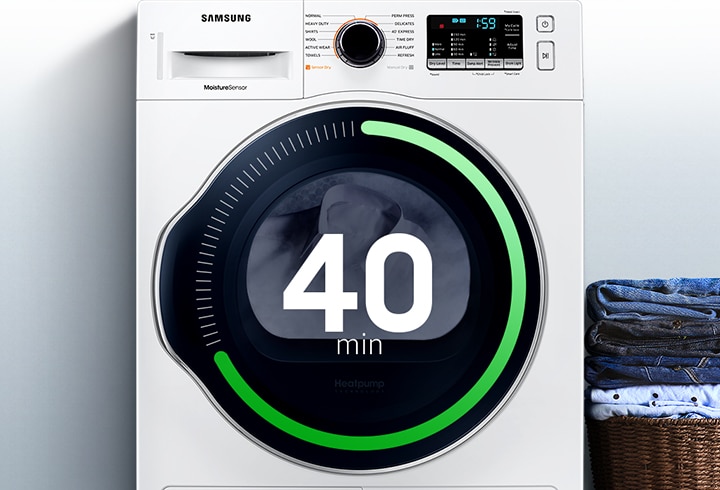 Dry in 40 minutes
Sometimes you just need some clothes, like a work shirt, dried fast. So a 40 Express Cycle* gets a small 2 lb load of clothing dry and ready to wear in just 40 minutes. By using high heat, you can dry only a few items if you want to so you can wait less if you need to.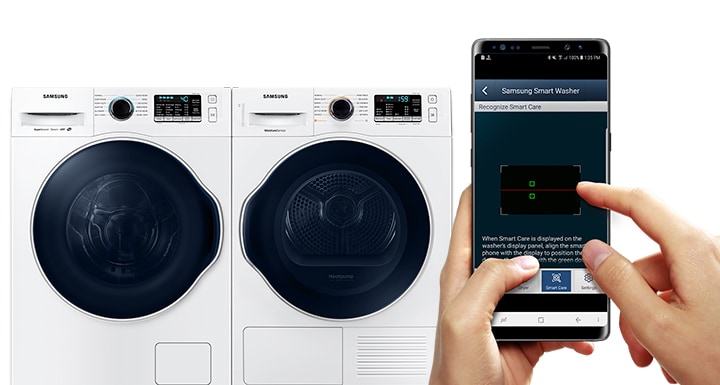 Easy troubleshooting
Troubleshoot straight from your smartphone. Smart Care interacts with your washer and dryer to perform an immediate diagnosis and offer quick solutions.*
Physical specification
Drum Material
STS
Voltage/Frequency
240V/60Hz
Gross Weight
55 kg
Gross Dimension (WxHxD)
666x884x695 mm
Net Weight
50 kg
Net Dimension (WxHxD)
600x850x650 mm
Cycle
Option List
Damp Alert, Wrinkle Prevent, My Cycle, Adjust Time, Sound Off (Long Key), Child Lock (Dual Key), Smart Care (Long Key), Drum Light
Cycle List
Normal, Heavy Duty, Shirts, Wool, Active Wear, Towels, Perm Press, Delicates, 40' Express, Time Dry, Air Fluff, Refresh
Number of Option
8
Number of Cycle
12
Feature
Number of Time Level
5 EA
Number of Drying Level
3 EA
Wrinkle Prevent
Yes
Steam
No
My Cycle
Yes
Progress Indicator
Yes
Mixed Load Bell
Yes
Filter Check Indicator
Yes
Child Lock
Yes
Reversible Door
Yes
Smart Care
Yes
Smart Control
No
Interior Drum Light
Yes
Configuration and Overview
DOE Energy Factor
5.8 lb/kWh
Energy Consumption (annual)
145 kWh/year
Cycle time (min)
119 min
Design
Panel Display
D.LED
Body color
White
Drying Capacity
Drying Capacity (cu.ft)
4.0 cu.ft
Reviews
Average Customer Ratings
| | | |
| --- | --- | --- |
| Overall | | 1.00 |
| Design | | 4.00 |
| Features | | 4.00 |
| Performance | | 1.00 |
| Value of Product | | 1.00 |
Submitted a year ago
By Sheilla
From Mt Airy NC
Reviewed at


we just installed this dryer today and was very excited to start drying our clothing. turned it on and it does not heat up at all. it is using cold air to dry clothing. the cooling icon stays on all the time. i am hoping that this is just an error that can be quickly fixed.
Bottom Line No, I would not recommend to a friend