48" Wolf Sealed Rangetop With 4 Burners and Wok Burner - SRT484W-LP

48" Wolf Sealed Rangetop With 4 Burners and Wok Burner - SRT484W-LP
SRT484W-LP
Literature
This specialized rangetop configuration harnesses Wolf's legendary performance and applies it to the dynamic wok cooking tradition. Every detail of the wok burner design—from the high-to-low control of the plumed flame to the cradling wok pan ring—uniquely aids the home cook in masterfully executing a host of wok cooking techniques.
For accomplishing additional cooking tasks, Wolf\'s iconic and equally precise dual-stacked, sealed burners flank the wok burner. Clean-up is convenient, thanks to the drip zone around the wok burner chamber surface and the sealed burner pans. Achieve a consistent, professional look—its stainless steel construction and signature Wolf red control knobs coordinate seamlessly with other Sub-Zero, Wolf, and Cove appliances.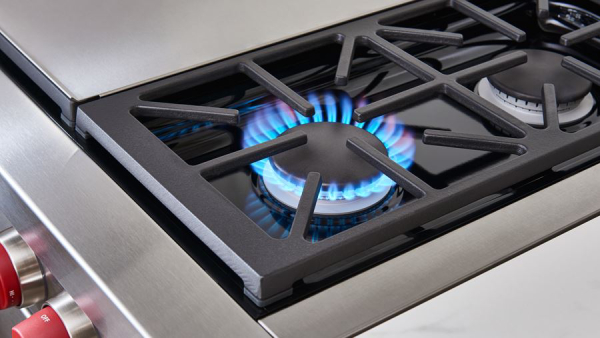 POWER PLUS FINESSE IMPROVES RESULTS
Look closely at the gas burners on a Wolf dual fuel range or gas range, rangetop or cooktop. They're called dual-stacked, sealed burners. See the two tiers of flame ports on each burner, one above the other? One delivers higher heat; the other comes on for lower heat settings. Turn it way up for high-Btu searing heat. Continue to turn the knob for the merest breath of flame for simmering without boiling and melting without scorching.
And the continuum of control you have in between– it's like nothing you've ever cooked with before.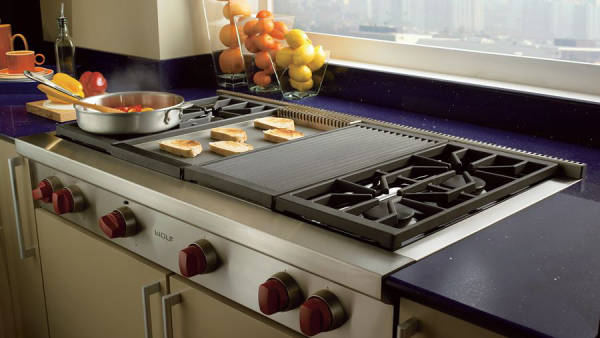 A BREEZE TO CLEAN
The "sealed" part of our dual-stacked, sealed burner design refers to the burners' setting within a sealed drip pan. Flip vegetables, stir sauces and toss in the seasoning with confidence that any spills and sloshes stay right there for fast, easy cleanups.
Rigorously tested to ensure dependability
Each and every Wolf appliance is rigorously stress-tested to perform for over twenty years of daily use and is backed by the strongest warranty in the industry.
Handles all wok cooking techniques
Wok burner aptly handles the gamut of wok cooking techniques with equal precision, from searing highs of 35,000 Btu to simmering lows of 3,500 Btu.
Extreme Pan Maneuverability
Porcelain-coated cast-iron wok ring cradles a traditional round-bottom wok, offering extreme pan maneuverability and ability to angle the pan towards the cook for convenient access to contents.
Maintain control with dual-stacked burners
Maintain control with two dual-stacked burners that go from 20,000 Btu down to a mere breath of flame.
Easy Cleanup
Cleanup is a snap as sealed, seamless burner pans and the drip zone around the wok burner chamber contain sloshes and spills.
Reignites flame automatically
Dual-stacked, sealed burners reignites flame automatically with spark ignition system.
Exceptional customer support
Whether you\'re shopping for appliances or have questions about those you already own, the Sub-Zero, Wolf, and Cove Customer Care team has a reputation for service that\'s as exceptional as its products.
Focused Heat with Plumed Wok Burner
Plumed wok burner flame focuses heat in the center of the wok pan and creates graduated temperature zones along the sides.
Pan Flexibility
Wok burner grate extends the capability of the wok burner, enabling use with flat-bottom pans.
Easily Simmer and Melt
Simmer and melt sauces, soups, and marinades easily with the lower tier of the dual-stacked burner.
Continuous Cast-Iron Grates
Move pots and pans easily across continuous cast-iron grates.
Seamless integration into your kitchen
Match other Sub-Zero, Wolf, and Cove products with heavy-gauge stainless steel and signature red infinite control knobs.
Rangetop Specifications
1 - 9,200 Btu Burner
1 - 15,000 Btu Burner
1 - 18,000 Btu Burner
1 - 20,000 Btu Burner
1- 35,000 Btu Wok Burner
Specifications
Overall Dimensions
47 7/8" W x 10" H x 28 1/2" D
Receptacle
3-prong grounding-type