30" KitchenAid 1.9 Cu. Ft. Over the Range Microwave - YKMHC319KPS

30" KitchenAid 1.9 Cu. Ft. Over the Range Microwave - YKMHC319KPS
YKMHC319KPS
$1599.99
Literature
Product Overview
30" 950-Watt Microwave Hood Combination with Convection Cooking
This high power, 950-watt convection over-the-range microwave lets you use it to steam and simmer thanks to a sensor-monitored cooking cycle and an innovative container. A 6-speed ventilation fan helps capture smoke, grease and odors from the cooking surface below, empowering cooks to create with confidence. Stainless Steel with PrintShield™ Finish resists smudges and fingerprints, making clean up easy.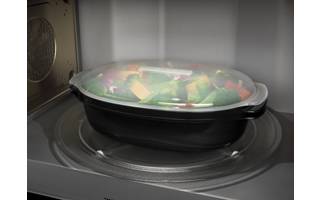 Features a microwave sensor that triggers a cycle that precisely steams food based on type and selected doneness. Just add water to the provided steamer container to help achieve the best cooking results.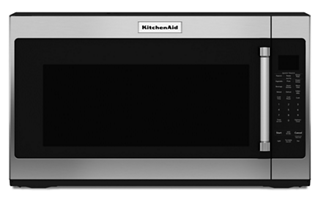 Automatically adjust the time needed to cook, reheat or defrost your food, removing the guesswork about power levels or cooking times.
Additional Features
PrintShield™ Finish
resists smudges and fingerprints. The specialized coating for stainless steel is easy to clean with just water and a soft cloth, so you can spend more time cooking and less time cleaning up the kitchen.
6-Speed Ventilation System
Captures smoke, grease and odors from the cooking surface below for everything from simmering to high temperature cooking techniques like pan searing and stir-frying so you can experiment with confidence. Six-speed fan control lets you select and adjust the fan speed depending on your ventilation requirements.
Stainless Steel Cavity
Extends the beauty of the exterior to the interior of the microwave oven
Steam Cleaning Function
Uses the power of steam and added water to release spills and stains so they are more easily wiped away.
1.9 cu. Ft. capacity
is large enough to comfortably fit different containers and work as a complement to your conventional oven.
Dimensions
Cutout Depth
35.56 cm, 14.0 in
Capacity
1-9/10