29" Samsung 17.6 cu. ft. Capacity Top Freezer Refrigerator with FlexZone - RT18M6213SR/AA
29" Samsung 17.6 cu. ft. Capacity Top Freezer Refrigerator with FlexZone - RT18M6213SR/AA

29" Samsung 17.6 cu. ft. Capacity Top Freezer Refrigerator with FlexZone - RT18M6213SR/AA
RT18M6213SR/AA
| | |
| --- | --- |
| Price | $1549.99 |
| Savings | $300 |
| Our Price | $1249.99 CAD |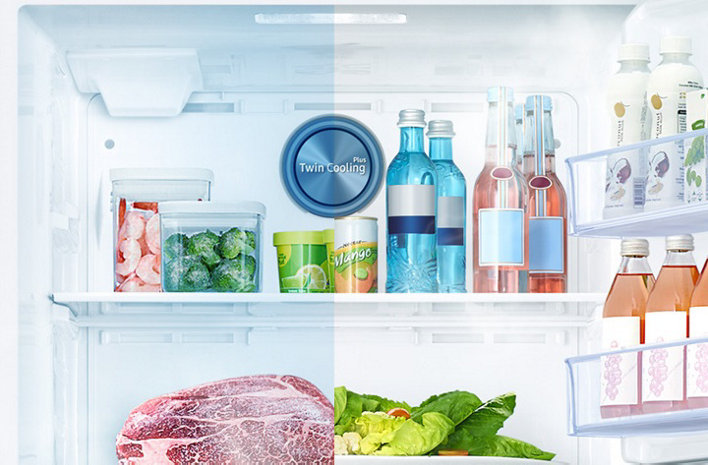 FlexZone™
Versatile fridge compartment that converts freezer to fridge.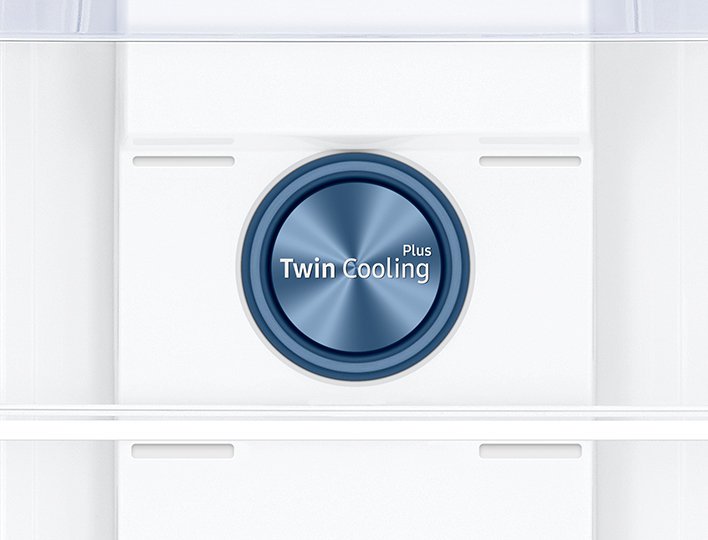 Twin Cooling Plus™
The Twin Cooling Plus™ feature maintains both high levels of refrigerator humidity to keep perishable fruits and vegetables fresher longer, and dry freezer conditions for less freezer burn meaning better tasting frozen foods.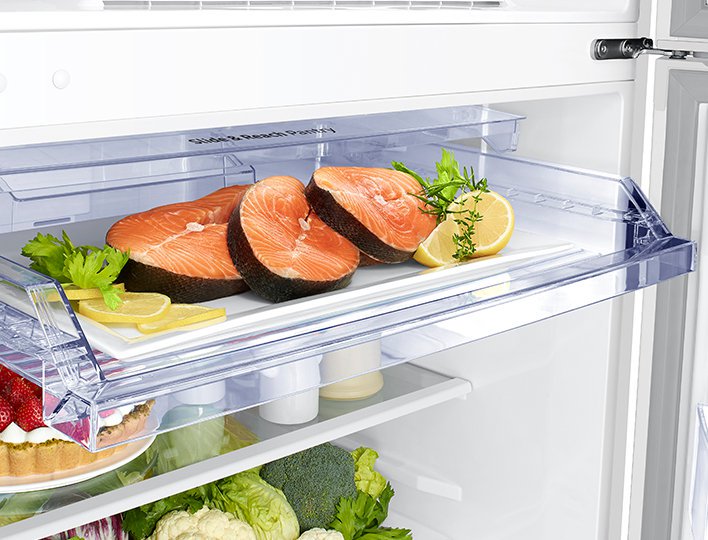 Slide & Reach Pantry
Easily access all your favorite foods.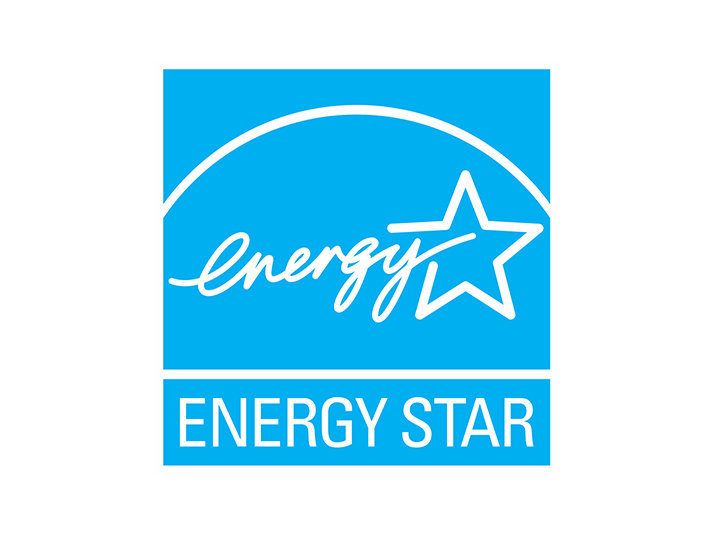 ENERGY STAR® rated
ENERGY STAR® rated products meet strict energy efficiency specifications set by the government. This Samsung refrigerator not only meets ENERGY STAR® requirements, it exceeds them.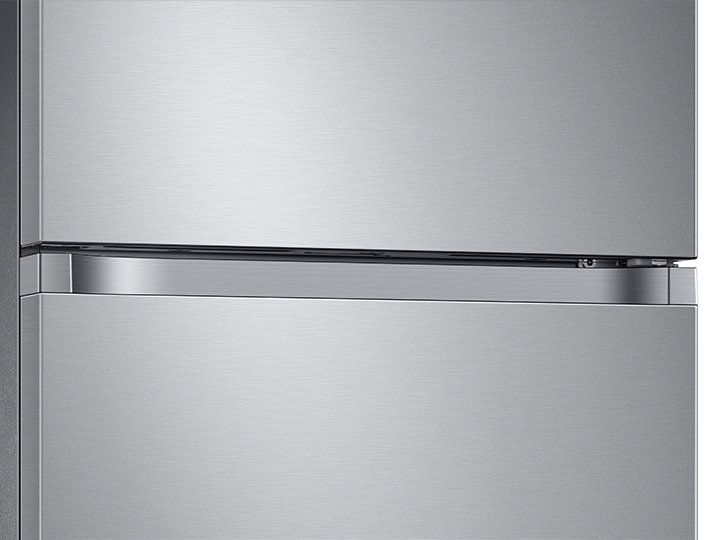 Reversible door
Reversible door creates a beautiful, streamline design with the ability to customize to your needs.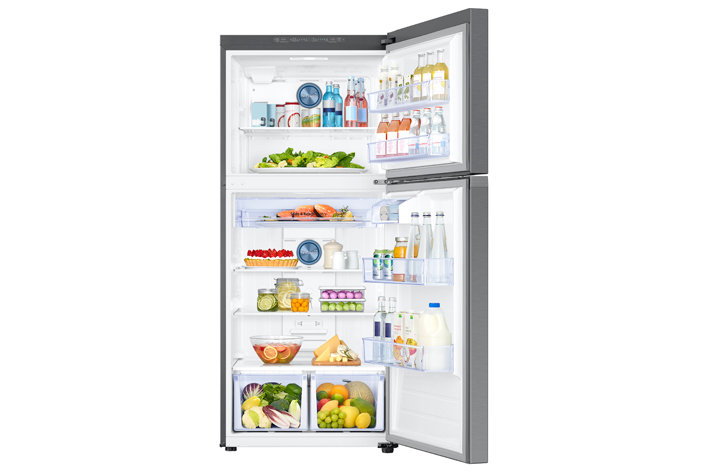 High-efficiency LED lighting
LED lighting gently brightens virtually every corner of your refrigerator so you're able to quickly spot what you want. Plus, it emits less heat and is more energy-efficient than conventional lighting. The sleek design saves more space than traditional incandescent light bulbs.
Freezer Features
Shelves
1
Interior Light
LED
Icemaker
Optional (RA-TIMO63PP/AA)
Cubed and Crushed Ice
Cubed Only
Refrigerator Features
Interior Light
LED
Total Bins
2
Tempered Glass Shelves
Yes (3)
Surround Air Flow
Yes
Humidity Control Crispers
Yes (2)
Dimensions
Shipping Dimensions (WxHxD)
30 1/8" x 70 5/8" x 33 1/2"
Without hinges and door (WxHxD)
28 3/4" x 65 3/4" x 28 1/2"
With hinges, handles and doors (WxHxD)
28 3/4" x 66 3/4" x 31 7/8"
Freezer Capacity (cu. ft.)
4.9
Refrigerator Capacity (cu. ft.)
12.7
Total Capacity (cu. ft.)
17.6
Features
Sabbath Mode
Yes
Twin Cooling Plus
Yes
Display Color
Ice Blue
Power Freeze and Power Cool Options
Yes
Freezer Features
Bins
2
Design
Color
Stainless Steel
Energy
ENERGY STAR Certified
Yes
POWER
Energy Consumption
448 kWh/year (w/ ice maker), 364 kWh/year (w/o ice maker)
Refrigerator Type
Type
Top freezer
Weight
Product Weight (lb.)
178.6
Shipping Weight (lb.)
194
Key Features
Flex Zone
Yes
Reviews
Average Customer Ratings
| | | |
| --- | --- | --- |
| Overall | | 2.74 |
| Design | | 3.00 |
| Features | | 3.21 |
| Performance | | 2.84 |
| Value of Product | | 2.95 |
Pros
Inexpensive, Eco-Friendly
Inexpensive, Bright display, Durable
Bright display
Realistic color
Realistic color, Bright display
Inexpensive
Bright display
Cons
Did not meet expectations
Poor quality
Poor quality
Poor quality, Did not meet expectations
Poor quality, Did not meet expectations
Poor quality, Did not meet expectations
Did not meet expectations
Poor quality
Poor quality, Did not meet expectations
Submitted 9 months ago
By edchan888
Reviewed at


3
The optional auto icemaker is difficult to connect
I bought this refrigerator together with the auto icemaker. However no waterline or tube is provided. I have called the vendor and they are unable to help me to connect the waterline from the kitchen water hose as the original water tube connecting with the freezer of the fridge is not provided. The tube has to connect from the top of the fridge which is different than other models. I have a hard time to find the hardware and ended up giving up the auto ice making function.
Bottom Line No, I would not recommend to a friend
Submitted 10 months ago
By bye samsung
Reviewed at


First of all, I usually don't write review, especially negative one, but honestly if you buy this fridge get an external warranty, there is this noise that never stop, and costumer service, will send you from chat to email and so on.
Bottom Line No, I would not recommend to a friend
Submitted a year ago
By Nanad
Reviewed at


5
It worked so well I bought another
I have had one for 4 years and I love it. I always wanted an all fridge and with this you can do that or flex it for a freezer. In one home I use just all fridge and in my 2nd home we do both freezer and fridge. love it...Love the steam line look and it is just the right size.
Bottom Line Yes, I would recommend to a friend
Submitted a year ago
By Luvit70
Reviewed at


We bought our refrigerator about a month ago now and we are very happy with it. Love the light in the freezer and also the pantry space. Just wished that we had just a tad more space to put items like bottles on the shelves.
Bottom Line Yes, I would recommend to a friend
Submitted a year ago
By Paoloroma01
Reviewed at


7 month old fridge..strange noise coming out of this unit..lower door hinge cracking noise..no space..worse fridge ever owned.
Bottom Line No, I would not recommend to a friend
Submitted a year ago
By luvinfridge
Reviewed at


5
CONFUSED ABOUT BAD REVIEWS
We have had nothing but very noisy fridges until this fridge. This has to be the quietest fridge i have ever seen. Even when first plugged in when its working the hardest i had to put my ear up to the fridge to see if it was even running. I have never heard it turn on or off....soooo happy. Now layout is a bit bad but we found by taking one shelf out you can fit everything just fine. My favorite feature is jugs of milk fit on the door...love that big time. Also really like having light in freezer never had that before. All these people complaining I really don't get it. My advice with all major purchases is ALWAYS GET EXTENDED WARRENTY
Bottom Line Yes, I would recommend to a friend
Submitted a year ago
By dflady
Reviewed at


Fridge was only months old when I bought it with my new to me home. Worked ok until today when it was moved 10 feet so I could have a new kitchen installed. Now the door alarm beeps x10, then goes off, then starts again. Out of warranty, of course!! If it is so fragile it falls apart when moved 10 feet then it does not even deserve a 1 star rating.
Bottom Line No, I would not recommend to a friend
Submitted a year ago
By SteveM
Reviewed at


An absolute piece of junk ! I bought this Samsung refridgerator on March of 2018 against the advice of my local go-to repair dealer who warned me to stay away from all Samsung refrigerators. I purchased the 2 year extended warranty option. Exactly 1 month and several days after the warranty expired this Samsung refrigerator failed. It was almost impossible to find any appliance repair depots to even agree to look at a Samsung refrigerator repair. After spending $100.00 and waiting many days for an appointment with a Samsung's exclusive repair agent, the "repair" agent showed up, took a quick look and in barely distinguishable broken English uttered one word: "UNREPAIRABLE". Apparently this lemon developed an unrepairable leak and I was out over $1000.00 after only 3 years on a total piece of junk which I had to pay to get hauled away. STAY FAR AWAY FROM ANY SAMSUNG REFRIGERATOR or you will get burned !!
Bottom Line No, I would not recommend to a friend
Submitted 2 years ago
By Marta Lina
Reviewed at


1
Worst refrigerator ever
This refrigerator does everything a refrigerator should NOT -It does not make food easily accessible since it has a locking mechanism that will randomly activate and lock you out -It does not keep your food fresh because an internal stable temperature cannot be maintained AND if the external temperature of the fridge changes, the internal temperature of the fridge will NOT be maintained in spite of increasing it -The humidity controls of the bottom fruit and vegetable crisper drawers do not make any difference and food rots -The top crisper directly beneath the freezer freezes meat and cheese and causes it to spoil -Food that remains on the shelves between the crispers spoils too, for example, fresh yogurt will have a solid consistency when you place it in the fridge and within hours, the yogurt has a whipped consistency, CLEARLY indicating that the internal temperature of the refrigerator is NOT being maintained -Food stored in the freezer gets freezer-burned more quickly than it should so another area where food spoils -The refrigerator beeps if the door is open for too long because the internal temperature has to be maintained but the beeping is beyond frustrating because even if you respect the timer the temperature CANNOT BE MAINTAINED So basically, if you want to buy a fridge, then buy a bunch of food, then put it in your fridge, and never open the door again, then this fridge is for you! This fridge should be taken off the market as it has failed abysmally in doing what it is designed to do: providing access to fresh food whenever.
Bottom Line No, I would not recommend to a friend
Submitted 2 years ago
By Grace Whatsherface
Reviewed at


3
Nice fridge - but 3 years and it's not working
We bought this fridge August 2017 when we downsized into a small house. We bought this fridge because it had some nice features for a smaller top mount freezer fridge. I liked the flexibility of being able to use the top freezer as a fridge- handy when entertaining because that space can be the beverage center. The LED lighting is very nice and it is also is in the upper freezer compartment. It runs quietly more so than some expensive fridges I have had in the past. The crisper drawers have glide wheels so they roll in and out smoothly, most fridges no longer have this. The deli drawer can be a little awkward, but not a deal breaker for me. This is a smaller fridge and for the most part the size works for my husband and me, but a family of 4 would definitely want a larger fridge. I would have rated this fridge higher if it was not for the fact that today we have a repair man coming to replace both the temperature sensor and control board. I do expect a fridge to work longer than 3 years before a major repair. All Samsung fridges I have owned (3 total) do not last long. My advise always buy the extended warranty.