29" Samsung 17.6 Cu. Ft. Capacity Top Freezer Refrigerator with FlexZone - RT18M6213WW/AA

29" Samsung 17.6 Cu. Ft. Capacity Top Freezer Refrigerator with FlexZone - RT18M6213WW/AA
RT18M6213WW/AA
$1549.99
Flexibility with 5 modes
Ideal care for meat & fish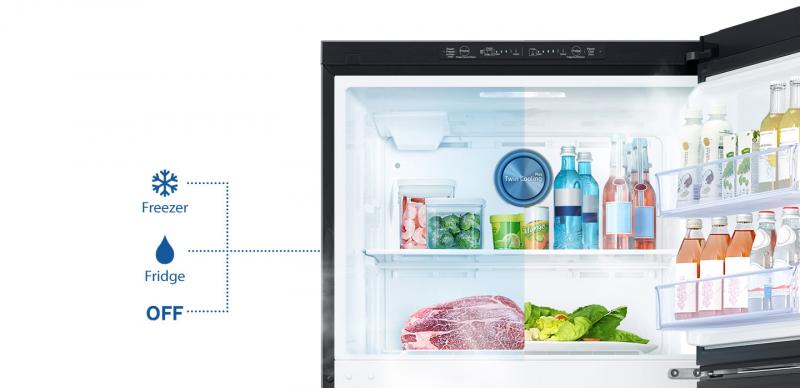 Extra flexibility with 5 modes
FlexZone™
FlexZone™ provides the ultimate in flexible storage. Easily convert your freezer into a fridge to keep all the fresh food you need for different seasons or special occasions. Or switch to off* mode to save energy.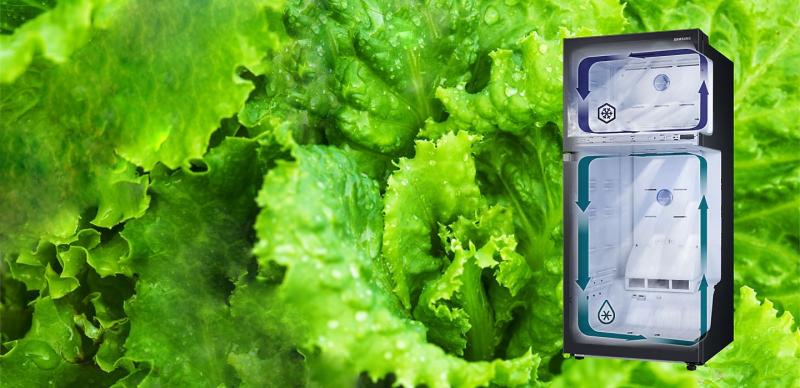 Fresher Food
Twin Cooling Plus™
Twin Cooling Plus™ technology cools the fridge and freezer compartments independently. It maintains a humidity level of up to 70% all over the fridge and prevents odors from mixing, so food stays fresher for longer.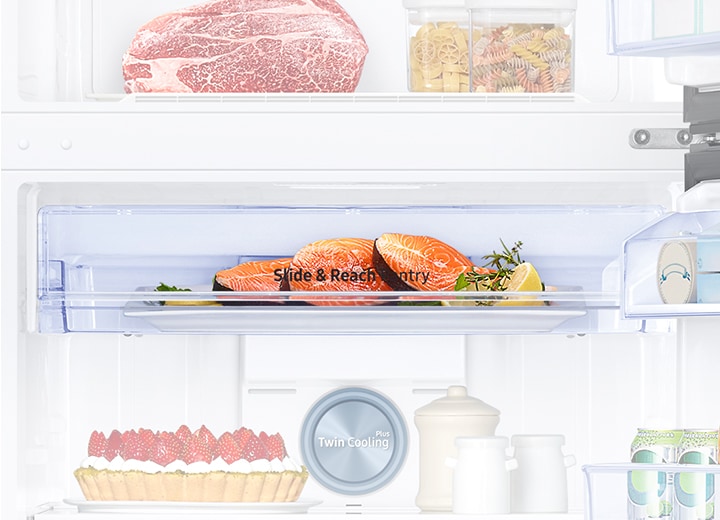 Ideal care for meat & fish
Slide & Reach Pantry
The Slide & Reach Pantry is a separate storage drawer that's ideal for preserving meat and fish. It keeps proteins at a lower temperature than the fridge for optimal freshness, flavour and texture.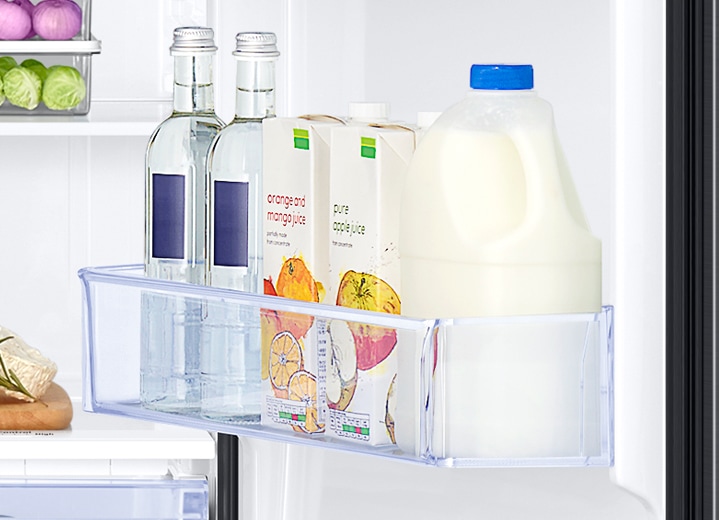 Store large bottles
Gallon Guard
A Gallon Guard shelf in the door makes it easy to store large bottles or containers for drinks or condiments. It accommodates bottles of up to three litres and has two extra rows for cans.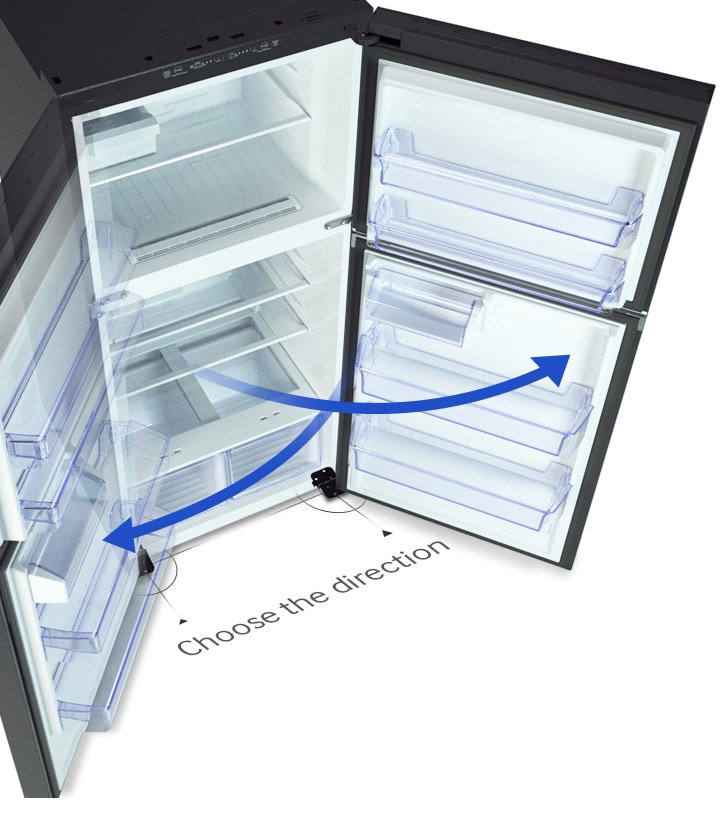 Choose your door's direction
Reversible Door
Open the Reversible Door in the direction most convenient for your kitchen space. Change its direction by reversing the hinges, leaving no unsightly holes on the door.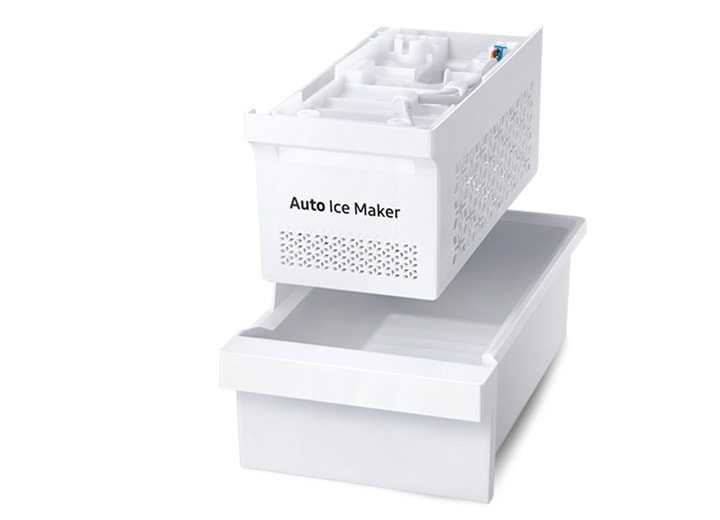 Create ice or space
Optional Ice Maker
The Optional Ice Maker can be quickly and easily installed whenever you need to make and store ice. When it's not fitted, you can use the same space for regular storage.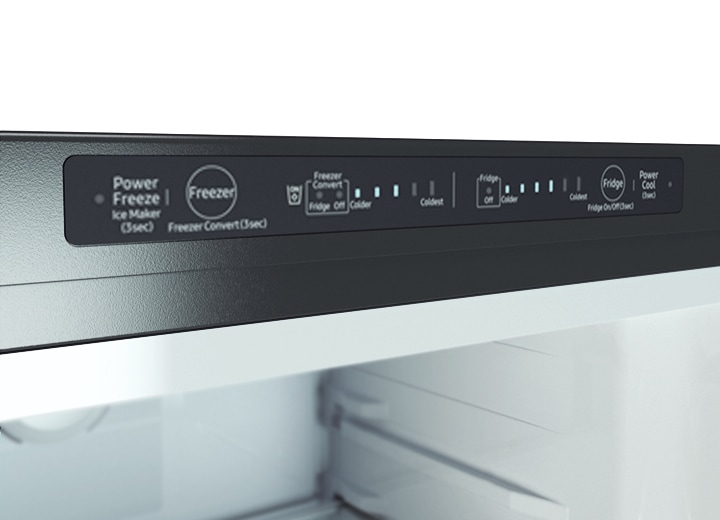 Discreetly hidden display
Hidden Display
A Hidden Display completes a minimalist and modern look. The digital display control panel is discretely placed on the top shelf and is easily accessible.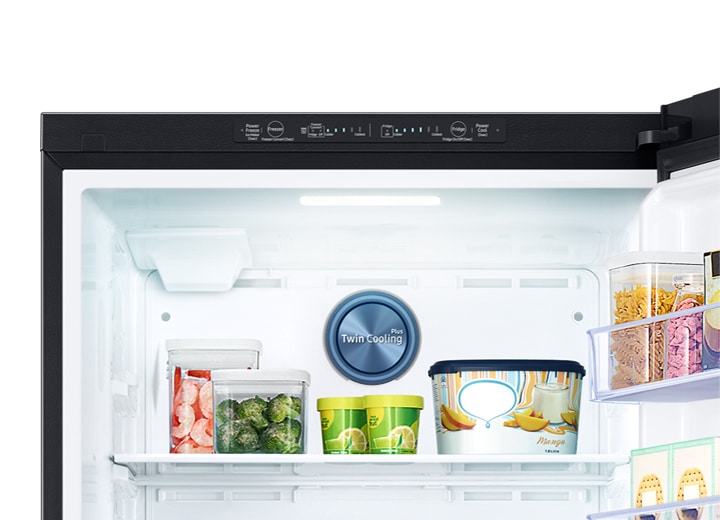 LED Lighting
New LED lighting is softer and more energy efficient while brilliantly illuminating every corner.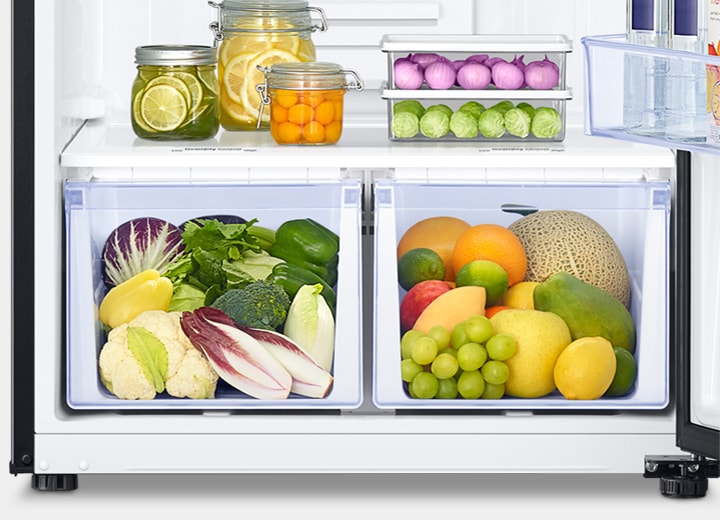 Store More
A large capacity vegetable box makes it easy to store and find everyday items, like fresh vegetables and fruit. The vegetable box is conveniently divided into two sections for better humidity control.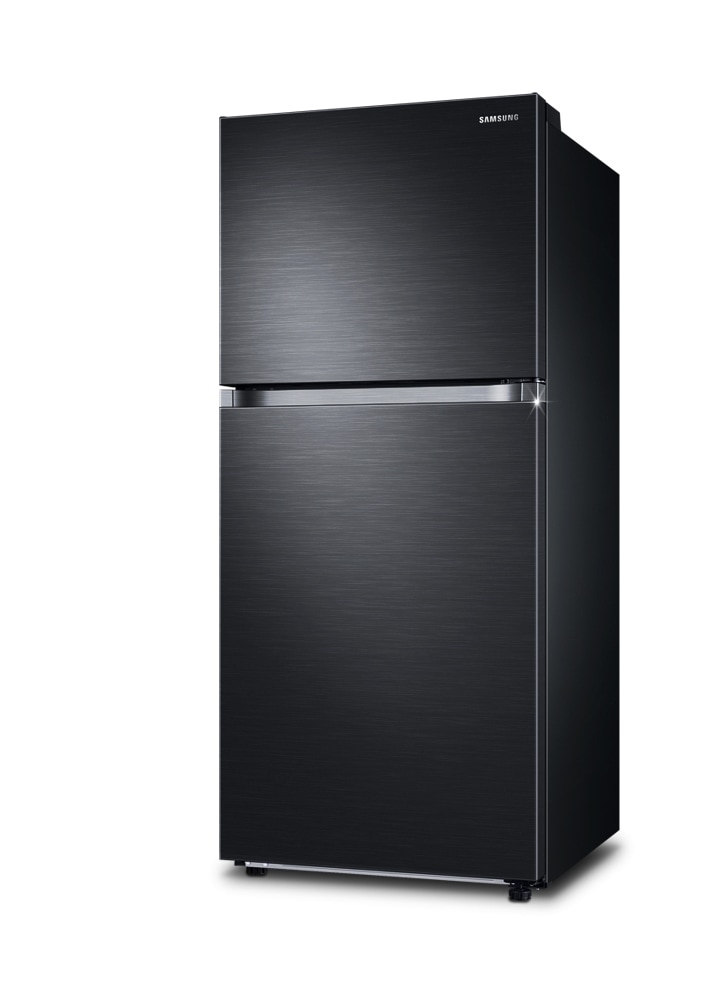 Clean and contemporary look
Sleek Design
The sleek design creates a clean and contemporary look that enhances your kitchen decor. The minimalist black stainless steel finish and striking flat front introduce an added level of sophistication.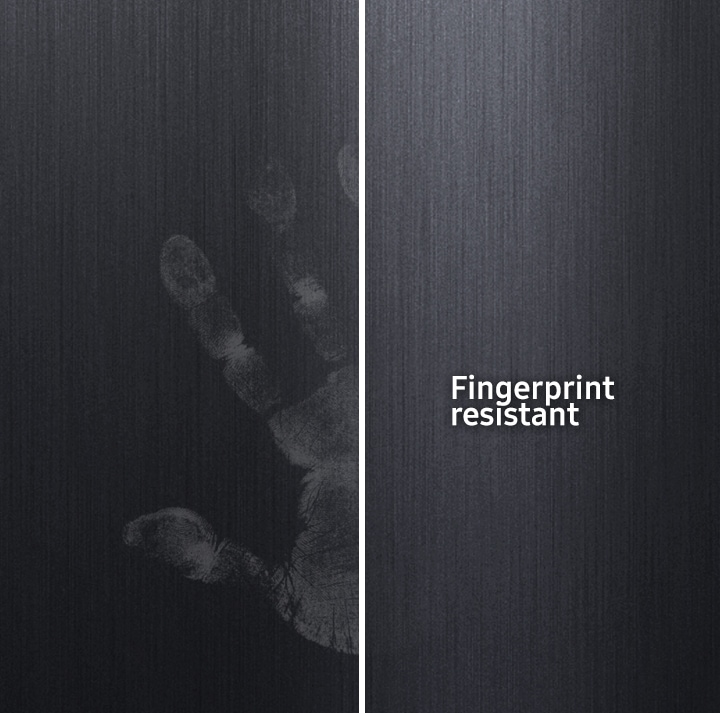 Fingerprint resistant finish
Fingerprint resistant
Helps reduce smudges for an everyday great appearance.
Energy
ENERGY STAR Certified
Yes
Design
Color
White
Freezer Features
Bins
2
Shelves
1
Interior Light
LED
Icemaker
Optional (RA-TIMO63PP/AA)
Cubed and Crushed Ice
Cubed Only
Refrigerator Features
Interior Light
LED
Tempered Glass Shelves
Yes (3)
Total Bins
2
Humidity Control Crispers
Yes (2)
Surround Air Flow
Yes
Dimensions
Shipping Dimensions (WxHxD)
30 1/8" x 70 5/8" x 33 1/2"
Without hinges and door (WxHxD)
28 3/4" x 65 3/4" x 28 1/2"
With hinges, handles and doors (WxHxD)
28 3/4" x 66 3/4" x 31 7/8"
Freezer Capacity (cu. ft.)
4.9
Total Capacity (cu. ft.)
17.6
Refrigerator Capacity (cu. ft.)
12.7
Features
Sabbath Mode
Yes
Twin Cooling Plus
Yes
Display Color
Ice Blue
Power Freeze and Power Cool Options
Yes
POWER
Energy Consumption
448 kWh/year (w/ ice maker), 364 kWh/year (w/o ice maker)
Refrigerator Type
Type
Top freezer
Weight
Product Weight (lb.)
178.6
Shipping Weight (lb.)
194
Key Features
Flex Zone
Yes
ENERGY STAR 2017 Emerging Technology Award
Yes
Reviews
Average Customer Ratings
| | | |
| --- | --- | --- |
| Overall | | 2.40 |
| Design | | 2.80 |
| Features | | 2.60 |
| Performance | | 2.40 |
| Value of Product | | 2.40 |
Pros
Realistic color
Inexpensive
Cons
Poor quality, Did not meet expectations
Poor quality, Did not meet expectations
Too big, Did not meet expectations
Submitted 9 months ago
By Roy O.
Reviewed at


4 years and mine is toast, keeps freezing up, spoiling food and there's no way to fix it without spending hundreds on some repair guy to keep coming back and changing parts, fans, sensors and anything else they can think of every few months..
Bottom Line No, I would not recommend to a friend
Submitted a year ago
By mouse1
Reviewed at


I purchased this product three months ago and it has developed a rank smell that hits you when you open the door! I have removed everything, cleaned with vinegar/soap and baking soda but it still persists. Samsung has suggested the same as I have done, so I am nowhere. Found you have no space on the shelves to put anything with height and the noises coming from it are super loud. Extremely disappointed and will not even consider this brand again :(
Bottom Line No, I would not recommend to a friend
Submitted 2 years ago
By Corinne
Reviewed at


1
Doesn't cool properly. Won't last imo. Specs wrong
I purchased it on October 19. Delivered May 29. Unknown to me, need to run the fridge on max setting (5) to cool food. Now my old fridge, that was dying, had to run on max. It's a very reasonable assumption that an expensive fridge should only need a mid-range setting to cool, especially given it's brand new. Or I can boost the cool by using the power fan and use more hydro. Why should I have to monitor the temperature and add cool. Should be very automatic to maintain temperature. This tells me the fridge will not have a long lifespan. Was told, and states in manual, running on 5 setting is bad for fridge. Now I have to baby the fridge, turn temp down so food will ruin faster. If I need max setting to cool, in the winter, what is going to happen in the summer? I can't adjust the temp anyhow because the touch temp control panel doesn't work well. Bar graph - colder to coldest. Right now is not responding at all. Brand new fridge. Not a cheap price. Maybe cheap quality. LED light, placed at the top front, only lights the front of the fridge. Must have shone a light on the inside of fridge, to take your picture. Not an accurate depiction. Specifications are wrong for the height of the fridge. There are actually two heights. Open the freezer door and Control Panel is inside top of freezer. Well, not really. Actually, it's on the top of the fridge, encased in an unsightly plastic block. 2" high, 5 1'2 deep and runs the width of the fridge. Looks like an afterthought. Not so sleek. And if you like to use the top of your fridge, as I always have, to put things on, forget it. Dumb design, imo. I checked the specs, I measured, and look what I got. An unsightly hammerhead shark fridge. Can't tell when you're in the store unless your 8 feet tall. Not as described. The gasket is not uniform. I figure if a fridge needs major fixes on Day 1, I don't want it. I want to return it. Don't buy it.
Bottom Line No, I would not recommend to a friend
Submitted 2 years ago
By bren1964
Reviewed at


I want to know what the hose is for on the top of the Fridge, it is covered by a back cover, underneath it is a hose and what looks like a small bag flattened, it does not have an ice maker, we had to remove the cover, otherwise the fridge would not fit below the cupboards, why would they put that cover on top????
Submitted 11 months ago
By johnny42544
From Louisville, KY
Reviewed at


have had this a couple of years and i am totally satisfied with the purchase. need another fridge for a different house, but can not find a samsung that is a good fit. wish they had a shorter one.
Bottom Line Yes, I would recommend to a friend