24" Samsung 2.6 Cu. Ft. Front Load Washer With Super Speed - WW22K6800AX/A2

24" Samsung 2.6 Cu. Ft. Front Load Washer With Super Speed - WW22K6800AX/A2
WW22K6800AX/A2
$1499.99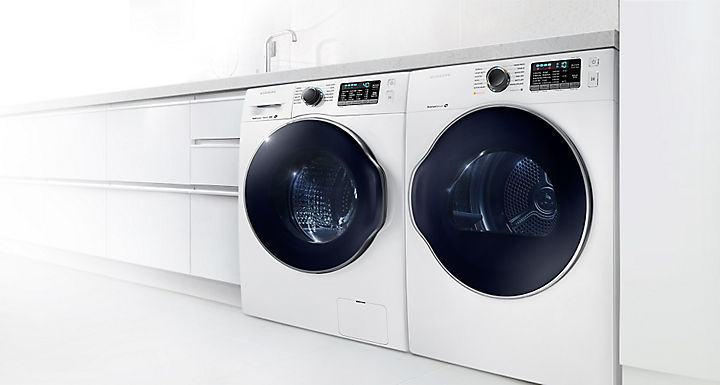 Premium elegance & refinement
The new Cyrstal Blue door adds premium elegance and refinement to your washing. Its minimal frame allows it to fit perfectly within a modern style living space and the translucent Crystal Blue finish refracts the light to create a delightful spectrum of colors.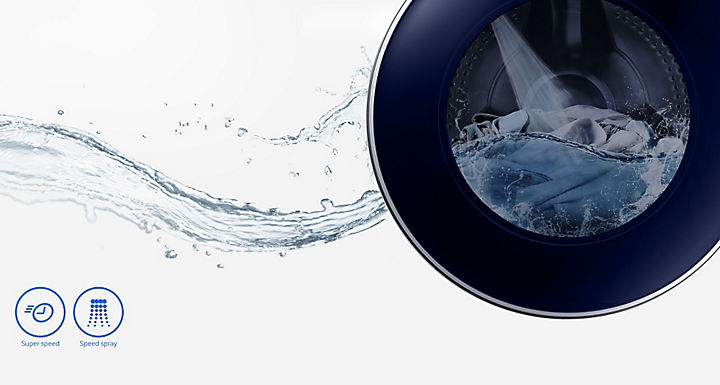 Fast and efficient washing
The SuperSpeed feature significantly reduces laundry time*. SpeedSpray technology shoots jets of water to rinse quickly and clean faster. Its VRT system also ensures that the drum is balanced, so spinning times are reduced.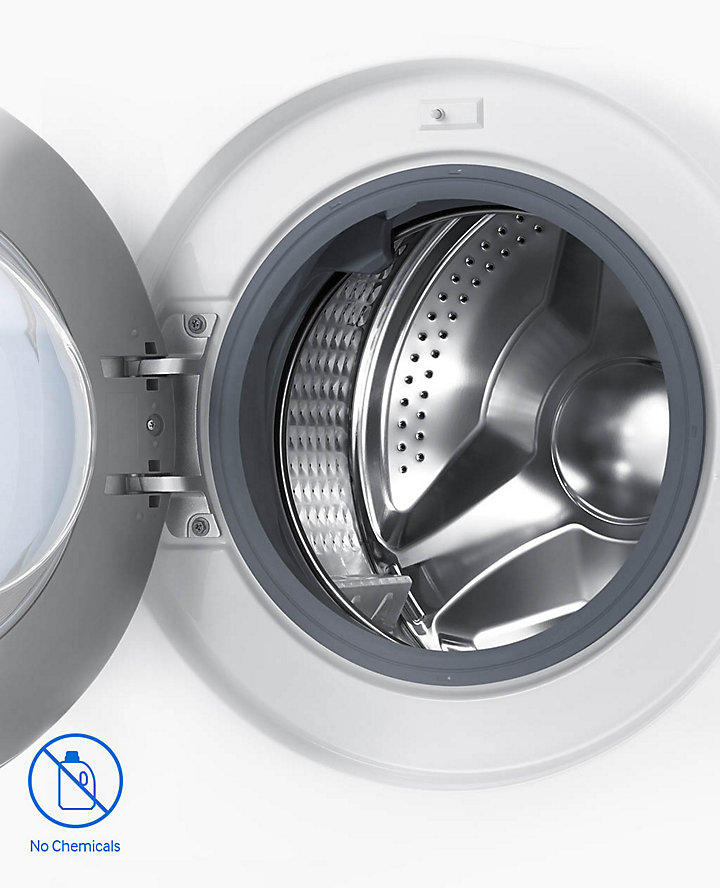 Keep your washer fresh
For the ultimate in convenience, SelfClean technology keeps the drum clean without using cleansing agents, so it saves money. And it can even notify you automatically after every 40 cycles.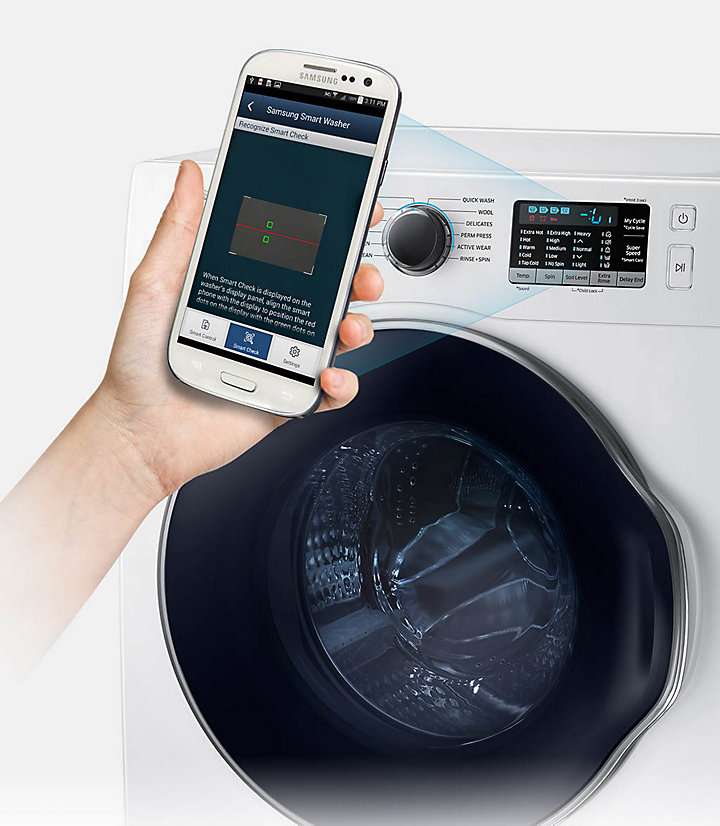 Easy troubleshooting from your smartphone
The Smart Care error-monitoring system detects and diagnoses problems and provides easy troubleshooting solutions through the LED screen, using a smartphone App*. So it saves you time and potentially expensive repair bills.
Physical specifications & size
Net Dimension (WxHxD)
23 5/8 x 33 1/2 x 26 5/8 inch
Cycle
Option List
SuperSpeed, Delay End, My Cycle, Extra Rinse, Spin Only, Sound, Child Lock, Smart Care
Number of Option
8
Design
Body color
Inox
Washing Capacity
Washing Capacity (cu.ft)
2.6 cu.ft. (IEC) / 73.58 Litre (IEC) / 2.2 cu.ft.(DOE)
Design
Door
Crystal Blue
Panel Display
LED
Performance
Cycle time (min)
58 min
Feature
Self Clean
Yes
Door Lock
Yes
Delay End
Yes
Performance
Energy Star Certification
Yes
Feature
Motor
DIT
Drum type
Diamond Drum
Spin Speed
1400
Cycle
Cycle List
Normal, Heavy Duty,Perm Press, Sanitize, Allergen, Self Clean, Deep Steam, Active Wear, Delicates, Wool, Quick Wash, Rinse + Spin
Number of Cycle
12
Physical specifications & size
Net Weight
157 lb
Gross Dimension (WxHxD)
26 1/4 x 35 x 27 1/2 inch
Reviews
Average Customer Ratings
| | | |
| --- | --- | --- |
| Overall | | 2.00 |
| Design | | 2.38 |
| Features | | 3.13 |
| Performance | | 2.13 |
| Value of Product | | 2.00 |
Pros
Bright display, Durable
Inexpensive, Bright display, Lightweight, Durable
Realistic color
Cons
Too big
Poor quality, Did not meet expectations
Poor quality
Poor quality
Did not meet expectations
Submitted a year ago
By NAK BAK
Reviewed at


I bought it a year ago and completely satisfied better then comparables
Bottom Line Yes, I would recommend to a friend
Submitted a year ago
By Eric-Canada
Reviewed at


Just received this washer and right off the first load it is leaking from the bottom of the machine.....and then starts shaking like crazy. What a horrible experience!!!!!
Bottom Line No, I would not recommend to a friend
Submitted 2 years ago
By Anonimys
Reviewed at


Don't buy this washer, have had it for less than 3 years. Paid additional warranty from the retailer. The washer is making scary noise when spinning. The retailer sent the service and after the service report, the retailer decided to send the money back and deemed it as not repairable. Don't want to be stuck with Samsung. Anybody wants them they are free to take.
Bottom Line No, I would not recommend to a friend
Submitted 2 years ago
By Mac314
Reviewed at


I bought this machine about 1.5 months ago. It works really well. Use it in a condo and it's quite quiet while in use. It does a good sized load and cleans loads well. It's the second one we have bought.
Bottom Line Yes, I would recommend to a friend
Submitted 2 years ago
By RayJay
Reviewed at


1
Manufacturer Defect on Delivery
We purchased this washer which was delivered on December 16, 2020. As soon as it was hooked up to the cold water line, the machine leaked on the inside. We were told by the repair shop we were referred to by Samsung that since the washer was delivered to an office, the warranty was void. The machine was never used and was defective on delivery. Very disappointing.
Bottom Line No, I would not recommend to a friend
Submitted 2 years ago
By Jasman
Reviewed at


Within a period of 1 year, this washer broke down 2 times. It started leaking from the bottom after 6 months. Then it started giving problems with the wash cycle, keep on stopping in mid cycle without any error codes. I could not unlock it even after draining through emergency drain hose. Customer service us pathetic, they were not willing to provide the solution. I have tried each and every troubleshooting step (told by customer service agent) to fix the problem. It wasted my one month, At last, I decided to switch to another brand and will not buy samsung product again. This is very poorly engineered product with very short life. I would not recommend this product.
Bottom Line No, I would not recommend to a friend
Submitted 3 years ago
By joyG
Reviewed at


1
control board gone in 3 years for stackable washer
Got the stackable washer, dryer from Sears with 5 years extended warranty. Sears closed down and washer control board gone in 3 years. Replaced the control board with authorized dealer. Now within in 6 months of repair now washer is dripping water in front. Wasted money on warranty first with Sears. Plus control board replacement is like half the price of new washer. Don't buy this compact digital washer .
Bottom Line No, I would not recommend to a friend
Submitted 4 years ago
By UnhappyHelicoptor
Reviewed at


1
Washer sounds like a Helicopter!
A few months old and now the spin cycle vibrates the house and sounds like a helicopter flying over the house!
Bottom Line No, I would not recommend to a friend