30" Samsung 6.0 Cu. Ft. Gas Range With Fan Convection In Stainless Steel - NX60T8311SS
30" Samsung 6.0 Cu. Ft. Gas Range With Fan Convection In Stainless Steel - NX60T8311SS

30" Samsung 6.0 Cu. Ft. Gas Range With Fan Convection In Stainless Steel - NX60T8311SS
NX60T8311SS/AA
| | |
| --- | --- |
| Price | $2199.99 |
| Savings | $600 |
| Our Price | $1599.99 CAD |
Literature
Slide-in Design
Wifi Connectivity
SmartThings Kitchen Service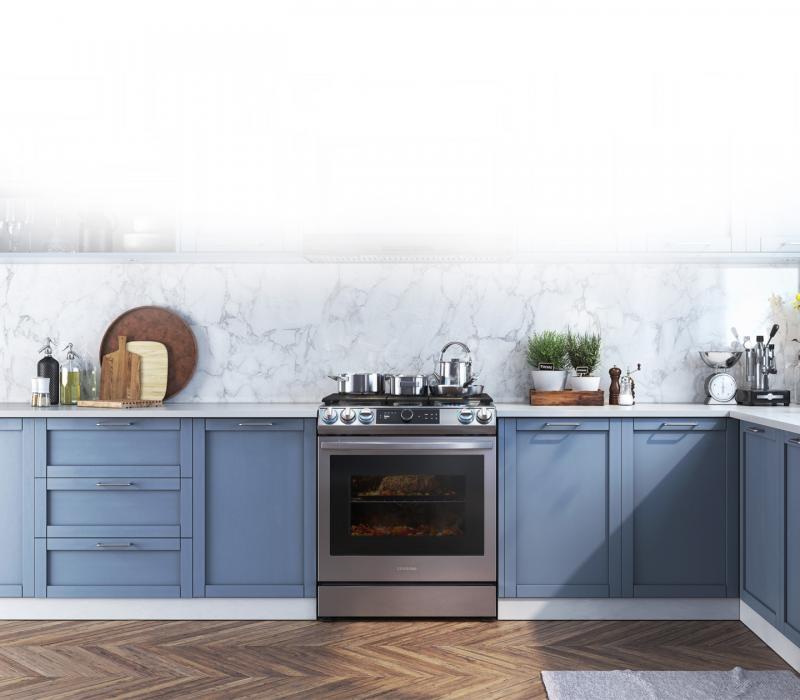 More stylish look,more ways to cook
Bring more style, convenience and flexibility to your kitchen. It adds a modern, built-in look by simply sliding in between cabinets.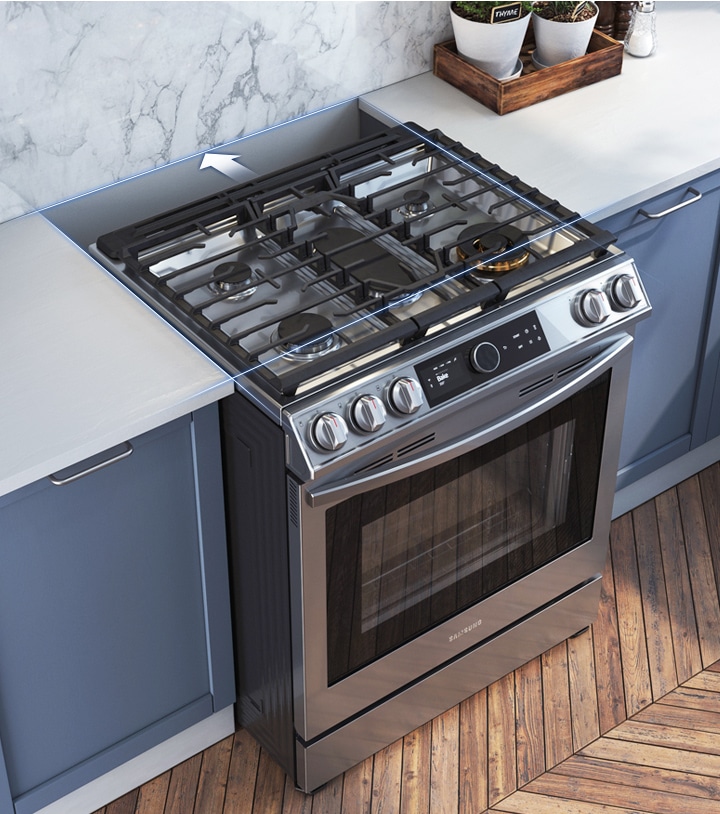 Upgrade to a modern and built-in look
Slide-in Design
Give your kitchen a premium and stylish built-in look. The slide-in design provides a modern and integrated appearance. Simply nestle it between your cabinets to upgrade the kitchen without remodeling.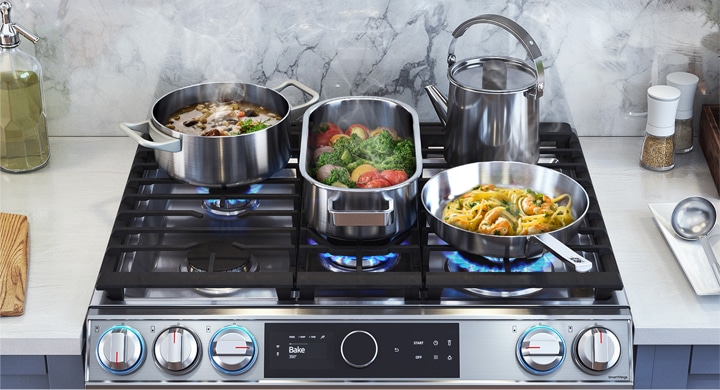 Edge to Edge Grates
Enjoy usability and style with Edge to Edge Grates that minimize unused space. The wider cooking area will accommodate much larger dishes and you can use a greater variety of cookware. Being made of cast iron with a matte finish, the Grates also have a modern appearance, but are very robust.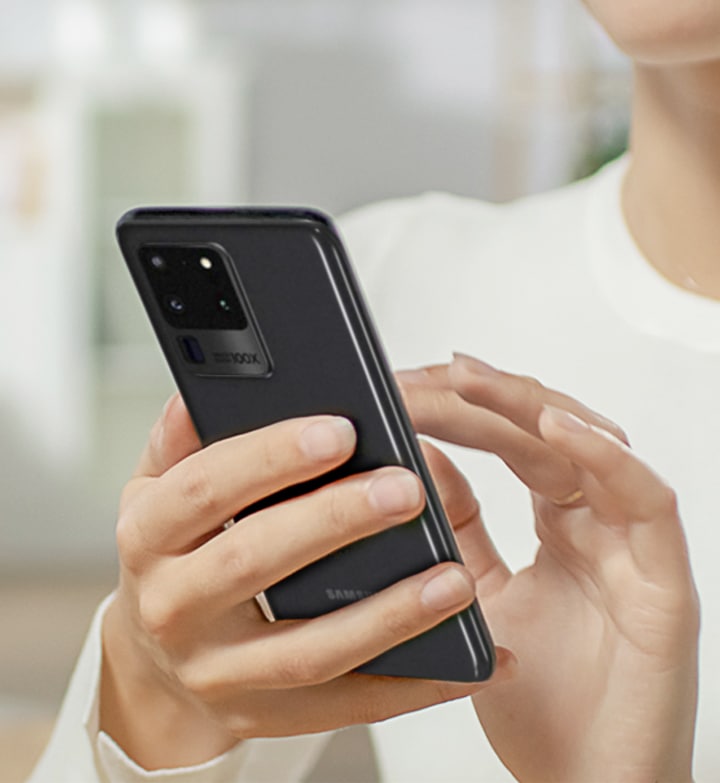 Wifi Connectivity
Save time and do much more with Wi-Fi Connectivity. Simply monitor and control the oven anytime, anywhere with the SmartThings App*. You can preheat or turn it off and check and adjust the cooking temperature and time.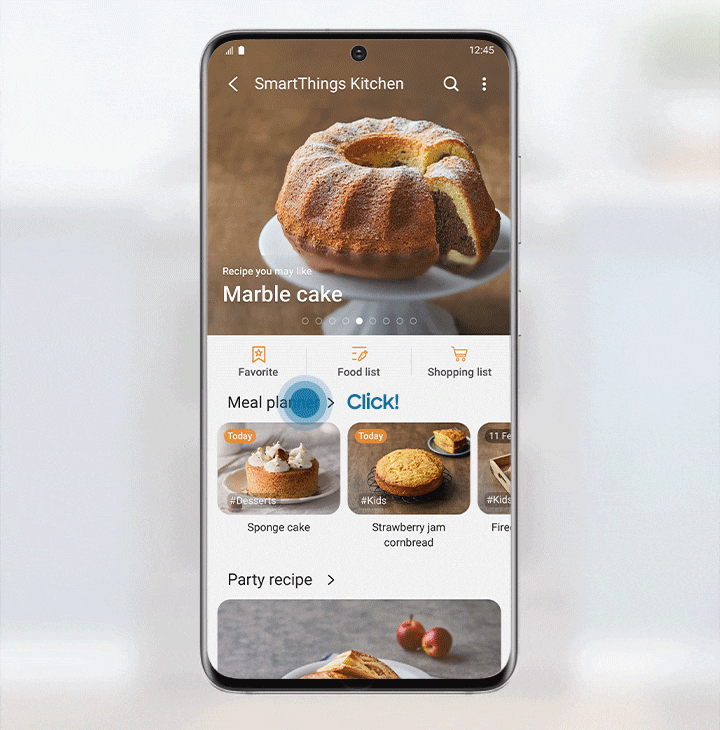 SmartThings Kitchen Service
The SmartThings Kitchen Service saves time and minimizes the burden of cooking. By understanding your needs it recommends personalized recipes. It also generates a weekly meal plan, enables seamless grocery shopping and offers an interactive experience.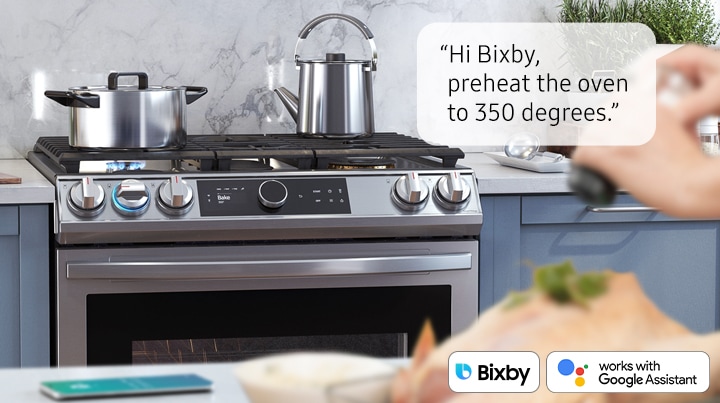 Voice Control
Control the oven with your voice. Using a voice assistant*, such as Samsung Bixby**, Amazon Alexa or Google Assistant, you can simply say what you want the oven to do and it will do it. You can easily turn it on/off, select functions and change settings, even if youre busy doing other things.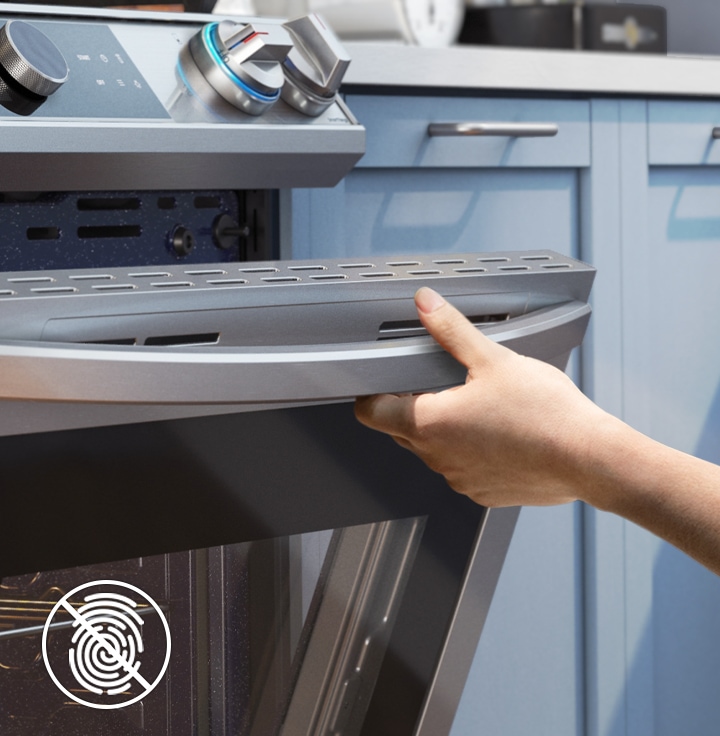 Fingerprint Resistant Finish
A special Fingerprint Resistant Finish prevents surfaces from becoming covered in unsightly fingerprints and other marks and smudges. And any fingerprints or marks can be quickly wiped away if they appear.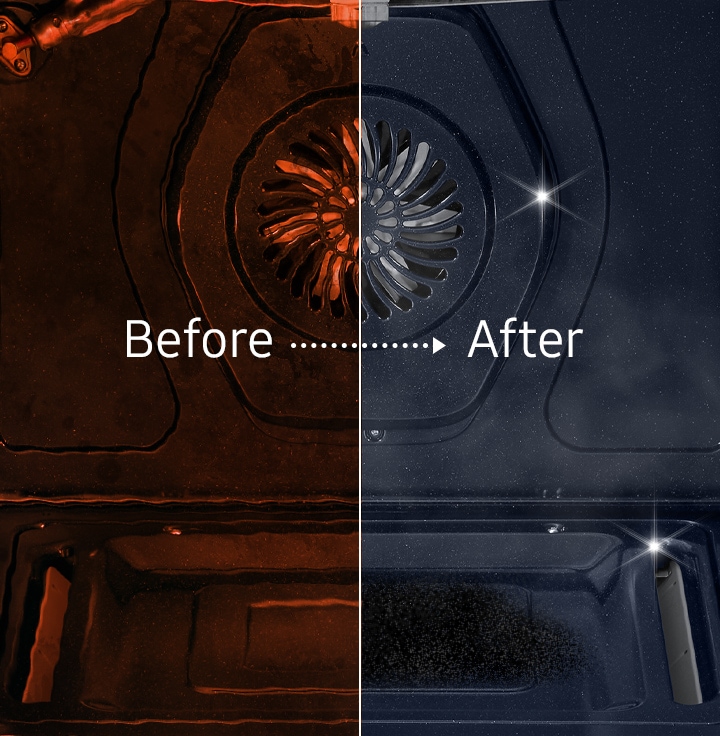 Self Cleaning
Keep the inside of your oven neat and clean without wasting time and effort scrubbing or using costly cleaning products. A Self Cleaning system heats the cavity to a high temperature to burn off grease and food residue.
App Connectivity
SmartThings App Support
Yes
Smart
WiFi Embedded
Yes
Accessories
Smart Divider
No
Anti-Tip Device
Yes
WOK grate
No
Griddle
Yes
Meat Probe
No
Broil Rack
1
Wire Rack
1
Air Fry Tray
No
Number of Rack Positions
7
Weights/Dimensions
Gross (WxHxD)
(33 1/16) x (41 3/4) x (30 5/16) inch
Weight (Net)
204.6 lb
Weight (Gross)
229.5 lb
Net (WxHxD)
(29 15/16) x (36 1/4 ~ 37) x (28 11/16) inch
DRAWER
Type
Storage
Rail
Yes
Power/Ratings
Convection Heater Element
-
General Feature
Convection Roast (Single)
175°F (80°C) - 550°F (285°C)
Power/Ratings
Bake Element
18K
Broil Element
16.5K
General Feature
Bake (Single)
175°F (80°C) - 550°F (285°C)
Variable Broil (Low-High) (Single)
Hi / Low
Convection Bake (Single)
175°F (80°C) - 550°F (285°C)
Convection
Fan Convection
COOKTOP
Sealed Burner
Yes
Grate
Edge-to-Edge
Center Oval
Yes
Burner Cap
5
Burner 5
10K - Center
Burner 4
9.5K - Left/Rear
Burner 3
5K - Right/Rear
Burner 1
17K - Right/Front
Burner 2
16K - Left/Front
Total Power
57.5K
Type
NG/LP
Cooktop Frame
Black Porcelin
Number of Burner
5 EA
Features
Sabbath Mode
Yes
Delay Start
Yes
Setting (Clock System Option (12H/24H))
Yes
Sound on/off
Yes
Light (Lamp) On/Off
Yes
Interior Light (Position)
1 Incandescent 40W(Back)
Hidden Bake Element
No
Child Safety Lock
Yes
Kitchen Timer
Yes
Numeric Pad
Yes
Clock
Yes
Keep Warm
Yes
Favorite Cook
No
Healthy Cook
No
Easy Cook
No
Wi-Fi Connection
Yes
Steam Clean
No
Self Clean
Yes
Air Fry
No
Materials/Finishes
Soft Closing Door
No
Door Type
Single Door (1 STSS Layers)
Display Type
LED
Display Color
Ice Blue
Control Type (Cooktop)
Knob
Control Type (Oven)
Glass Touch
Oven Color
Dark Blue
Capacity
Drawer Capacity
1.0 cu.ft
Oven Capacity
6.0 cu.ft
Type
Installation Type
Slide In
Reviews
Average Customer Ratings
| | | |
| --- | --- | --- |
| Overall | | 3.88 |
| Design | | 4.24 |
| Features | | 4.24 |
| Performance | | 4.24 |
| Value of Product | | 3.76 |
Pros
Realistic color, Bright display, Durable
Inexpensive
Submitted 2 years ago
By AnMA
Reviewed at


3
Enamel Peeling of my bake oven burner
Not happy after 6 months of use the enamel has come off on the bake oven burner.
Bottom Line No, I would not recommend to a friend
Submitted 2 years ago
By CDavis
Reviewed at


1
The worst gas range I have ever purchased!
I have had this gas range for about 3 years, I really wanted to write a better review as I really liked it when I purchased it. It had everything I wanted and then some and it looked great. The problem that I am experiencing is the self clean really doesn't work. You and set it for the maximum time, 5 hours, and it's still dirty. I have had a repair man out and he said that's just the way it is and that I should buy an oven cleaner to help - very disappointing. The oven temperature doesn't stay consistent, so you have to adjust it constantly. I love to cook so this is a pain. The top easily scratches which is very disappointing too. I will never purchase another kitchen appliances that is a Samsung again, as they have very poor customer service and do not stand behind their product. When you pay good money for something you it to work like it's supposed to.
Bottom Line No, I would not recommend to a friend
Submitted 2 years ago
By BBQ Master
Reviewed at


I have always enjoyed cooking with gas ranges. We moved into our new house that came with an electric range that took forever to heat up. I did extensive research on gas ranges for a good BTU range output and this stove was one of them. The Samsung name along with low technician service calls compared to other brand name moved us to purchase this range. I should know after a few months if my choice pays off. So far I am very happy with the performance and also the design.
Bottom Line Yes, I would recommend to a friend
Submitted 2 years ago
By oregonadam
Reviewed at


So far so good. Gas burners burn hot. I received compensation for this review but the review is my own.
Bottom Line Yes, I would recommend to a friend
Submitted a year ago
By Juan
From Raleigh, North Carolina
Reviewed at


This range was exactly what we expected and is super easy to use/clean.
Bottom Line Yes, I would recommend to a friend
Submitted a year ago
By Rhonda R
From New Jersey
Reviewed at


Love how well it cooks evenly. The color is awesome goes really well with my kitchen. It is easy to clean and maintain.
Bottom Line Yes, I would recommend to a friend
Submitted a year ago
By Cojo77
From Chippewa Falls Wi
Reviewed at


This range is sleek looking, very elegant for not a large price. Quick to heat (boil or bake) smart app compatible makes it easy for busy lives. All in all, a great product
Bottom Line Yes, I would recommend to a friend
Submitted a year ago
By Corey
From Texas, USA
Reviewed at


i had to use electric for about 5 years and when we moved we had the opportunity to get a gas range. i've always loved samsung appliances so there was no question. the app integration is not very handy for us at least. the one thing we would want to perform is not available; say we are at the store and want to preheat at checkout, not an option. the biggest issue we have is that it is too easy to cancel oven cooking while using the stovetop. i have never done it myself, but the three other people in the house do it almost every time. once we had a roast or similar in and when we went to check it mid way... well it was barely warm and the oven was off. the app would have indicated this, but since it lacks a basic feature we uninstalled it.
Bottom Line No, I would not recommend to a friend
Submitted a year ago
By Anita
Reviewed at


2
Beautiful Stove... Substandard Knobs
my son bought this stove for my husband and i less than a yearmy son bought this stove for my husband and i less than a year ago. while we love all of the features, i am very frustrated that one by one the knobs cracked on the stove. three of the five are broken. trying to find the right part is frustrating. it's nearly impossible. we found knobs at the samsung website that cost $65 each! ridiculous!!
Bottom Line No, I would not recommend to a friend
Submitted a year ago
By Steve
From Malta illinois
Reviewed at


I've now for about a month looks like a professional stove great looks great features huge oven love it
Bottom Line Yes, I would recommend to a friend