30" Samsung 6.0 Cu. Ft. Gas Range With True Convection And Air Fry in Black Stainless Steel - NX60T8511SG
30" Samsung 6.0 Cu. Ft. Gas Range With True Convection And Air Fry in Black Stainless Steel - NX60T8511SG
30" Samsung 6.0 Cu. Ft. Gas Range With True Convection And Air Fry In Stainless Steel - NX60T8511SS

30" Samsung 6.0 Cu. Ft. Gas Range With True Convection And Air Fry in Black Stainless Steel - NX60T8511SG
NX60T8511SG/AA
| | |
| --- | --- |
| Price | $2599.99 |
| Savings | $700 |
| Our Price | $1899.99 CAD |
| | |
| --- | --- |
| Price | $2499.99 |
| Savings | $700 |
| Our Price | $1799.99 CAD |
Literature
True Convection
Air Fry
22K Double Burner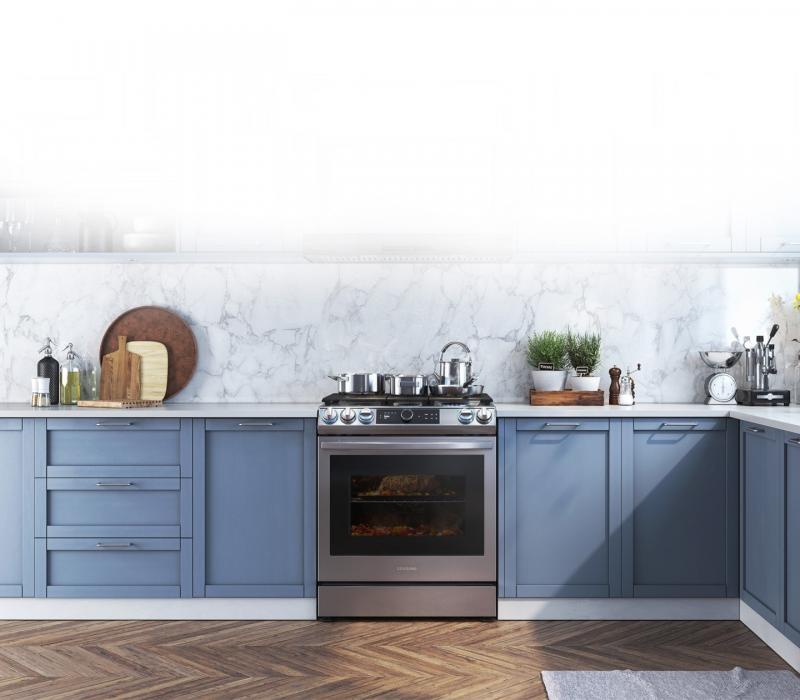 More stylish look,more ways to cook
Bring more style, convenience and power to your kitchen. The new Samsung Range adds a modern, built-in look by simply sliding in between cabinets.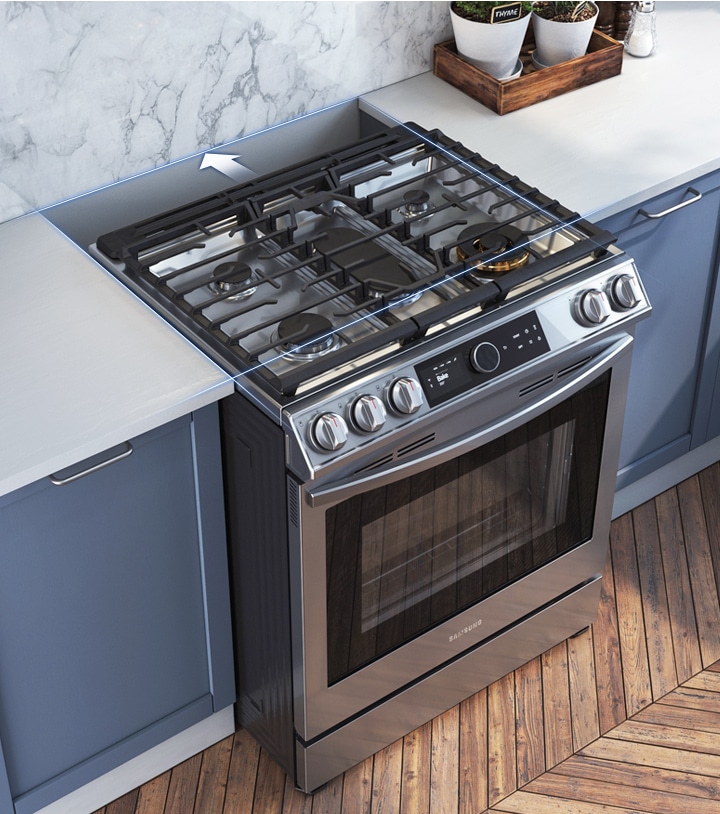 Upgrade to a modern and built-in look
Slide-in Design
Give your kitchen a premium and stylish built-in look. The slide-in design provides a modern and integrated appearance. Simply nestle it between your cabinets to upgrade the kitchen without remodeling.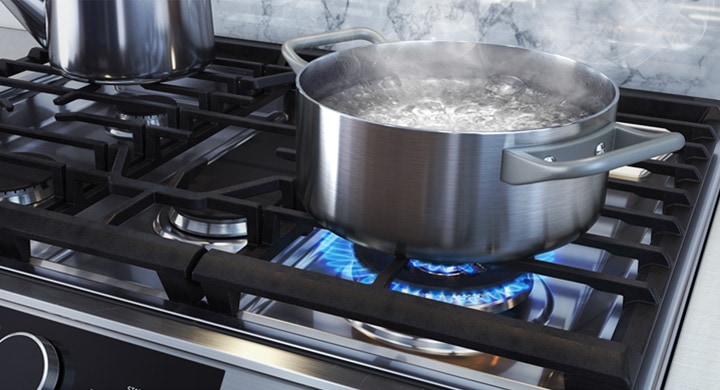 Powerful heat & precise simmering
22K Double Burner
Cook dishes quickly and evenly using the powerful heat and precise control of the 22K Double Burner. It can rapidly go to a high heat for searing meat, like a steak, and boiling water in a flash. Or you can turn it down to a gentle simmer, which is ideal for melting chocolate or heating milk.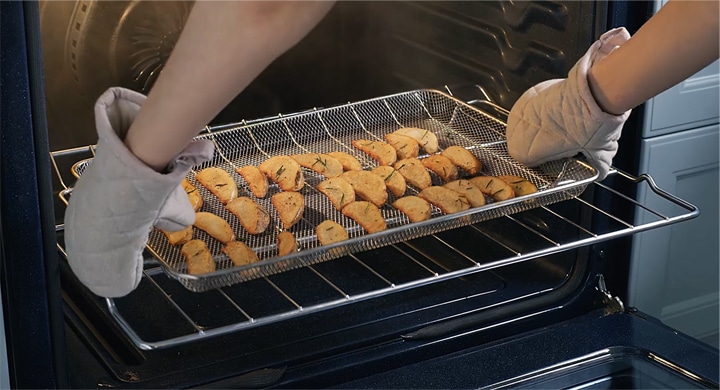 Fries food using little oil
Air Fry
Air Fry combines a special tray with hot air circulation that envelops food. Its the ideal way to cook French fries, Tater Tots or even vegetables as it eliminates excess fat while leaving the food still crispy and brown on the outside and juicy on the inside.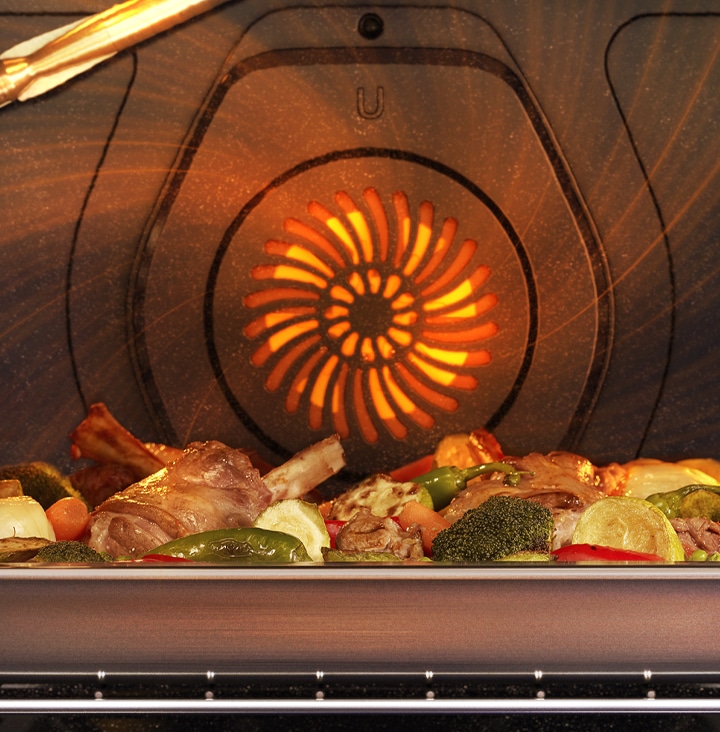 True Convection
Save time and cook food evenly with a True Convection system, which is great for baking and broiling. A heated fan distributes heat all around the oven and keeps the temperature constant. So dishes are cooked quickly and thoroughly.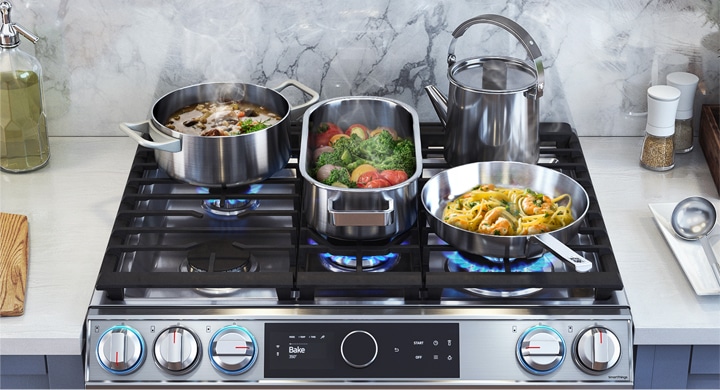 Edge to Edge Grates
Enjoy usability and style with Edge to Edge Grates that minimize unused space. The wider cooking area will accommodate much larger dishes and you can use a greater variety of cookware. Being made of cast iron with a matte finish, the Grates also have a modern appearance, but are very robust.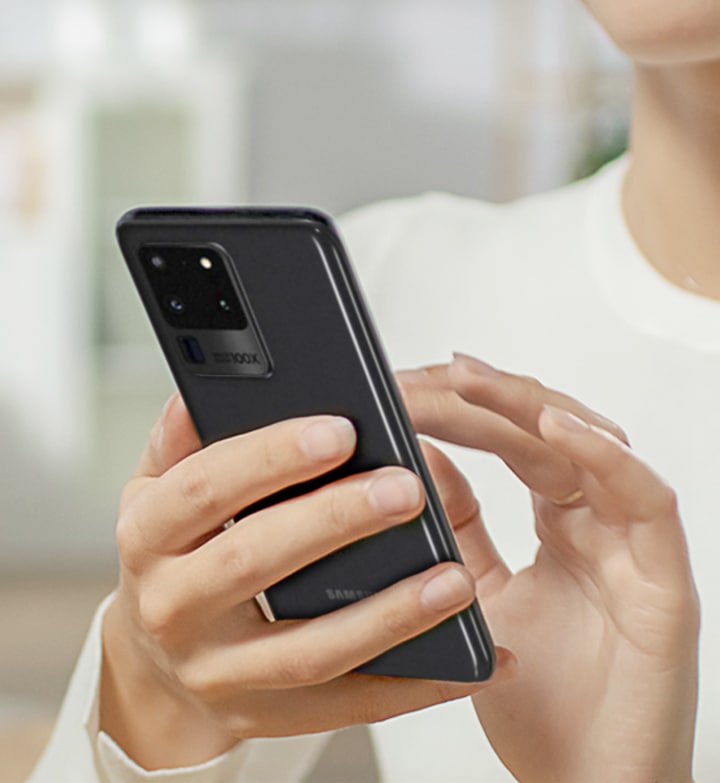 Wifi Connectivity
Save time and do much more with Wi-Fi Connectivity. Simply monitor and control the oven using the SmartThings App*. You can preheat or turn it off and check and adjust the cooking temperature and time.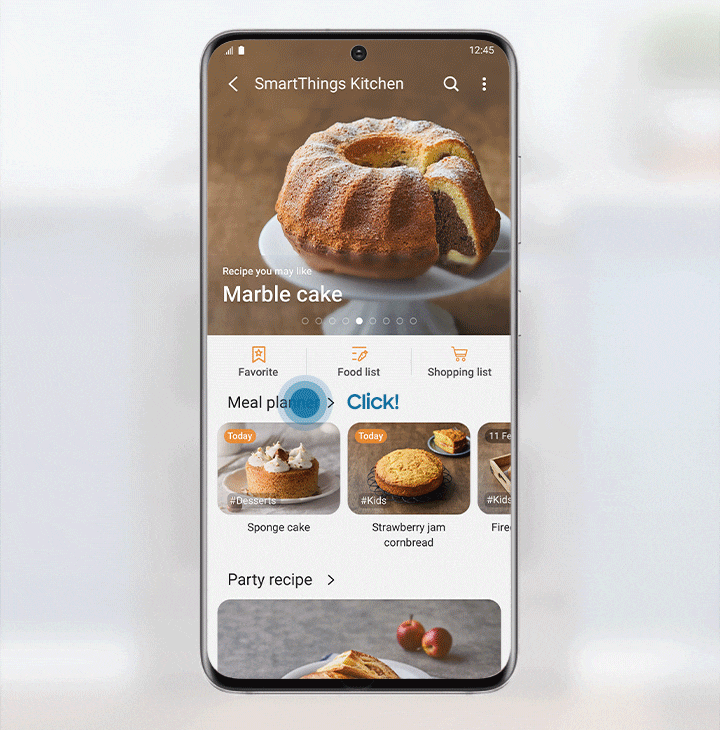 SmartThings Kitchen Service
The SmartThings Kitchen Service saves time and minimizes the burden of cooking. By understanding your needs it recommends personalized recipes. It also generates a weekly meal plan, enables seamless grocery shopping and offers an interactive experience.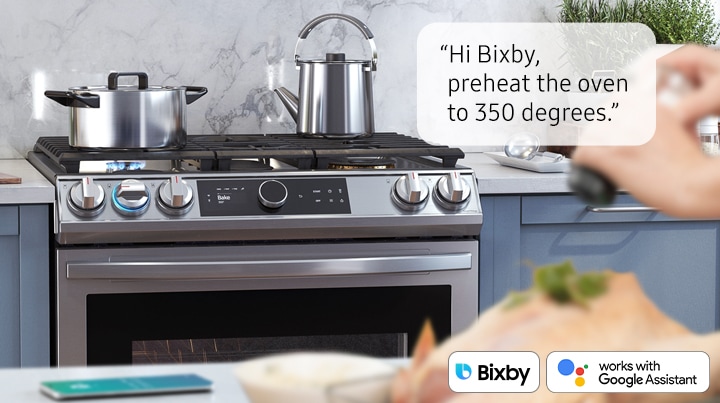 Voice Control
Control the oven with your voice. Using a voice assistant*, such as Samsung Bixby**, Amazon Alexa or Google Assistant, you can simply say what you want the oven to do and it will do it. You can easily turn it on/off, select functions and change settings, even if youre busy doing other things.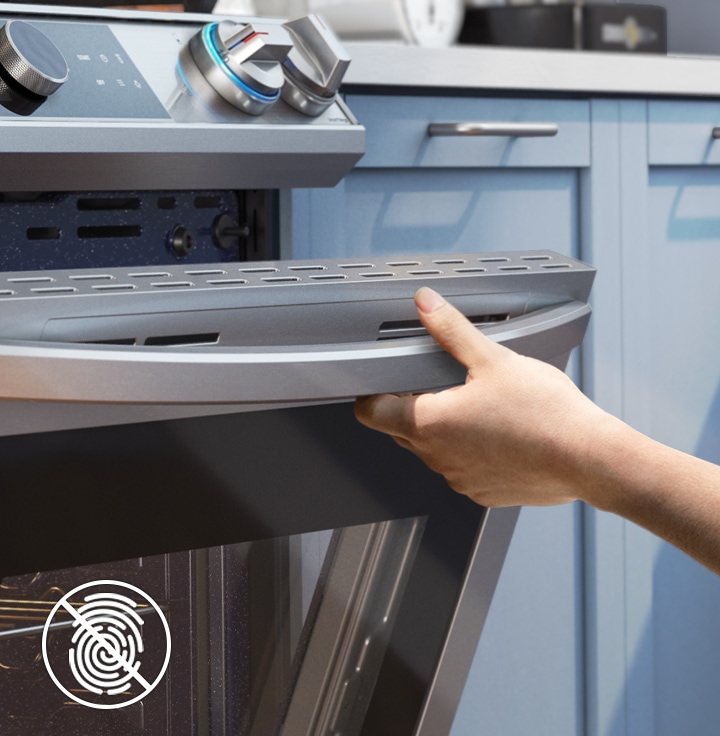 Fingerprint Resistant Finish
A special Fingerprint Resistant Finish prevents surfaces from becoming covered in unsightly fingerprints and other marks and smudges. And any fingerprints or marks can be quickly wiped away if they appear.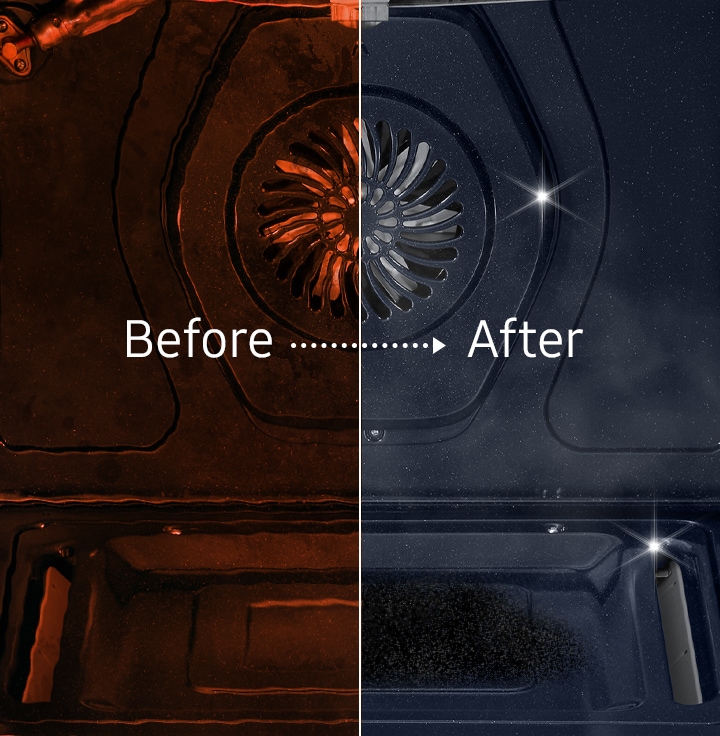 Self Cleaning
Keep the inside of your oven neat and clean without wasting time and effort scrubbing or using costly cleaning products. A Self Cleaning system heats the cavity to a high temperature to burn off grease and food residue.
Accessories
Smart Divider
No
Anti-Tip Device
Yes
WOK grate
No
Griddle
Yes
Meat Probe
No
Wire Rack
1
Broil Rack
1
Weights/Dimensions
Weight (Gross)
233.7 lb
Accessories
Number of Rack Positions
7
Air Fry Tray
Yes
Weights/Dimensions
Weight (Net)
208.1 lb
DRAWER
Type
Storage
Rail
Yes
Weights/Dimensions
Net (WxHxD)
(29 15/16) x (36 1/4 ~ 37) x (28 11/16) inch
Power/Ratings
Convection Heater Element
800W
Broil Element
16.5K
Bake Element
18K
General Feature
Convection Roast (Single)
175°F (80°C) - 550°F (285°C)
Convection Bake (Single)
175°F (80°C) - 550°F (285°C)
Variable Broil (Low-High) (Single)
Hi / Low
Bake (Single)
175°F (80°C) - 550°F (285°C)
COOKTOP
Center Oval
Yes
Sealed Burner
Yes
Grate
Edge-to-Edge
General Feature
Convection
True Convection
COOKTOP
Burner 4
9.5K - Left/Rear
Burner Cap
5
Burner 5
10K - Center
Burner 3
5K - Right/Rear
Burner 2
16K - Left/Front
Burner 1
18K - Right/Front
Total Power
58.5K
Cooktop Frame
Black Porcelin
Number of Burner
5 EA
Type
NG/LP
Features
Sabbath Mode
Yes
Delay Start
Yes
Setting (Clock System Option (12H/24H))
Yes
Light (Lamp) On/Off
Yes
Sound on/off
Yes
Interior Light (Position)
1 Incandescent 40W(Back)
Hidden Bake Element
No
Kitchen Timer
Yes
Child Safety Lock
Yes
Numeric Pad
Yes
Keep Warm
Yes
Clock
Yes
Favorite Cook
No
Healthy Cook
No
Easy Cook
No
Wi-Fi Connection
Yes
Steam Clean
No
Self Clean
Yes
Materials/Finishes
Soft Closing Door
No
Features
Air Fry
Yes
Materials/Finishes
Door Type
Single Door (2 STSS Layers)
Display Color
Ice Blue
Display Type
LED
Control Type (Oven)
Glass Touch
Control Type (Cooktop)
Knob
Oven Color
Black Stainless Steel
Capacity
Drawer Capacity
1.0 cu.ft
Oven Capacity
6.0 cu.ft
Type
Installation Type
Slide In
Smart
WiFi Embedded
Yes
App Connectivity
SmartThings App Support
Yes
Reviews
Average Customer Ratings
| | | |
| --- | --- | --- |
| Overall | | 3.79 |
| Design | | 4.06 |
| Features | | 4.26 |
| Performance | | 3.82 |
| Value of Product | | 3.94 |
Pros
Inexpensive, Realistic color, Bright display
Submitted a year ago
By Kisha
Reviewed at


After buying this in few months the burner base started to get rusted. There is no stock of parts in Canada and cannot get it from USA.
Bottom Line No, I would not recommend to a friend
Submitted a year ago
By kishen
Reviewed at


Getting rusted within 6 months of use, grate chipped and rusted too. No way to find replacement parts
Bottom Line No, I would not recommend to a friend
Submitted 3 years ago
By DJlovesit
Reviewed at


We got it 6days ago,it looks beautiful in my kitchen ,Cooking is faster and food is yummier even cooked with same recipe on my electycooktop.Kids say it looks cool with blue flame.
Bottom Line Yes, I would recommend to a friend
Submitted a year ago
By Jane
From New Jersey
Reviewed at


5
My Review for 6.0 cu. ft. Smart Slide-in Gas Range
Great buy, great price and works really nice. It is working as it should be.
Bottom Line Yes, I would recommend to a friend
Submitted a year ago
By Frank
From DiMartini
Reviewed at


My wife and I are both very HAPPY with this stove!
Bottom Line Yes, I would recommend to a friend
Submitted a year ago
By Dme812
From Chicago il
Reviewed at


A gas valve started leaking 2 months after we got it and had to wait a week for someone to "fix" it. Now it cant go on low with out blowing out and gas just coming out
Bottom Line No, I would not recommend to a friend
Submitted a year ago
By Letha
From Downey Ca
Reviewed at


Air fry and convection cooking The wifi is great Had to get use to the fan running after stove is turned off Otherwise great
Bottom Line Yes, I would recommend to a friend
Submitted a year ago
By MMB39
From Pittsburgh, PA
Reviewed at


5
Beautiful range, excellent features, high quality!
I have had this range for a few months now and have made just about everything both in the oven and with the stove. I love that it syncs up with my Google Home and all the features it has. It heats up quickly and cooks food perfectly.
Bottom Line Yes, I would recommend to a friend
Submitted a year ago
By jessica
From New York, NY
Reviewed at


4
Great oven with even heat
I am very happy with our new oven. The air-fryer tray, while not exactly as good as an actual air fryer, is pretty darn amazing. The only thing that I would change is the wifi--it disconnected almost immediately and it's just too much trouble to move the whole range out to get to the back and reset it.
Bottom Line Yes, I would recommend to a friend
Submitted a year ago
By Babs
Reviewed at


5
Great features. Very variable.
I bought this model because of all the options it has to offer for the price. So far am very pleased with it.
Bottom Line Yes, I would recommend to a friend