30" Samsung 6.3 Cu. Ft. Electric Range With Fan Convection In Stainless Steel - NE63T8311SS/AC
30" Samsung 6.3 Cu. Ft. Electric Range With Fan Convection In Stainless Steel - NE63T8311SS/AC

30" Samsung 6.3 Cu. Ft. Electric Range With Fan Convection In Stainless Steel - NE63T8311SS/AC
NE63T8311SS/AC
| | |
| --- | --- |
| Price | $1899.99 |
| Savings | $600 |
| Our Price | $1299.99 CAD |
Literature
Flex Duo
Slide-in Design
Wifi Connectivity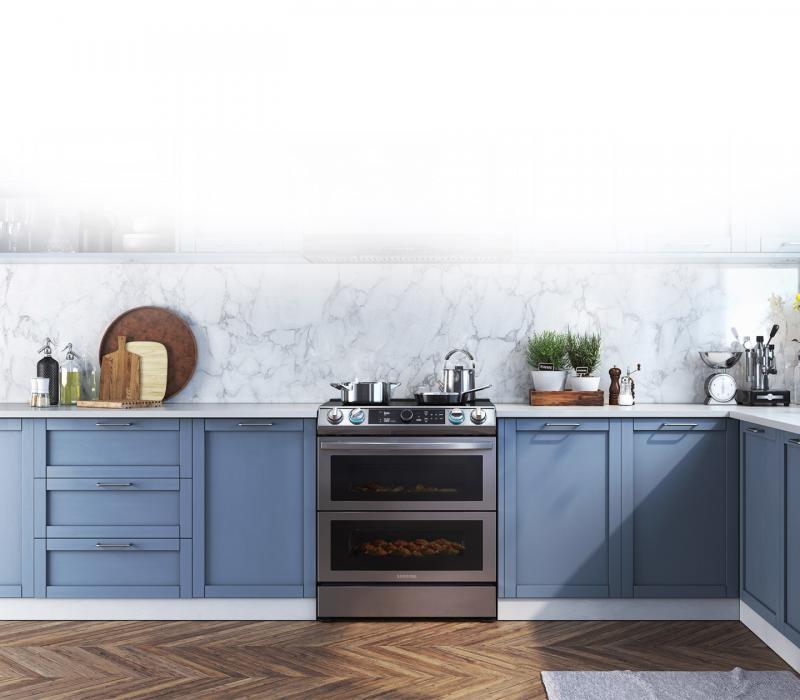 More stylish look, more ways to cook
Bring more style, convenience and flexibility to your kitchen. It adds a modern, built-in look by simply sliding in between cabinets.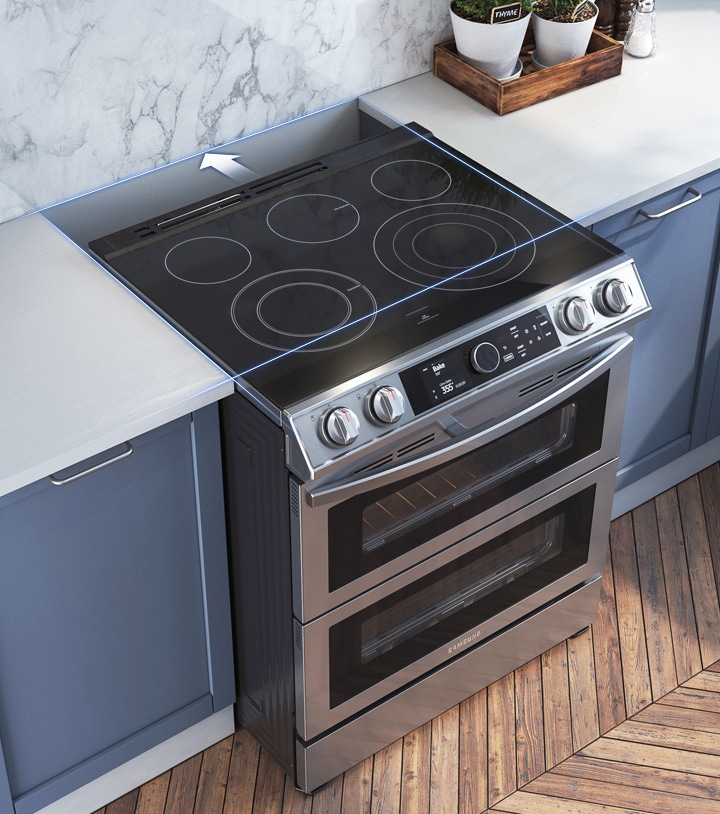 Upgrade to a modern and built-in look
Slide-in Design
Give your kitchen a premium and stylish built-in look. The slide-in design provides a modern and integrated appearance. Simply nestle it between your cabinets to upgrade the kitchen without remodeling.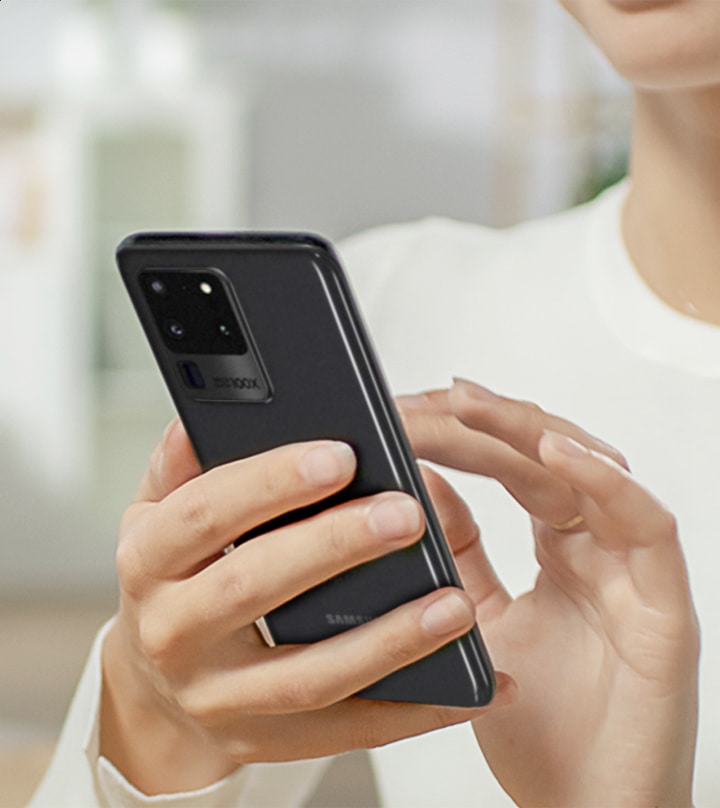 Wifi Connectivity
Save time and do much more with Wi-Fi Connectivity. Simply monitor and control the oven using the SmartThings App*. You can preheat or turn it off and check and adjust the cooking temperature and time.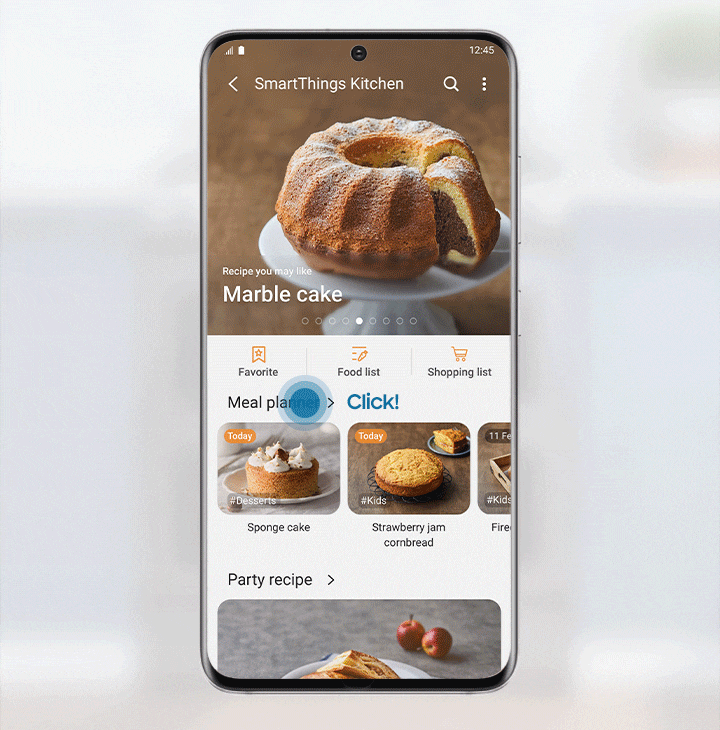 SmartThings Kitchen Service
The SmartThings Kitchen Service saves time and minimizes the burden of cooking. By understanding your needs it recommends personalized recipes. It also generates a weekly meal plan, enables seamless grocery shopping and offers an interactive experience.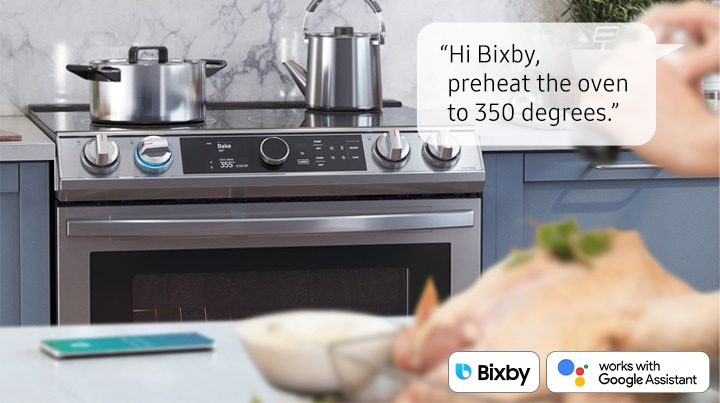 Voice Control
Control the oven with your voice. Using a voice assistant*, such as Samsung Bixby**, Amazon Alexa or Google Assistant, you can simply say what you want the oven to do and it will do it. You can easily turn it on/off, select functions and change settings, even if youre busy doing other things.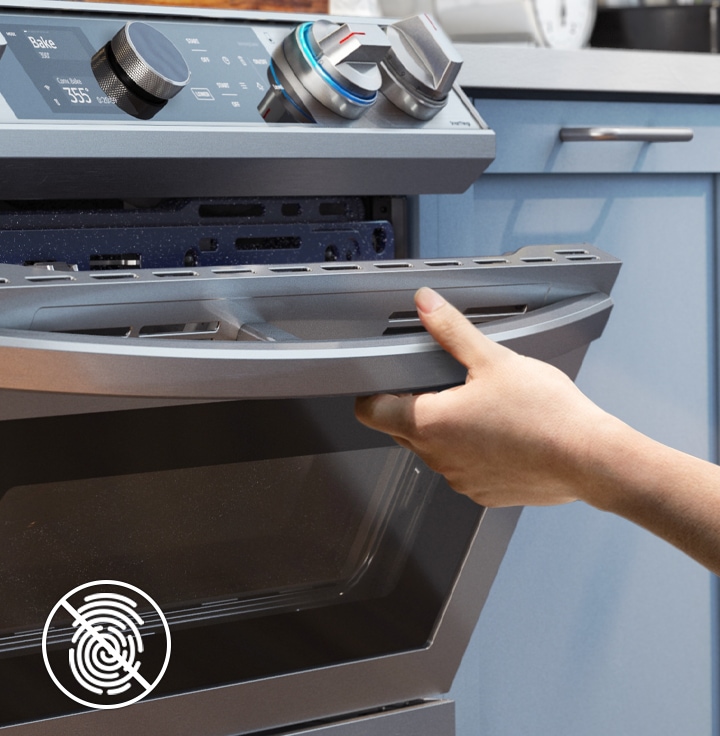 Fingerprint Resistant Finish
A special Fingerprint Resistant Finish prevents surfaces from becoming covered in unsightly fingerprints and other marks and smudges. And any fingerprints or marks can be quickly wiped away if they appear.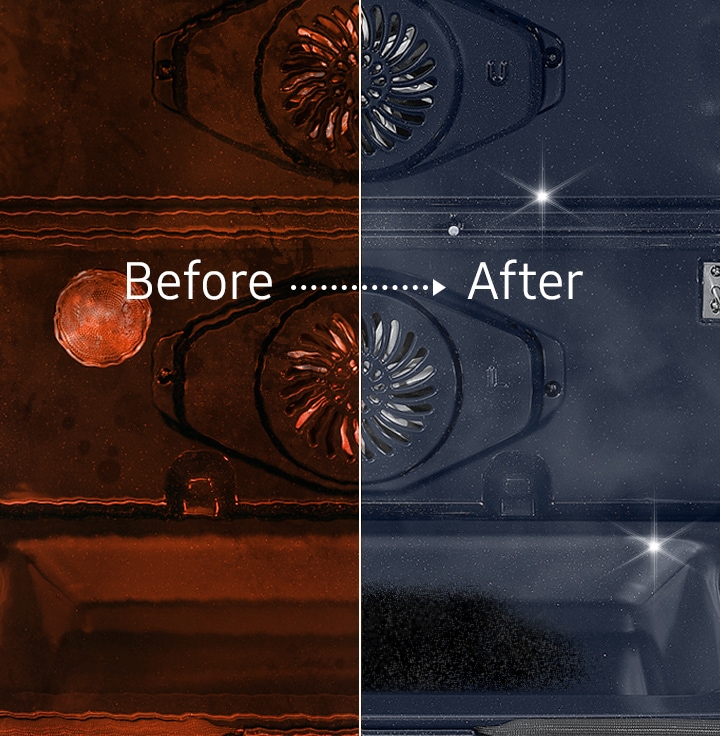 Self Cleaning
Keep the inside of your oven neat and clean without wasting time and effort scrubbing or using costly cleaning products. A Self Cleaning system heats the cavity to a high temperature to burn off grease and food residue.
App Connectivity
SmartThings App Support
Yes
Smart
Bluetooth
No
WiFi Embedded
Yes
Accessories
Steam Tray
No
Anti-Tip Device
Yes
Meat Probe
No
Partition
No
Split Rack
No
Wire Rack
2
Gliding Rack
No
Number of Rack Positions
7
Weights/Dimensions
Weight (Gross)
192.7 lb
Weight (Net)
169.8 lb
Gross (WxHxD)
33 1/16 x 41 3/4 x 30 5/16 inch
DRAWER
Warm. Drawer Handle
No
Weights/Dimensions
Net (WxHxD)
(29 15/16) x (36 ~ 36 3/4) x (28 11/16) inch
DRAWER
Type
Storage
Power/Ratings
Bake Element
3000W
Broil Element
4200W
Type
Cavity Type
Single
Installation Type
Slide In
Capacity
Oven Capacity
6.3 cu. ft.
Drawer Capacity
1.0 cu. ft.
Materials/Finishes
Oven Color
Dark Blue
Control Type (Oven)
Glass Touch
Display Type
LED
Control Type (Cooktop)
Knob
Display Color
Ice Blue
Soft Closing Door
No
Features
Self Clean
Yes
Steam Clean
Yes
Wi-Fi Connection
Yes
Bread Proof
100°F (40°C)
Favorite Cook
App
Keep Warm
Yes
Clock
Yes
Timer
Yes
Child Safety Lock
Yes
Numeric Pad
Yes
Sound on/off
Yes
Light (Lamp) On/Off
Yes
Interior Light (Position)
1 Incandescent 40W / Back
Hidden Bake Element
Yes
Sabbath Mode
Yes
Delay Start
Yes
Setting (Clock System Option (12H/24H))
Yes
COOKTOP
Number of Burner
5 EA
Heating Element 1
6"/9" - 3000W
Heating Element 2
6" - 1200W
General Feature
Convection
Fan Convection
COOKTOP
Hot Surface Indicator
Yes
Heating Element 5
Warm Zone (100W)
Heating Element 4
6" - 1200W
Heating Element 3
9"/12" - 3000W
General Feature
Convection Roast (Single)
175°F (80°C) - 550°F (285°C)
Convection Bake (Single)
175°F (80°C) - 550°F (285°C)
Bake (Single)
175°F (80°C) - 550°F (285°C)
Variable Broil (Low-High) (Single)
Low - High
Reviews
Average Customer Ratings
| | | |
| --- | --- | --- |
| Overall | | 3.50 |
| Design | | 3.82 |
| Features | | 4.05 |
| Performance | | 3.95 |
| Value of Product | | 3.36 |
Cons
Poor quality
Poor quality
Poor quality, Did not meet expectations
Poor quality
Submitted a year ago
By JamesDodds
Reviewed at


Had this range for less than a year in service the top was cool and it cracked, Unable to find a replacement top , my advice would be to stay away from this model
Bottom Line No, I would not recommend to a friend
Submitted a year ago
By MichelleB
Reviewed at


2
Disappointing purchase- broken knob
Like several others have mentioned, this range is of poor quality and the knobs are particularly cheaply made. I wish I know the reputation of Samsung appliances prior to this purchase. After two years a knob has broken off and is broken inside so I cannot even self repair it. The oven also takes long to heat and the digital display is not very intuitive. The only good thing is the overall design. Disappointed with this purchase.
Bottom Line No, I would not recommend to a friend
Submitted 2 years ago
By Barilda9
Reviewed at


1
Expensive for the quality
Bought this stove 8 months ago and not super impressed with the quality. Has cheap plastic knobs that are already peeling, not covered under warranty and replacement parts are expensive for a part that will most likely do the same thing after a similar period of use. Additionally, the glass top is extremely easy to scratch even when being careful with what's being used on it.
Bottom Line No, I would not recommend to a friend
Submitted 2 years ago
By Shahid
Reviewed at


I bought this produce 2 months before and Key-knobs for front burner is just got broken due to poor quality product. I spoke with customer support person and customer support manager Canada and got no support .I would say no customer care and bad quality product I receive from SAMSUNG
Bottom Line No, I would not recommend to a friend
Submitted 2 years ago
By Aversa
Reviewed at


4
COOKS EVENLY AND FAST! Safety feature Complaint
I just purchased this range. I absolutely am enjoying the performance of this range, fast even cooking every time! Quite impressive. I would have given this range a 5 star however I noticed when using an element the one light will turn on to let the rest of your family the element is hot. The problem is it only has 1 light on the top of your smooth top, it does not indicate which 1 of the elements was last used. This is a great safety concern especially if you still have young kids who are old enough to use the stove or another example, if I'm cleaning the smooth top I don't know which element was last used while cleaning the surface I could potentially burn my hand. THERE SHOULD BE LIGHT INDICATOR FOR EACH ELEMENT FOR SAFETY CONCERNS. The only other complaint I have is for such a rich looking stove i expected the knobs on the stove to be made out of steel or a sturdier plastic. The turning knobs look nice as they look like metal but they definitely feel like cheap plastic. If Samsung was to modify these 2 legitimate complaints, one a safety feature and the other a quality issue then I would have given this range a 5 out of 5!
Bottom Line Yes, I would recommend to a friend
Submitted 3 years ago
By Dan1989
Reviewed at


3
Great oven best owned but the top is really cheap
top is not good with scratch. The oven dit not have a year yet. I used cerami brite and good stuff on it as the seller told me. My last oven has almost no stratch and 8 years. Very disapointed.. it leaves mark that dont go and it scratch really easely. Oven is great overall really but the top is not good as the rest buyer be aware...
Bottom Line No, I would not recommend to a friend
Submitted 3 years ago
By Mancat
Reviewed at


4
Definitely upgraded my stove
Better than my 18 year old stove. I love how fast the stove and burners heat up. The 2 front burners will boil much faster than standard burners. I also like the wifi connection so I know when the stove is done preheating. I'm still learning to navigate the new features. It is not fingerprint resistant. I wish the stove came with a manual so I knew how to work all of the features.I did find a manual on samsung.com but some of the instructions are very vague, such as the steam clean and bread proof features. No sampler cleaner was included so I used Barkeepers stainless steel and it scratched the front by the knobs. I'm not sure how to fix that now. The touchscreen is way too touchy. If you lean on it or shirt touches it, you turn things on. It is always beeping. I also wish there was a back so there isn't a space between my wall and the oven. The bottom drawer should be deeper so I can fit my pans in it. It is only 5" deep.
Bottom Line Yes, I would recommend to a friend
Submitted a year ago
By PSchmidt50
From Kissimmee FL
Reviewed at


5
Great Range for a Wheelchair Usef
We specifically bought this model for it's access and usability for a wheelchair user. With the controls in front for easy reach it is perfect for a wheelchair user.
Bottom Line Yes, I would recommend to a friend
Submitted a year ago
By Windchime
From Bow, NH
Reviewed at


5
attractive appliance with great features
The stove has great features, heats quickly and is reliable.
Bottom Line Yes, I would recommend to a friend
Submitted a year ago
By Pkessel
From Oakland MI
Reviewed at


3
Decent all around range with some imperfections
the range functions well. the oven takes forever to heat up -- like a good 10-15 minutes ! that seems unreasonable to me. the top glass scratched immediately upon using it one time (carefully) and trying to keep it clean is a struggle. there is a weird rubber seal between the glass top and the stainless steel front that just loves to trap food especially crumbs. its a poor design. the amount of different sized burners is over kill as you will prolly never use em. when you use the oven, a fan will run for a good 20 minutes after to "vent" the oven. to hasten this you have to leave the hot oven door open so it can cool faster. over all its a nice looking product and serves its purpose just dont expect it to blow you away in any category.
Bottom Line No, I would not recommend to a friend