30" Samsung 6.3 Cu. Ft. Electric Range With True Convection And Air Fry In Stainless Steel - NE63T8711SS
30" Samsung 6.3 Cu. Ft. Electric Range With True Convection And Air Fry In Black Stainless Steel - NE63T8711SG
30" Samsung 6.3 Cu. Ft. Electric Range With True Convection And Air Fry In Stainless Steel - NE63T8711SS

30" Samsung 6.3 Cu. Ft. Electric Range With True Convection And Air Fry In Stainless Steel - NE63T8711SS
NE63T8711SS/AC
| | |
| --- | --- |
| Price | $2499.99 |
| Savings | $500 |
| Our Price | $1999.99 CAD |
| | |
| --- | --- |
| Price | $2399.99 |
| Savings | $500 |
| Our Price | $1899.99 CAD |
Literature
True Convection
Slide-in Design
Air Fry
SmartThings Cooking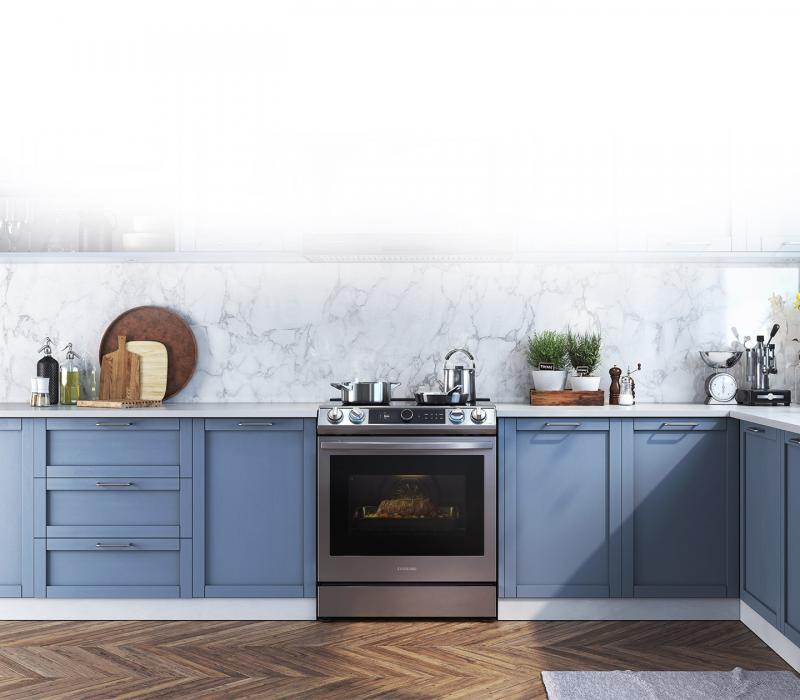 More stylish look, more ways to cook
Bring more style, convenience and flexibility to your kitchen. It adds a modern, built-in look by simply sliding in between cabinets. And it provides intuitive messaging and remembers your cooking habits.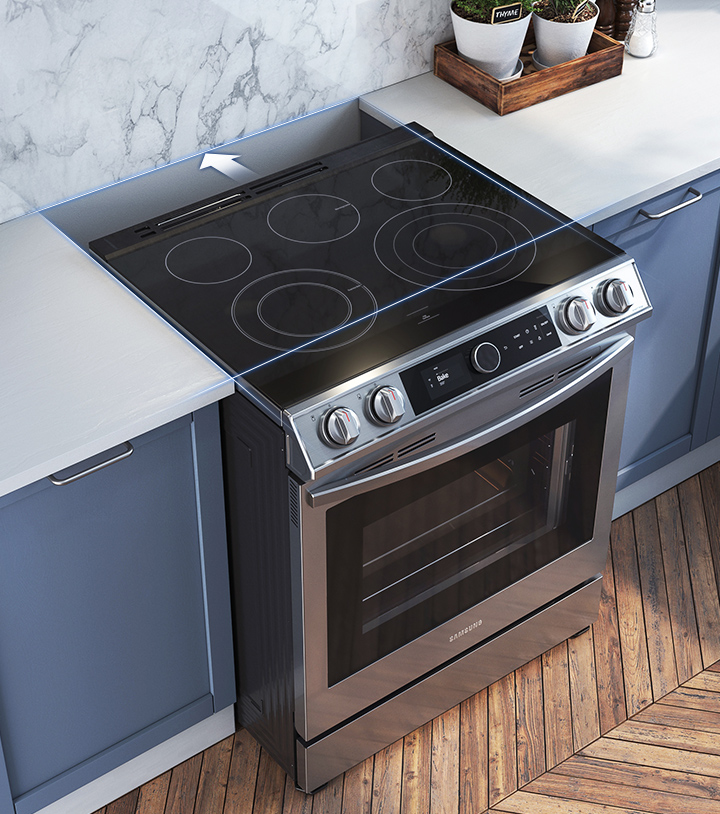 Upgrade to a modern and built-in look
Slide-in Design
Give your kitchen a premium and stylish built-in look. The slide-in design provides a modern and integrated appearance. Simply nestle it between your cabinets to upgrade the kitchen without remodeling. Ready2Fit™ Guarantee: If your new Samsung 30" slide-in range does not fit your current 30" range space, you can receive up to $300 toward a cabinet retrofit. Offer Valid from June 1, 2020 – December 31, 2021. Learn more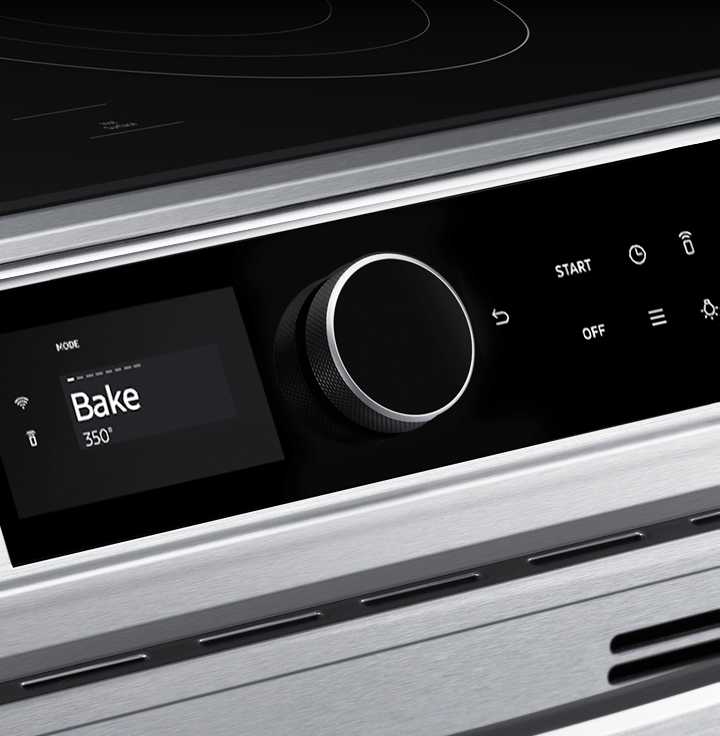 A simply more intuitive way to cook
Smart Dial
The new Samsung Range offers intuitive messaging on an LCD, one knob and minimum buttons. The oven also remembers your cooking habits, or you can save your favourite settings or hide modes. In addition, it includes a number of safety features and provides easy troubleshooting.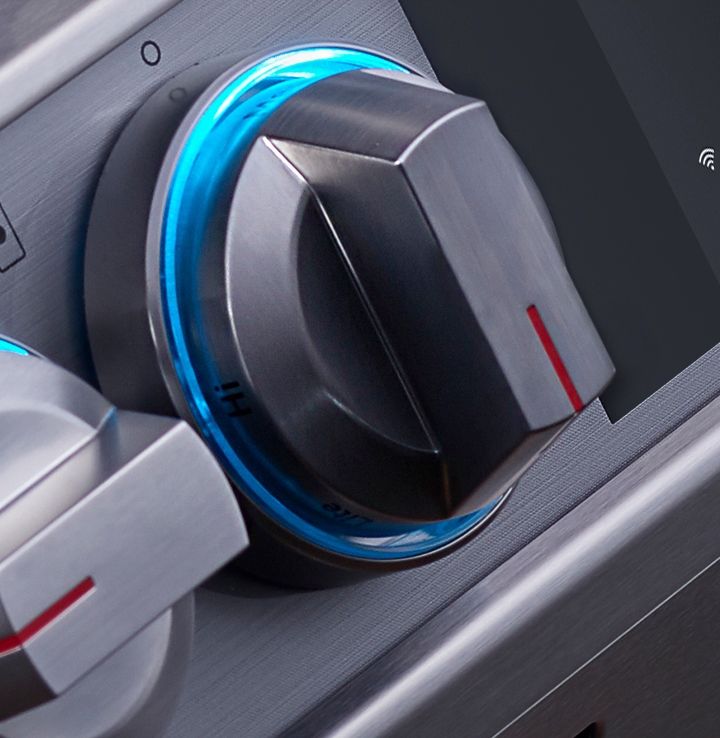 Illuminated Knob
Worry less with the added peace of mind with the Illuminated Knob. You can easily check if the burners are on or off at a glance, even from a distance. The large, ergonomic design of the metallic knobs makes the knobs easy to grip for precise temperature control. And they add a stylish, premium look.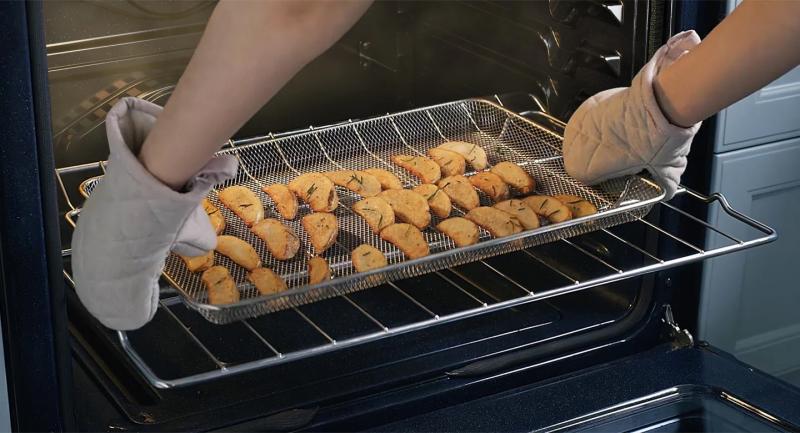 Fries food using little oil
Air Fry with Tray
Air Fry combines a special tray with hot air circulation that envelops food. It's the ideal way to cook French fries, Tater Tots or even vegetables as it eliminates excess fat while leaving the food still crispy and brown on the outside and juicy on the inside. The air fry tray included with purchase is specially designed with easy to grip handles and raised legs for optimal heating and cooling.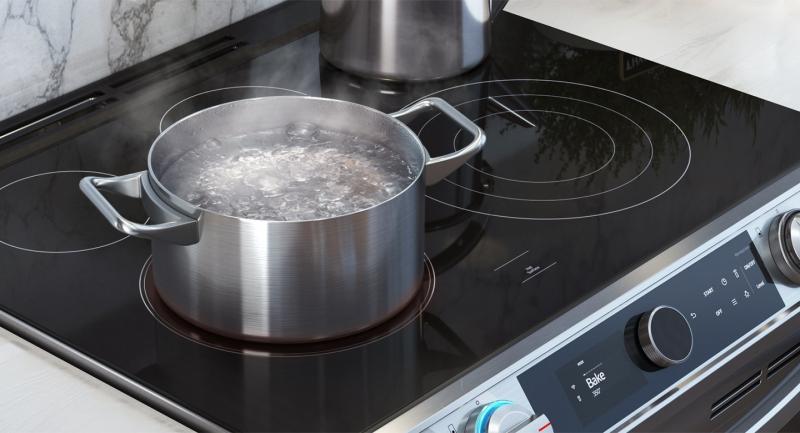 Precise control, Powerful heat
3.6kW Express Boil Electric Cooktop
Cook dishes quickly and evenly using the powerful heat and precise control of the 3.6kW Express Boil Electric Cooktop. It can rapidly go to a high heat for searing meat, like a steak, and boiling water in a flash. Or turn it right down to a true simmer – ideal for melting chocolate or making sauce.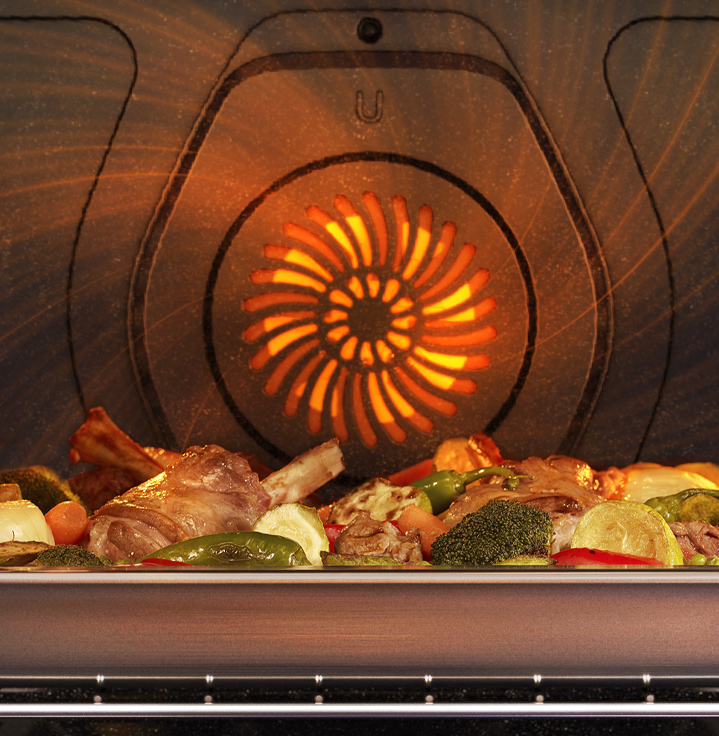 True Convection
Save time and cook food evenly with a True Convection system, which is great for baking and broiling. A heated fan distributes heat all around the oven and keeps the temperature constant. So dishes are cooked quickly and thoroughly.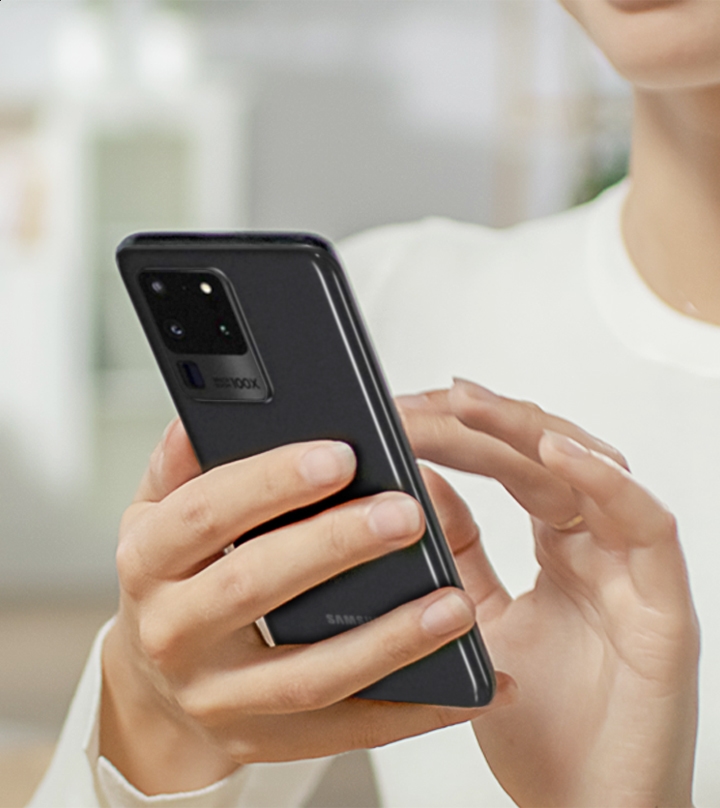 Wifi Connectivity
Save time and do much more with Wi-Fi Connectivity. Simply monitor and control the oven using the SmartThings App*. You can preheat or turn it off and check and adjust the cooking temperature and time.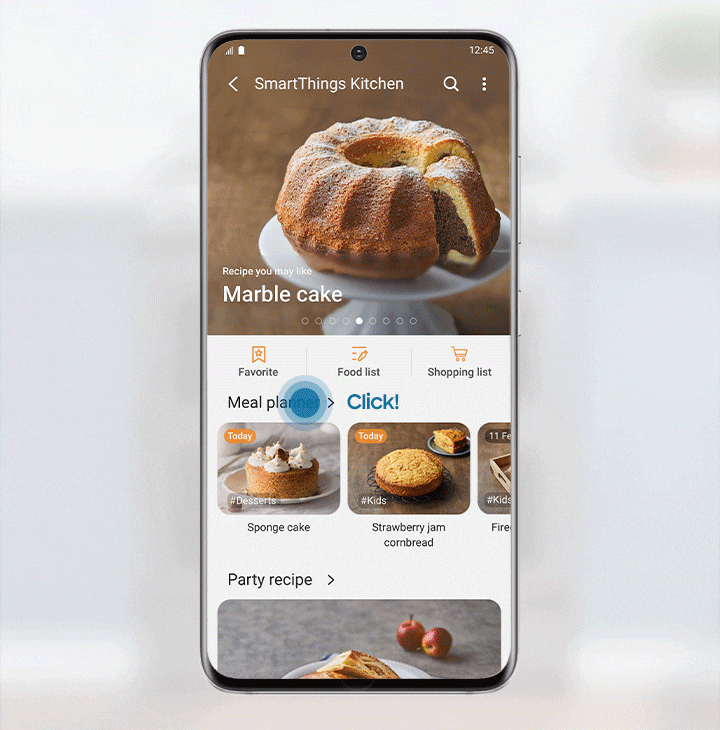 More joyful, less burdensome cooking
SmartThings Cooking
Make your kitchen experience less stressful. SmartThings Cooking saves time and makes cooking more seamless. It can recommend personalized recipes, generate weekly meal plans, and you can even control your appliances using recipe instructions.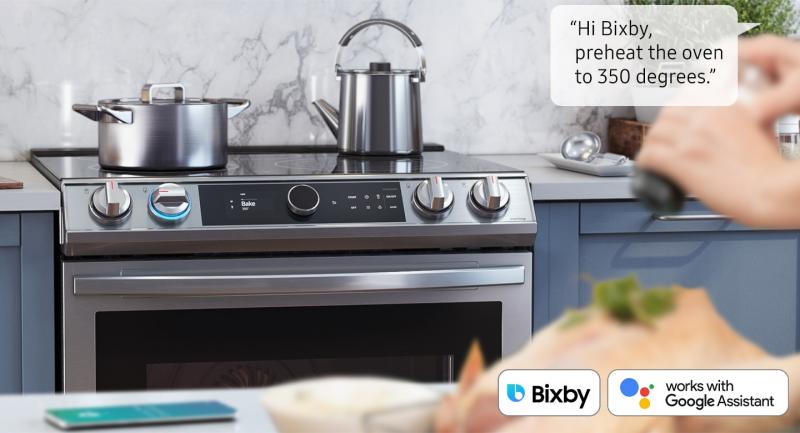 Voice Control
Control the oven with your voice. Using a voice assistant*, such as Samsung Bixby**, Amazon Alexa or Google Assistant, you can simply say what you want the oven to do and it will do it. You can easily turn it on/off, select functions and change settings, even if you're busy doing other things.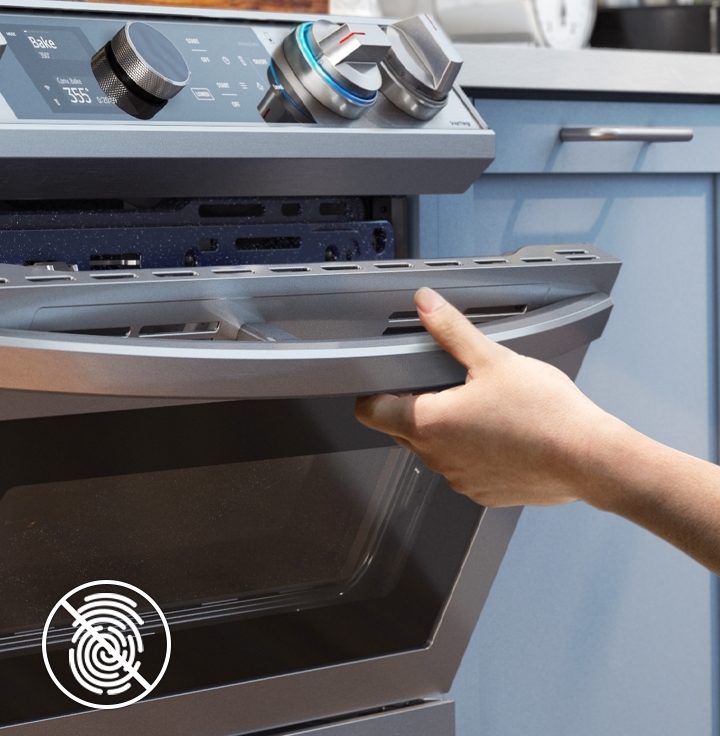 Fingerprint Resistant Finish
A special Fingerprint Resistant Finish prevents surfaces from becoming covered in unsightly fingerprints and other marks and smudges. And any fingerprints or marks can be quickly wiped away if they appear.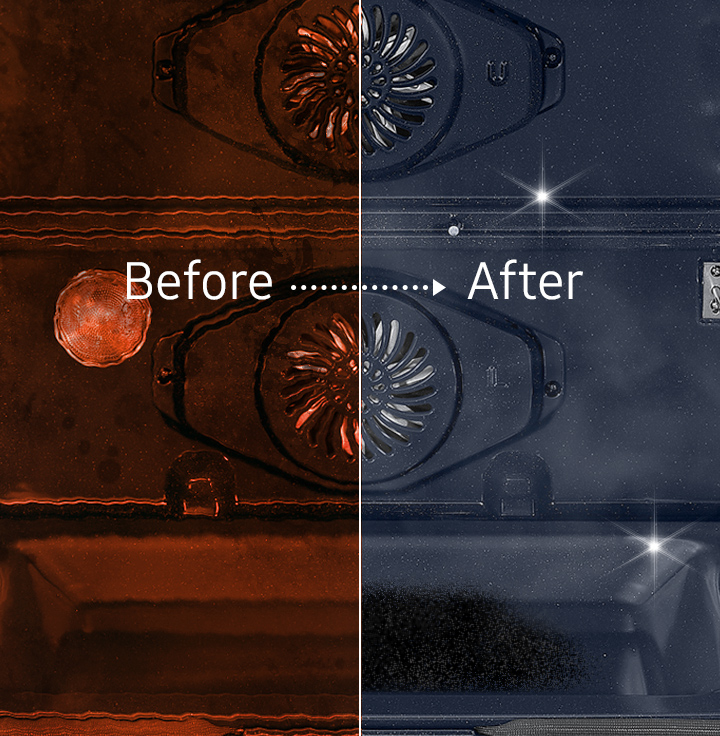 Self Cleaning
Keep the inside of your oven neat and clean without wasting time and effort scrubbing or using costly cleaning products. A Self Cleaning system heats the cavity to a high temperature to burn off grease and food residue.
Type
Cavity Type
Single
Capacity
Oven Capacity
6.3
Drawer Capacity
1.0
Materials/Finishes
Oven Color
Dark Blue
Control Type (Oven)
Glass Touch + Dial
Control Type (Cooktop)
Knob
Display Type
LCD
Display Color
White
Door Type
Single Door (4 STSS Layers)
Soft Closing Door
No
Features
Self Clean
Yes
Air Fry
Yes
Steam Clean
Yes
Wi-Fi Connection
Yes
Favorite Cook
App
Keep Warm
Yes
Clock
Yes
Numeric Pad
No
Kitchen Timer
Yes
Child Safety Lock
Yes
Hidden Bake Element
Yes
Interior Light (Position)
1 Incandescent 40W / Back
Light (Lamp) On/Off
Yes
Sound on/off
Yes
Setting (Clock System Option (12H/24H))
Yes
Delay Start
Yes
Sabbath Mode
Yes
COOKTOP
Number of Burner
5 EA
Heating Element 1
6"/9" - 3600W
Heating Element 2
6" - 1200W
Heating Element 3
6"/9"/12" - 3000W
Heating Element 4
6" - 1200W
Heating Element 5
Warm Zone (100W)
Hot Surface Indicator
Yes
General Feature
Convection
True Convection
Bake (Single)
175°F (80°C) - 550°F (285°C)
Variable Broil (Low-High) (Single)
Low - High
Convection Bake (Single)
175°F (80°C) - 550°F (285°C)
Convection Roast (Single)
175°F (80°C) - 550°F (285°C)
Type
Installation Type
Slide in
Power/Ratings
Bake Element
3000W
Broil Element
4200W
Convection Heater Element
800W
DRAWER
Type
Storage
Warm. Drawer Handle
No
Weights/Dimensions
Net (WxHxD)
(29 15/16) x (36 ~ 36 3/4) x (28 11/16) inch
Gross (WxHxD)
33 1/16 x 41 3/4 x 30 5/16 inch
Weight (Net)
174.8 lb
Weight (Gross)
201.3 lb
Accessories
Number of Rack Positions
7
Number of Oven Racks
3
Air Fry Tray
Yes
Gliding Rack
No
Wire Rack
2
Meat Probe
Yes
Smart
WiFi Embedded
Yes
Bluetooth
No
App Connectivity
SmartThings App Support
Yes
Reviews
Average Customer Ratings
| | | |
| --- | --- | --- |
| Overall | | 3.64 |
| Design | | 4.14 |
| Features | | 4.29 |
| Performance | | 4.29 |
| Value of Product | | 4.00 |
Pros
Lightweight
Inexpensive, Bright display
Bright display
Cons
Did not meet expectations
Poor quality
Did not meet expectations
Submitted a year ago
By Freezer
Reviewed at


2
Looks great, but not tough.
We bought this stove less than a year ago and within the first month it was scratching and showing wear. The cheap stove that came with our condo lasted 10yrs and had less wear showing. Very dissatisfied and disappointed with the durability, I expected better from Samsung. Would not recommend.
Bottom Line No, I would not recommend to a friend
Submitted 2 years ago
By BTNY
Reviewed at


1
Disappointed — The top scratches very easily!
Received our new electric range a few days ago from Leon and already there are scratches. We contacted Samsung support line and provided them with photos. The response that we got was the scratches are physical/cosmetic damage and not covered under manufacturer's warranty. All we did was boiling water. Very disappointed in how fragile the glass top is!
Bottom Line No, I would not recommend to a friend
Submitted 2 years ago
By Luv2airfry
Reviewed at


Received my oven about 2 weeks ago, was away so didn't use it. Well just air fried some chicken legs...WoW they were awesome!!!
Bottom Line Yes, I would recommend to a friend
Submitted 2 years ago
By Mr.H
Reviewed at


3
Mixed feelings about this range
This range has been in my house less than a week. I bought it because of the Consumer Reports rating on a similar model, and took a chance on a lower reliability rating because the performance ratings were so good. So, from our limited experience with it, I can say that it performs well. Cooktop heats up quickly and controls are responsive. Oven temperature is accurate and preheating is very fast. Air fry feature is nice and seems to work fine. Have yet to try all the features. However, I have come across some features that are less than optimal and could easily be improved to make this a 5* range. (1) The glass top scratched on the first day from just our normal use. I compare this to my previous glass top range that survived 11 years with no marks. The difference is that the previous one had a pattern applied to the surface that slightly raises the pan from the surface and protects the glass. It was ugly, but could be made better by matching the colour to the glass. This one seems to be bare glass, hence the easy scratches. (2) The stainless steel is wonderfully fingerprint "resistant", but every other surface is constantly smudged and needing constant wiping to keep it looking clean. (3) The knobs in front are very sensitive and easily activated by bumping against them or by curious little fingers. This is not a good model if you have small inquisitive children at home. (4) The lockout feature is, conceptually a good idea. The execution is less than optimal. It takes several steps to activate. and to release it just a simple 3 second press on one of the control surfaces. How difficult would it have been to use that same surface to toggle the lock feature? 3 seconds to lock, 3 seconds to release. (5) When the lock feature is activated, there is a message that pops up saying that the controls and door are locked. Not true. The door locks, and the touch-pad and central control knob are deactivated, but the surface element controls are still live. See (3) above. How about including a relay in the locking circuit that cuts power to the elements when the lock is activated? (6) Controlling remotely through the app is a bit flaky. The app monitors things nicely, but remote control needs to be activated separately, and this feature seems to time out, needing a trip to the kitchen to re-activate it. And, if you're already there, may as well set things through the buttons and knobs. Also, this was advertised as compatible with Alexa, but even though I have enabled the SmartThings skill, I cannot find out how to get Alexa to do anything with this range. I have no issues with the features and performance of this range. My rating for design was downgraded because of the issues listed above. My rating for value was downgraded because even though the range seems to perform well, daily reminders of the shortfalls make me unhappy. If any friend asked about this range when shopping, I would certainly talk about the good things, but could not, with a clear conscience, recommend a purchase, given the items listed above.
Bottom Line No, I would not recommend to a friend
Submitted 2 years ago
By ChadK
Reviewed at


One of the main reasons we purchased this oven was to match our black stainless steel Samsung refrigerator that we already loved. So we decided to purchase this oven. We have been using it for about 2 weeks now and absolutely love it. Not only does it look amazing in our newly renovated kitchen, it cooks to perfection. The smart dial makes the oven look just that, smart. It makes using the oven easy and convenient. Syncing with SmartThings is a great option and allows us to know when the oven is preheated or almost done cooking just on case we step outside to play with our daughter. Overall, my wife and I couldn't be happier with the choice we made.
Bottom Line Yes, I would recommend to a friend
Submitted 2 years ago
By Boulets
Reviewed at


We've had the range for three weeks, and we love it. The air fry and temperature probe are great features, and it looks great as well.
Bottom Line Yes, I would recommend to a friend
Submitted 3 years ago
By Bajarang
Reviewed at


2
Great oven with below average cooktop
The features of range are awesome. But the cook top is extremely slow and the coils stops hearing once it reaches certain temperature inorder to protect the glass,as a result the item takes 25 percentage longer than gas range
Bottom Line No, I would not recommend to a friend
Submitted a year ago
By Jim H
From Kenner, LA
Reviewed at


4
Purchased this range as part of suite
looks, nice. bottom drawer cheaply built (dents easily) air fryer function works great with special tray. cooling fan intermittently makes noise when pre-heating. will be calling for service soon before warranty expires.
Submitted a year ago
By JeffL
From Asheville, NC
Reviewed at


oven is a winner! cooktop is fragile and scratches easily. cooktop is also difficult to keep clean, especially since it appears to attract dust and lint. manufacturer recommendation of using paper towels to wipe off the cooktop, just increases the lint factor by 10.
Bottom Line Yes, I would recommend to a friend
Submitted a year ago
By Disgruntled cook
From Tennessee
Reviewed at


After a couple of months of standard use for a family of 2, (previously had a smooth top range for 25 years) 1 eye was scratched. I called the service department after a couple of months of dealing with them, a canceled appointment on their part, they felt I caused the scratches on the smooth top. I strongly felt it's manufacturing defect. It should have lasted longer than that. Now, less than 12 months after purchase both eyes have scratches on them. It appears to be 10 years old.
Bottom Line No, I would not recommend to a friend