27" Samsung 7.5 Cu. Ft. Electric Dryer with Shallow Depth In White - DVE45T6005W
27" Samsung 7.5 Cu. Ft. Electric Dryer with Shallow Depth In White - DVE45T6005W
DVE45T6005W/AC
Literature
Sensor Dry helps prevent overdrying for optimal fabric care
Closet-depth fit
Energy Star Certified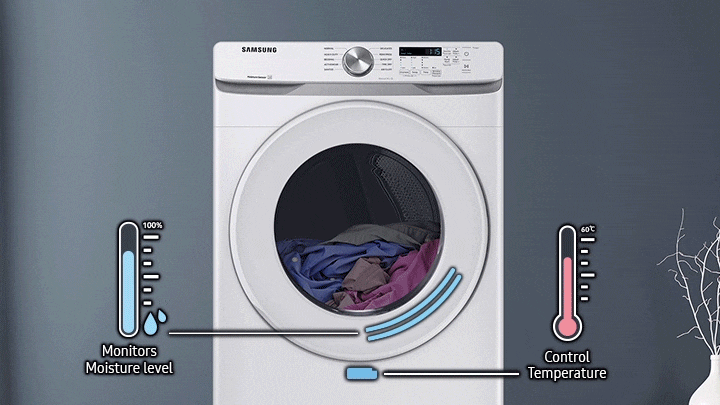 Properly dry clothes
Sensor Dry
Sensor Dry automatically optimizes the time and temperature of your drying cycle to protect your clothes from heat damage, while avoiding excess energy use.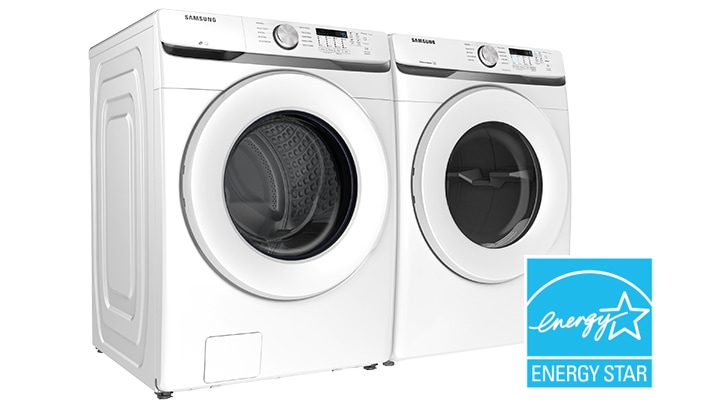 ENERGY STAR Certified
ENERGY STAR Certified
ENERGY STAR certified, so you can save money by using less energy without sacrificing performance or functionality.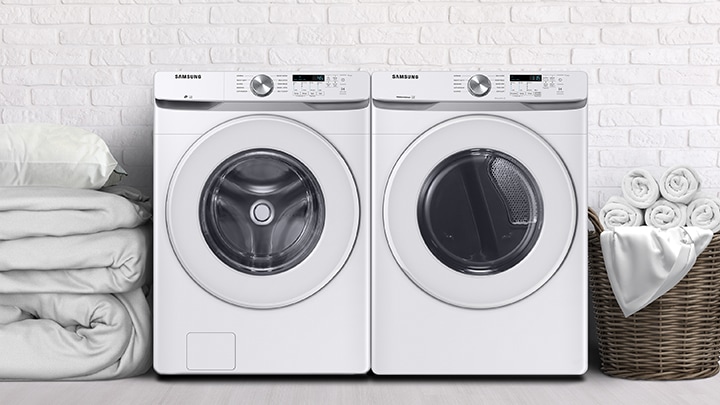 Dry more at once
Large Capacity (7.5 cu. ft.)
Our large capacity, 7.5 cubic feet drum means you can dry more items in a single load and spend more time doing the things you love.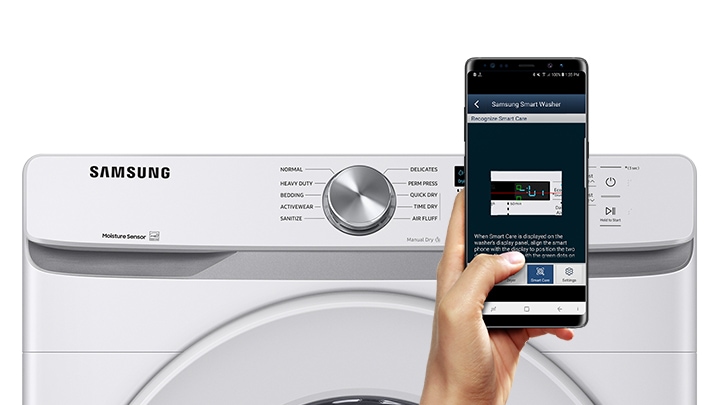 Easy troubleshooting
Smart Care
Easy troubleshooting from the convenience of your smartphone*. Smart Care interacts with your washer and dryer to perform an immediate diagnosis and offer quick solutions.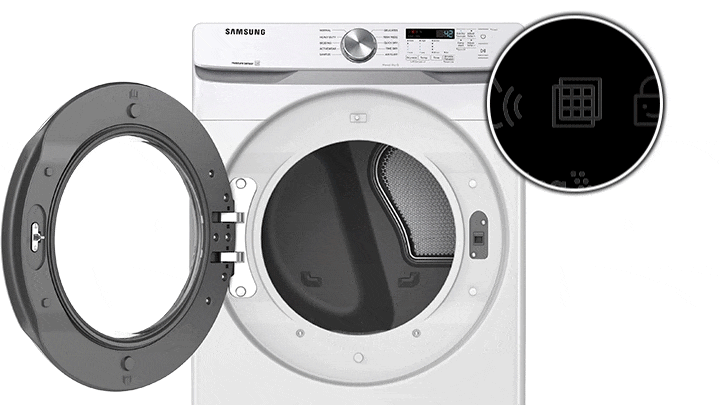 Lint filter alert
Lint Filter Indicator
Minimize lint or fluff build up and help prevent blocking your dryers air intake. The Filter Check Indicator light on the control panel will provide you with a helpful reminder when it is time to clean the filter for optimal performance.*
Drying Capacity
Drying Capacity (cu.ft)
7.5 cu.ft
Design
Body color
White
Panel Display
LED
Performance
Cycle time (min)
75 min
Energy Star Certification
Yes
Energy Consumption (annual)
608
DOE Energy Factor
3.93 lb/kWh
Feature
Interior Drum Light
Yes
Smart Control
No
Smart Care
Yes
Reversible Door
Yes
Child Lock
Yes
Drying Rack
No
Dual Heater
Yes
Filter Check Indicator
Yes
Mixed Load Bell
Yes
Progress Indicator
Yes
Steam
No
Vent Exhaust (Electric/Gas)
4 ways
Vent Sensor
No
Wrinkle Prevent
Yes
Number of Drying Level
5 EA
Number of Temp. Level
5 EA
Number of Time Level
5 EA
Cycle
Number of Cycle
10
Number of Option
9
Cycle List
Normal, Heavy Duty, Perm Press, Activewear, Bedding, Delicates, Sanitize, Time Dry, Air Fluff, Quick Dry
Option List
Damp Alert, Wrinkle Prevent, Adjust Time (Up), Adjust Time (Down), Eco Dry, Child Lock (Dual Long Key), Smart Care (Long Key), Alarm Off (Long Key), Drum Light (Long Key)
Physical specification
Net Dimension (WxHxD)
686x984x800 inch
Net Weight
56 lb
Gross Dimension (WxHxD)
746x1080x850 inch
Gross Weight
59 lb
Voltage/Frequency
120V/ 240V / 60Hz
Drum Material
Powder Coat
Reviews
Average Customer Ratings
| | | |
| --- | --- | --- |
| Overall | | 1.50 |
| Design | | 1.75 |
| Features | | 2.13 |
| Performance | | 1.50 |
| Value of Product | | 1.50 |
Cons
Poor quality
Poor quality, Did not meet expectations
Poor quality
Poor quality
Poor quality, Did not meet expectations
Submitted a year ago
By darrylho
Reviewed at


I bought this from Trail Appliances (but posting here so potential buyers can be advised). Then after 14 months, the spin cycle was very loud. I called Samsung and they will not cover this since they only cover 12 months warranty. I had a repair person come and quote to repair this will be over $1,000 after tax! Problem was bent drum shaft and worn out bearing. Apparently just the bearings cannot be replaced and the full drum with bearing assembly must be purchased. This is a huge labour undertaking. I am so disappointed. Repair quote was so high, the technician said not worth it to fix, just buy a new one and consider LG instead. I already contacted Samsung twice with no help. Will try again. Maybe 3rd time's a charm? I also bought the matching dryer (DVE45T6005W) and after 15 months, there was a squeaking noise. The repair was only $262.50 so better than buying a new one. But still, who wants to spend this money on a repair on a dryer that is only 15 months old? Do not buy this washer and dryer model set.
Bottom Line No, I would not recommend to a friend
Submitted a year ago
By SeanS
Reviewed at


2
Unit broke after 2 weeks
Unit failed after 2 weeks of use. HC error, where the heating element is always on, even in Air Fluff mode. Very displeased that a brand new appliance would fail so quickly.
Submitted 2 years ago
By Sue Bell
Reviewed at


1
You only warranty for two weeks from purchase?
I bought this just over a month ago, had to go out of town for a family emergency, came home, used the dryer, and the flap under the lint trap broke, I had to reach into the slot to pull it out, I called 9 days ago about it, never heard back, called again today and they said because I didn't report it in the first 2 weeks of owning it, I have to buy the parts and fix it myself??? You only warranty for two weeks? I even purchased an extended warranty, what is the use of that? You use cheap plastic parts that break immediately, I am beyond angry.
Bottom Line No, I would not recommend to a friend
Submitted 2 years ago
By Worst Dryer Ever
Reviewed at


1
Hands down the worst dryer ever!!!
I'm so disappointed in this dryer. It ruins clothing! You can't dry anything that has a zipper. The holes in the lint screen are too large that the zipper gets stuck as the drum spins, ripping it right off. The first time I noticed a broken zipper, I didn't realized it was the dryer. The second time, it ruined another sweater and I knew the dryer was the culprit as the zipper (ripped off) was still stuck in the lint trap. I told my daughter, she said it did the same thing to her jacket!! I've only had this dryer for approximately 1 month and it's ruined 3 pieces of clothing!
Bottom Line No, I would not recommend to a friend
Submitted 2 years ago
By scooty28
Reviewed at


4
Great dryer and looks great too!
We bought this dryer (and Samsung washer) about a month ago when we returned our 9 month old washer/dryer set back to where we purchased it since the manufacturer refused to repair our washer since we lived in a rural area. Bought this Samsung set and so far the dryer has worked great. Hopefully continues to work well. Would definitely recommend this dryer.
Bottom Line Yes, I would recommend to a friend
Submitted 2 years ago
By Soccermom
Reviewed at


Lasted less than five years. Total waste of money.
Bottom Line No, I would not recommend to a friend
Submitted 2 years ago
By No more Samsung appliance
Reviewed at


Did not last 5 years. Called customer support, only for them to refer me to ARS repair services who charged an arm and leg just to tell me it's not worth it to be repaired. Samsung customer service should have told me that instead of trying to gauge more money with their vendor
Bottom Line No, I would not recommend to a friend
Submitted 2 years ago
By Deter
Reviewed at


after only 4 tears i have to repair the heater.. poorly made and is faulty
Bottom Line No, I would not recommend to a friend