24" Samsung 4.0 Cu. Ft. Electric Dryer With Sensor Dry Function - DV22K6800EX

24" Samsung 4.0 Cu. Ft. Electric Dryer With Sensor Dry Function - DV22K6800EX
DV22K6800EX/AC
$1499.99
Automatically optimizes the drying time and temperature
Easy troubleshooting from your smartphone
Stackable Laundry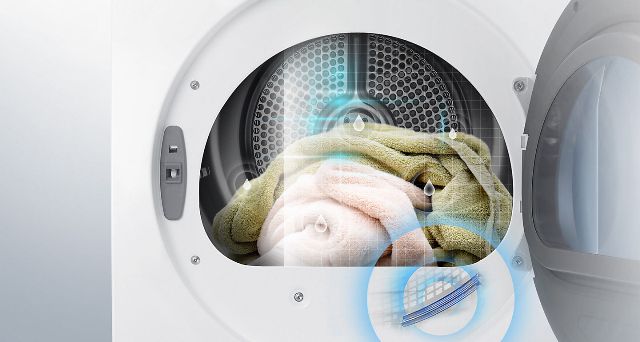 Automatically optimizes the drying time and temperature
A Sensor Dry function provides a drying cycle with the optimal temperature and time. Moisture sensors also protect your laundry and avoid excessive energy use by shutting off the dryer when your clothes are dry.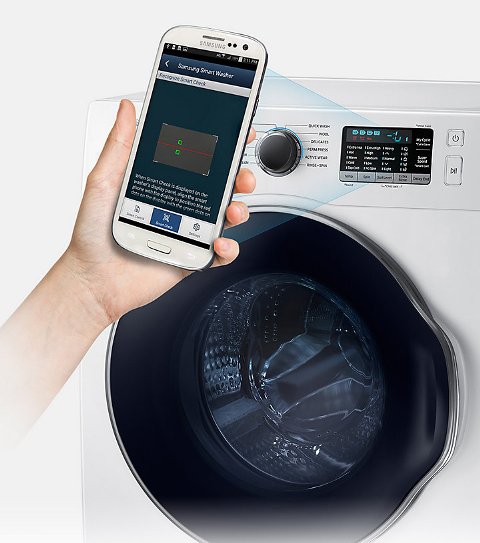 Easy troubleshooting from your smartphone
The Smart Care error-monitoring system detects and diagnoses problems and provides easy troubleshooting solutions through the LED screen, using a smartphone App*. So it saves you time and potentially expensive repair bills.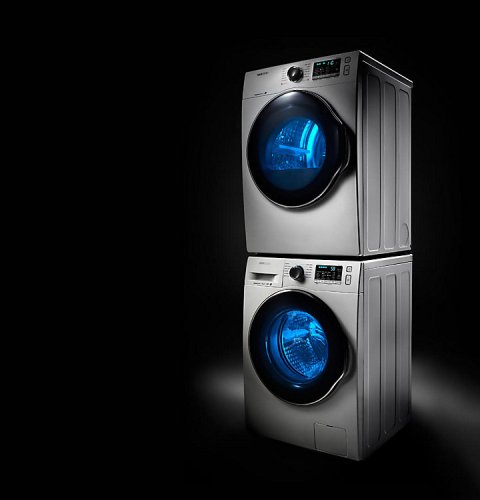 Stackable Laundry
Our compact laundry unit comes with a stacking kit.
Drying Capacity
Drying Capacity (cu.ft)
4 cu.ft
Design
Body color
Inox
Panel Display
LED
Configuration and Overview
Cycle time (min)
70 min
Energy Star Certification
No
DOE Energy Factor
3.27 lb/kWh
Cycle
Number of Cycle
12
Number of Option
8
Cycle List
Normal, Heavy Duty, Towels, Perm Press, Active wear, Delicates, Wool,Sanitize, Time Dry, Air Fluff, Quick Dry, Wrinkle Release
Option List
Mixed Load Bell, Wrinkle Prevent, My Cycle, Adjust Time, Sound, Child Lock, Drum Light
Physical specification
Net Dimension (WxHxD)
600 x 850 x 655 mm
Net Weight
40.4 kg
Reviews
Average Customer Ratings
| | | |
| --- | --- | --- |
| Overall | | 1.83 |
| Design | | 2.33 |
| Features | | 3.00 |
| Performance | | 1.67 |
| Value of Product | | 1.67 |
Pros
Bright display
Bright display, Durable
Cons
Poor quality
Poor quality, Did not meet expectations
Did not meet expectations
Submitted 2 years ago
By buyer in BC
Reviewed at


Extremely disappointed that you cannot even dry twin size sheets without stopping every 10 minutes to undo the ball they become. Overall works great for everything else but bedding is a pretty important part of the laundry process. Had a small washer/dryer before but could still dry queen size bedding no problem. Not sure if it is the large paddles but everything just gets turned into a giant ball and will not dry.
Bottom Line No, I would not recommend to a friend
Submitted 2 years ago
By SONIAA
Reviewed at


I bought this dryer only a week ago on last Tuesday the clothes are still damp and do not dry and is wet have to run another cycle Noticed that running extra cycles will bump up.my BC hydro bill I did not expect this from.samsung pls can someone call me at 6042738156 from.samsung maybe I would like to change it now b4 it's too late
Bottom Line No, I would not recommend to a friend
Submitted 3 years ago
By yvrNola
Reviewed at


2
Poor design for lint capture
Our dryer is less than 2 years old. It has never really worked well, except right after I clean the vent pipe. The lint filter doesn't seem to, well, filter. And the vent pipe has a huge pile of lint right at back of machine, where it connects to 90 degree smooth pipe. Yes, there is some lint in the filter, and it gets cleaned every load. The problem is that more lint seems to bypass than get caught in filter. It is seated properly. The dryer vent at rear and has 2 elbows of 90 degrees, it is smooth pipe, not ribbed flexible hose. There is a pile of lint at rear of machine at the first 90 degree elbow every 8 or 9 loads, while lint filter get emptied for small amount every load. The sensor is clean, the door seals well, air flow is good from exhaust. It just seems more lint gets pumped out back of machine than gets caught in lint filter. Our previous Samsung dryers work well, I would not recommend this model.
Bottom Line No, I would not recommend to a friend
Submitted 3 years ago
By SteveP
Reviewed at


Dryer doesn't heat. Constantly kicking off and requires repair to come reset. 2nd time I've had to deal with this. Save your $$
Bottom Line No, I would not recommend to a friend
Submitted 4 years ago
By tigang
Reviewed at


we like the style and the size, find it deosnt quite dry on the settings we choose, may need to trial different settings for optimum use
Bottom Line Yes, I would recommend to a friend
Submitted 4 years ago
By Vancouver user
Reviewed at


The dryer stopped heating in less than 50 days. It looks like many users have encountered this problem. What a piece of garbage!
Bottom Line No, I would not recommend to a friend