Samsung Freestanding Electric Range - NE59R6631SS
Samsung Freestanding Electric Range - NE59R6631SG
Samsung Freestanding Electric Range - NE59R6631SS

Samsung Freestanding Electric Range - NE59R6631SS
NE59R6631SS/AC
$1399.99
Literature

3.3kW Rapid Boil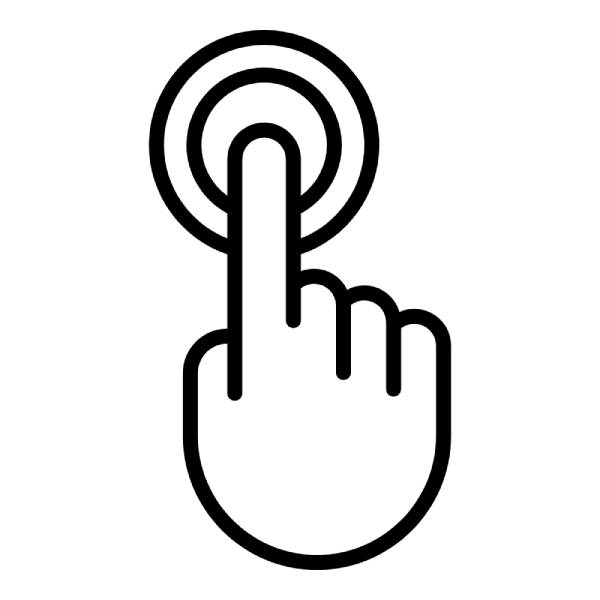 Touch Control
Freestanding
Installation Type
5 EA
Number of Burner
Convenient control
Slanted control with Bigger knob
The large, ergonomic design of the metallic knobs makes them easy to grip. The angled design and stainless steel finish of the Slanted control enhance the range's sleek, modern styling. It also ensures that the control knobs are ergonomically positioned for maximum visibility and convenience.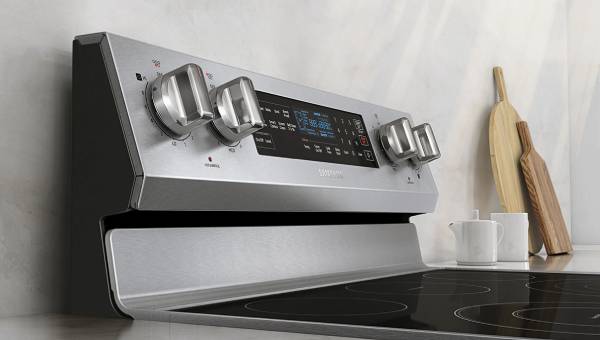 Slanted control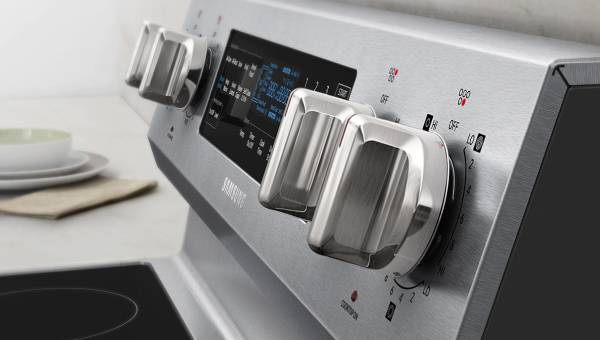 Bigger Knob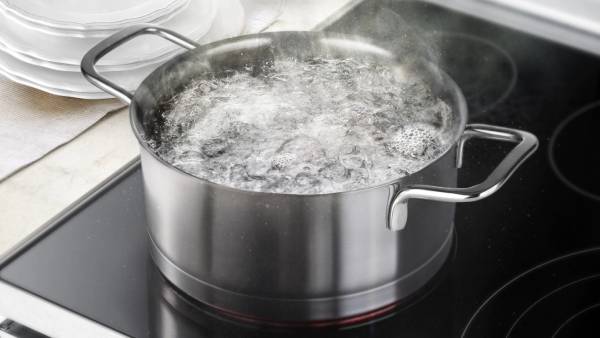 Powerful & flexible
3.3kW Rapid Boil
Boil water or cook anything in a flash. A 3.3kW Rapid Boil dual burner provides greater power and flexibility. It has two concentric ring sizes, 6" or 9". So you can efficiently heat or gently simmer different sized dishes. Or turn it up all the way to boil water and cook food fast.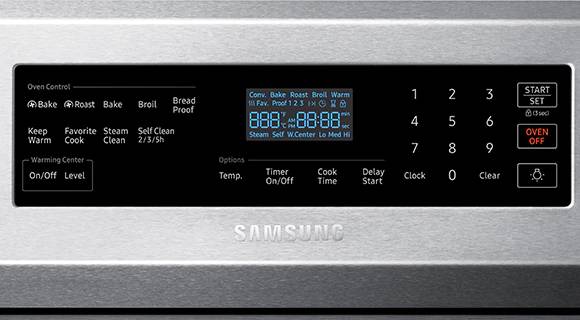 Simple to control
Wide Membrane
Select the functions you need easily, without pressing too hard. A Wide Membrane display is very sensitive. It only takes a gentle touch to control every function. Its wide display screen with separately grouped buttons also makes it easy to find the right program settings.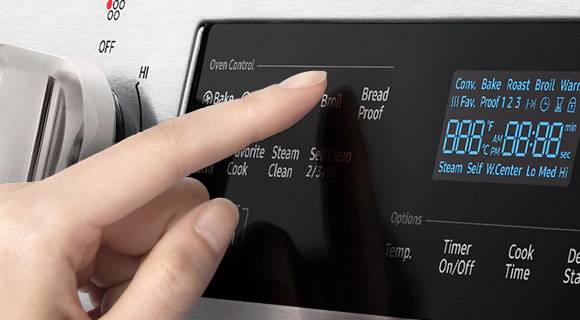 Sensitive & precise
Sensitive Touch Display
Enjoy simple and easy control. The Sensitive Touch Display features a new coating that offers enhanced touch sensitivity and precise finger recognition. So there is no need to press hard on buttons. Instead you can quickly and conveniently adjust the settings with a light and gentle touch.
Sleek, solid styling
Enjoy a stylish new design that fits harmoniously with modern kitchens and improves usability. The Stainless Steel Edge Frame includes a larger cooktop surface. It also looks elegantly sleek and stylish. And its smooth and durable edges mean it can fit neatly into your existing kitchen.
Cook more
5.9 cu. ft. Large Capacity
Create variety and large dishes with a massive 5.9 cu. ft. capacity oven. You can cook different types of food, like pastries or curry dishes, or large items, like a king-size turkey with trimmings. Its two wire oven racks can hold a variety of cookware and meals.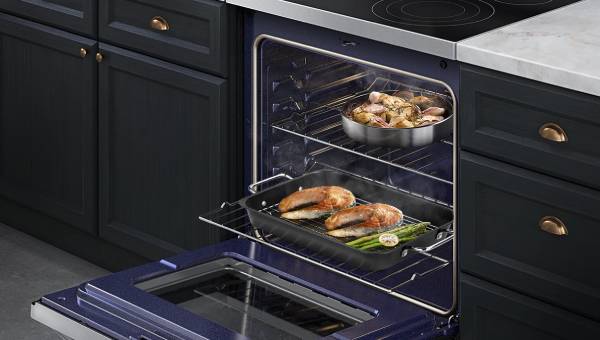 Variety Items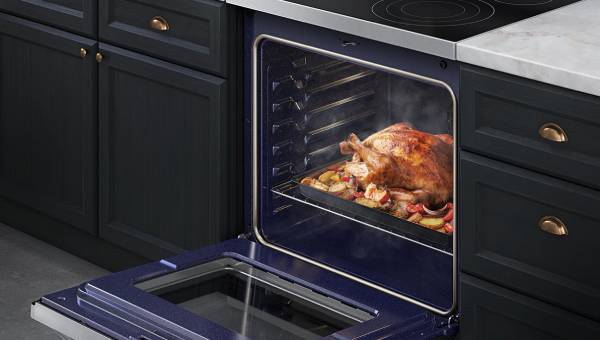 large items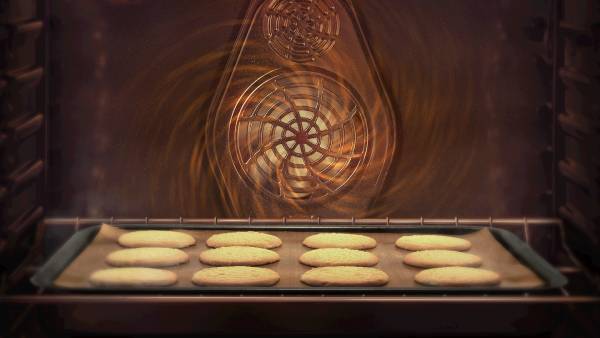 Fast & even cooking
True Convection
Save time and cook food evenly with a True Convection system, which is great for baking and broiling. A heated fan distributes heat all around the oven and keeps the temperature constant.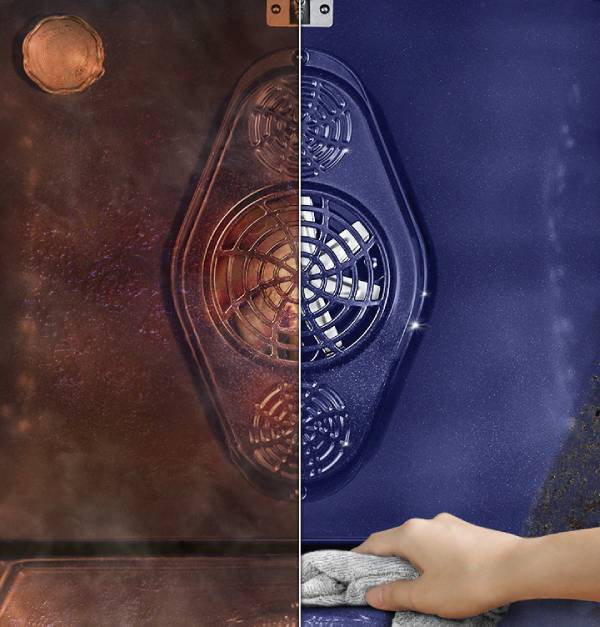 Keep neat with heat
Self Clean
Keep your oven brilliantly clean without any time-consuming scrubbing. A Self Clean system heats the oven cavity to a high temperature to burn off any grease and residue left from cooking. So it is completely clean inside with just some finely powdered ash left that you can easily wipe away.
Freestanding
Installation Type
5 EA
Number of Burner
Type
Installation Type
Freestanding
Capacity
Oven Capacity
5.9 cu.ft
Drawer Capacity
1.4 cu.ft
Materials/Finishes
Oven Color
STSS
Control Type (Oven)
Membrane + Film Touch
Control Type (Cooktop)
Knob
Display Type
LED
Display Color
Ice Blue
Door Type
Wide View Door
Features
Self Clean
Yes
Steam Clean
Yes
Wi-Fi Connection
No
Easy Cook
No
Bread Proof
Yes
Healthy Cook
No
Favorite Cook
Yes
Steam Assist
No
Keep Warm
Yes
Clock
Yes
Timer
Yes
Numeric Pad
Yes
Child Safety Lock
Yes
Hidden Bake Element
Yes
Interior Light (Position)
1 Incandescent 40W (Back)
Auto Oven Light
Yes
Light (Lamp) On/Off
Yes
Sound on/off
Yes
Setting (Clock System Option (12H/24H))
Yes
Delay Start
Yes
Sabbath Mode
Yes
COOKTOP
Type
Electric radiant (Triple 1; Dual 1 ; Single 2; Warming 1)
Cooktop Frame
Black Porcelain Enamel
Number of Burner
5 EA
Heating Element 1
6"/9" - 3300W (Rapid Boil™)
Heating Element 2
6" - 1200W
Heating Element 3
6"/9"/12" - 3000W
Heating Element 4
6" - 1200W
Heating Element 5
Warm Zone
Booster
No
Hot Surface Indicator
Yes
General Feature
Convection
True convection
Bake (Single)
175°F (80°C) - 550°F (285°C)
Variable Broil (Low-High) (Single)
Low - High
Convection Bake (Single)
175°F (80°C) - 550°F (285°C)
Convection Roast (Single)
175°F (80°C) - 550°F (285°C)
Power/Ratings
Bake Element
3,000W
Broil Element
4,200W
Convection Heater Element
800W
DRAWER
Type
Storage Drawer
Weights/Dimensions
Net (WxHxD)
759.7/1180.0/722.3 mm
Gross (WxHxD)
839/1280/769 mm
Weight (Net)
73.58kg (162.2lbs)
Weight (Gross)
84.8 kg
Accessories
Number of Rack Positions
7
Wire Rack
3
Reviews
Average Customer Ratings
| | | |
| --- | --- | --- |
| Overall | | 2.83 |
| Design | | 3.33 |
| Features | | 3.17 |
| Performance | | 3.00 |
| Value of Product | | 3.17 |
Pros
Realistic color
Inexpensive, Bright display
Inexpensive
Cons
Poor quality, Did not meet expectations
Poor quality
Poor quality, Did not meet expectations
Poor quality
Submitted a year ago
By Lab6518
Reviewed at


3
What's happening to Samsung???
So disappointed, we used to love Samsung products but not anymore. Bought end of Sept 2020 and 2 weeks after warranty expired the display is flashing. i've seen an overwhelming amount of people post the same issue on several sites the display board is flickering. Called Samsung they said nothing they can do because out of warranty. We are also debating fixing the issue ourselves or calling a tech or nothing at all and getting a new stove because a tech and parts are very expensive for the fix and why should we have to pay for fixing it especially knowing that Samsung knows its such a widespread issue, seems like a faulty part so please do the right thing and fix it for FREE. We aren't sure if we would buy another samsung product.
Bottom Line No, I would not recommend to a friend
Submitted 2 years ago
By HYHA
Reviewed at


I had this stove for over a month but we are happy with the stove. Thought the sensors sensitive when you clean the control panel, it is still acceptable. No issue so far and we aware the cook top may leave marks on it but we clean it with baking soda and it looks good after cleaning.
Bottom Line Yes, I would recommend to a friend
Submitted 2 years ago
By Y. FEFER
Reviewed at


1
THIS STOVE IS A SHAME FOR SAMSUNG
I bought this stove less 6 months ago and on October 29 i got an error code C-21 i called for serves and the tecniton come after a week and changed the temperature sensor now less then a month later i got the same error code and i called samsung and the connected a service center and the next technician is only available on dec.24 that means that i am without a stove for 3 WEEKS
Bottom Line No, I would not recommend to a friend
Submitted 2 years ago
By Helene NC
Reviewed at


Just replaced my old Samsung stove with this new one....lots of improvement over my last stove. The touch screen is now sensitive to touch, no need to hard press. The nobs height now clear my tallest pot at the back. The fan is quiet. The oven cooks evenly and temperatures are right. I am a very picky customer and I just love this stove! Glad I went back to a Samsung...tried competition and returned it!
Bottom Line Yes, I would recommend to a friend
Submitted 3 years ago
By Kim S
Reviewed at


2
Low end stove. At least its cheap
I'm a huge Samsung fan. Tv, phones, are all top notch. This is not a good product. Sadly it was picked by the buyer not me. Issues: @samsung : Ovens and burners should be hot. Takes way to long for the burners or oven to come up to temp. Broiler is largely inadequate. My 100 toaster oven has a better broiler. For a company that makes the best smartphones on the planet, why can't you spend a few seconds creating a proper interface and buttons for basics like timers, broiler settings etc. I honestly expected more from a global tech leader. Hey Samsung, I'd even buy another oven if you are willing to credit me for this heap!
Bottom Line No, I would not recommend to a friend
Submitted 3 years ago
By dfn1940
Reviewed at


The cook top on this range either burns your food or doesn't get hot enough. The top is very hard to clean and has formed a cloudy look in the glass. Samsung has refused to even have a tech look at it and the range is under warranty
Bottom Line No, I would not recommend to a friend