36" Samsung 27 Cu. Ft. French Door With SpaceMax Technology In Black Stainless Steel - RF27T5201SG
36" Samsung French Door Refrigerator - RF27T5201SR
36" Samsung 27 Cu. Ft. French Door With SpaceMax Technology In Black Stainless Steel - RF27T5201SG

36" Samsung 27 Cu. Ft. French Door With SpaceMax Technology In Black Stainless Steel - RF27T5201SG
RF27T5201SG/AA
| | |
| --- | --- |
| Price | $3099.99 |
| Savings | $1000 |
| Our Price | $2099.99 CAD |
| | |
| --- | --- |
| Price | $3299.99 |
| Savings | $1100 |
| Our Price | $2199.99 CAD |
Literature
Large Capacity with SpaceMax Technology
All-Around Cooling
Fingerprint Resistant Finish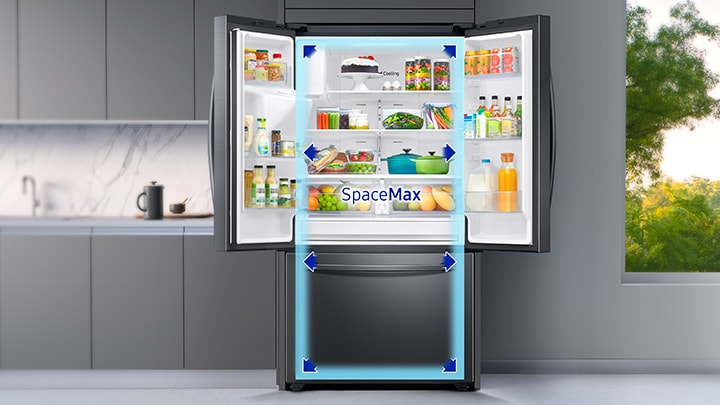 Large Capacity (SpaceMax Technology)
Stock-up all your food with a huge 27 cubic feet* of storage space. SpaceMax Technology creates more room inside without increasing external dimensions or compromising energy efficiency.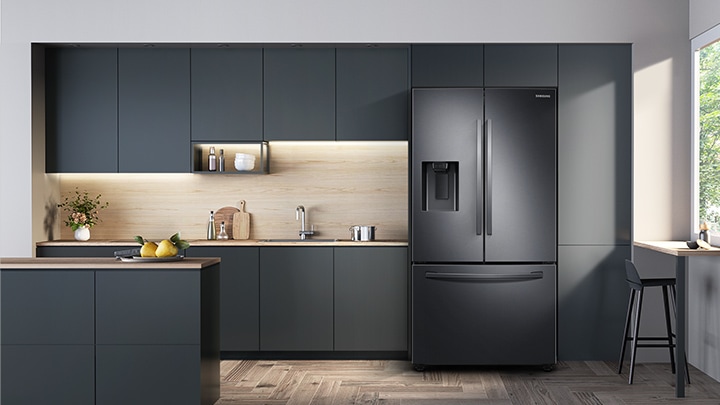 Modern Look Design
Enjoy sleek and simple design. The sleek edge doors have a sophisticated and timeless style that is accentuated by a minimalist ice and water dispenser and new edge handles.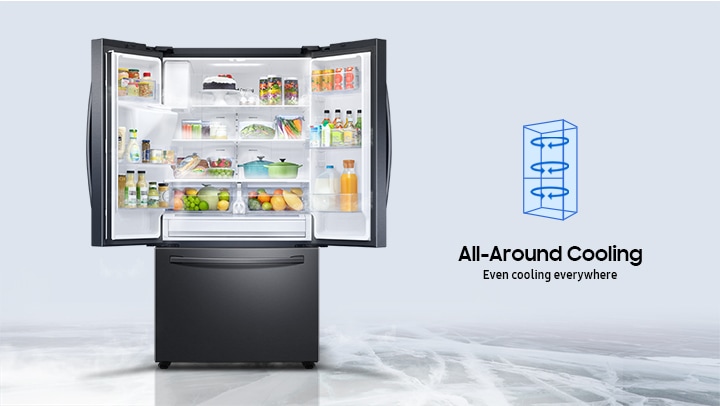 All-Around Cooling
An All-around Cooling system cools the entire fridge evenly from corner to corner. It continually checks the temperature and circulates cool air through strategically placed vents.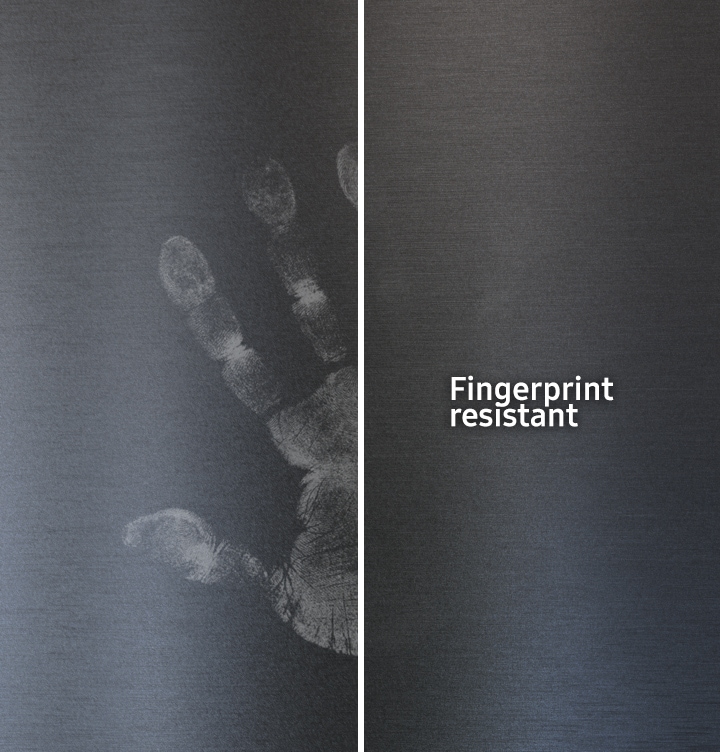 Fingerprint Resistant Finish
A special Fingerprint Resistant Finish prevents surfaces from becoming covered in unsightly fingerprints and other marks and smudges. And they can be quickly wiped away if any do appear.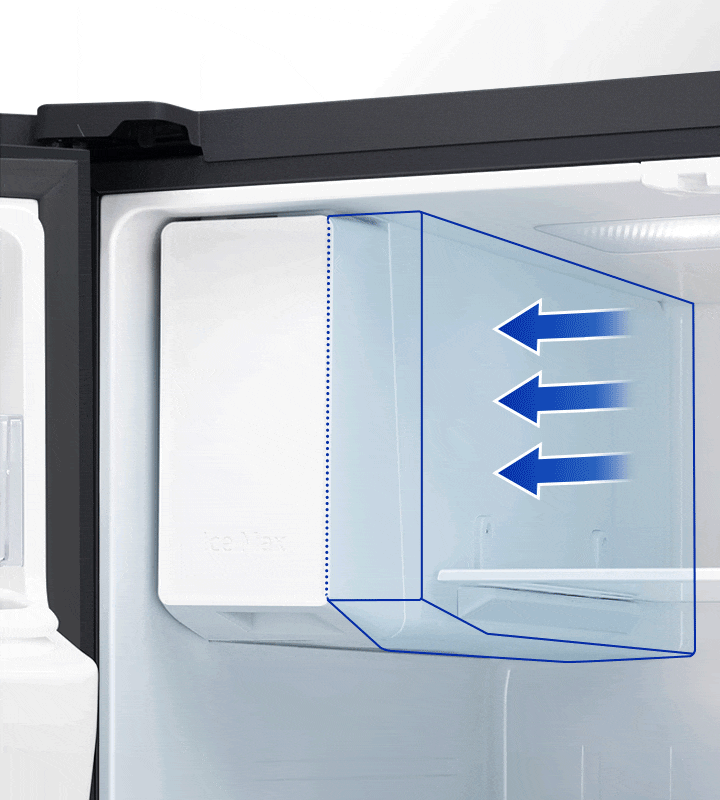 Ice Max
Make more ice much faster*, and keep your freezer looking neat. The Ice Maxs slim and compact design takes up less space, so there is more room to store food. But it can still produce up to 10lbs of ice a day and store up to 4.2lbs of ice, so you should always be good to go!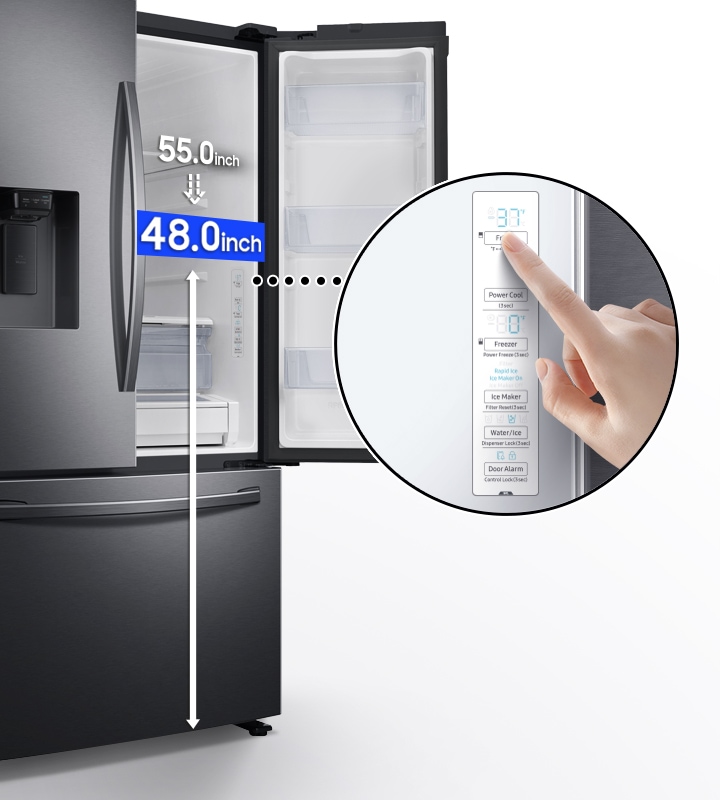 Seamless control with easy accessibility
ADA Compliant Display
Use the refrigerator with ease and confidence if you have restricted movement. Its Internal Display is compliant with the standards of the Americans with Disabilities Act (ADA). So the controls are all within arms reach and can be used with one hand.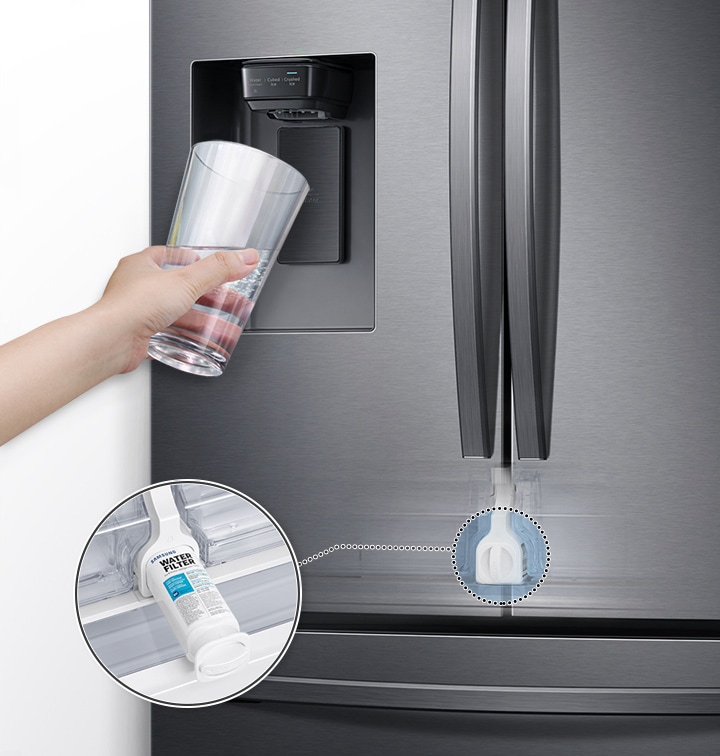 Internal Water Filter
The internal water filter keeps out more of the bad stuff, up to 80% more than other leading private labels.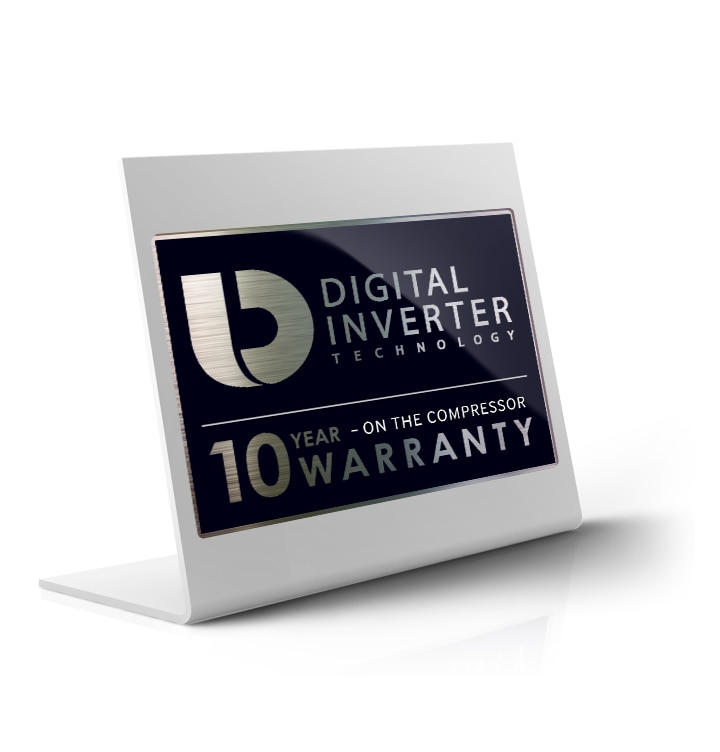 Digital Inverter Compressor
The Digital Inverter Compressor automatically adjusts its speed in response to cooling demand across 7 levels. As a result, its quieter and uses up to 50% less power.
Freezer Feature
Freezer Divider
1
Power Freeze Function
Yes
Interior LED Light
LED
Number of Door Pocket
0 EA
Refrigerator Feature
Interior LED Light
Top LED
Icemaker
Auto Ice Maker
Power Cool Function
Yes
Number of Door Pocket
6 EA
Number of Vegetable&Fruit Drawer
2 EA
Shelf Material
Tempered Glass
Drawer Type
Full-width drawer
Gallon Door Storage
3 EA
Number of Shelf (Total)
4 EA
Cooling Feature
Cooling Type
All-around Cooling
Physical specification
20/40/40H (Container)
26(40ft)
Packing Weight (kg)
138 kg
Net Weight (kg)
134 kg
Packing Dimension (WxHxD)(inch)
37 23/32 x 75 5/16 x 35 29/32 inch
Net Depth without Door (inch)
29 inch
Net Depth without Door Handle (inch)
32.88 inch
Net Depth with Door Handle (inch)
35.38 inch
Net Case Height without Hinge (inch)
68.88 inch
Net Case Height with Hinge (inch)
70 inch
Net Width (inch)
35.75 inch
Capacity
Net Total (cu.ft)
27 cu.ft
Net for Freezer (cu.ft)
8.6 cu.ft
Physical specification
Net Dimension (WxHxD)(inch)
35 6/8 x 70 x 35 3/8 inch
Capacity
Net for Fridge (cu.ft)
18.4 cu.ft
General Feature
Door Alarm
Yes
Refrigerant
R600a
Tactile, Electronic Control
Electronic Control
Lock & Key
No
Exterior Feature
Door Type
Sleek edge
Dispenser with Water Filter
Yes
Door Handle
Flat Handle
Colour
Black Stainless
Performance
Energy Consumption
705 kWh/year
Energy
Energy Star Certification
Yes
Installation Considerations
Free Standing
Yes
Reviews
Average Customer Ratings
| | | |
| --- | --- | --- |
| Overall | | 4.05 |
| Design | | 4.32 |
| Features | | 4.23 |
| Performance | | 4.14 |
| Value of Product | | 4.06 |
Cons
Poor quality, Did not meet expectations
Poor quality, Did not meet expectations, Not high def
Did not meet expectations
Submitted 2 years ago
By Boyer007
Reviewed at


Hi i purchase this Fride one day ago, the delivery its supossed to be done for july 7, looking for a review on youtube i stumble on reviews i many reviews saying the ice maker dont work, so i was thinking to get reimbursed and go with a LG product instead. I want to know is this problem his fixed so i dont have to be reimbursed, am a big samsung customer since 2010 i have everything from galaxy ultra 20 to Qled tv 2 washing machine.
Bottom Line Yes, I would recommend to a friend
Submitted 2 years ago
By Nosamsung4life
Reviewed at


1
Broke after a year & a half
Bought this fridge a little over a year ago, yesterday i noticed my food in my freezer was thawing and today all my food is thawed and the freezer says -21 but it is not cold at all and is 3 degrees when the temperature is read correctly. Samsung only warranties it for 1 year so they will not do anything to help. This will not be a cheap fix if fixable and should not happen on an appliance that is not even 2 years old. Disgusted, will never buy Samsung again nor will anyone I know!
Bottom Line No, I would not recommend to a friend
Submitted 2 years ago
By Khas
Reviewed at


Bought this fridge and after about 8months we've had continuous trouble with the ice machine. Doesn't make ice, if it does it's slow and doesn't come out. Wish we would have went with our other choice because we bought the stove as well and the hot light will now not turn off it's on at all times. For the money we spent I wish it was better quality. Buyers beware!!
Bottom Line No, I would not recommend to a friend
Submitted 3 years ago
By Pbrin
Reviewed at


1
Samsung makes terrible fridges
We made the mistake of buying a Samsung fridge. We have to defrost our ice maker about every 2 weeks because it freezes up. It's a known manufacturers design flaw and yet despite buying warranty we still have to deal with the ice maker freezing up on a regular basis. Samsung and the warranty is a waste of money
Bottom Line No, I would not recommend to a friend
Submitted 3 years ago
By lind
Reviewed at


Very happy with the product overall thanks a lot for this
Bottom Line Yes, I would recommend to a friend
Submitted a year ago
By Mblake
From Brooklyn, NY
Reviewed at


Luv this machine features looks and dependability, a must have
Bottom Line Yes, I would recommend to a friend
Submitted a year ago
By Angcol76
From Marion, IL
Reviewed at


this refrigerator was in the brand new home that i purchased in april, 2021. the ice maker has stopped working three times since then. the first time i only had to change the filter. the second time, ice was caught in top part of dispenser and was an easy fix. this third time, i have went through all of the trouble shooting steps several times, changed water filer, and still not working. the warranty has also expired and i havent been able to get ahold of a live person to help resolve this issue. this is the second samsung appliance in our new home that has stopped working.
Bottom Line No, I would not recommend to a friend
Submitted a year ago
By Dgif
From Texas
Reviewed at


3
Nice and Big but few issues.
This is a nice replacement to our smaller fridge. We had a 2 door with one side as a freezer. This one provides much more storage in the refrigerator section. The downfall is the ice dispenser. When you use the ice dispenser on cubed you get some small pieces. Also, it shoots out a little water when using dispenser for ice. Had repair guy out and they say it's how these are made. Use a soft ice
Submitted a year ago
By Justin
From Rice Lake WI
Reviewed at


when the refrigerator was unpackaged had a dent in the door still waiting a year and not quite 3 months. also now the ice maker quit working and it cost me to have the dealer come look at it and now they say i need a new ice maker so more money. was never offered extended warranty from the company. very disappointed in the product.
Bottom Line No, I would not recommend to a friend
Submitted a year ago
By Fish
From Michigan
Reviewed at


We bought this a few weeks ago and are so happy with our new fridge. It is only 1.5 cubic feet bigger, but it seems so much bigger than our last fridge. Even the freezer seems bigger. I can put more food in there than my last freezer. I love that it's fingerprint resistant.
Bottom Line Yes, I would recommend to a friend