27" Samsung 5.2 Cu. Ft. Front Load Washer With Steam - WF45R6100AC
27" Samsung 5.2 Cu. Ft. Smart Front Load Washer With Large Capacity in Platinum - WF45R6100AP
27" Samsung 5.2 Cu. Ft. Front Load Washer With Steam - WF45R6100AC

27" Samsung 5.2 Cu. Ft. Front Load Washer With Steam - WF45R6100AC
WF45R6100AC/US
$1349.99
Literature
Steam helps remove stains without pre-treatment
Closet-depth fit - ideal for stacking
5.2 cu.ft. large capacity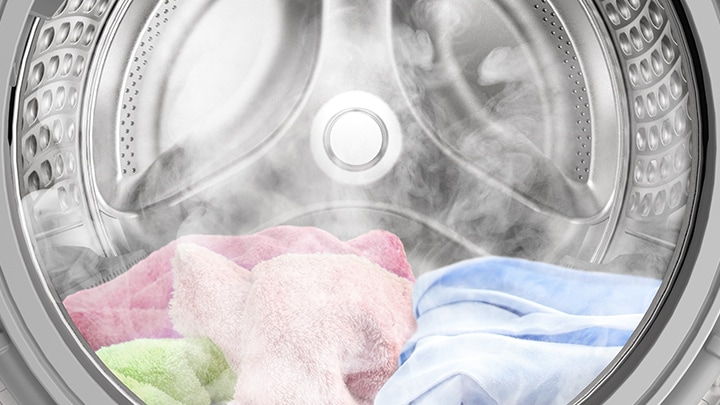 Gently Remove Stains
Steam
The power of steam lets you gently remove stains without any time-consuming pretreatments. Steam is released from the drum so every item in the load is thoroughly saturated, ensuring a deep clean.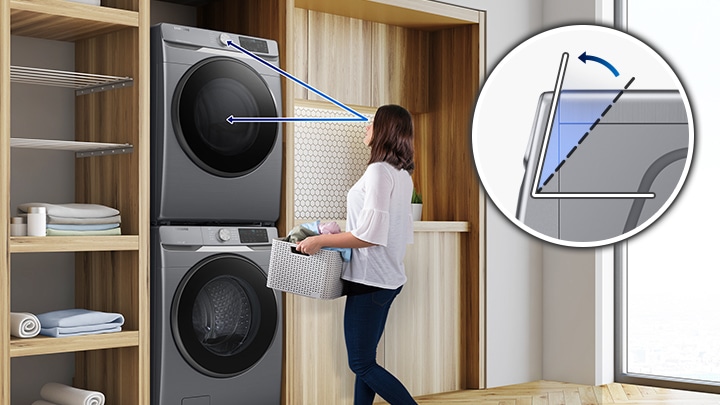 Fitting Design
Closet Depth
Give your home a sleek and modern look with a seamless design. This washer has a shallower depth*, so it fits within your existing laundry space without sacrificing any capacity thanks to our new, wider drum. Also, a new control panel design provides better visibility, so it is easy to use even when stacked.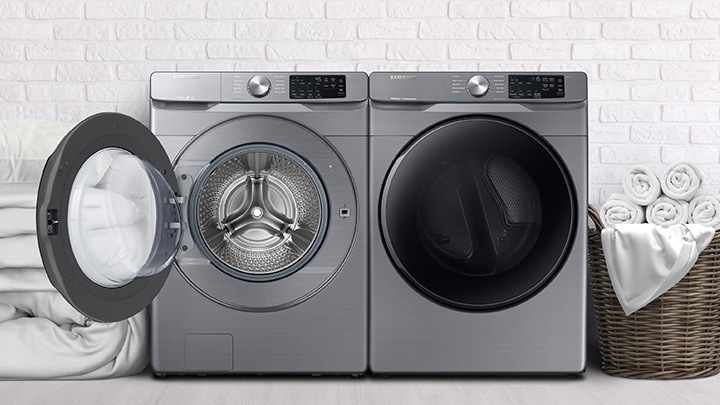 Fit More for Fewer Loads
Large Capacity (5.2 cu. ft.)
Our large capacity, 5.2 cubic feet drum means you can wash more items in a single load and spend more time doing the things you love.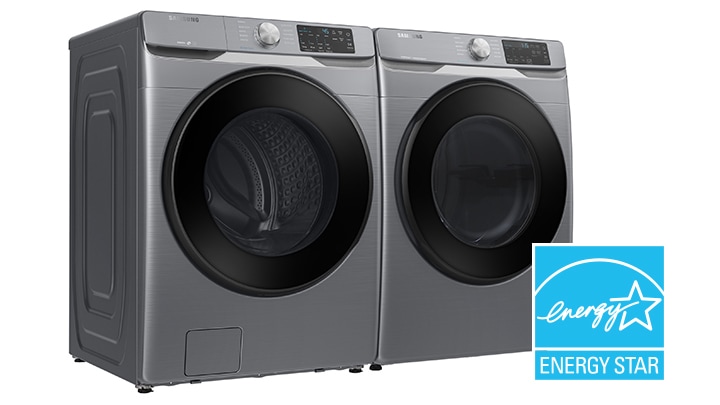 ENERGY STAR® Certified
ENERGY STAR®
ENERGY STAR® certified, so you can save money by using less energy without sacrificing performance or functionality.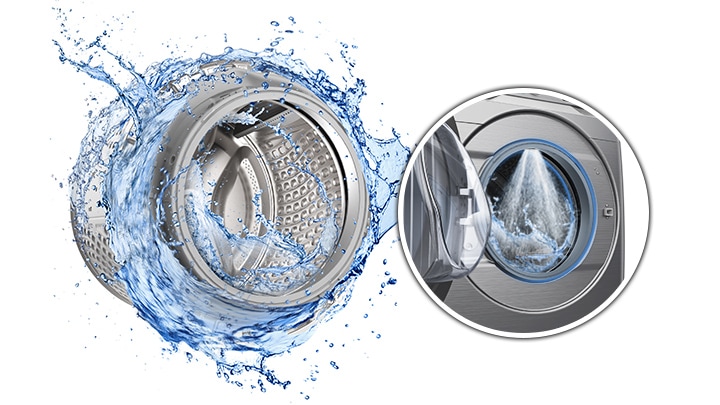 Keep the Washer Fresh
Self Clean+
Keep your washer fresh and clean with Self Clean+ technology, which eliminates 99% of bacteria* that can form in any washer drum. Self Clean+ will notify you every forty wash cycles when it is time for a cleaning.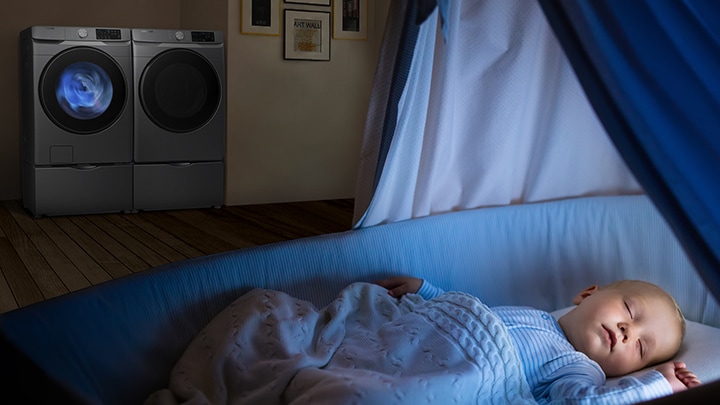 Peaceful Washing
VRT Plus™
Innovative VRT Plus™ technology reduces noise and vibration for quiet washing.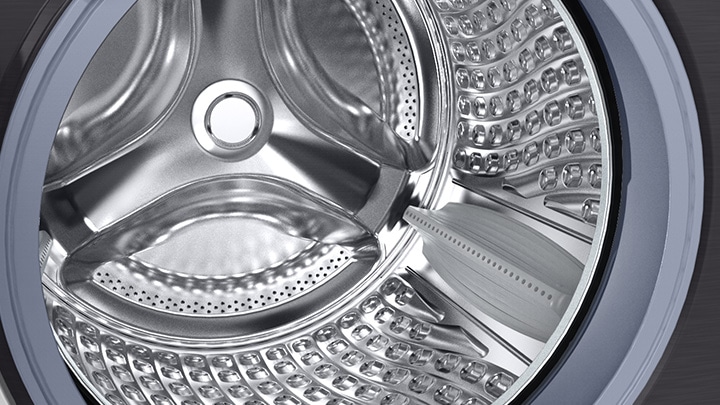 Swirl+ Drum Interior
Improved Swirl+ drum pattern extracts more water more quickly during the rinsing cycle and prevents fabrics from snagging during washing.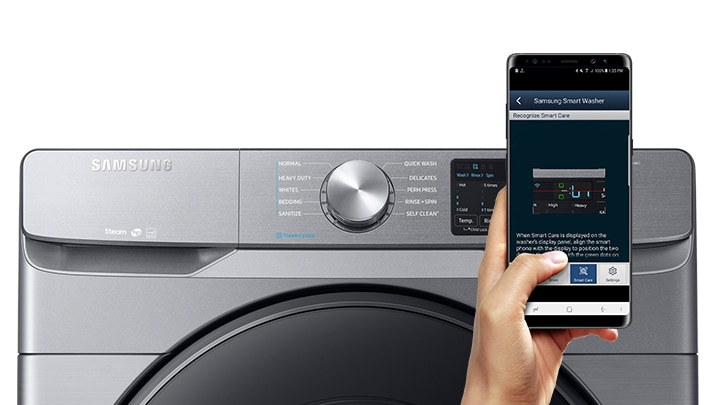 Easy Troubleshooting
Smart Care
Easy troubleshooting from the convenience of your smartphone*. Smart Care interacts with your washer and dryer to perform an immediate diagnosis and offer quick solutions.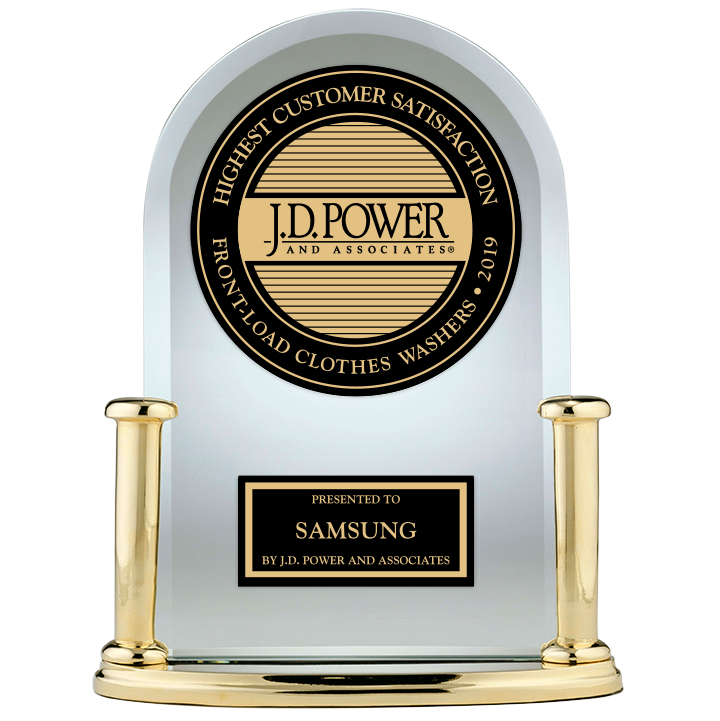 2019 J.D. Power Award
#1 in Customer Satisfaction in the U.S.
Samsung received the highest score with front-load clothes washers, clothes dryers, top-load clothes Washers in the J.D. Power 2019 U.S. Laundry Appliance Satisfaction Study of customers' satisfaction with their new appliance.
Washing Capacity
Washing Capacity (cu.ft)
5.2 cu.ft
Design
Body color
Champagne
Door
Tint
Panel Display
LED
Performance
Cycle time (min)
45
Energy Star Certification
Yes
Energy Consumption (annual)
95
IMEF
2.92
IWF
2.9
Feature
Child Lock
Yes
Delay End
Yes
Interior Drum Light
No
Internal Heater
Yes
Motor
DD
Number of Soil Level
5 EA
Number of Spin Level
5 EA
Number of Temp. Level
5 EA
Progress Indicator
Yes
Self Clean+
Yes
Smart Care
Yes
Smart Control
No
Spin Speed
1200 rpm
Steam
Yes
Super Speed
No
VRT
VRT Plus
Cycle
Cycle List
Normal, Heavy Duty, Whites, Bedding, Sanitize, Quick Wash, Delicates, Perm Press, Rinse+Spin, Self Clean+
Number of Cycle
10
Number of Option
7
Option List
Pre Soak, Delay End, Steam, Alarm Off, Child Lock (Dual Long Key), Spin Only (Long Key), Smart Care (Long Key)
Physical specification
Net Dimension (WxHxD)
27.0 X 31.3 X 38.7 inch
Net Weight
201 lb
Gross Dimension (WxHxD)
29.4 X 34.1 X 42.4 inch
Gross Weight
205 lb
Voltage/Frequency
120V / 60Hz
Reviews
Average Customer Ratings
| | | |
| --- | --- | --- |
| Overall | | 2.34 |
| Design | | 3.20 |
| Features | | 3.11 |
| Performance | | 2.51 |
| Value of Product | | 2.40 |
Pros
Bright display, Built-in speakers
Bright display, Durable
Realistic color
Inexpensive, Realistic color, Bright display, Lightweight, Built-in speakers, Durable
Realistic color
Cons
Poor quality
Poor quality, Did not meet expectations
Poor quality, Did not meet expectations
Poor quality, Did not meet expectations
Poor quality
Did not meet expectations
Poor quality, Did not meet expectations
Poor quality
Submitted 5 months ago
By James Macintosh
Reviewed at


4
Pretty good washing machine
Had it for about 5ish years, works really good on a full load even on quick wash, very user friendly U.I, easy to operate. Have had some parts die on me though and the dryer version rattles quite a bit but everything is fixable so it's pretty good
Bottom Line Yes, I would recommend to a friend
Submitted 5 months ago
By Stephany
Reviewed at


1
machine ruins your clothes!!!!
I saved up for months to buy these beautiful machines and followed the instructions to a T My clothes come out extremely wrinkled to the point where i had to throw them out The water gets sooo hot it burns to open the door with extreme steam coming out Water catches in the drawer spilling everywhere and clothes come out soaking wet I have had the machines for 2 weeks and am heartbroken at how disappointed i am with the damage these machines have cause to my designer clothing I should have kept my washer and dryer from the 70s -
Bottom Line No, I would not recommend to a friend
Submitted 8 months ago
By Pup223
Reviewed at


Samsung only make a good looking product! After the first use water leaked from the door, which I expected from a front loader. I haven't seen one that hasn't. Now just after a year of use, the spin cycle started making a horrible loud noise, sounds like it's going to blow up. Of course its just past the 12 mo. warranty, but that wouldn't have mattered. For some reason the only warranty service company around our area is not even worthy of 1 star. I've tried to find parts, but what I've seen is I'd have to pretty much disassemble the whole unit and spend 1/2 the cost of the unit. Then what, if its the same faulty part, it will just go out next year! Sounds like this has been a common problem, saying sorry doesn't really help the people that dumped $$ into your product and now have a $900 paperweight. I built my house 8 years ago with new Samsung kitchen appliances. I had to replace the refrigerator after 6 years and the stove has not worked properly for the last 3 years, even after replacing all the recommended parts. Its not just Samsung. I've had troubles with several manufacturers, GE, Frigidaire, and Kitchen Aid. Very frustrating!
Bottom Line No, I would not recommend to a friend
Submitted 9 months ago
By Kate1234
Reviewed at


1
Terrible quality. Broke within 6 months.
I do not recommend this. It broke after six months, and getting it repaired through Samsung warranty process was a nightmare. Do not buy.
Bottom Line No, I would not recommend to a friend
Submitted 9 months ago
By Marecki
Reviewed at


Never had any problems, build quality and durability. Nice design
Bottom Line Yes, I would recommend to a friend
Submitted 11 months ago
By Grey
Reviewed at


We bought this machine less then a year ago. It won't drain. Checked the filter and all the hoses. I do not recommend this unit. Comes with Smart Care which doesn't work also
Bottom Line No, I would not recommend to a friend
Submitted a year ago
By Lafleur
Reviewed at


This machine was bought 5 years ago and is now non-functional, the tumbler will not turn, after 45 mins. on the phone with your people l got no satisfaction that this machine only lasted 5 years
Bottom Line No, I would not recommend to a friend
Submitted a year ago
By Applianceguru
Reviewed at


We moved into a new house 1 year ago and this washer and dryer came with the appliance package. From the beginning we have had nothing but problems. The drum was loud and rattly. We tried to fix it. The rubber around the door broke off in 2 places. We fixed it. The last straw was when the machine got stuck on the spin cycle and then caused a flood onto the main floor and into the basement. The quality of manufacturing at Samsung has drastically decreased and this machine has been a nightmare from day 1.
Bottom Line No, I would not recommend to a friend
Submitted a year ago
By Bribri
Reviewed at


Can anyone tell me what the length of each power cord is?
Submitted a year ago
By Diane E
Reviewed at


5
AMAZING Laundry Machine!
I got this as a Valentine's Day gift to me, and it's been fantastic ever since! The amount of laundry you can fit in it is awesome! I now have to do less loads per week! I was able to purchase the champagne colour washer and dryer set, and I'm looking forward to using it for many, many more years to come!
Bottom Line Yes, I would recommend to a friend