30" Samsung Microwave Oven With Glass Touch Bottom Control - ME21M706BAG
30" Samsung Microwave Oven With Glass Touch Bottom Control - ME21M706BAG
30" Samsung 2.1 Cu. Ft. Over the Range With Glass Touch Bottom Control - ME21M706BAS

30" Samsung Microwave Oven With Glass Touch Bottom Control - ME21M706BAG
ME21M706BAG/AC
| | |
| --- | --- |
| Price | $649.99 |
| Savings | $100 |
| Our Price | $549.99 CAD |
| | |
| --- | --- |
| Price | $599.99 |
| Savings | $150 |
| Our Price | $449.99 CAD |
Microwave Oven with Glass Touch Bottom Control
Share
Precise Glass Touch Control
LED cooktop lighting
Simple Clean Filter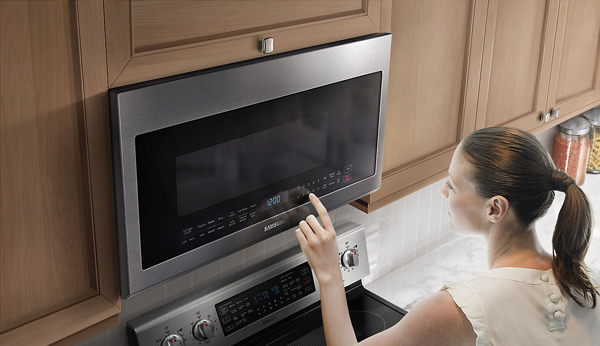 Stylish and convenient fingertip control
The integrated Glass Touch Control panel is both convenient and stylish. It lets you intuitively and effortlessy adjust the settings and control with the touch of a finger.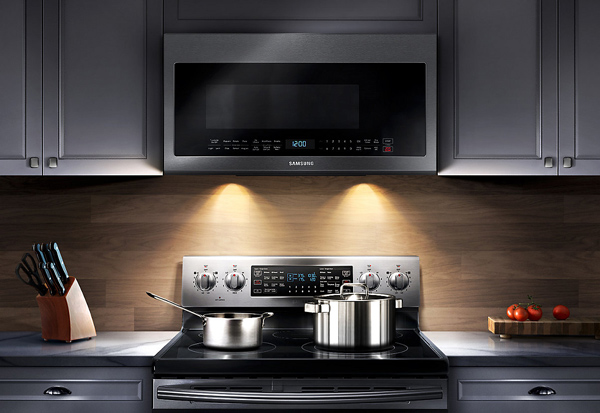 See things clearly
Brilliant LED cooktop lighting makes it easier to see what you're cooking, by evenly distributing light over the cooktop. The digital display's striking ice blue color provides a stylish accent to enhance any kitchen interior.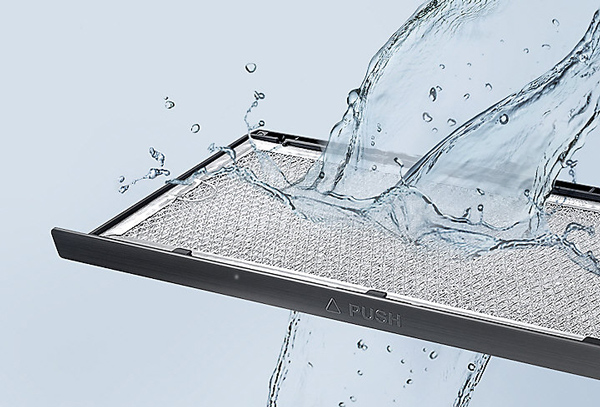 Simple Clean Filter
Step1
When the filter needs cleaning, it can be taken out easily with one touch.
Step 2
The filter is reusable and can be easily washed with mild soap and water.
Step 3
After the filter has been cleaned, it can be re-inserted easily with one touch.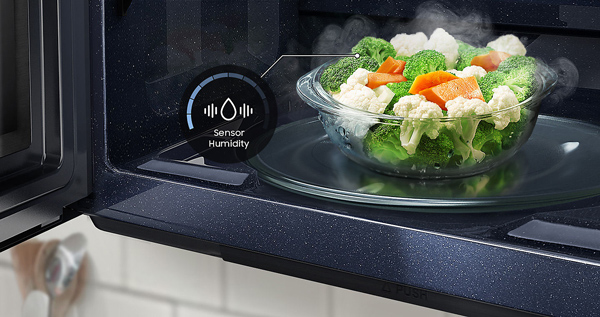 Automatically adjusts cooking time for optimal results
Sensor Cook
With the push of a button Sensor Cook senses the interior air humidity, so the cooking mode and time can be automatically adjusted to retain the natural texture and flavor of ingredients.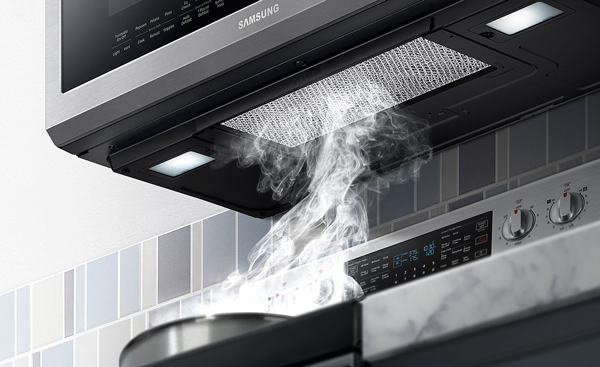 Powerful ventilation system
Power Ventilation System (400 CFM)
The underside of the over-the-range microwave features a powerful ventilation system that quickly and quietly eliminates steam, fumes and odors from the kitchen. The nearly silent system clears the air with 400 cubic feet per minute of turbo ventilation.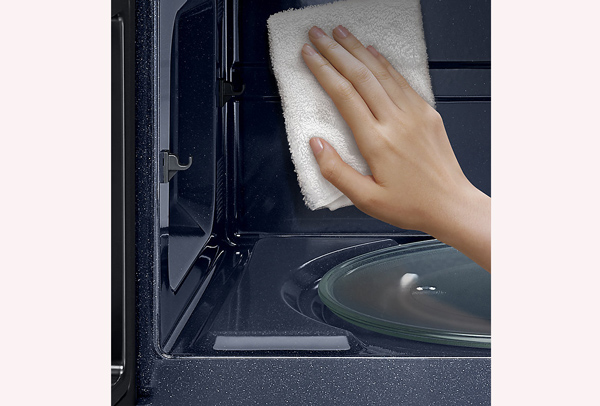 Easy to clean
Ceramic Enamel
Our ceramic enamel interior is scratch resistant and easy to clean. This durable ceramic enamel interior provides a polished surface that's easy to maintain. Effortlessly remove grease or oil from surfaces and protect against scratches that occur from daily use.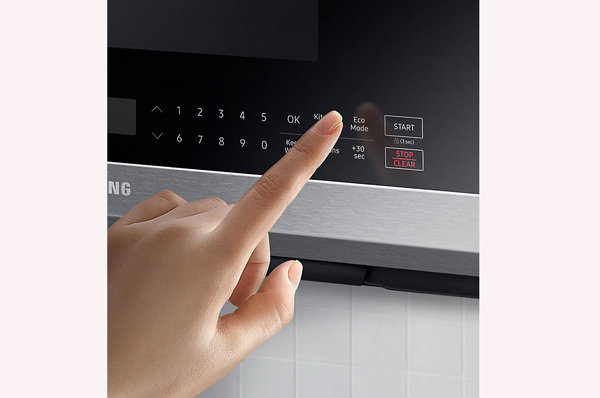 Saves energy
ECO Mode
Even at rest, conventional over-the-range microwaves use power to maintain essential functions. Our Eco Mode button conserves power by turning off the display when not in use and is more convenient than unplugging the microwave when not in use.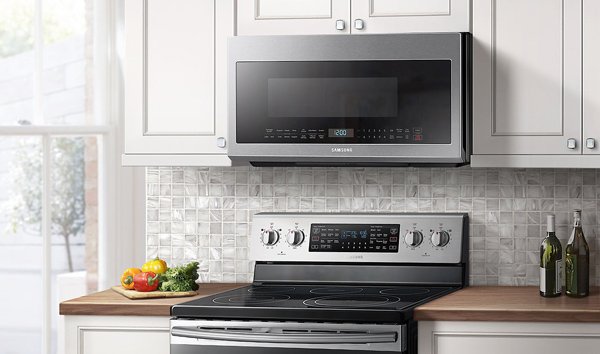 Simply stylish
Stylish and Modern Design
Create an elegant and modern looking kitchen, with a choice of Stainless Steel or Black Stainless Steel.
Power/Ratings
Power Level
10
Output Power (Max)
950 W
Power Consumption (Microwave)
1500 W
Power Source
120 V / 60 Hz
Type
Installation Type
OTR
Materials/Finishes
Color(Door)
Black Stainless Steel
Cavity Material
Ceramic Enamel
Display Type
LED (Ice Blue)
Control Method
Glass Touch
Door Type
Integrated Handle
Features
Sensor Cook
Yes
Defrost (Auto / Power / Sensor)
Yes (Auto)
Ventilation Power (CFM)
400
Kitchen Timer
Yes
Auto Programs
Yes
Auto Cook
Yes
Child Safety Lock
Yes
Sound on/off
Yes
Various Cooking Mode
Yes
30 sec. Plus
Yes
Auto Steam Cook
No
Turntable On/Off
Yes
Others
LED Light / Simple Clean Filter / Fit Choice / Soften Melt
Keep Warm
Yes
Clock
Yes
Eco Mode
Yes
Accessories
Plate Warming Bowl
No
Others
No
Cleaning Filter
Yes
Quick Guide Label
Yes
Square Wire Rack
Yes
Glass Steamer
No
Weights/Dimensions
Cavity (WxHxD)
22 1/8 x 10 13/16 x 14 27/32 inch
Outside (WxHxD)
29 7/8 x 17 1/16 x 16 1/2 inch
Shipping (WxHxD)
33 11/32 x 20 25/32 x 19 3/8 inch
Weight (Net)
60 lbs
Weight (Shipping)
67.2 lbs
Loading Quantity (20/40ft)
327 sets per 40 HQ
Reviews
Average Customer Ratings
| | | |
| --- | --- | --- |
| Overall | | 3.48 |
| Design | | 3.96 |
| Features | | 4.00 |
| Performance | | 3.70 |
| Value of Product | | 3.42 |
Pros
Realistic color, Bright display
Realistic color, Bright display, Durable
Realistic color
Realistic color
Inexpensive, Realistic color, Bright display, Durable
Cons
Poor quality, Did not meet expectations
Poor quality
Poor quality, Did not meet expectations
Poor quality, Did not meet expectations
Poor quality, Did not meet expectations
Did not meet expectations
Poor quality, Did not meet expectations
Poor quality
Did not meet expectations
Submitted a year ago
By Mic@123
Reviewed at


The operation panel is at the bottom. Do not purchase if you cook. The door was replaced twice only because I was smart to purchase the extended warranty.
Bottom Line No, I would not recommend to a friend
Submitted a year ago
By VeryDissapointed888
Reviewed at


1
Expected a $$$ purchase to work longer
Microwave was part of house purchase. Previous owner got this microwave (Aug 2019, manufactured March 2019) as an appliance package with stove, fridge, and dishwasher. They all are very nice looking, but we have had nothing but problems with the microwave since moving in. Back a few months ago after using it, it just shut off- no power...took it off the wall and replaced the fuse which seemed to work. Now this week while using it stopped heating food, but all other power works- just stopped heating...called a few appliance places and they think it sounds like the internal magnatron which would cost more to repair than it would to replace- ABSOLUTELY RIDICULOUS! You would expect a $$$ appliance to last at least 10 years...would not recommend for sure!
Bottom Line No, I would not recommend to a friend
Submitted a year ago
By GMC1
Reviewed at


1
Don't use as above stove vent
Fan is so weak it will not pull steam or vapours away from the stove. Will barely hold a piece of toilet paper to the grill of the fan in boost mode. Any other mode and the paper just falls away. Use a square of TP to see the suction provided by fan. I am truly disappointed in this product
Bottom Line No, I would not recommend to a friend
Submitted a year ago
By redox9k
Reviewed at


3
Great looking microwave. Falls a bit short.
Our microwave doesn't do a great job venting out smells to the outside. The blower was adjusted to vent to the back (our exhaust vents to the wall, not the roof). The suction power isn't that strong. Every few days we see a film of grease at the bottom of the doors on our cabinets above the microwave. I thought this was supposed to vent outside, but I do feel a lot of air scaping the top of the microwave door. The door squeaks whenever we open it. This started happening from day-one, right out of the box. The power doesn't seem that strong. It takes me 80 seconds to heat up one pizza pop, when it used to take our old microwave 60 seconds. The "quick start" +30 second button isn't that quick, you still have to press 'start' to activate it. Why can't it just automatically turn it on? Five fan speeds is excessive. 2 of the 3 speeds are useless and just takes a lot longer to cycle and turn off the fan. The LED lights are bright, but are too blue for my tastes. They don't match any of the under cabinet lighting we have in our kitchen. We paid a lot for a fancy looking microwave that falls short of the competition.
Bottom Line No, I would not recommend to a friend
Submitted 2 years ago
By Engr1
Reviewed at


Got this 2 months ago. It was a replacement and was easy to install. So far it is working great. Also it is easy to operate.
Bottom Line Yes, I would recommend to a friend
Submitted 3 years ago
By C Cook
Reviewed at


1
Not recommended. At all.
We purchased Model Number: ME21K7010DS which is the previous model. I have never had a worse, more useless microwave. I suggest you avoid this product at all costs. I was so disappointed in this Samsung product. At first, certain buttons would not work well and we thought the glass was dirty. We would wipe it clean and it would work...just ok. Then the buttons would randomly go off by themselves and now we are in a place where we have no warranty and the cost to replace the door is almost as much as a new one. So frustrating! We now are reduced to an expensive over the range 30 sec interval cooker and a light as these are the only 3 buttons that seem to work any more. Such a regrettable purchase and after reading several reviews recently we see this is a common problem with these glass front models. Should have done my due diligence and research. I trusted the name brand...Electronics yes. Appliances no, Samsung. Unfortunate waste of our hard earned money. Don't be fooled by the sleek design. I do not recommend this product.
Bottom Line No, I would not recommend to a friend
Submitted 3 years ago
By Notimpressed
Reviewed at


When you spend $500 on a microwave you should be provided with a manual that explains all the features and the buttons it should be Samsung that provides this I shouldn't have to download it and print it out myself, shame on Samsung. The vent is flimsy tin and bent on installation, we had to take the vent off the old microwave to put it on our new Samsung.
Bottom Line No, I would not recommend to a friend
Submitted 3 years ago
By Notafanofsamsung
Reviewed at


I've had mine for about a year and five months. It now doesn't heat my food and no longer covered under warranty. For a mid model appliance you would expect it to last alot longer than this. The microwave never heated the food as well and takes longer than the other microwaves that's I've had in the past. Only kept it because it matched my other Samsung appliances which I now regret purchasing because the quality is not worth the money that was paid for these products.
Bottom Line No, I would not recommend to a friend
Submitted 3 years ago
By Rebesmith5
Reviewed at


3
Microwave plate broke while cooking Potato
The microwave plate broke while cooking potato's using the potato button ... no where will replace this plate
Bottom Line Yes, I would recommend to a friend
Submitted 4 years ago
By Cameron1000
Reviewed at


3
Could be great microwave but for a a computer malf
Over the range microwave oven inputs 7 by itself and prompts to hit OK or Start... nobody touched. JUMP TO SOLUTION ?03-22-2017 11:51 AM - last edited on ?03-22-2017 12:26 PM by Samsung Moderator SamsungCole We occasionally hear a beep and look over to see that the microwave automatically hit the 7 button and is asking for us to select OK or Start... But, we didn't do anything! This happens from a normal resting position where we only see the time