Samsung 4.0 Channel Soundbar With Built-In Woofer - HW-S60T/ZC
Samsung 4.0 Channel Soundbar With Built-In Woofer - HW-S60T/ZC
HW-S60T/ZC
$499.99
Literature
Side horn speaker with acoustic beam
Built-in Woofer
Designed by Kvadrat
Built-in Voice Assistant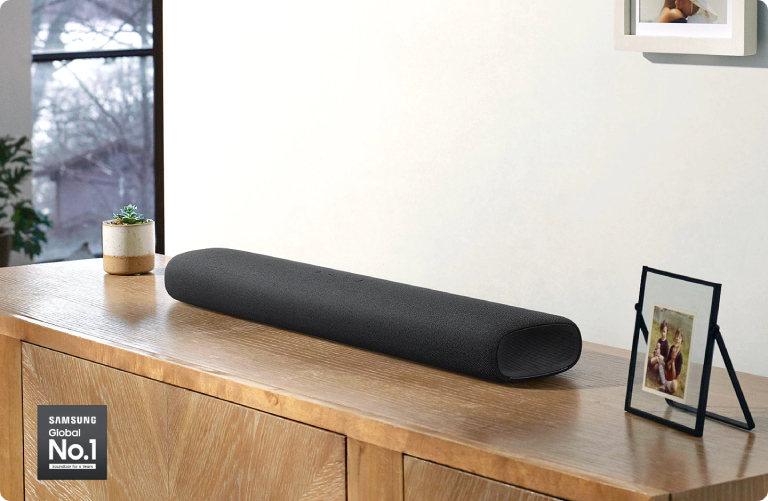 Fill your space with sound from anywhere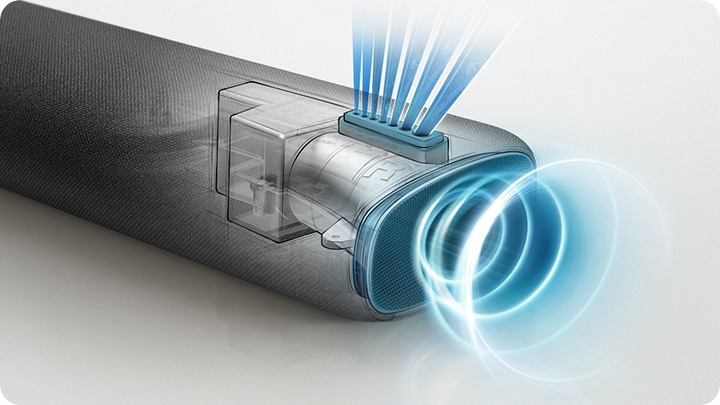 Side horn speaker with acoustic beam
Experience room-filling sound with side horn speakers and Samsung acoustic beam technology.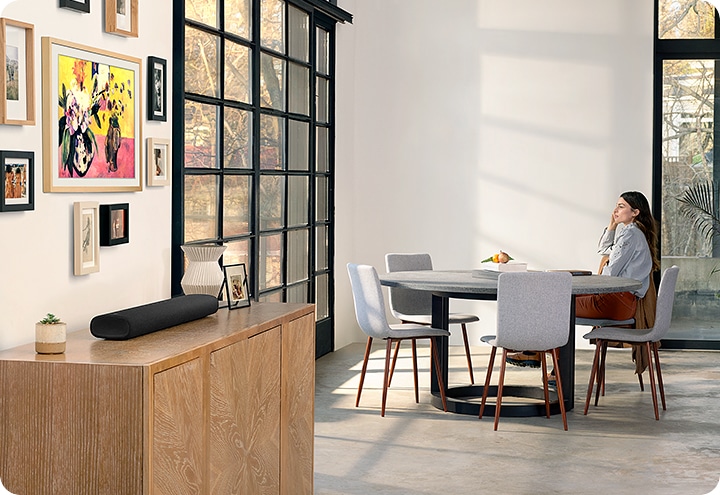 Room-filling sound in all-in-one design
All-in-one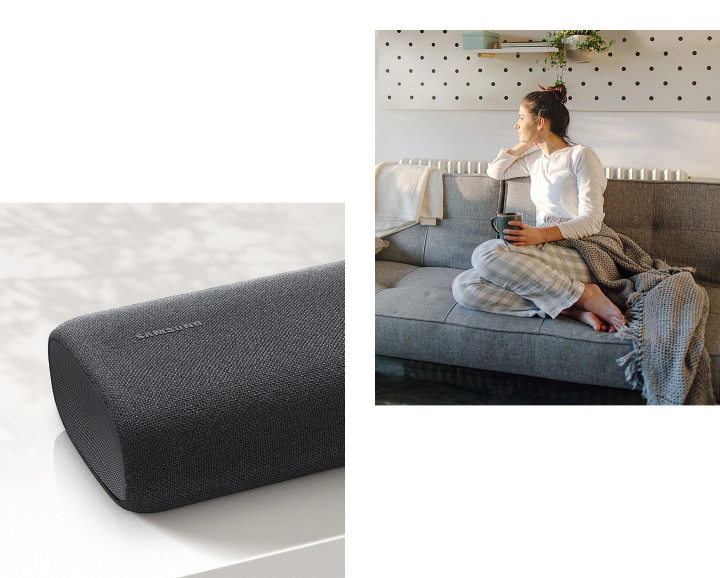 The all-in-one system has two woofers and tweeters built into its slender frame, so you can place it anywhere in the room to enjoy a pure audio experience.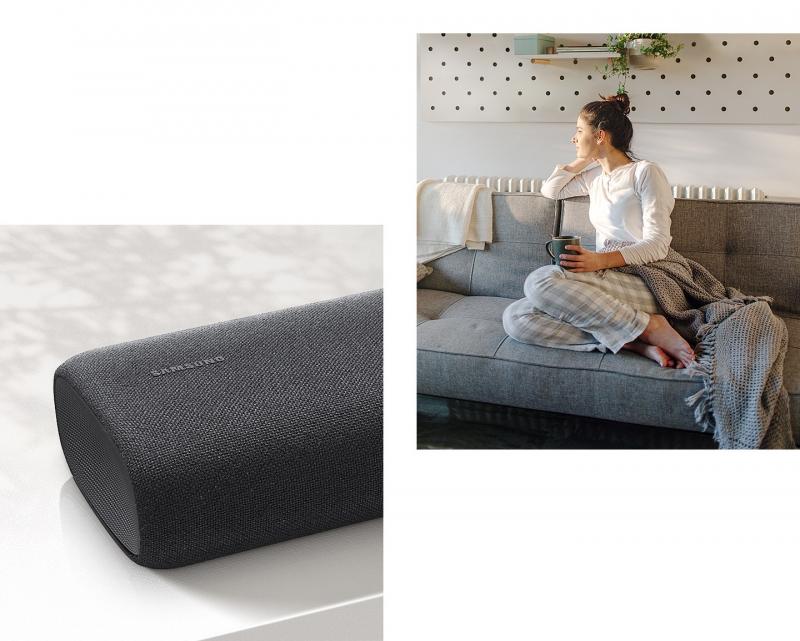 Designed by Kvadrat
Refined design by renowned Danish textile company, Kvadrat, enhances the look of the soundbar, making it a statement piece in your dcor with its premium fabric look.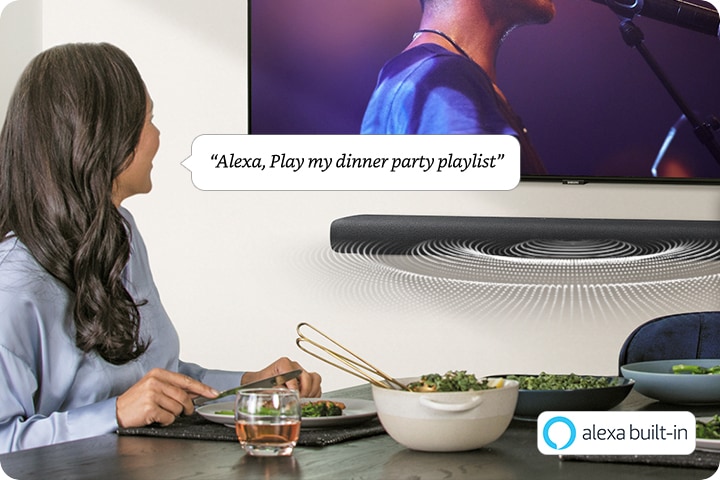 Built-in voice assistant
Easily play music, check the weather, and get questions answered hands free using the built-in Amazon Alexa voice command feature.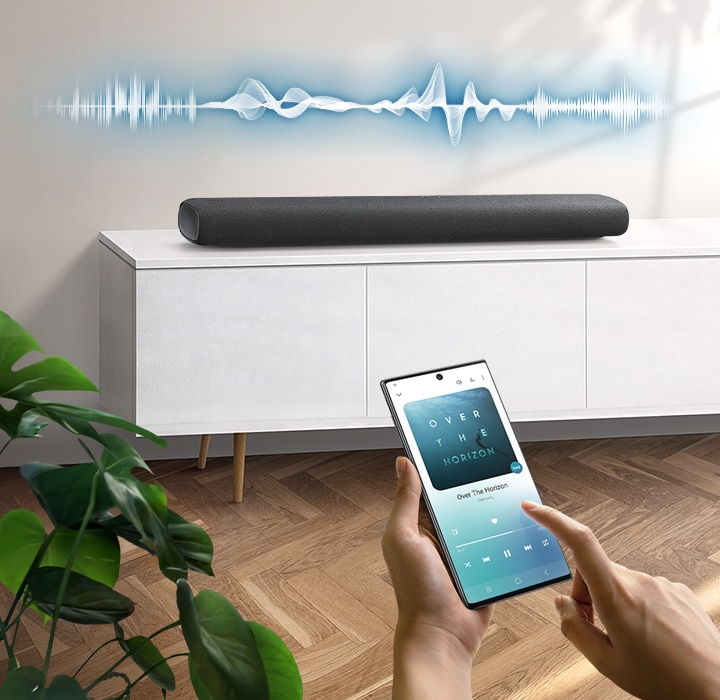 Music mode
Balancing audio innovation with creative input from producers and artists, Music Mode lets you simply connect your mobile to the soundbar to recognize and optimize what you play.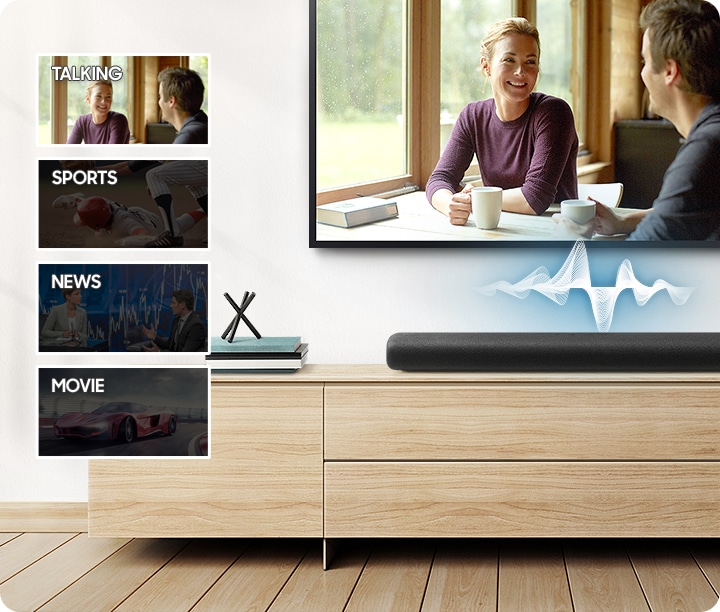 Sound optimized for each scene
Adaptive sound
Automatically enhances voice clarity on low volumes. Actively optimizes sound for any content.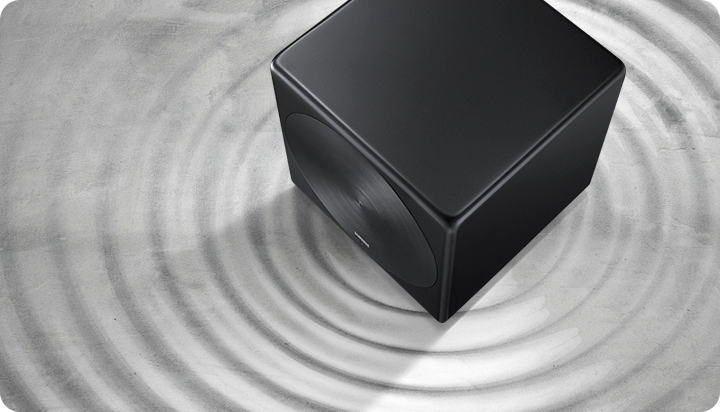 Wireless deeper bass ready
Cant get enough bass? You can enhance your bass with an optional wireless subwoofer.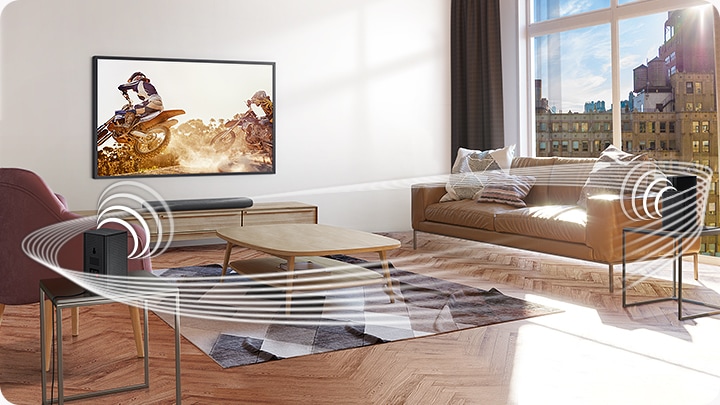 Wireless surround sound ready
Wirelessly connect to rear speakers for an enhanced cinematic sound experience.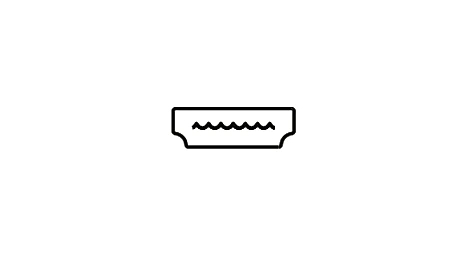 HDMI
Simply connect to your TV with HDMI. With a port to connect your HDMI cable, you get a rich audio experience while connected to your favourite devices.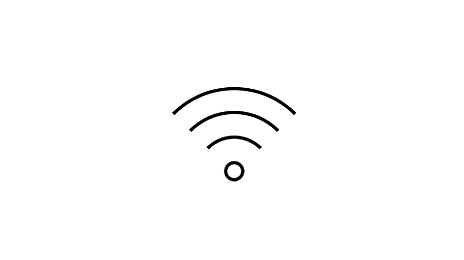 Wi-Fi TV connection
Connect to your TV with Wi-Fi for high quality audio without worrying about wires.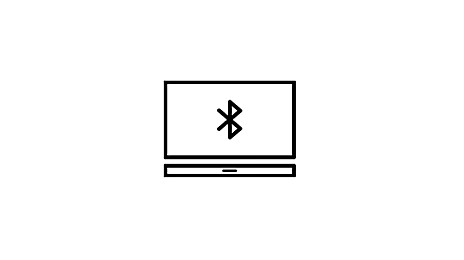 Bluetooth TV connection
Connect up to two smartphones to your soundbar at the same time and easily switch between your favourite playlists.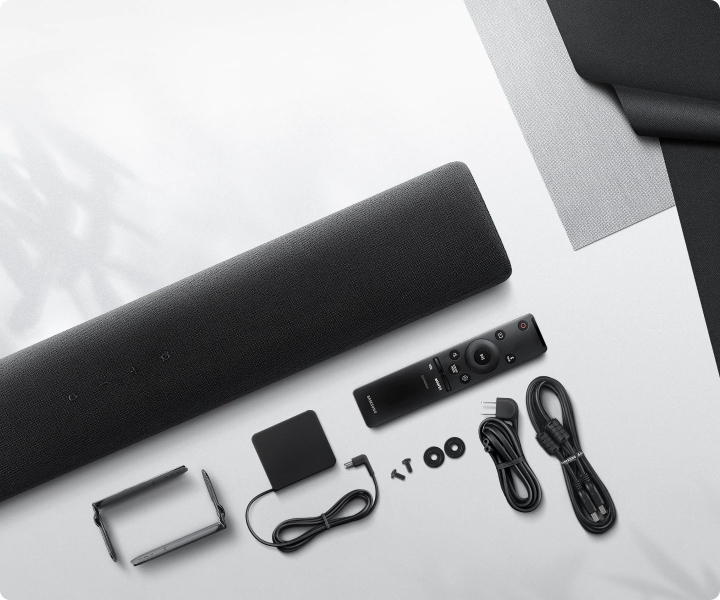 What's in the box
Inside the box, there's everything you need for easy installation, including a convenient wall mounting kit.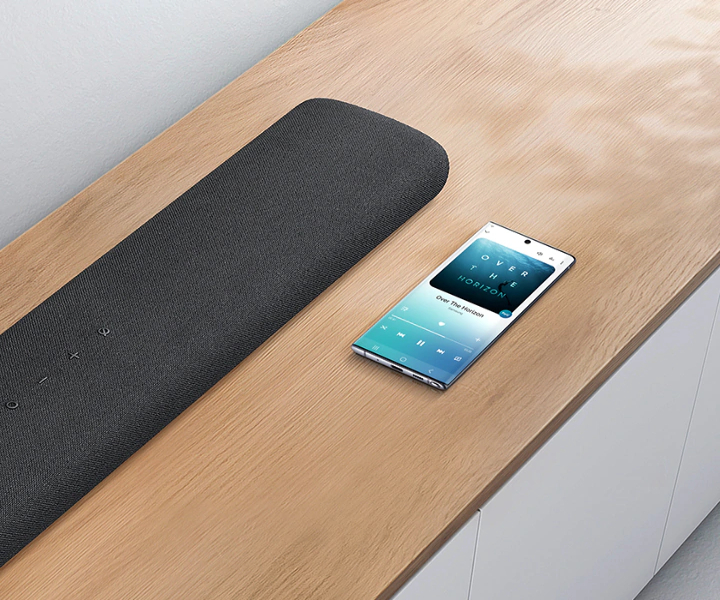 Streaming music via Wi-Fi
Samsung Soundbar uses Wi-Fi for easy wireless connections to other devices. Enjoy music from your mobile in top audio quality anywhere, no strings attached.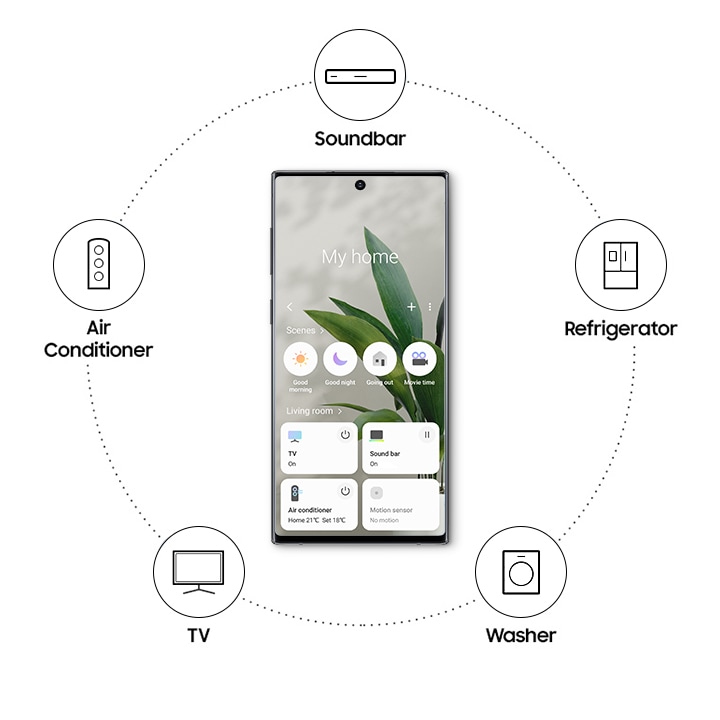 SmartThings App
Take connected living to the next level. SmartThings app lets you add your speakers to your network, giving you greater control over your audio throughout your smart home.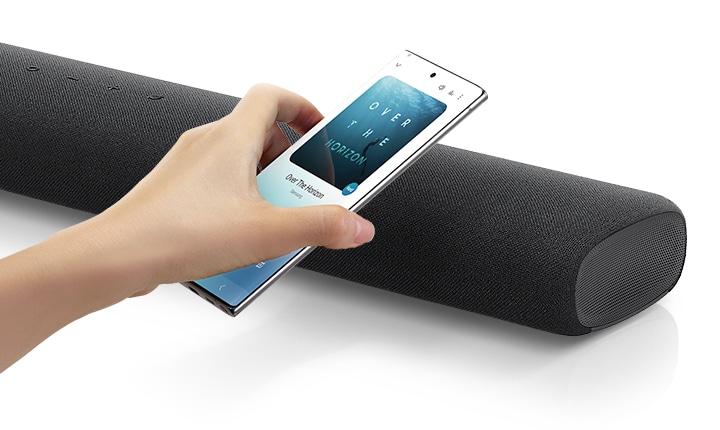 Simply Tap and play
Tap Sound
When listening to your favourites on your phone, simply Tap it on the soundbar. The soundbar vibrates as it recognizes the device and seamlessly connects and plays the song you were listening to but with incredible soundbar audio.
POWER
Stand-by Power Consumption (Rear)
N/A
Stand-by Power Consumption (Main)
0.45W
Weight
Gross Weight (One Packing)
5.3 kg
Net Weight (Sub Woofer)
No
Net Weight (Speaker)
-
Net Weight (Wireless Module)
-
Net Weight (Main Speaker)
2.9 kg
Dimension
Gross Dimension (WxHxD): One Packing
1018 x 135 x 217 mm
Net Dimension (Sub Woofer) (WxHxD)
No
Net Dimension (Surround Speaker) (WxHxD)
-
Net Dimension (Wireless Module) (WxHxD)
-
Net Dimension (Main Speaker) (WxHxD)
764 x 68 x 125 mm
Special Feature
Spotify Connect
Yes
Alexa
Yes
Bixby
No
Q-Symphony
No
Smart Things App (Changed from Samsung Connect App)
Yes
General Feature
Total Power
180W
Number of Channel
4.0ch
Number of Speaker
6
SPEAKER
Subwoofer Type ( Active / Passive / Wireless, Bulit-in )
Bulit-in
Center Speaker
No
Up-firing Speaker
Acoustic Beam
Side-firing Speaker
Yes
Wide Range Tweeter
Yes
Hole Array Technology
Yes
Wireless Rear Speaker Included
No
Wireless Rear Surround Speaker Ready (Compatible)
Yes
Audio Feature
Dolby
Dolby Digital 5.1
IMAX
No
Sound Modes
Adaptive,Standard,Music
Distortion Cancelling
No
Video Feature
4K Video Pass
No
HDR
No
Decoding Format
MP3
Yes
AAC
Yes
WAV
Yes
OGG
Yes
FLAC
Yes
AIFF
Yes
ALAC
Yes
Connectivity
HDMI In
No
HDMI Out
1
HDMI ARC
Yes
HDMI CEC
Yes
Optical In
1
Audio In
No
Bluetooth
Yes
Bluetooth Codec
SBC
Bluetooth Multi Connection
No
Wi-Fi
Yes
Bluetooth Power On
Yes
One Control
Yes
Ethernet Port
No
USB Music Playback
No
NFC
No
POWER
Stand-by Power Consumption (Subwoofer)
N/A
Operating Power Consumption (Main)
23W
Operating Power Consumption (Rear)
N/A
Operating Power Consumption (Subwoofer)
N/A
Free Voltage
Yes
Energy Star
Yes
Accessory
Remote Controller
Yes
Wall Mount Bracket
Yes