26" Weber Lumin Electric Grill in Golden Yellow - 92280901
26" Weber Portable Electric Grill in Light Green - 92070901
26" Weber Lumin Electric Grill in Golden Yellow - 92280901
26" Weber Lumin Electric Grill in Ice Blue - 92400901
26" Weber Portable Electric Grill in Deep Ocean Blue - 92300901
26" Weber Portable Electric Grill in Black - 92010901
Price
$739
Our Price
$

669

CAD

26" Weber Lumin Electric Grill in Golden Yellow - 92280901
92280901
| | |
| --- | --- |
| Price | $739 |
| Savings | $70 |
| Our Price | $669 CAD |
| | |
| --- | --- |
| Price | $739 |
| Savings | $70 |
| Our Price | $669 CAD |
| | |
| --- | --- |
| Price | $739 |
| Savings | $70 |
| Our Price | $669 CAD |
| | |
| --- | --- |
| Price | $739 |
| Savings | $70 |
| Our Price | $669 CAD |
| | |
| --- | --- |
| Price | $689 |
| Savings | $60 |
| Our Price | $629 CAD |
Literature
High on heat and big on versatility, Webers Lumin* electric grill takes urban outdoor grilling to new heights. This multifunction electric grill reaches temperatures over 600F so sear-mark seekers can achieve high-quality searing, while smoke infusion further enhances that grill flavour guests crave. Speaking of satisfied guests, the Lumin grill can keep food warm so everyone can easily serve themselves (and come back for seconds). Modern, compact and available in an array of colours, Webers new Lumin electric grill is designed to suit both your taste and your outdoor space. *LUMIN is a trademark of Weber-Stephen Products LLC and is the subject of pending registrations or applications in the United States and other countries.
Reach really hot temperaturesover 600F
Sear, smoke, steam or boil with various cook settings
Keep meals warm so guests can serve themselves
Grill from frozen by thawing food while the grill preheats
Store simply with compact and space-efficient design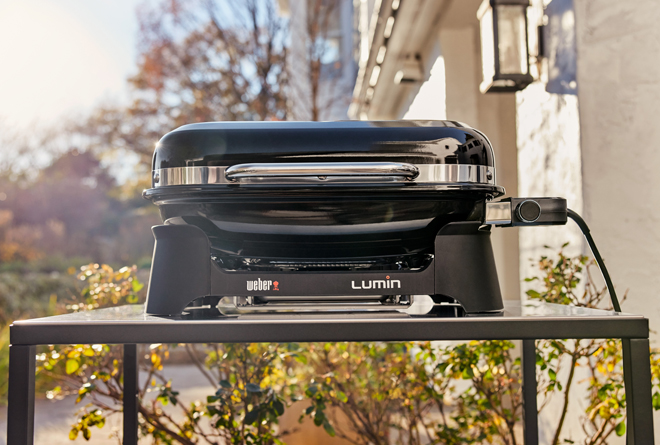 Big taste in a small package
Lumins compact, multipurpose design allows you to free up indoor counter space, and do it all outside, on your grill. Easy to store outdoors and indoors.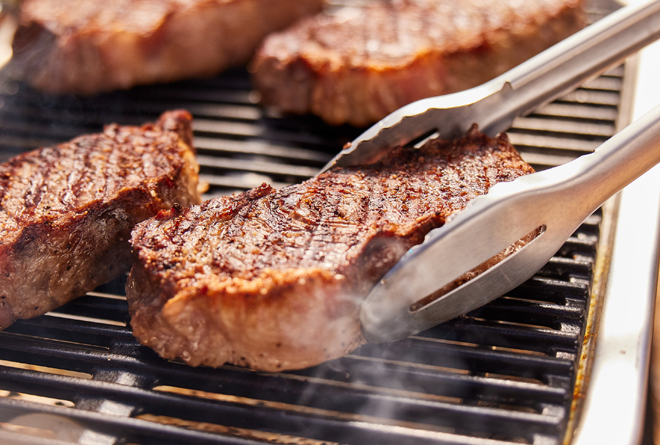 Authentic BBQ flavors
Specially designed to deliver the authentic taste of grilled food from an electric grill. Its unique flavorizing system infuses food with the unmistakable taste of "hot off the grill" flavor.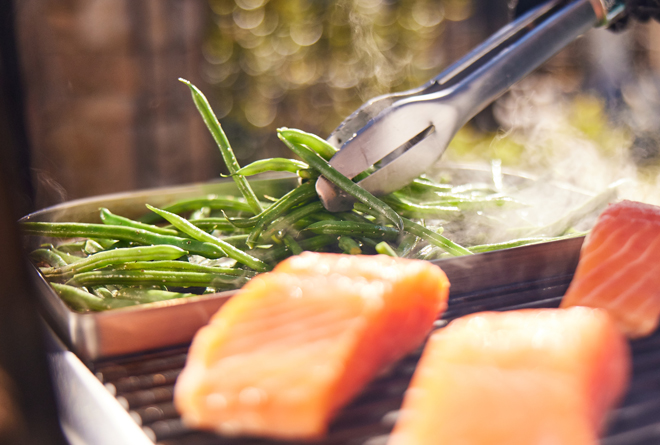 Various cook settings
Explore the culinary versatility of this dynamic electric grill. Sear, smoke, steam or boil with various cook settings.
5-in-1 Versatility
Reversible Steam Pan and Steaming/Smoking Reservoir included. Versatility Expansion Kit sold separately.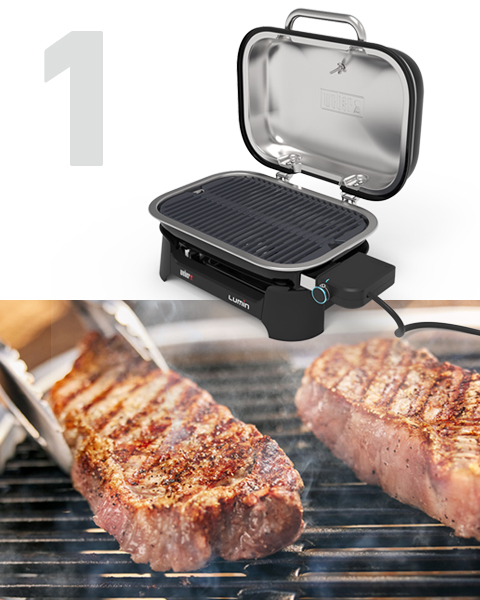 High-Heat Sear
Create those unmistakable, delicious grilled sear marks and authentic grilled flavor on steak with a temperature range reaching 600 degrees.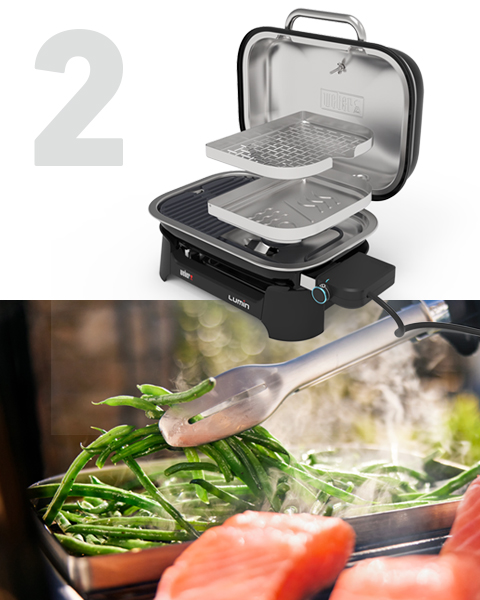 Steam
Powerful and ready to steam in 10 minutes. Steam a side of veggies and even defrost frozen food with the Lumin-unique steam setting.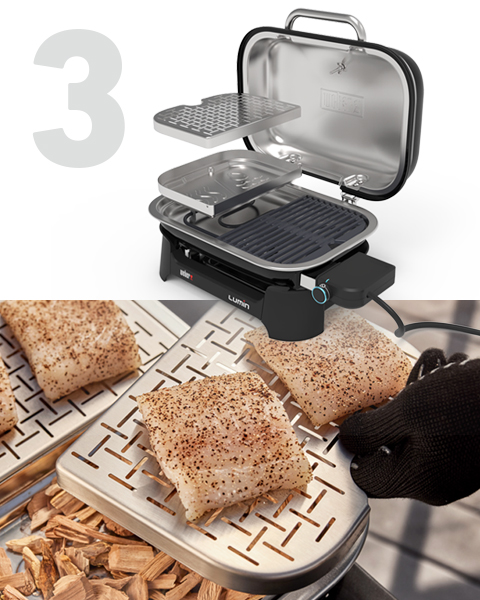 Smoke Infusion
Add the delicious taste of smoke to the recipe with the Smoke Infusion setting. Youll never sacrifice big BBQ flavor for city living again.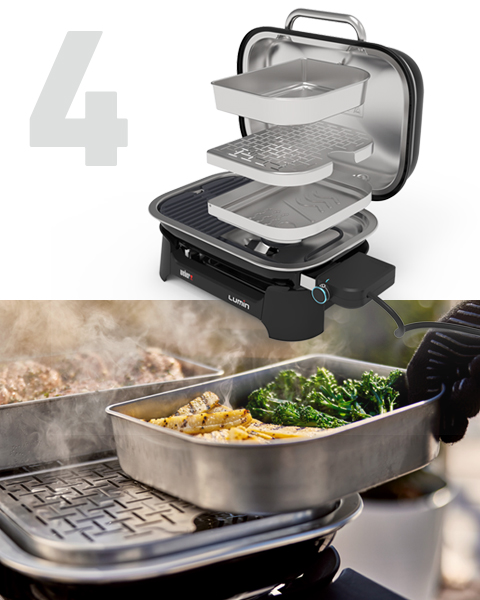 Keep Food Warm
Introducing the balcony buffet! Keep food warm so your guests can help themselves to seconds, enjoying buffet-style self-service straight from the grill. Just place an oven-safe dish on the cooking grate and add the food - or use the Versatility Expansion Kit.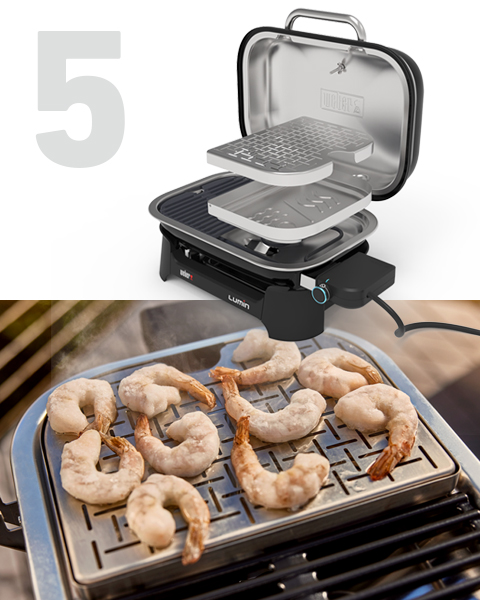 Grill From Frozen
Skip a step by defrosting during grill preheat. Anything from frozen shrimp, chicken nuggets, or even mini pizzas.
Grill Specifications
Cooking grate type
Porcelain-enamelled, cast-iron cooking grates
Weight (pounds)
36.5
Fuel type
Electric
Total cooking area (square inches)
242
Dimensions - Lid Closed (inches)
12.00" H x 26.00" W x 19.00" D
Dimensions - Lid Open (inches)
25.50" H x 25.50" W x 21.00" D
Power
120v = 1560 watts
Max grill temperature
600˚F+