30" Samsung Gas Cooktop With 22K BTU Dual Power Burner - NA30N7755TG
30" Samsung Gas Cooktop With 22K BTU Dual Power Burner - NA30N7755TG
30" Samsung Gas Cooktop With 22K BTU Dual Power Burner - NA30N7755TS

30" Samsung Gas Cooktop With 22K BTU Dual Power Burner - NA30N7755TG
NA30N7755TG/AA
| | |
| --- | --- |
| Price | $2199.99 |
| Savings | $150 |
| Our Price | $2049.99 CAD |
| | |
| --- | --- |
| Price | $2099.99 |
| Savings | $600 |
| Our Price | $1499.99 CAD |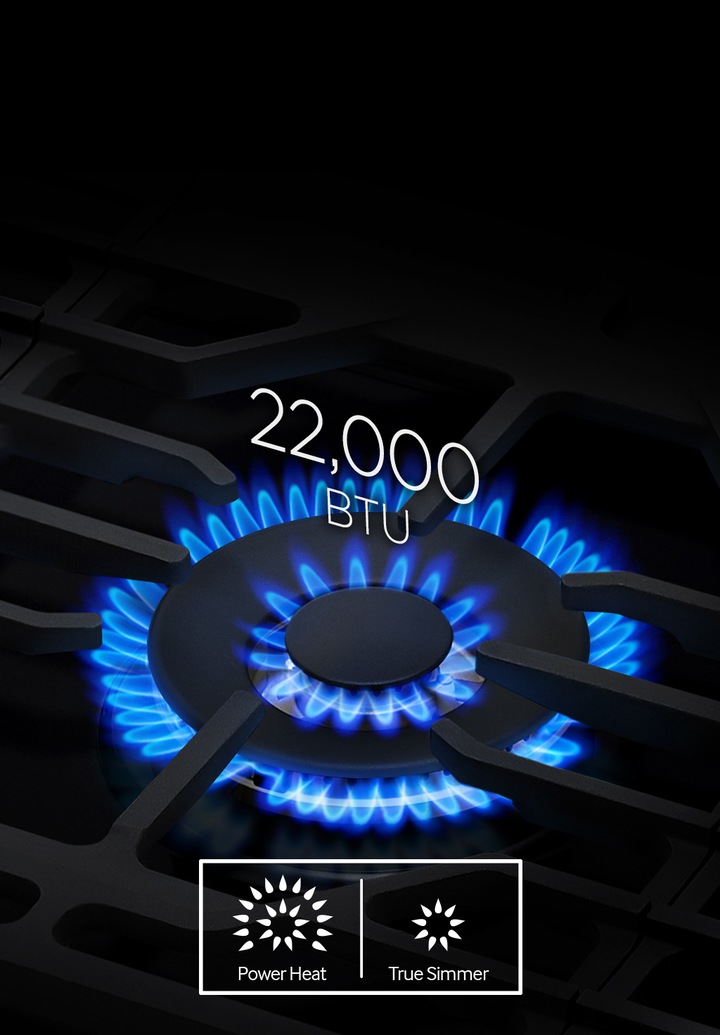 Powerful heat with precise control
A high power, 22 K Dual Burner provides powerful heat and precise control quickly going from a high heat to a true simmer for intense and even cooking, or turn it right up to boil water in a flash and cook food faster.The Power Boost function can reduce cooking times with an extra boost of heat.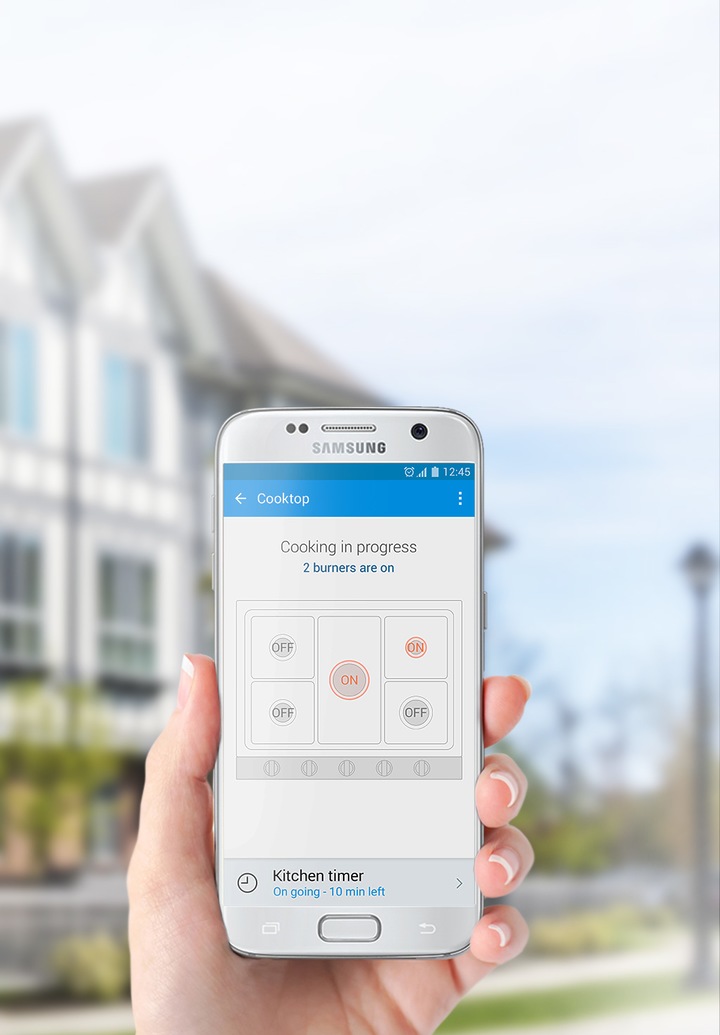 Remote & convenient cooktop monitoring
Wi-Fi Connectivity maximizes safety and offers peace of mind by letting you remotely monitor the cooktop at any time using a smartphone App*, while setting the cooking timer and receiving alerts when it finishes**.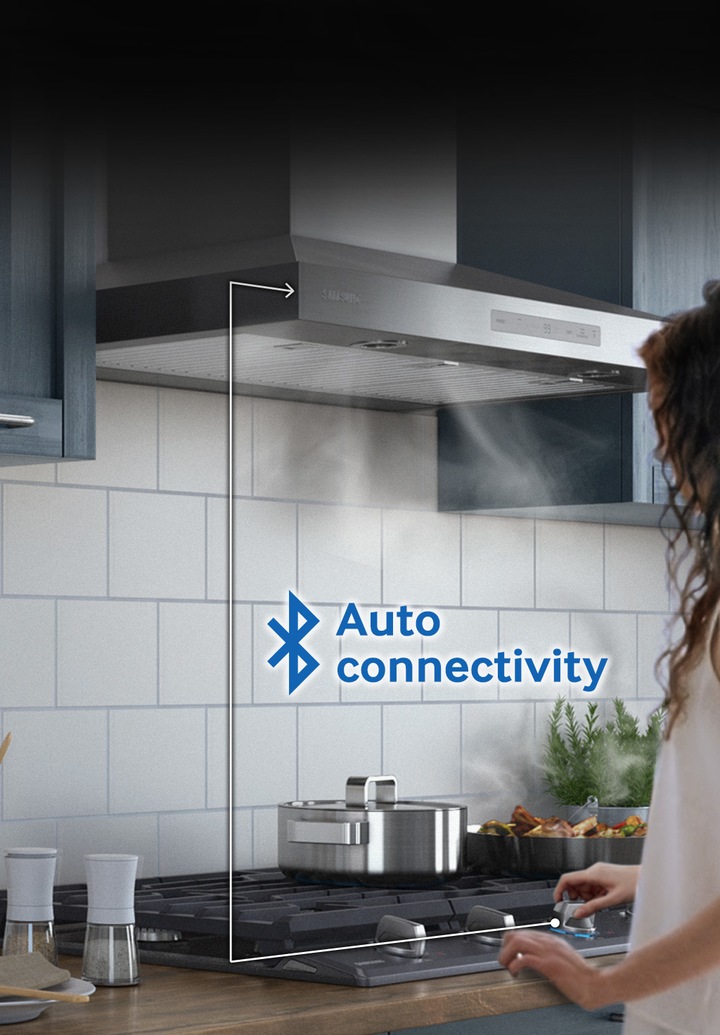 One-touch control of both cooktop & hood
Automatically syncs the fan and the lights with the burners through Bluetooth. Auto Connectivity* aligns the hood and cooktop's status so you can control the hood using the one-touch control of the cooktop, instantly turning them both 'On' or 'Off', for the ultimate in cooking convenience.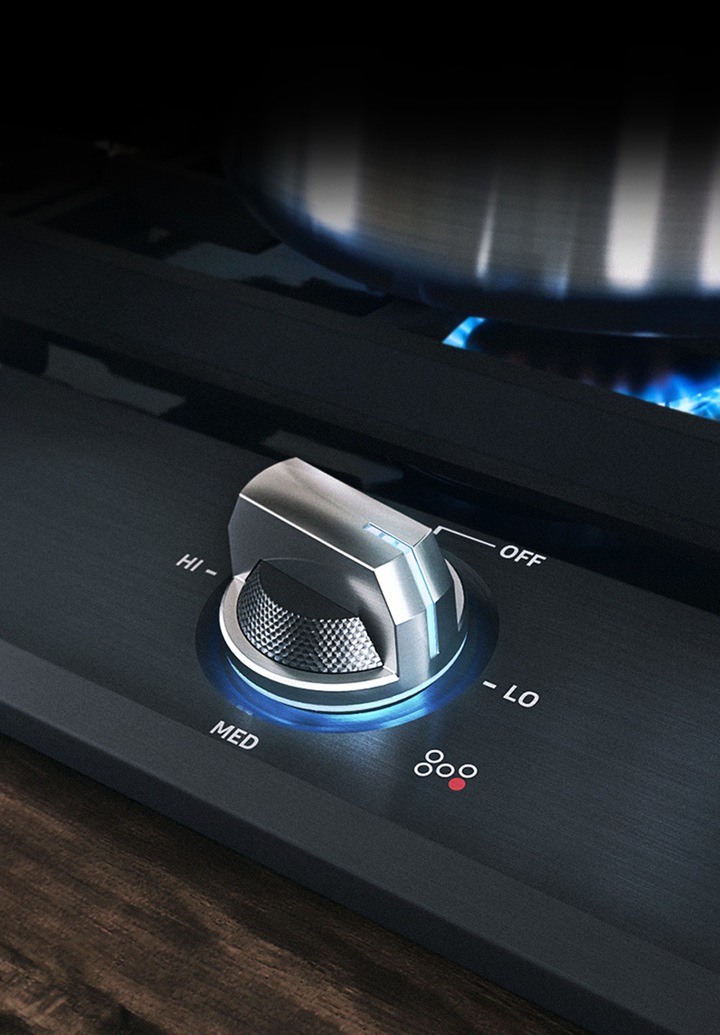 Convenient and precise burner control
With the brilliant and intuitive Illuminated Knob you can easily check whether you have left the cooktop on even from a distance. Large, ergonomic metallic knobs also enable simple and precise temperature control.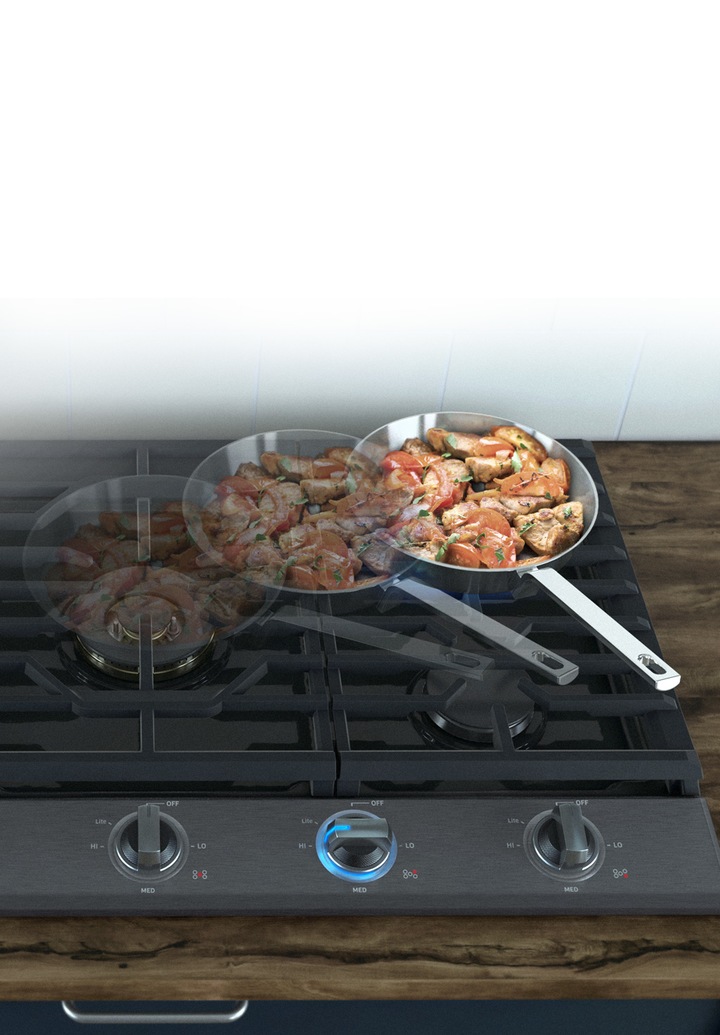 Improved flexibility & space efficiency
Hexagon Grates enable a superior cooking performance by conducting heat efficiently.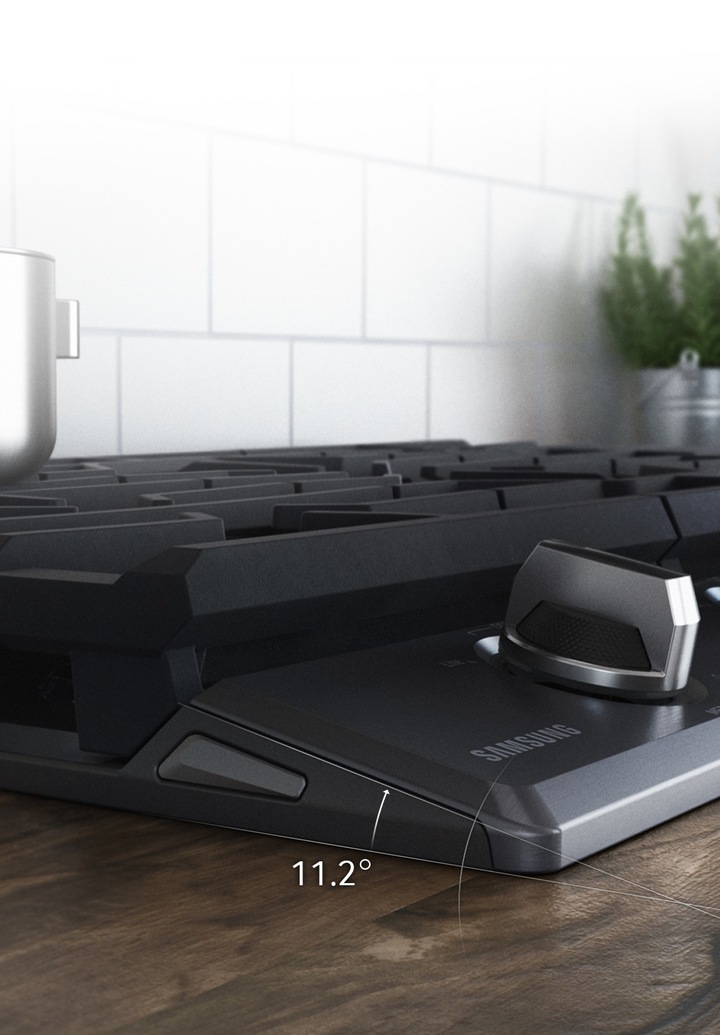 Enjoy grilled food
Included heavy-duty cast iron griddle with a wide surface is ideal for quickly and evenly sizzling, searing and sautéing. With stainless steel handles on both sides, it's easy to move and looks stylish.
Stir-fry without tipping
A specially designed Wok Grate lets you cook more efficiently and safely. Its circular design fits snugly around the burner, so your wok or large pans are kept stable and heat is quickly and evenly distributed.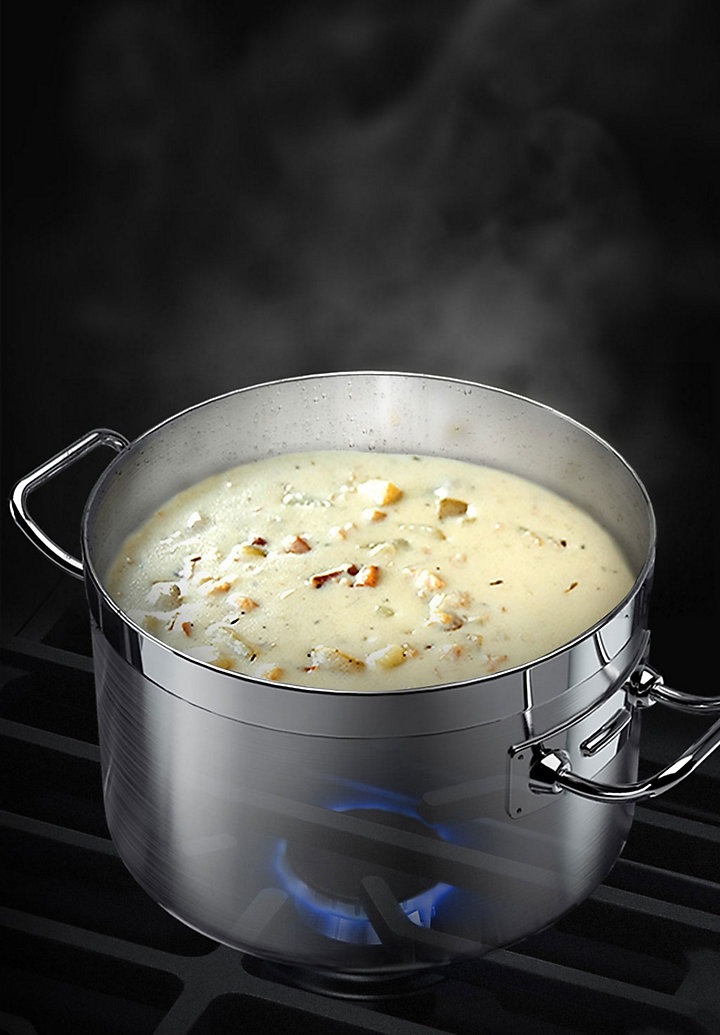 Simmer & keep food warm without burning
A Precise 5K BTU Simmer Burner ensures the cooking temperature stays low. With more precise control it provides the optimum conditions for gently simmering, melting or keeping delicate food warm without it burning.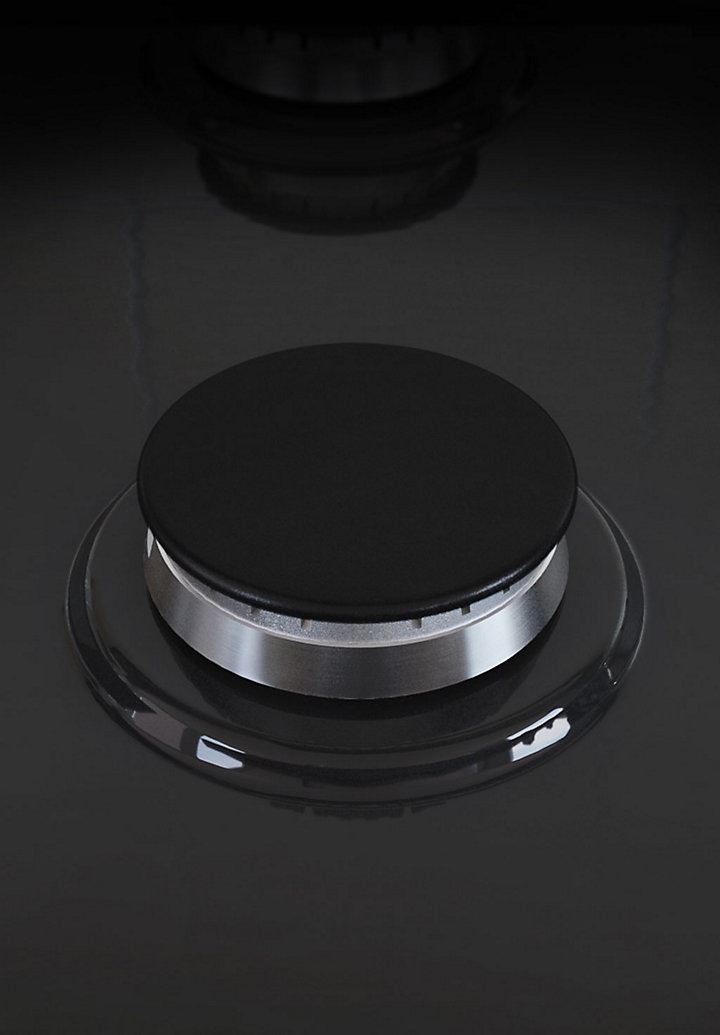 Heats food evenly & stays cleaner
Equipped with Sealed Cooktop Burners, which incorporate a protective cap that evenly distributes the heat and prevents liquids and food from spilling over the burner, so they stay cleaner and are easier to maintain.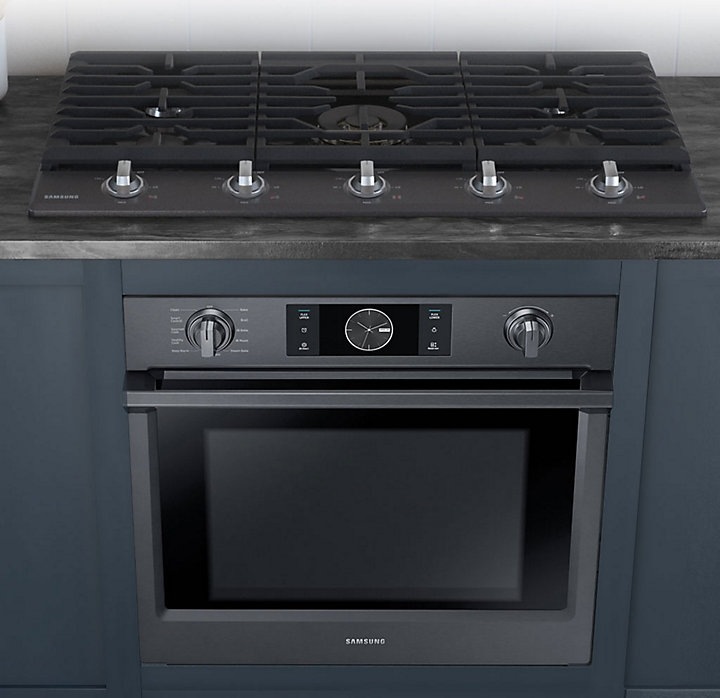 Stylishly compatible with built-in ovens
Fully compatible with Samsung Built-in Ovens to create a sleek and stylish combination, creating the ideal kitchen. These sleek and contemporary designs, plus sophisticated technology make it easy to manage kitchen tasks, even for ambitious cooks.
Materials/Finishes
Model Type Install
30 inch built-in gas cooktop
Control Method
Illuminated Knobs
Power/Ratings
Total Power
59,000 BTU
Power Level
Low-Med-High
Burner - Left Front
9,500 BTU
Burner - Left Rear
9,500 BTU
Burner - Right Front
13,000 BTU
Burner - Right Rear
5,000 BTU, Precise Simmer
Burner - Center Front
22,000 BTU, Dual Brass
Power Supply
120V/60Hz, 1A
Features
Grate
Cast Iron (3pcs)
Surface
Black Stainless + Enamel
Simmer/Melt
Yes
COOKTOP
Number of Burner
5 EA
Fuel Type
Natural Gas (factory set)
Accessories
WOK grate
Yes
Griddle
Cast Iron Griddle
LP Conversion Kit
Yes
Smart
WiFi Embedded
Yes
Auto Connectivity (with Hood)
Yes
WiFi Dongle(Separate sale) Support
No
WiFi Kit
No
App Connectivity
SmartThings App Support
Yes
Weights/Dimensions
Package (WxHxD)
880 x 270 x 650 mm
Cutout (WxHxD)
W 723.9 x D 498.5 mm
Net (WxHxD)
762 x 79.3 x 533 mm
Weight (Gross)
38.5 kg
Weight (Net)
33.9 kg
Loading Quantity (20/40ft)
168/360
Reviews
Average Customer Ratings
| | | |
| --- | --- | --- |
| Overall | | 4.21 |
| Design | | 4.43 |
| Features | | 4.64 |
| Performance | | 4.71 |
| Value of Product | | 4.36 |
Submitted a year ago
By Angela Weinstein
From Dayton, Ohio
Reviewed at


Love this, it looks great and it cooks very evenly. love the knob blue backlights as it is easy to see if it is on. Connects to my smart things app and can wirelessly connect to our matching hood. Looks great and cooks great!
Bottom Line Yes, I would recommend to a friend
Submitted a year ago
By Angela W
From Dayton, Ohio
Reviewed at


5
Great even cooking and looks beautiful!
Bought it 3 months ago. Had to cut granite for it to fit, however Samsung partially refunded the cost by $100. Cooks evenly and center cooker heats up incredibly hot. Love the blue lights on the dials really looks premium.
Bottom Line Yes, I would recommend to a friend
Submitted a year ago
By VJAS
From San Jose
Reviewed at


4
Great cooktop for daily use
Its been 2 months since I installed this cooktop and it has been great to cook in this.
Bottom Line Yes, I would recommend to a friend
Submitted a year ago
By Troy
From Houston TX
Reviewed at


I have had this cooktop for 6 months. It works great
Bottom Line Yes, I would recommend to a friend
Submitted a year ago
By Jordan
From GA
Reviewed at


we have had 4 visits and multiple text and phone conversations trying to get hood in microwave mc17t8000cg to connect bluetooth with cooktop na36n7755tg. now, the contract service center tells me these two models do not connect bluetooth and i nerd to purchase a different hood. say what!
Bottom Line No, I would not recommend to a friend
Submitted a year ago
By April
From Canton, OH
Reviewed at


beautiful black stainless steel very powerful so when using 4 burners the over the cooktop microwave blows the burner and distributes fire or blows it out completely. the cooktop grates are stained with oil and grease. just can't get the clean. center burner stopped working.
Bottom Line Yes, I would recommend to a friend
Submitted a year ago
By Cooker
From SF
Reviewed at


We love this cooktop and have multiple Samsung products
Bottom Line Yes, I would recommend to a friend
Submitted a year ago
By Unhappy customer
From Massapequa, NY
Reviewed at


this is the worst experience. i ordered multiple home appliances (refrigerator, stove top, dishwasher, and double wall oven) and i've gotten a run around. they have given multiple delivery dates in which none of them were meet. i have made more the 23 calls to samsung customers service and they would alway confirm the day that was given to me. they would escalate the issue to headquarters and it would take 24-72 hours for someone to get back to me (which no one ever does) to address the issue. i had to call them to tell them to send me an email with the new date in which i wouldn't get until like a day or two before the delivery date. i'm so frustrated i can't move into my new home with appliances because i have a newborn daughter and i'm paying for both places.
Bottom Line No, I would not recommend to a friend
Submitted a year ago
By Gpitstick
From Cincinnati Ohio
Reviewed at


2
Cheap parts attached fall off
we enjoy the cooktop. but there is a cheap plastic tab on the side that fell off and the rubber bumpers on the top were missing. called samsung under warranty and they said tough luck.
Bottom Line No, I would not recommend to a friend
Submitted a year ago
By Gudkid
From Houston
Reviewed at


I bough this cook top in 2018 and I'm happy with it
Bottom Line Yes, I would recommend to a friend