30" Samsung 7.0 cu. Ft. Combination Electric Wall Oven with Air Fry - NQ70CG700DMTAA
30" Samsung 7.0 cu. Ft. Combination Electric Wall Oven with Air Fry - NQ70CG700DSRAA
30" Samsung 7.0 cu. Ft. Combination Electric Wall Oven with Air Fry - NQ70CG700DMTAA
Price
$6199.99
Our Price
$

5999.99

CAD

30" Samsung 7.0 cu. Ft. Combination Electric Wall Oven with Air Fry - NQ70CG700DMTAA
NQ70CG700DMTAA
| | |
| --- | --- |
| Price | $5999.99 |
| Savings | $200 |
| Our Price | $5799.99 CAD |
| | |
| --- | --- |
| Price | $6199.99 |
| Savings | $200 |
| Our Price | $5999.99 CAD |
Literature
More choice cooking, more stylish looking
Seamlessly stylish touch controlled door
Cook food faster, looks & tastes betterClick to see product dimensions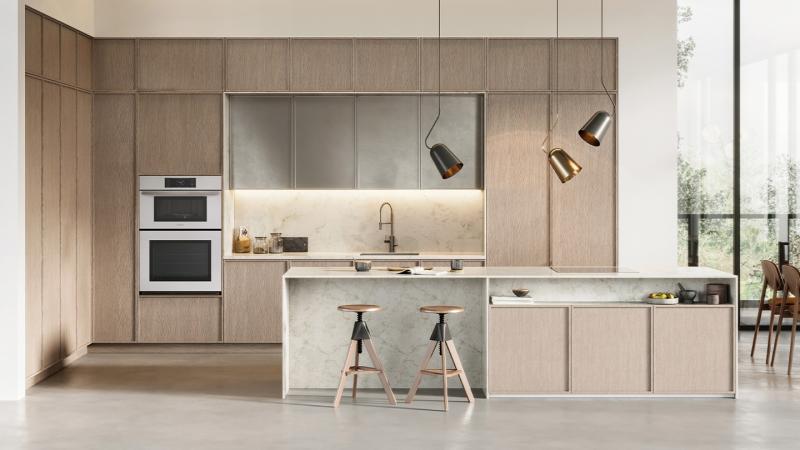 Bespoke design, more cooking choices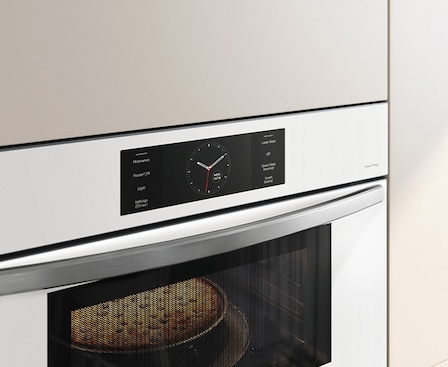 Seamless Design
Seamless design with a large 7" LCD display.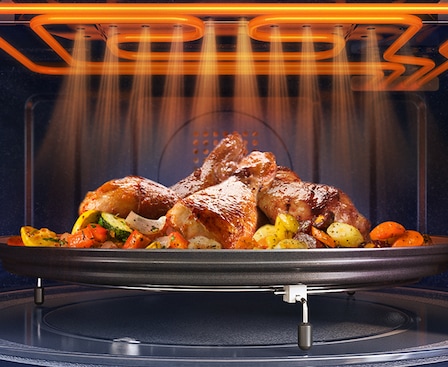 Power Convection
Prepare delicious meals in less time! A Power Convection system combines 3 heat sources.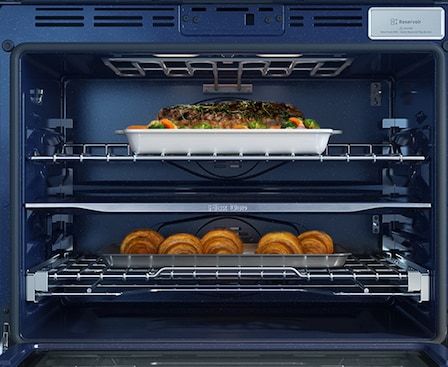 Flex Duo™ + Dual Convection
Choose how you cook different meals to optimize results.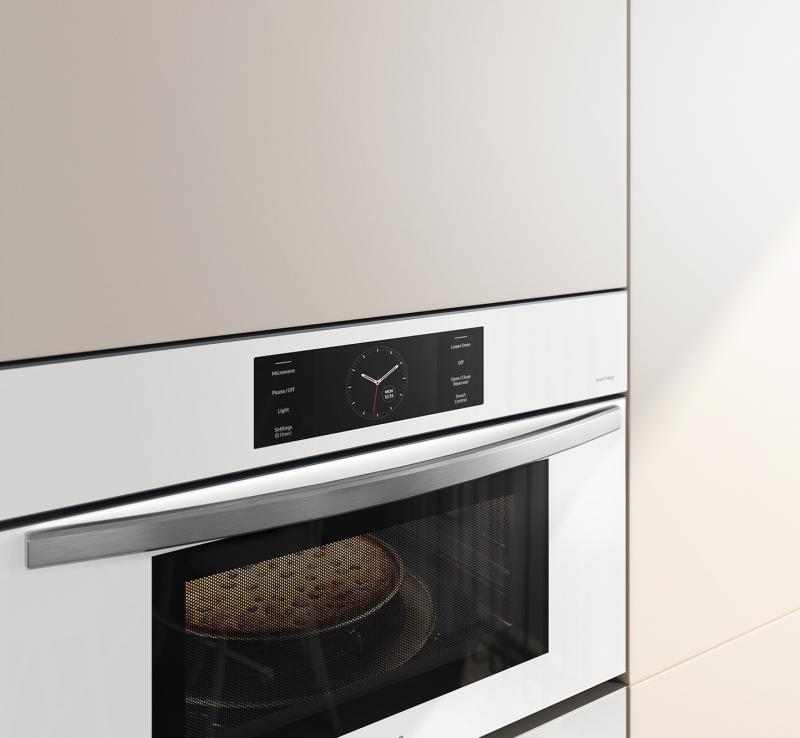 Handle-free door design
Seamless Design
Give your home a stylish appearance. The Push to open door is handle free for a simple and seamless look. The oven door easily opens with a simple push.
* The outer surface of the door is not hot, so it is safe to touch, but the door will not open when the button is pushed if either Pyrolytic Cleaning has been activated and the internal temperature is over 50°C or the Child Lock has been activated.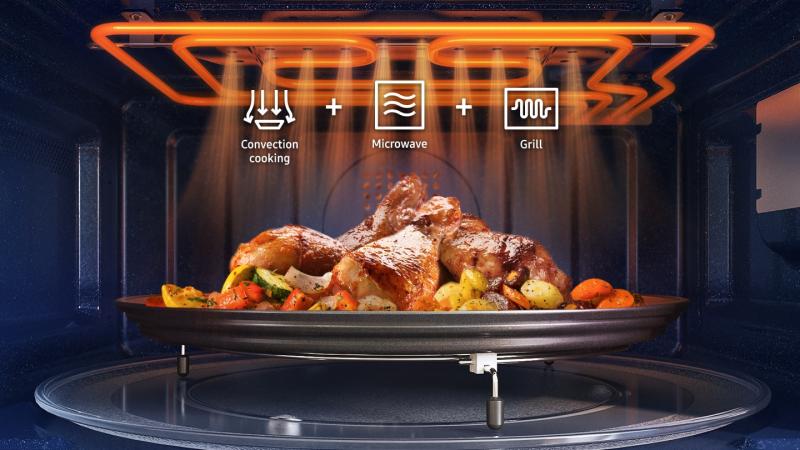 Powerful and quick cooking
Power Convection (Microwave)
Prepare delicious meals in less time. Power convection system combines 3 heat sources: Convection, Microwave and Grill. Convection cooking ensures food is cooked evenly and is crispy outside, but juicy inside. Microwave technology quickly and thoroughly cooks from the inside out. And a grill crisps and browns your food.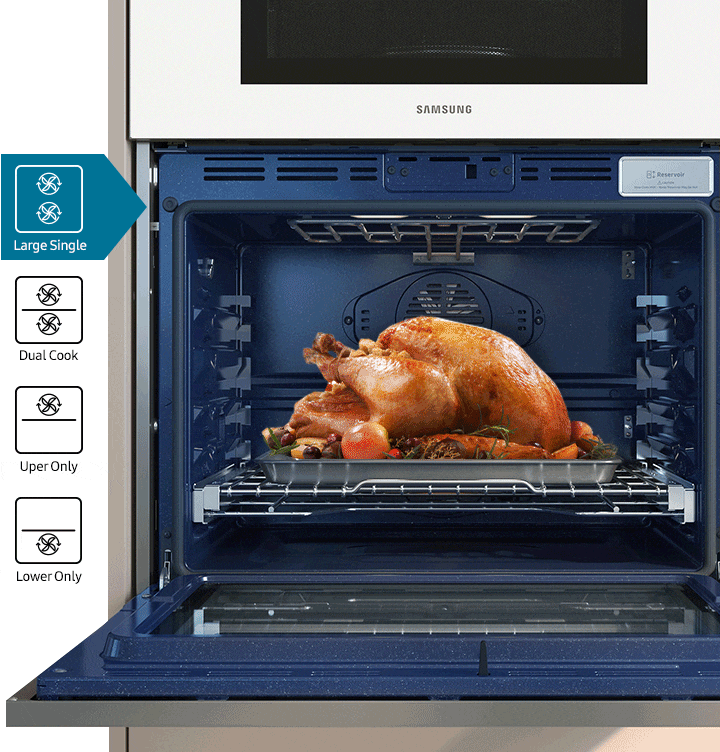 One oven or two? You choose.
Flex Duo™ + Dual Convection
The Flex Duo™ removable divider and dual temperature controls let you convert one oven into two so you can cook multiple meals at one time at entirely different temperatures or settings.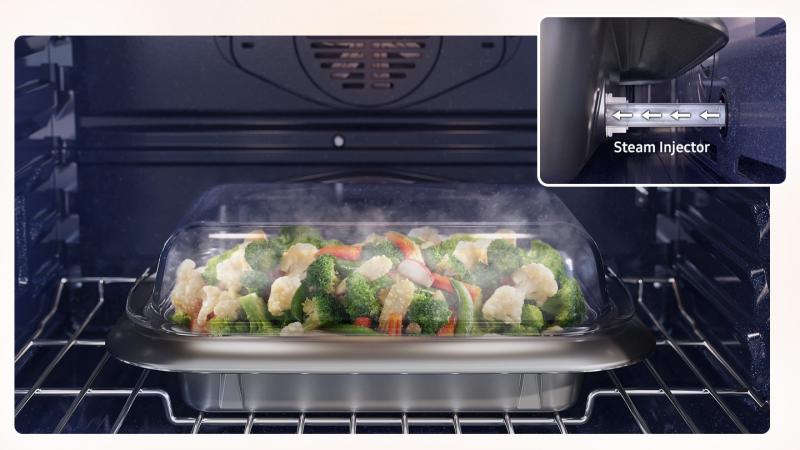 Easily cook with steam
Full Steam
Create healthier dishes using Samsung's Steam Cook Tray.* Foods can be fully cooked with only steam, which retains its nutrients.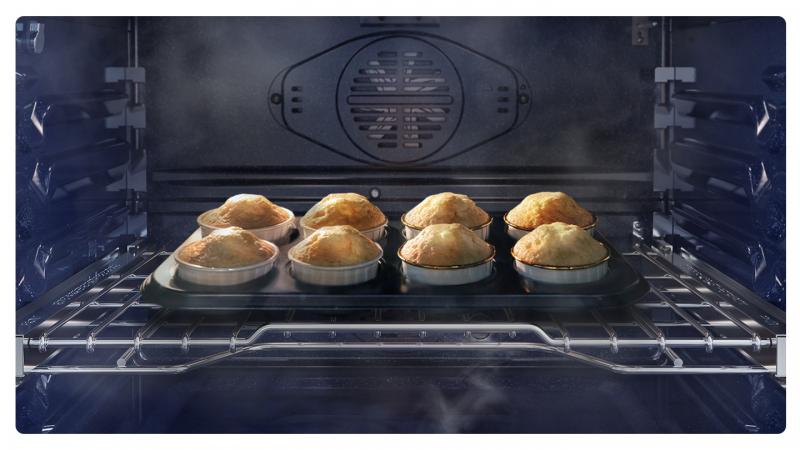 Moist and flavourful foods
Steam cook
An easy-fill water tray lets you bake, broil, and roast with added steam, resulting in foods that are moist and flavorful.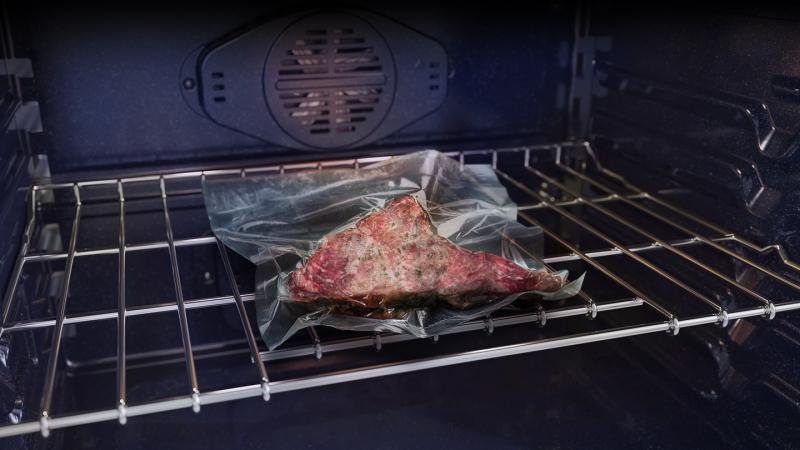 Say goodbye to dry
Air Sous Vide*
Preserve your food's natural flavour & avoid overcooking. Precise, controlled heat and airflow within the oven gives you sous vide results without the water bath.* Perfect for fish, poultry, and vegetables.
* Requires a sous vide cooking bag, which is not included with the oven.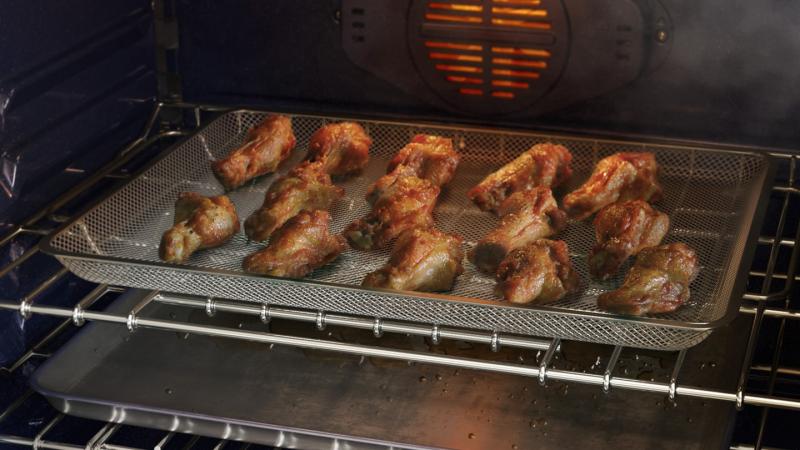 Cooking with a crunch
Air Fry
Enjoy better fried food with the Air Fry feature that combines a special tray with hot air circulation that envelops food. It's the ideal way to cook fried food as it eliminates excess fat, but everything is still crispy and brown outside and juicy inside.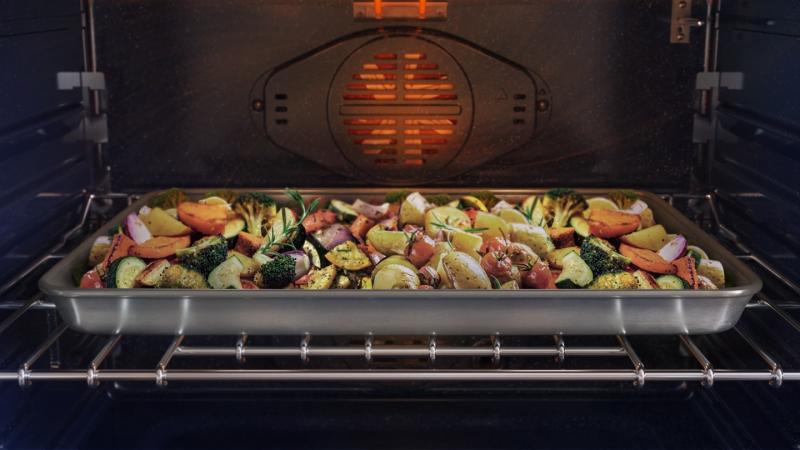 Nutritious and delicious vegetables
Convection Vegetable
The Convection Vegetable function is specifically designed to cook a wide range of vegetable dishes, so they are always crisp yet tender and packed full of goodness. Quickly cook crispy vegetables, no preheating needed.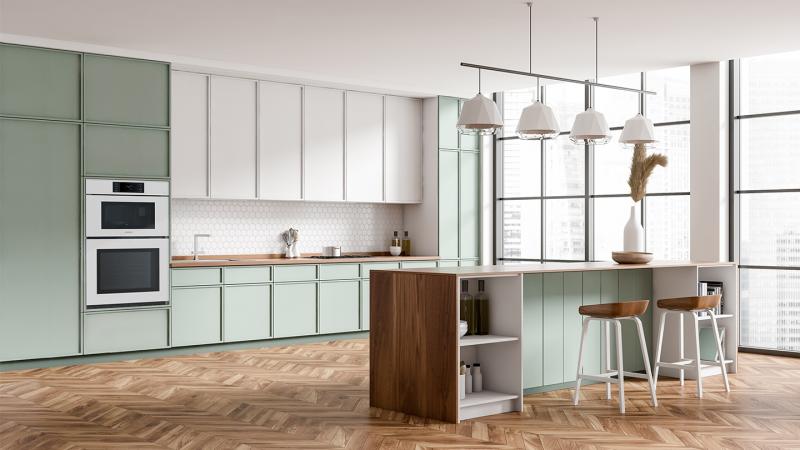 Stylish and minimal
Bespoke design
Bespoke is Samsung's premium line of home appliances that combines design, technology, and connectivity. Create a kitchen that expresses your personal style.
Do the SmartThings at Home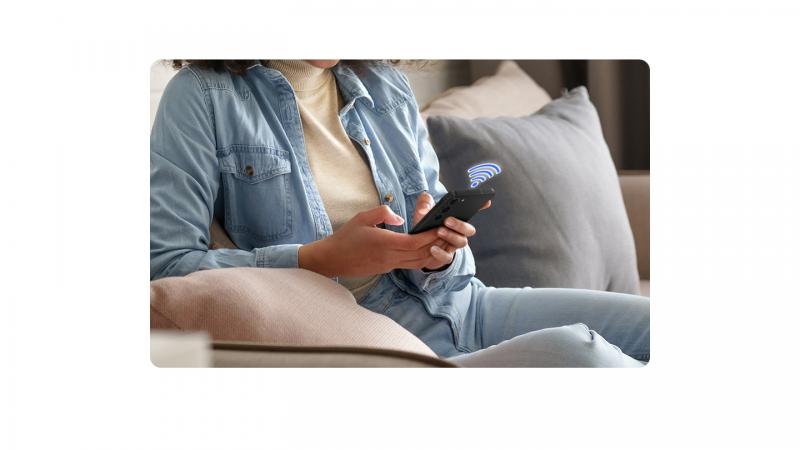 Preheat and plan meals on the go
SmartThings app
Enjoy added convenience and peace of mind with embedded Wi-Fi. The SmartThings App* lets you monitor and control the oven remotely using a smartphone. You can check and adjust settings and receive alerts. You can also control it with your voice using a voice assistant**, like Samsung Bixby***.
* Available on Android and iOS devices. A Wi-Fi connection and a Samsung account are required. ** Bixby is Samsung's brand of artificial intelligence (AI) / Internet of Things (IoT) voice assistant. Bixby service availability may vary depending on country. Bixby recognizes selected languages and certain accents/dialects. The user interface may change and differ by device. The availability of Bixby features and content providers may vary depending on the country/carrier/language/device model/OS version. A Samsung account log-in and data network connection (Wi-Fi or data network) are required. *** Amazon, Alexa and all related logos are trademarks of Amazon.Com, Inc. or its affiliates. **** Google is a trademark of Google LLC.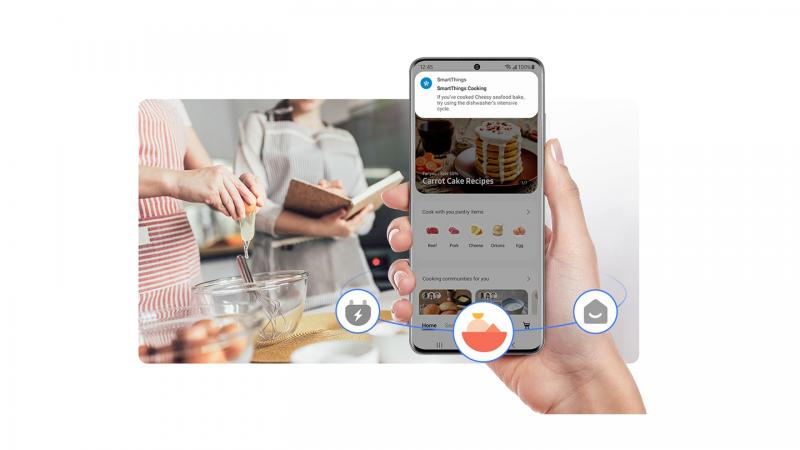 Personalized cooking
SmartThings Cooking
Manage, prepare and buy food more effectively. SmartThings Cooking* lets you create a list of the food in your refrigerator and manage expiry dates. It also recommends personalized recipes based on your preferences and existing ingredients.
¹ Available on Android and iOS devices. A Wi-Fi connection and a Samsung Account are required.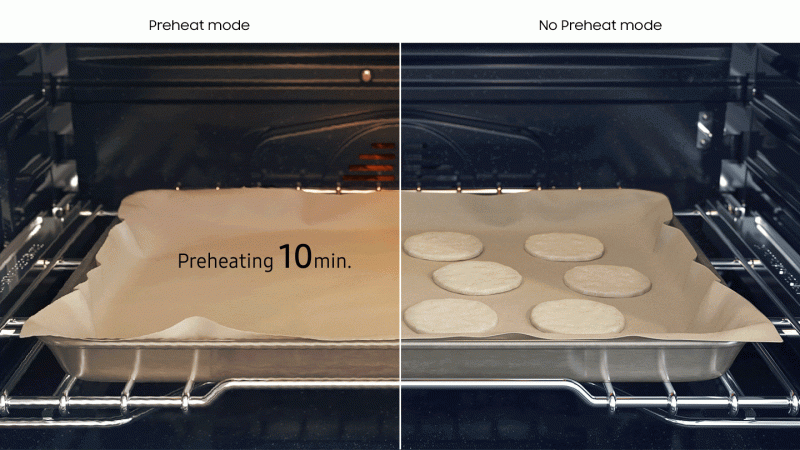 Simply add food and start cooking
No Preheat Mode
A No Preheat Mode* means there is no need to waste time and energy preheating the oven. For quick meals and daily dishes, So you can quickly cook daily dishes or bake food, like frozen or fresh pizzas and cookies.
* Only available when using the Convection Bake or Convection Roast settings.
Power/Ratings
Power Source
240 V ~ 60 Hz
Auto Mode
Defrost
4 Programs
Auto Cook
29 Programs
Sensor Cook
11 Programs
Healthy Cook
15 Programs
Air Fry Auto Cook
20 Programs
Materials/Finishes
Grill Heater
Sheath
Door Type
Drop Down
Oven Door Glass
3 (MWO) / 4 (OVEN)
Control Method
Touch
Display
7" TFT LCD
Colour
Matte Black Stainless Steel
Oven Type
Combi Oven
Features
Language Option
Yes
Materials/Finishes
Cavity Material
Ceramic Enamel
Features
Interior Lamp
2.5 W x 2 (LED) / 40 W x 2 (Halogen)
Oven Convection Cooking System
1300 / 1300 W
Interior Light (Position)
TOP
Light (Lamp) On/Off
Yes
Setting (Clock System Option (12H/24H))
Yes
Sound on/off
Yes
Broil Heater
4400 W
Bake Heater
3000 W
Sabbath Mode
Yes
Keep Warm
Yes
Timer
Yes
Air Fry
Yes
Child Lock
Yes
Auto Programs
Yes
Defrost (Auto / Power / Sensor)
Auto
Cleaning Type
Self Clean + Steam Clean
Capacity
Oven Capacity
1.9 / 5.1 (cu.ft)
Smart
Wi-Fi
Yes
Accessories
Divider
Yes
Temp Probe
Yes
Crusty Plate
Yes
Air Fry Tray
Yes
Gliding Rack
Yes
Wire Rack Steam
1
Wire Rack
2
Square Wire Rack
1
Weights/Dimensions
Loading Quantity (20/40ft)
19 / 42
Net Weight (lbs/kg)
126.5 kg
Shipping Weight (lbs/kg)
140 kg
Cutout (WxHxD)
727 x 1073 x 597 mm
Shipping (WxHxD)
855 x 1222 x 757 mm
Outside (WxHxD)
756 x 1099 x 620 mm
Type
Installation Type
Built-In
Power/Ratings
Total Power (W)
9500 W
MWO Watts
950 W
Power Level
10