24" Whirlpool Quiet Dishwasher with Boost Cycle - WDF341PAPB
24" Whirlpool Quiet Dishwasher with Boost Cycle - WDF341PAPW
24" Whirlpool Quiet Dishwasher with Boost Cycle - WDF341PAPM
24" Whirlpool Quiet Dishwasher with Boost Cycle - WDF341PAPB
24" Whirlpool Quiet Dishwasher with Boost Cycle - WDF341PAPB
WDF341PAPB
Literature
Key Features
57 dBA
Heavy Cycle
Boost Cycle
Normal cycle
Quick Wash Cycle
Product Overview
Quiet Dishwasher with Boost Cycle
Clean dishes with a 57 dBA quiet dishwasher. A Boost Cycle provides extra effort for stubborn messes while an Extended Dry Option elevates drying performance. This fast dishwasher includes a Quick Wash Cycle that cleans dishes quickly and a Triple Filtration Wash System that filters food particles and cleans the water between wash stages.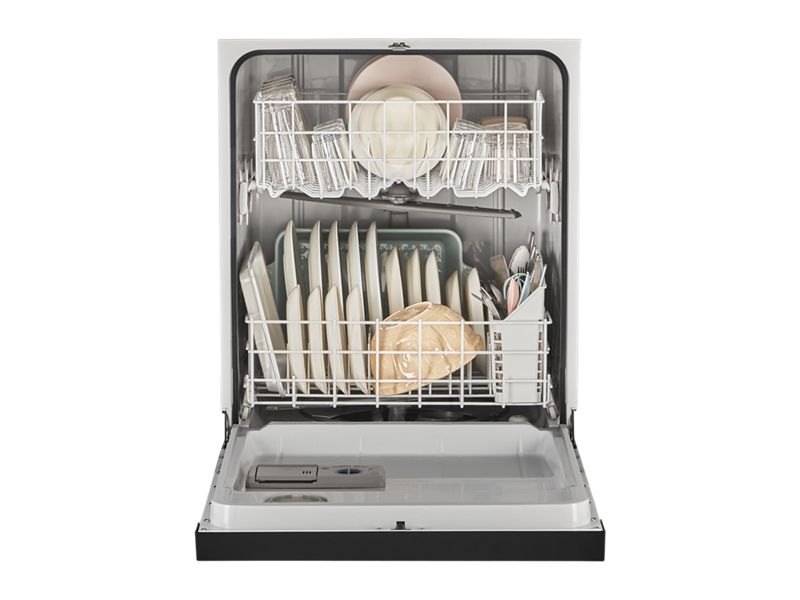 Heavy Cycle
A Heavy Cycle provides extra cycle time and takes care of heavily soiled messes and hard-to-clean dishes.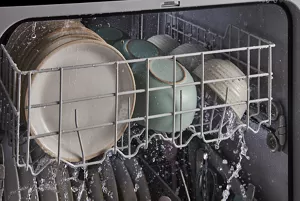 Normal cycle
Use the Normal Cycle for normal amounts of food soil to clean up leftover messes from your day-to-day meals.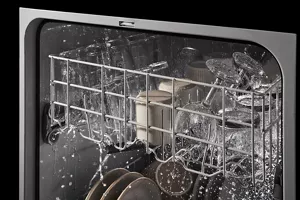 Quick Wash Cycle
Clean dishes fast with a Quick Wash Cycle that thoroughly takes care of plates and glasses when you need them done in a hurry.
Triple Filter Wash System
The Triple Filter Wash System helps you skip the pre-rinse so you can spend less time scrubbing. How it works: A combination of three filters removes even tiny food particles from the wash water.
Keep your kitchen quiet during cleanup with a dishwasher sound level of just 57 dBA.
Skip scrubbing and pre-rinsing with the Boost Cycle. This cycle uses more water, time and heat than the Normal Cycle and takes less time than the Heavy Cycle so you can target tough messes that need a little extra effort.
High Temperature Wash Option
High Temperature Wash Option raises the water temperature to help remove stubborn grease and food grime.
Heated Dry Option
A Heated Dry Option allows you to use a clean, dry dish straight from the dishwasher thanks to added heat for drying.
Extended Dry Option
Extended Dry Option extends your dry cycle about 30 minutes* to help elevate drying performance for any cycle.*Added time may vary per unit.
Sani-Rinse Option
Heats the final rinse water to 155°F, eliminating 99.999% of food soil bacteria.
Dimensions
Depth
24.5 "
Width
23.88 "
Height
33.5 "
Carton Depth
27 "
Carton Height
36 "
Carton Width
25 "
Depth Closed Excluding Handles
24.5 "
Depth Closed Including Handles
24.5 "
Depth With Door Open 90 Degree
49.5 "
Gross Weight
70 lbs
Maximum Height
34.5 "
Net Weight
59 lbs
Minimum Height
33.5 "
Certifications
Kosher Consumer Friendly
Yes
NSF Certified
Yes
ADA Compliant
No
Energy Star Qualified
Yes
UL
Yes
Cee Tier
Not Rated
DETAILS
Hoses Included
Drain Hose
Tub Style
Built-in Tall Tub 24in.
Wash System
Filter
Water Filtration
Yes
Drying System Type
Recessed Heating Element
Number Of Racks
2
Rack Material
PVC
Tub Material
Plastic
Wash System Type
Removable Filter
Interior Light
No
Exterior
Handle Type
Pocket Handle
Toe Panel Color
Black
Handle Color
Black
Fingerprint Resistant
No
Control Panel Color
Black
Features
Dispensers
Detergent and Rinse Aid
Rinse Aid Dispenser Level Indicator
Yes
Decibel Level Dba
57
Number Of Wash Levels
4
LOWER RACK
Fold Down Tines
No
Utility Basket
No
Cushion Tip Tines
No
Glides
Rollers
Style
Straight
Silverware Basket
Culinary Basket
No
Covers
No
Location
Lower Rack
Type
Full Length Non Splittable
CONTROLS
Control Location
Front
Last Cycle Recall
Yes
Status Light
Yes, Blue
Automatic Temperature Controls
Yes
Control Type
Electronic
Electrical
Power Cord Included
No
Amps
15
CYCLES AND OPTIONS
Dishwasher Cycle Selections
Heavy Normal Quick Wash Boost
Cycles
Number Of Wash Cycles
4
Options
Dishwasher Option Selections
Hi Temp Wash Sani Rinse Heated Dry Extended Dry Control Lock
Specifications
Optional Accessories
W11365014
Required Accessories
W10685193
Country Of Origin
USA
Quick Wash
Yes