24" Maytag Top Control Dishwasher With Third Level Rack and Dual Power Filtration- MDB8959SKB
24" Maytag Top Control Dishwasher With Third Level Rack and Dual Power Filtration - MDB8959SKZ
24" Maytag Top Control Dishwasher With Third Level Rack and Dual Power Filtration- MDB8959SKB
24" Maytag Top Control Dishwasher With Third Level Rack and Dual Power Filtration - MDB8959SKW
Price
$1349.99
Our Price
$

999.99

CAD

24" Maytag Top Control Dishwasher With Third Level Rack and Dual Power Filtration- MDB8959SKB
MDB8959SKB
| | |
| --- | --- |
| Price | $1349.99 |
| Savings | $350 |
| Our Price | $999.99 CAD |
| | |
| --- | --- |
| Price | $1349.99 |
| Savings | $350 |
| Our Price | $999.99 CAD |
| | |
| --- | --- |
| Price | $1349.99 |
| Savings | $350 |
| Our Price | $999.99 CAD |
Literature
Product Overview
Maytag® dishwashers featuring the Third Level Rack with specialized wash zone deliver more loading space and cleaning power1, while heated dishwasher drying options reduce excess moisture. Plus, Dual Power filtration, an industry-exclusive dishwasher filtration system, disintegrates any food in its path, letting you skip the soaking, scrubbing and prerinsing.
Features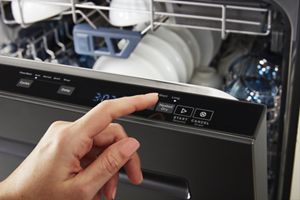 Dual Power Filtration
Skip soaking, scrubbing and pre-rinsing with Maytag engineering that puts an end to pre-work. Industry-exclusive Dual Power Filtration combines 100% microfiltration and a 4-blade stainless steel chopper to filter out then disintegrate any food in its path.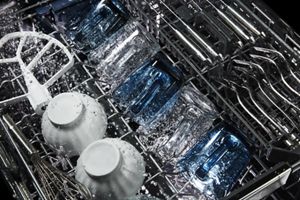 3rd Level Rack
Put more than utensils in the Maytag® 3rd Level Rack. With a specialized wash zone and room for mugs and bowls, this distinct design brings more loading space and cleaning power1 straight to the top of the dishwasher.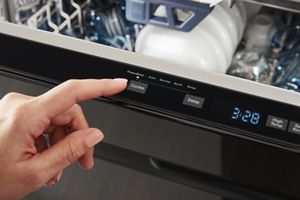 PowerBlast® cycle
The PowerBlast® cycle scours away stubborn foods like egg yolk, peanut butter and even dried-on oatmeal. High-pressure jets, increased water temperatures and hot steam work together to clear food off dishes
ADDITIONAL FEATURES
STEAM SANITIZE OPTION
The Steam Sanitize option lets you confidently wash important items with a high-temperature rinse that removes 99.999% of food soil bacteria.
LONG HEATED DRY OPTION
Up the temperature2 with an internal heater to reduce excess moisture inside your dishwasher. The Long Heated Dry option gets large loads of dishes nice and dry.
SHORT HEATED DRY OPTION
Reduce excess moisture inside your dishwasher and get smaller loads of dishes nice and dry in less time.3
CAST IRON BLACK
Cast Iron Black is a finely textured, matte finish inspired by iconiccast iron. It's as tough as it is timeless—engineered to stand up toeveryday scratches, minor dents and fingerprints that build up overtime.
FINGERPRINT RESISTANT STAINLESS STEEL
Easy-to-clean, fingerprint resistant stainless steel resists smudges and streaks to keep your dishwasher looking as good on the outside as it works on the inside.
LEAK DETECT
The Leak Detect system is a combination of multiple features that measure and monitor the flow of water at various points. If a problem is sensed, the unit can take action by draining the tub and alerting you when necessary.
Configuration and Overview
Decibel Level dBA
47
Dimensions
Number of Place Settings
15
Configuration and Overview
Dishwasher Type
Built-In
CONTROLS
Automatic Temperature Controls
Yes
Location of Controls
Top, Hidden
Sensor
Yes
Appearance
Door Style
Flat
Handle Material
Plastic
DETAILS
Built-In Water Softener
No
Dispenser
Detergent and Rinse Aid
Hoses Included
Drain Hose
Interior Light
No
Number of Racks
3
Number of Wash Levels
6.0
Number of Washarms
4
Rack Material
Nylon
Rinse Aid Dispenser Level Indicator
Yes
True Hold Door
Yes
Tub Material
Stainless Steel
Tub Style
Built-in Tall Tub 24""
Water Filtration
Yes
Features
Sound Package
Yes
CYCLES AND OPTIONS
Number of Wash Cycles
5
Options
Dishwasher Option Selections
High Temp, Sani Rinse®, Short Heated Dry, Long Heated Dry, Delay
LOWER RACK
Cushion-Tip Tines
Yes
Fold-Down Tines
No
Style
Extended
Utility Basket
No
Silverware Basket
Covers
Yes
Culinary Basket
No
Location
Bottom Rack
Third Level Rack
Adjustable
No
Removable
Yes
Certifications
Energy Star® Qualified
ENERGY STAR® Certified
NSF® Certified
Yes
Electrical
Power Cord Included
No
Refinements
Features
Dual Power Filtration, Third Level Rack, Heated Dry, Leak Detect, Steam Sanitize Option, Premium Ball-Bearing Rack Glides