33" Samsung Freestanding French Door Refrigerator With Built- In Look In Fingerprint Resistant Black Stainless Steel - RF18A5101SG
33" Samsung Freestanding French Door Refrigerator With Built- In Look In Fingerprint Resistant Black Stainless Steel - RF18A5101SG
33" Samsung French Door Refrigerator With Built-In Look In Fingerprint Resistant Stainless Steel - RF18A5101SR
Samsung PROMO
Save up to $700
See Details
Save up to $700
Save $500 when you buy 3 or more eligible Bespoke Kitchen Appliances. Save $700 when you buy 3 or more eligible Bespoke Kitchen Appliances together with a Bespoke Laundry Pair.
33" Samsung Freestanding French Door Refrigerator With Built- In Look In Fingerprint Resistant Black Stainless Steel - RF18A5101SG
RF18A5101SG/AA
| | |
| --- | --- |
| Price | $2349.99 |
| Savings | $450 |
| Our Price | $1899.99 CAD |
| | |
| --- | --- |
| Price | $2149.99 |
| Savings | $350 |
| Our Price | $1799.99 CAD |
Literature
Flat door, recessed handle design
Easy remote control with Wi-Fi connectivity
Twin Cooling Plus™ keeps food fresh for longer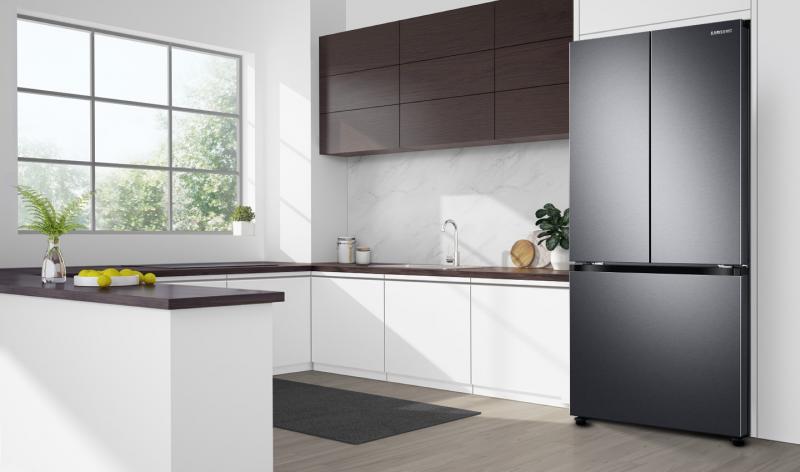 Clean Lines, Stylish Look
Modern Design
Give your home a stylishly integrated appearance. The new premium design features minimalist flat doors with recessed handles that give a sleek and neat look to your kitchen, easily blending in with existing appliances and cabinetry.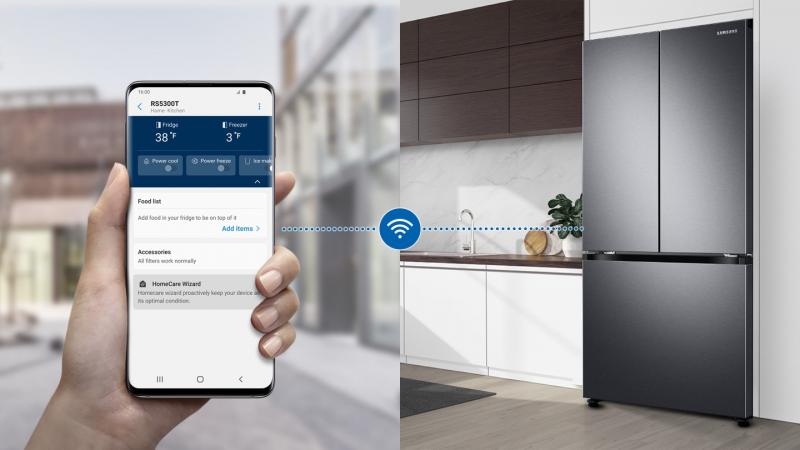 Easy remote control
Wi-Fi Connectivity
Monitor and control your refrigerator with ease. With Wi-Fi connectivity, you can keep track of its status using a smartphone App*. You can easily control its Rapid Cooling modes, check the temperature, and get alerts if the door is left open. It will also detect and diagnose issues.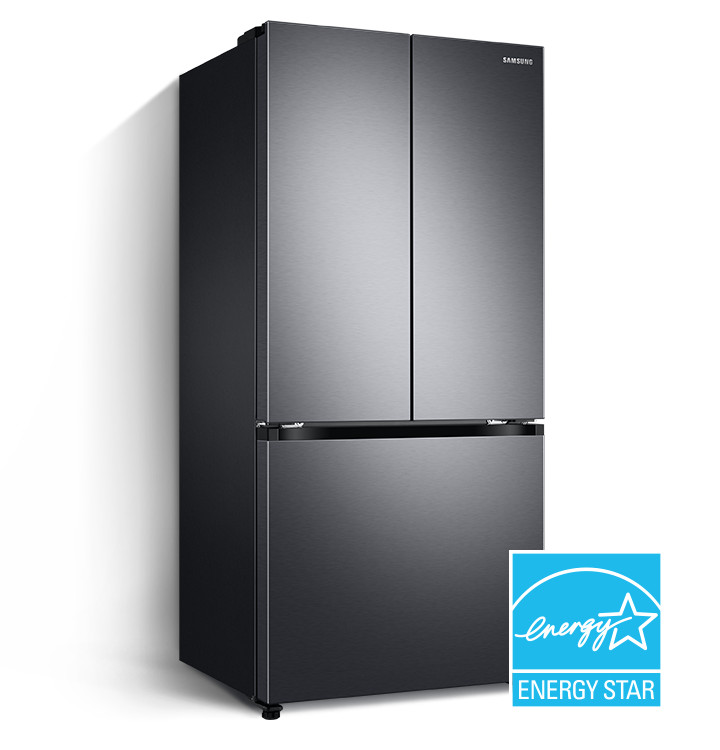 ENERGY STAR® Certified
Energy Star
Eco-friendly and energy-efficient.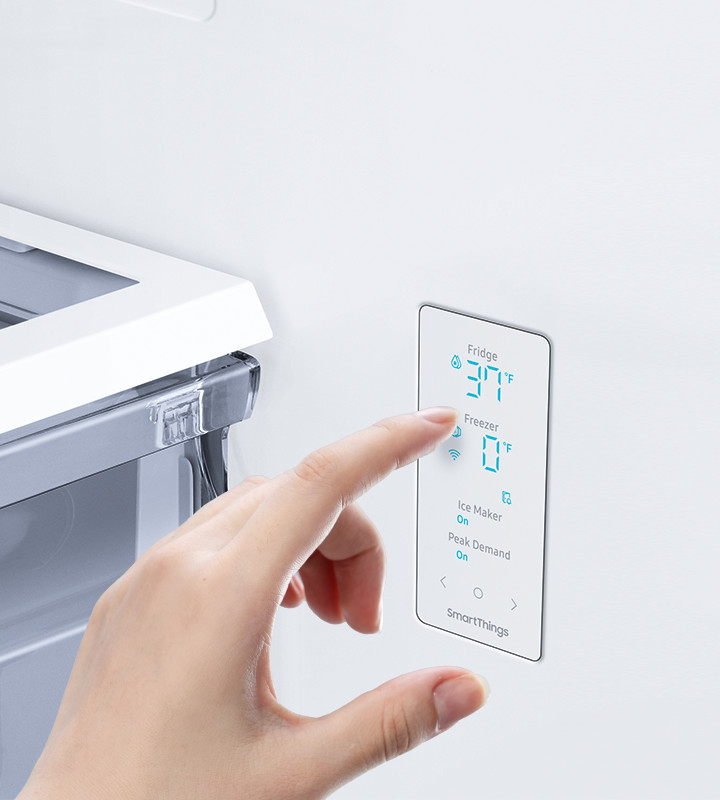 Seamless control with easy accessibility
Easy Access Display
Easily control the fridge, even if you have restricted movement. The control panel located inside the fridge features a seamless and unobstructive design within arm's reach and can be used with one hand.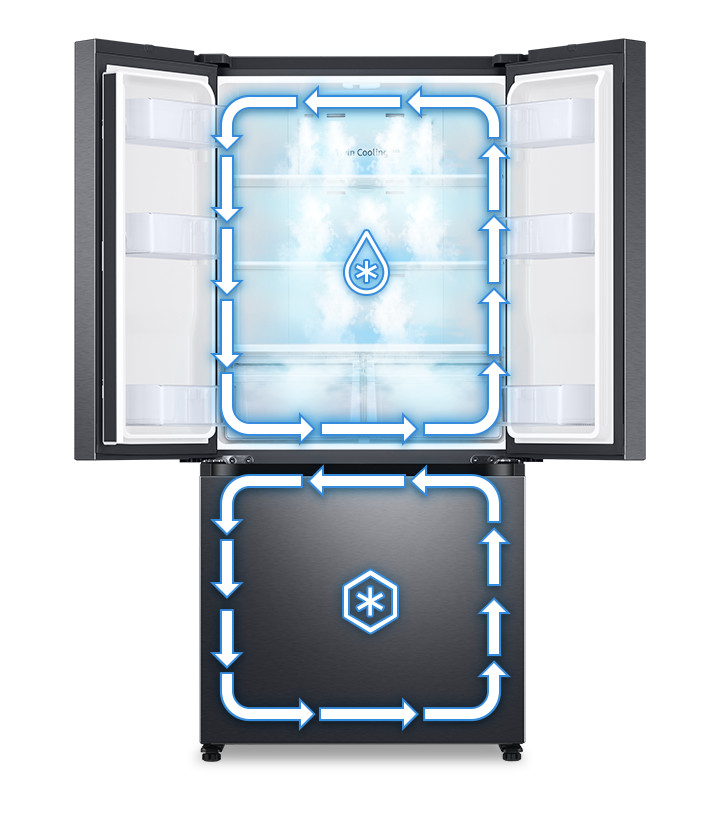 Keep your food Moist and Fresh
Twin Cooling Plus™
Ensure food stays moist and fresh for longer.* Twin Cooling Plus™ optimizes the temperature and humidity in the fridge and freezer with independent cooling. It preserves food better and protects its flavour by preventing odours from mixing.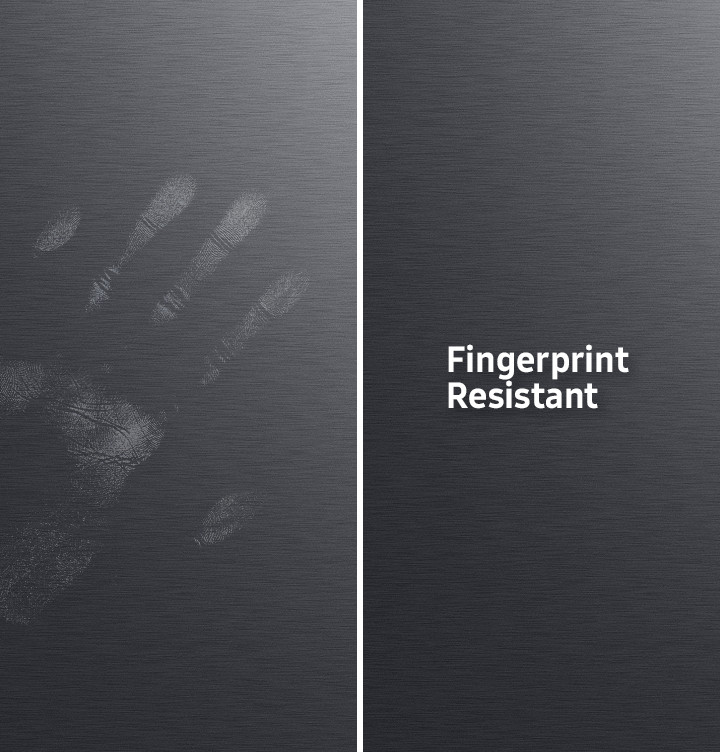 Brilliantly Clean and Smudge free
Fingerprint Resistant Finish
Make sure your fridge always looks spotlessly clean. A special Fingerprint Resistant Finish prevents surfaces from becoming covered in unsightly fingerprints and other marks and smudges. And they can be quickly wiped away if they do appear. So your home will stay looking stunningly beautiful.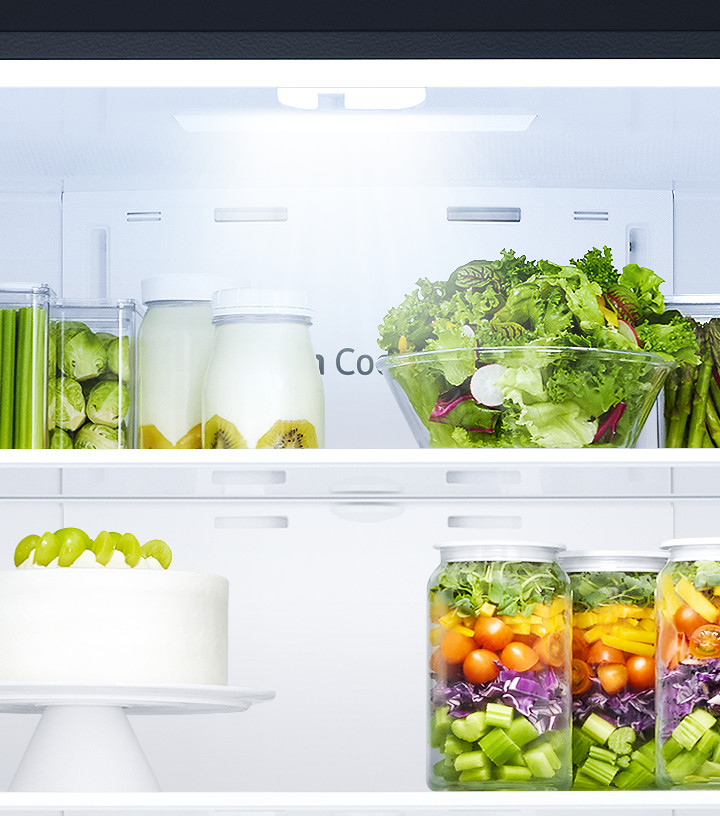 Bright, energy efficient lighting
LED lighting
LED lighting beautifully brightens virtually every corner of the interior space with brighter and softer lighting. That means you're able to quickly spot what you want and your favourite foods are always easy to find. Plus, LED lighting emits less heat and is more energy-efficient than conventional lighting.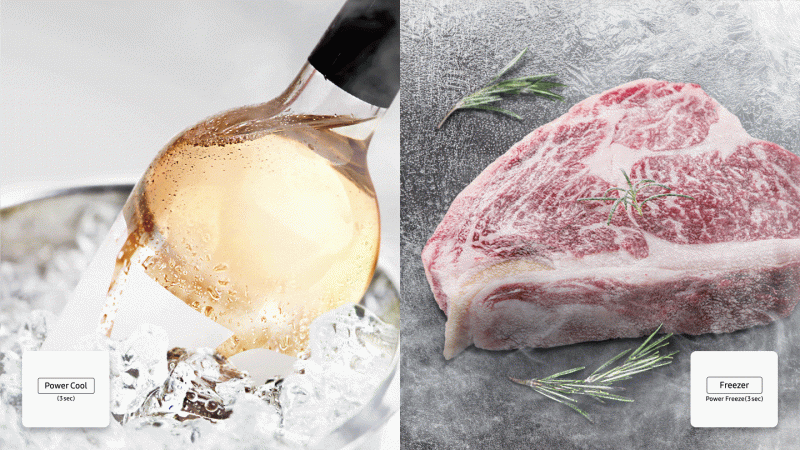 Fast cooling and freezing on demand
Power Cool & Freeze
Enjoy rapid cooling performance. At the touch of a button, Power Cool blows intensely cold air into the fridge to quickly cool your groceries or favourite drinks. Power Freeze delivers a fast blast of cold air into the freezer. It's great for freezing or firming up frozen food and making ice.
Installation
Counter Depth
Yes
Smart
WiFi Embedded
Yes
Energy
Energy Star Certification
Yes
Performance
Energy Consumption
540 kWh/year
Exterior Feature
Colour
Black Stainless Steel
Door Handle
Recessed Handle
Display Type
Internal display
Door Type
Flat Door
General Feature
Refrigerant
R600a
Door Alarm
Yes
Freezer Feature
Power Freeze Function
Yes
Interior LED Light
Yes
Refrigerator Feature
Interior LED Light
Yes
Freezer Feature
Icemaker
Auto Ice maker
Refrigerator Feature
Power Cool Function
Yes
Number of Door Pocket
4 EA
Shelf Material
Tempered glass
Number of Vegetable&Fruit Drawer
2 EA
Number of Shelf (Total)
2 EA
Gallon Door Storage
2 EA
Cooling Feature
Cooling Type
Twin cooling plus
Physical specification
20/40/40H (Container)
14/30/30
Net Weight (kg)
93 kg
Packing Weight (kg)
101 kg
Net Depth without Door (inch)
24.5 inch
Packing Dimension (WxHxD)(inch)
34 5/8 * 75 * 30 1/2 inch
Net Depth with Door Handle (inch)
28.125 inch
Net Case Height without Hinge (inch)
68.875 inch
Net Case Height with Hinge (inch)
70 inch
Net Width (inch)
32.125 inch
Net Dimension (WxHxD)(inch)
32 1/8 * 70 * 28 1/8 inch
Capacity
Net for Fridge (cu.ft)
11.7 cu.ft
Net for Freezer (cu.ft)
5.8 cu.ft
Net Total (cu.ft)
17.5 cu.ft
Reviews
Average Customer Ratings
| | | |
| --- | --- | --- |
| Overall | | 3.96 |
| Design | | 4.25 |
| Features | | 4.06 |
| Performance | | 4.10 |
| Value of Product | | 4.00 |
Pros
Bright display, Durable
Inexpensive
Cons
Poor quality, Did not meet expectations
Poor quality
Poor quality, Did not meet expectations
Poor quality
Submitted 5 months ago
By NOWAYNOHOW
Reviewed at


We purchased this unit from Costco and after about 5 months of use, it just stopped cooling and we lost a full fridge/freezer of food. It's like the compressor wouldn't turn on. We were told it happens with this unit and to unplug and plug back in. It started working again but after two days is not working again... To say we are frustrated is an understatement. There is no way we can recommend this product and are waiting to see what Samsung is planning on doing for us. I do not want this fridge anymore and would prefer if they replace it with a comparable model at no additional cost to us. We lost a lot of food because of this issue, something I have not experienced with an appliance, ever. It's not worth the risk in my opinion and Samsung needs to address this issue as based off the reviews, it's a common issue with this fridge. We are still within a year of owning it so thankfully we should be covered but I don't want them to try to fix, they need to just replace it as fixes aren't working long term based off reviews. Not worth the hassle.
Submitted 5 months ago
By Chlo
Reviewed at


Samsung Has the beast fridges and phones iv ever seen. If you don't mind paying they will deliver the best quality products
Bottom Line Yes, I would recommend to a friend
Submitted 11 months ago
By ……..
Reviewed at


I've had this fridge for three months now, and it stops working just suddenly.
Bottom Line No, I would not recommend to a friend
Submitted a year ago
By Prairie Guy
Reviewed at


The fridge stopped cooling. The display said 3 C and -18 C. But the fridge was warm and ruined food. The fridge is only 28 days old... I unplugged it 5 mins and back in it started working again. But Really... This is not acceptable.
Bottom Line No, I would not recommend to a friend
Submitted a year ago
By Michal
Reviewed at


1
Fridge and freezer stopped working after one week
We purchased this fridge just over a week ago. At some point over the last day, the fridge and freezer both stopped cooling. The temps inside the fridge and freezer displayed 3 and -18 but when I put a thermometer inside the actual temps were 21 and 3, respectively. Everything in the fridge had spoiled and everything in the freezer defrosted. We had to manually unplug it for it to start working again and are now waiting for a Samsung service technician to come. Nothing is being done to reimburse for all the food that was spoiled as a result. For a brand new fridge that was just purchased over a week ago, extremely unhappy with the reliability.
Bottom Line No, I would not recommend to a friend
Submitted 3 months ago
By Eddie
Reviewed at


Extremely happy with purchase. Great value for the price. Love ice maker. Keeps up with our needs better than our last fridge. Attractive design, sleek yet functional.
Bottom Line Yes, I would recommend to a friend
Submitted 3 months ago
By Lilly
From Chicago, IL
Reviewed at


Such a sleek comfortable design. Love the layout and the size!
Bottom Line Yes, I would recommend to a friend
Submitted 3 months ago
By Chris
From Pittsburgh
Reviewed at


5
Beautiful addition to my kitchen...just the right.
So happy I purchased my 2 nd Samsung refrigerator in 19 years. No problems with the first one at all. Fit my space perfectly and just what I wanted in stainless steel.
Bottom Line Yes, I would recommend to a friend
Submitted 3 months ago
By Peggy
From Scotts MI
Reviewed at


1
PLEASE, I'M BEGGING YOU NOT TO BUY THIS!!
i like the looks of this refrigerator. that is it. we have lost a freezer full of food three times. twice after it was "repaired". not only does the freezer not work properly, the refrigerator gets as warm as 60 degrees. we were made to have a repair person come to our house 5 times. i didn't have a refrigerator for 2 months before samsung decided we could have our money back. now that we are getting a refund, samsung thinks it's okay for their customers to have to pay to have their refrigerators disposed of. they know it is such a dud refrigerator, they aren't even going to come and pick it up. the biggest problem with this refrigerator? samsung knows it is defective & they are still selling it. so unhappy and disappointed. i will never buy another samsung anything.
Bottom Line No, I would not recommend to a friend
Submitted 3 months ago
By Kevin
From Morristown, TN
Reviewed at


Due to limited space, we had to settle with this refrigerator. Issues with cooling first couple months, but Samsung repaired with no issues. Repairman was excellent! Finish shows all dirt and fingerprints and needs to be cleaned daily. Ice maker container poorly designed. When pulling drawer out, ice falls in back and accumulates to the point that freezer will not close properly. Limited space for taller items such as milk and bottle drinks. Even the smaller soda bottles do not fit on shelf, but must go in door.
Bottom Line No, I would not recommend to a friend