30" Samsung Induction with Virtual Flame Technology - NZ30K7880UG

30" Samsung Induction with Virtual Flame Technology - NZ30K7880UG
NZ30K7880UG/AA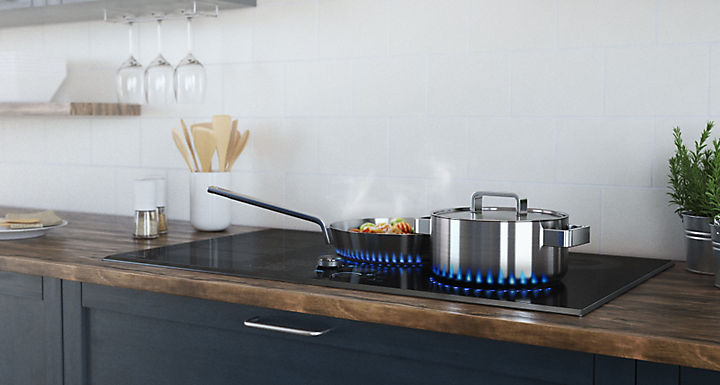 Easy and intuitive control
With Virtual Flame Technology ™ you can enjoy the intuitive visual control of flames. LED lighting in front of the burners glows like a real gas flame to clearly show if they're on or off, giving added peace of mind.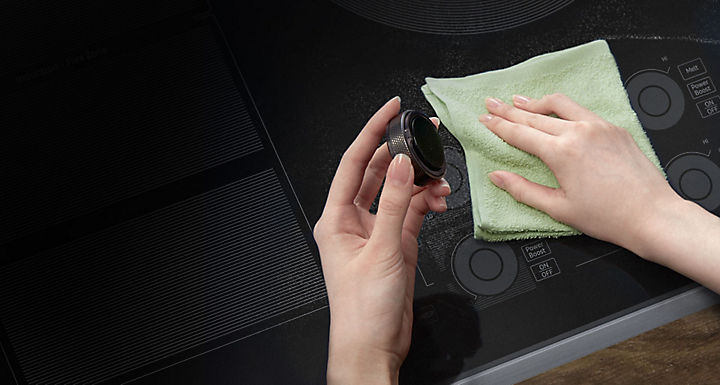 Precise Power Control & Easier Cleaning
Choose between a removable magnetic analog knob and digital touch controls. And because it can be completely detached it also makes it easier to clean the entire surface of the cooktop.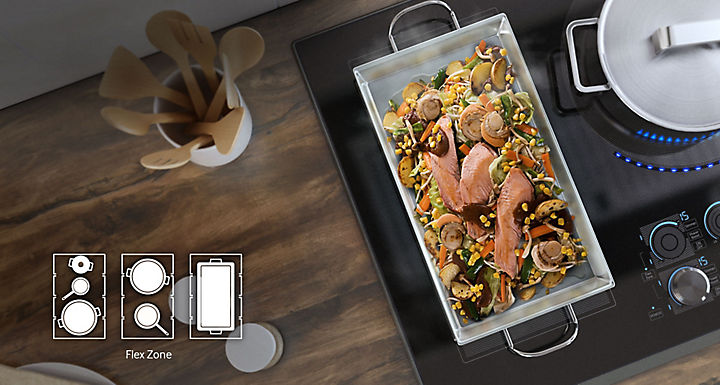 Merge Elements
Use your oversized pots and pans to cook without worrying about evenly distributed heat.The FlexCook Zone is a large, open area that offers greater flexibility for cooking multiple dishes, by bridging two left elements to create one large element. It can accommodate different sizes of cookware to cook everything evenly and efficiently without "dead zones".
Remote & convenient cooktop monitoring
Wi-Fi Connectivity maximizes safety and offers peace of mind by letting you remotely monitor the cooktop at any time using a smartphone App*, while setting the cooking timer and receiving alerts when it finishes.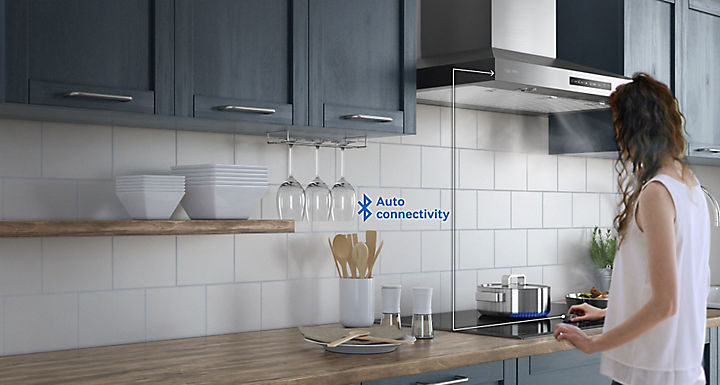 One-touch control of both cooktop & hood
Automatically syncs the fan and the lights with the burners through Bluetooth. Auto Connectivity* aligns the hood and cooktop's status so you can control the hood using the one-touch control of the cooktop, instantly turning them both 'On' or 'Off', for the ultimate in cooking convenience.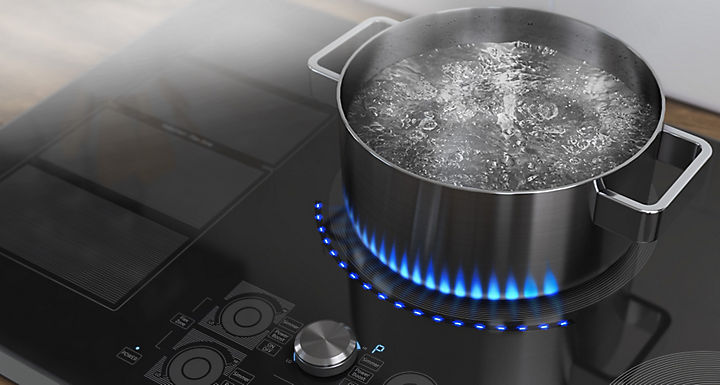 Intensive power, extra flexibility
A high power 4800 W 7/11" Dual Burner combines intense heat and precise control for maximum cooking efficiency and flexibility. A Power Boost function can reduce cooking times even more with an extra boost of heat. Or change from a powerful high heat to a true simmer quickly for intense and even cooking.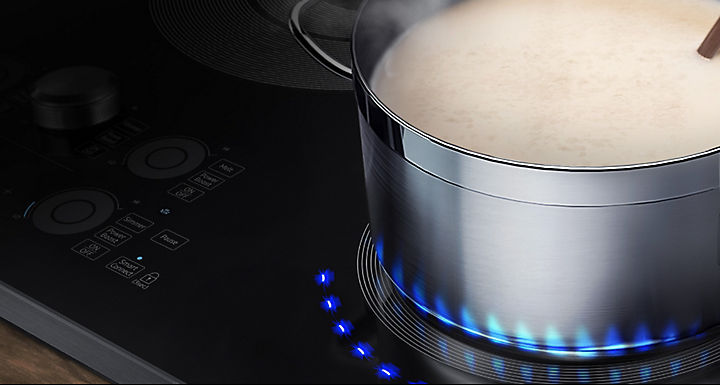 Simmer & melt food without burning
The Simmer/Melt function ensures that the cooking temperature stays low. With more precise control it provides the optimum conditions for gently simmering or melting food, like chocolate or butter, without burning.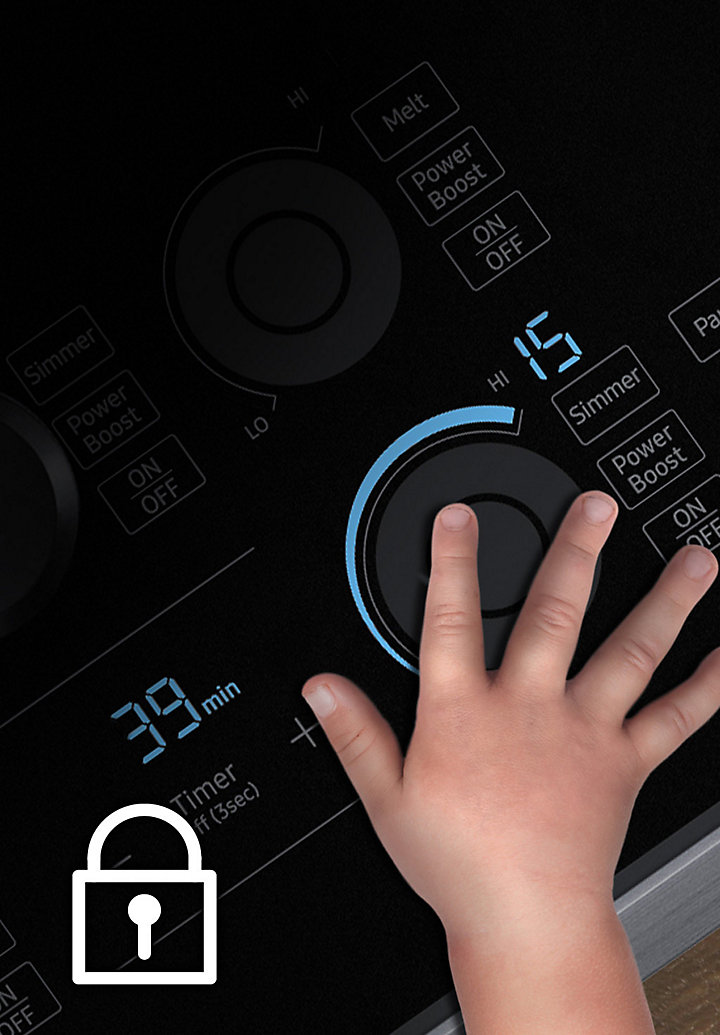 Safety Lock
The safety lock functions allows for the control panel to be completely locked with just the touch of a button.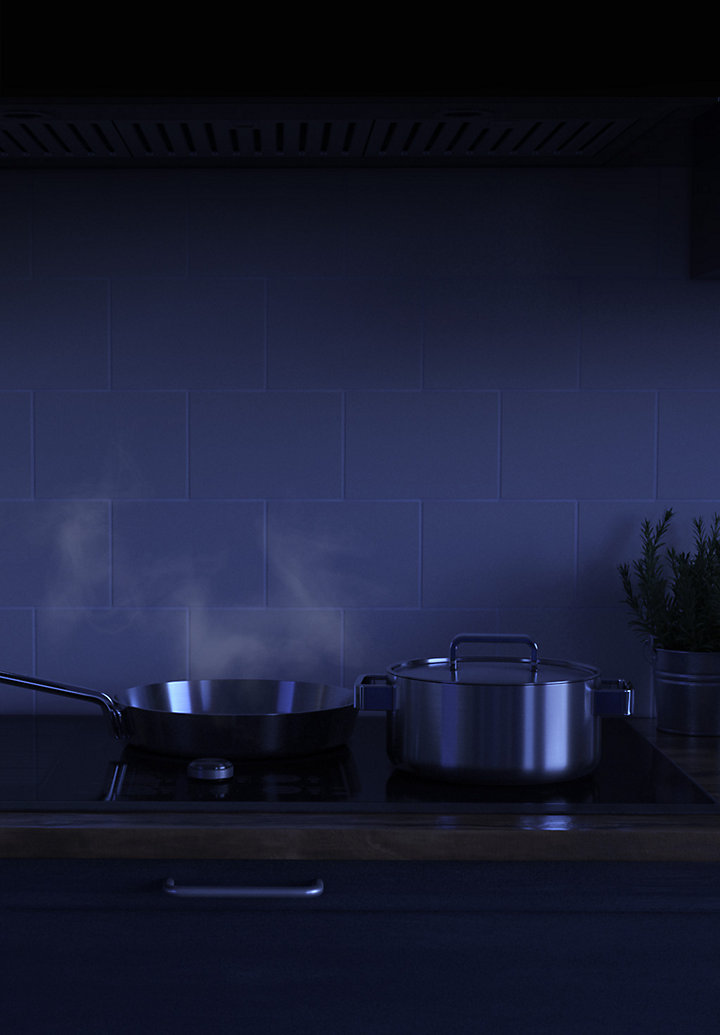 Automatically safer to prevent accidents
A Safety Shutoff provides peace of mind. It automatically turns off any cooking zones if things have been left cooking on them for a long time or there's no change in the operation after a certain period.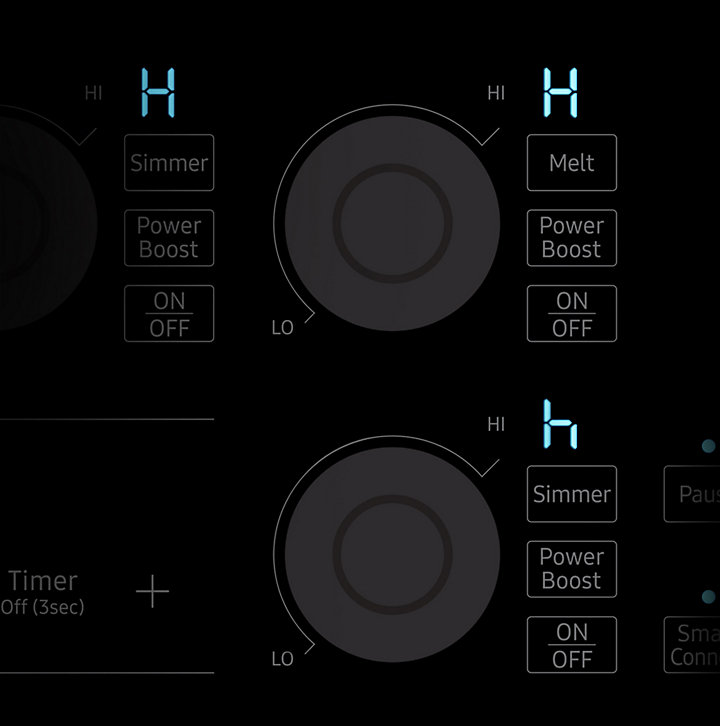 More safe and efficient residual heat use
A 2 Stage Residual Heat Indicator lets you more safely and efficiently use any residual heat for cooking. It clearly shows an 'h' if a cooking zone is hot or an 'H' if it is very hot, but turns off when more safe to touch.
Materials/Finishes
Model Type Install
30 inch Built-in Induction Cooktop
Cooktop Frame
Black Stainless Frame
Control Method
Touch + Magnetic Knob
Display Type
LED (Ice Blue)
Power/Ratings
Total Power (kW)
8.6 kW
Flex Zone Graphic Size
198.3 x 384.2 mm
Element - Left Front
Flex Zone 1800 W / 2600 W (B)
Element - Left Rear
Flex Zone 1800 W / 2600 W (B)
Element - Right Front
6" 1400 W / 1800 W (B) , Virtual Flame
Element - Center
7" / 11" 3600 W / 4800 W (B), Virtual Flame
Qty of Power Boost
4
Power Level
1 ~ 15, Boost
Power Supply
240 V / 60 Hz (8.6 kW) , 208 V / 60 Hz (7.7 kW)
Features
Child Safety Lock
Yes
Surface
Black Glass
Simmer/Melt
Yes
Kitchen Timer
Yes
Pause
Yes
Residual Heat Indicator
Yes
Safety Shutoff
Yes
High Temp. Limit
Yes
Small Utensil Detection
Yes
Auto Pan Detection
Yes
Sound on/off
Yes
Virtual Flame On/Off
Yes
Power On/Off
Yes
COOKTOP
Number of Burner
4 EA
Smart
WiFi Embedded
Yes
Auto Connectivity (with Hood)
Yes
Bluetooth
No
WiFi Dongle(Separate sale) Support
No
WiFi Kit
No
App Connectivity
SmartThings App Support
Yes
Weights/Dimensions
Package (WxHxD)
868 x 215 x 636 mm
Cutout (WxHxD)
W 724.0 x D 497.4 mm
Net (WxHxD)
762 x 108.2 x 540 mm
Weight (Gross)
26.6 kg
Weight (Net)
23.2 kg
Loading Quantity (20/40ft)
220 / 450
Reviews
Average Customer Ratings
| | | |
| --- | --- | --- |
| Overall | | 3.47 |
| Design | | 4.24 |
| Features | | 4.12 |
| Performance | | 4.00 |
| Value of Product | | 3.76 |
Cons
Poor quality, Did not meet expectations
Submitted a year ago
By whopper
Reviewed at


We've had this cooktop for close to 3 years now and it works very well, yes the controls are sensitive to moisture and a bit finicky to adjust, but once you get used to it, it's not too bad. It boils a pot of water extremely fast with the power boost feature which is awesome. The Bluetooth connectivity is fantastic as well!The only thing I'd like to find is a full size griddle for the multiple zones area. Can Samsung recommend one please?
Bottom Line Yes, I would recommend to a friend
Submitted 2 years ago
By Alain T
Reviewed at


3
Performant mais contrôles difficiles
Acheté depuis 3 semaines. Cette plaque de cuisson est très performante et efficace. Les multiples zones sont très pratiques. La fonction « Power Boost » est très puissante. Cependant, cette puissance exige beaucoup de puissance électrique, 45 ampères, ce qui exige un disjoncteur de 50A et donc un fil #6-2 ou #6-3, à surveiller surtout pour une installation existante. Autre point négatif, les contrôles ne sont pas pratiques, il est difficile de sélectionner directement la bonne puissance. Des boutons « plus » et « moins » auraient été vraiment utile.
Bottom Line Yes, I would recommend to a friend
Submitted 3 years ago
By Mountain Living
Reviewed at


1
Worked great til it stopped working.
After 1 1/2 years the cooktop decided to no longer function. Starts up for 5 sec and kicks off on every burner. Very hard to get service and warranty is conveniently finished.
Bottom Line No, I would not recommend to a friend
Submitted 3 years ago
By Newkiychen2020
Reviewed at


4
Induction flames are cool
We have been using this for about a month now. Although we love most of the features we agree with other reviewers that the unit is very sensitive to water and occasionally shuts off. I don't find the know responds well and it has taken me a while to accept to touch the level I want the heat at rather than slide my finger there. ( then it jumps) not sure if this is normal or a defect.... love the power boost and the fact that food don't burn on.
Bottom Line Yes, I would recommend to a friend
Submitted 5 years ago
By Steve
Reviewed at


I am very unsatisfied with my new Samsung cooktop. It arrived missing a part (magnetic control knob) and because we didn't install the cooktop for two months as we were waiting for our new countertops to be installed, we didn't unbox/notice the missing part immediately. Because of this, Samsung will not send us the missing part. Then after having an electrician install the new cooktop into our new counter last week, we find the cooktop isn't working. Luckily the warranty covers this and we had a technician out to investage the issue. The issue was a faulty circuit board, which is now on order. This is not what I expect when I purchase a High end appliance from Samsung.
Bottom Line No, I would not recommend to a friend
Submitted a year ago
By Nick
From 87104
Reviewed at


have yet to install this, but love the look of it. will update when it's installed and i've put it to some use. i received compensation for this review but the review is my own.
Submitted a year ago
By BlumanAK
From Middletown, VA
Reviewed at


4
It heats fast and evenly
"i received compensation for this review but the review is my own" i really like the cooktop. it heats evenly and fast. boiled a huge pot of water for lasagna in less than 10 minutes. normal 2 qt sauce pain will boil water in about 2-3 minutes. they dont't easily tell you inside hole dimensions have 2 measurements. will it fit in counter and is it too small for existing counter hole? waiting for custok milled aluminum plate to feel more sexure because existinc counter top hole is too large. it covers evrything, but there may be a lot of weight restinfnon a small lip. takes getting used to touch controls. after using for a few weeks we are both getting better. the magnetic knob is neat, but faster with touch control.
Bottom Line Yes, I would recommend to a friend
Submitted a year ago
By Benjamin
From Arlington, VA
Reviewed at


3
Just ordered -- very excited!
i just received this samsung cooktop! it arrived right on time and was received only about 2 weeks after ordering -- no small feat in this day and age of supply chain issues. i gave three stars because i have not yet installed this cooktop, and i will update the review accordingly after using the appliance. samsung was insistent on receiving a review before fulfilling the promotion for free induction cookware, so this review is a bit premature. "i received compensation for this review but the review is my own".
Bottom Line Yes, I would recommend to a friend
Submitted a year ago
By Cooking Clean
From Idaho
Reviewed at


This cooktop is so easy to use! I am in a wheelchair and no more burned arms from the gas cooktop. This Samsung induction is the way to go for ease of use and lovely to look at! Super fast and clean-up is a snap. thank you Samsung!
Bottom Line Yes, I would recommend to a friend
Submitted a year ago
By DP21
Reviewed at


so far, i love my cooktop. this is my first induction cooktop, definitely a learning curve for the temps. the magnetic knobs are not great. i prefer to use my finger to adjust the temp. i ordered from best buy, was delivered a week after purchase. i received compensation for this review but the review is my own.
Bottom Line Yes, I would recommend to a friend